This is the BEST Instant Pot Beef Stew Recipe! Filled with tender chunks of beef and potatoes in a thick gravy, made in a fraction of the time.
Serve this stew with my Homemade Rolls for the perfect comfort meal.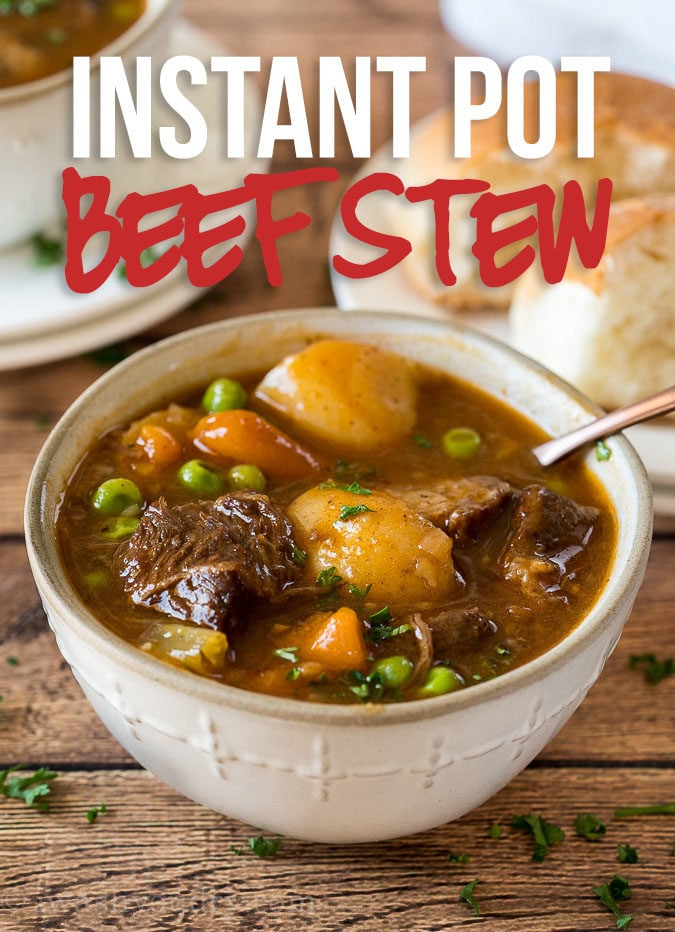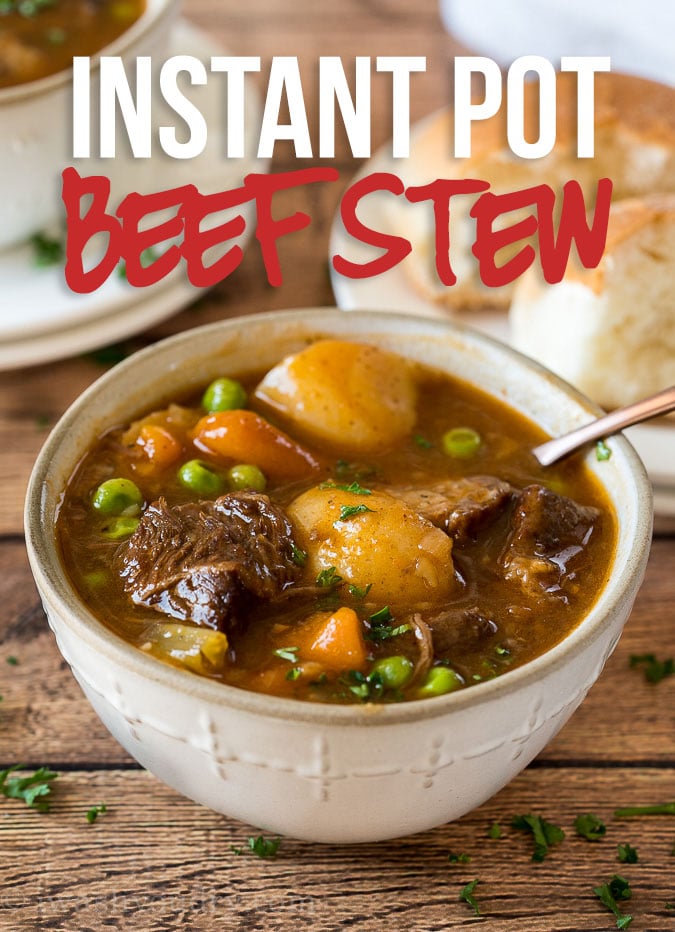 No dried out beef in this deliciously easy beef stew recipe! We're using chuck roast in the instant pot to make it ultra tender and easily falls apart… you'll be blow away!
Instant Pot Beef Stew Recipe
Using the pressure cooker allows you to have the classic beef stew recipe in a fraction of the time, with optimal results. 
Ingredients Needed
Here's the basic list of ingredients you'll need in order to make this Beef Stew in the Instant Pot. As always, you can find the full list of ingredients located in the recipe card below.
Chuck Roast or preferred cut of beef (see notes below)
Garlic – freshly minced
Onion
Beef Broth – low sodium
Tomato Paste
Worcestershire Sauce – gives the stew a nice savory punch
Baby Gold Potatoes
Baby Carrots
Celery
Thyme – fresh or dried
Bay Leaf
Frozen Peas – no need to thaw
Corn Starch – used to thicken the beef stew
How To Make Instant Pot Beef Stew
SEAR BEEF   Start by searing your chunks of beef in the pressure cooker to give them a nice golden brown crust. Remove the beef to a bowl and add some diced onion and garlic to the pot and sauté until tender.
ADD VEGETABLES   Deglaze the pot by adding in beef broth and then add in the remaining ingredients (diced potato, carrots, celery, tomato paste and the beef with any juices that collected at the bottom of the bowl).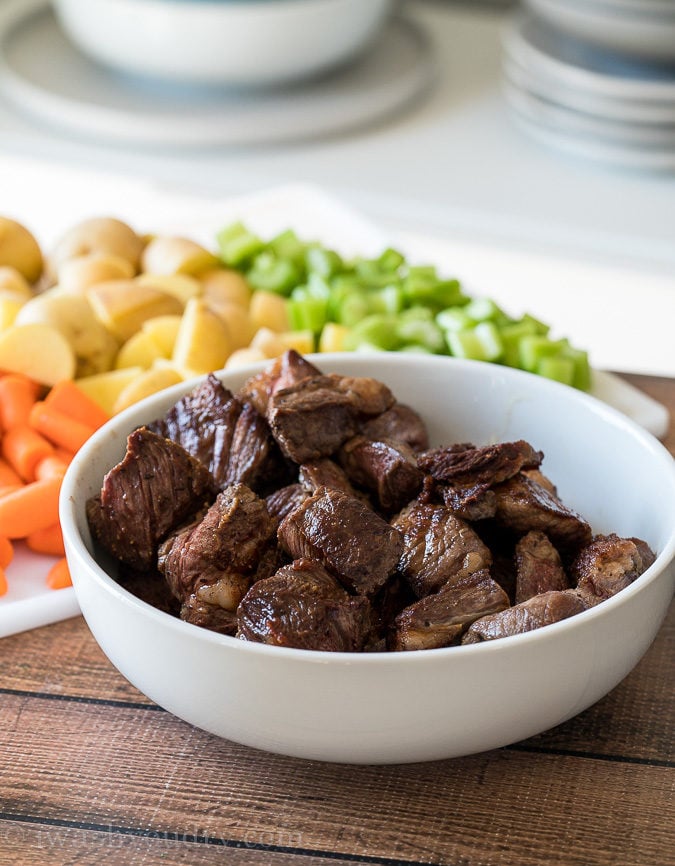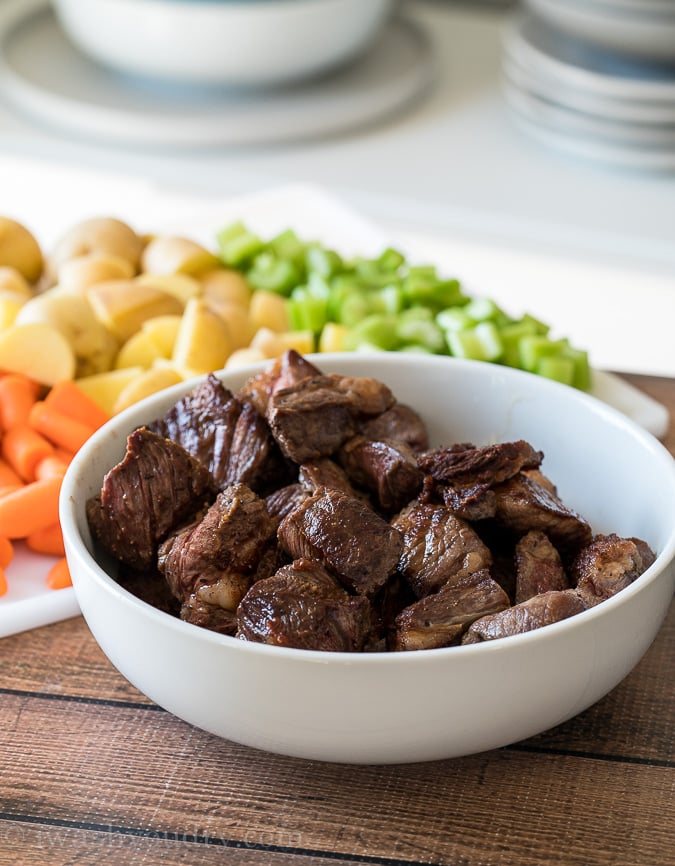 PRESSURE COOK   Toss in some herbs and seal the pot. Cook on HIGH pressure for 35 minutes, followed by 15 minutes of natural pressure release before you release the pressure manually.
THICKEN STEW   Stir in a simple cornstarch slurry to thicken the gravy, then add in some frozen peas and cook until heated through.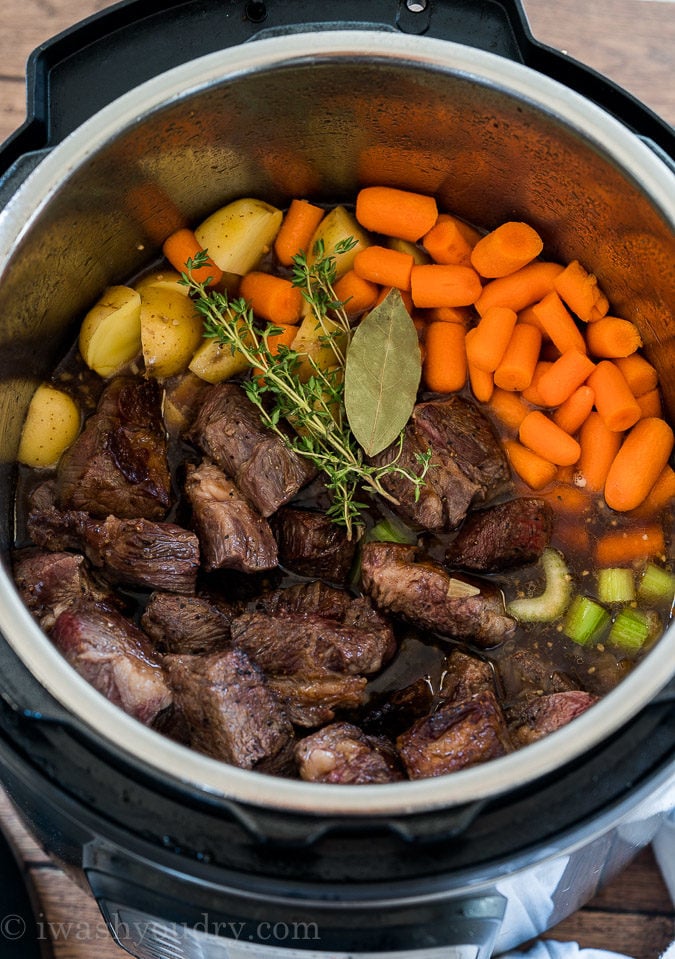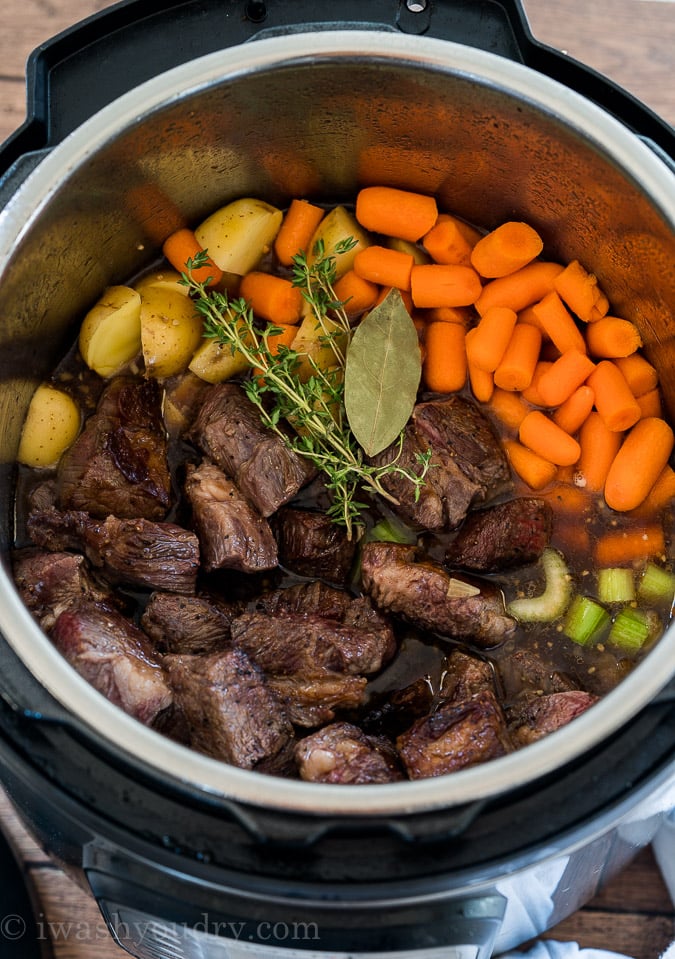 What Is The Most Tender Meat For Beef Stew?
Beef Stew is typically cooked in the slow cooker to or stew pot for hours and hours on a low heat, which allows a tough cut of beef to become more tender. Using the pressure cooker cuts the time drastically, while still producing a tender beef (more tender in my opinion). Any of these cuts of beef can be used for beef stew:
Chuck Roast (this is my preferred, but you'll want to trim as much fat as possible), Chuck, Chuck Shoulder, Top Chuck, Chuck-Eye Roast
Stew Meat
Bottom Round Roast, Rump Roast, Top Round
Pot Roast, English Roast
PRO TIP: When searing your beef in the instant pot, DON'T TOUCH IT! Let it sit for a good 3 to 5 minutes to achieve a nice golden brown crust. If you try to move it and it still sticks to the bottom, leave it alone until it pulls always effortlessly.
How Long for Beef Stew Instant Pot?
Beef Stew in the Instant Pot only takes 35 minutes on HIGH Pressure with a 15 minute NPR (natural pressure release).
The beef stew should only take a few minutes to reach pressure since the ingredients will already be warm from sautéing first.
After the 35 minutes is done counting down, leave the pot alone for 15 minutes (this is what Natural Pressure Release means), then after 15 minutes flip the valve to the open position and let the rest of the pressure release.
What Size Instant Pot Should I Use?
I get this question a lot! This recipe for beef stew was tested in an 8 quart instant pot, but should also work perfectly in a 6 quart Instant Pot. Anything smaller than that and you might need to adjust the amount of ingredients. 
If you don't have an instant pot or pressure cooker, check out my Slow Cooker Beef Stew Recipe!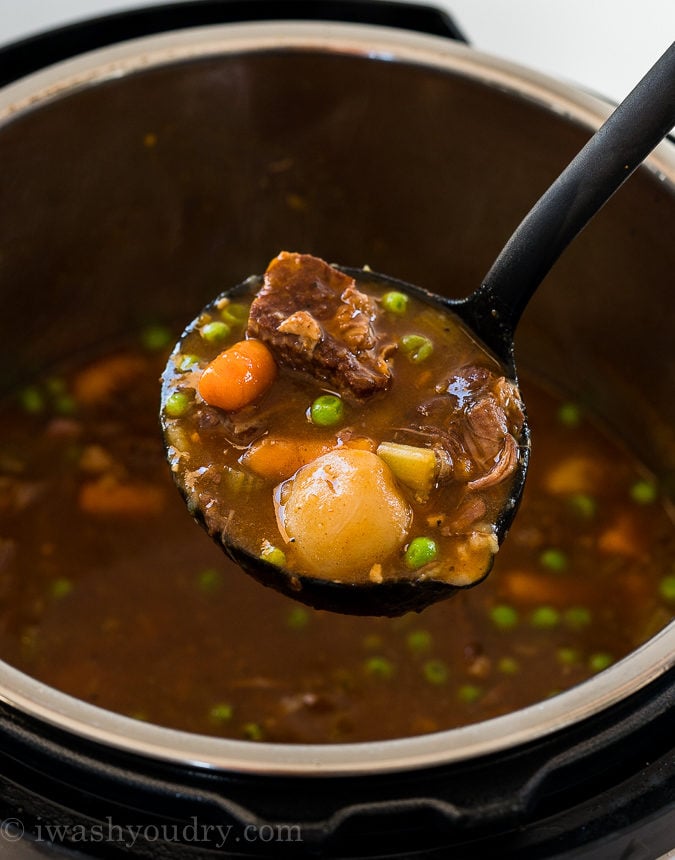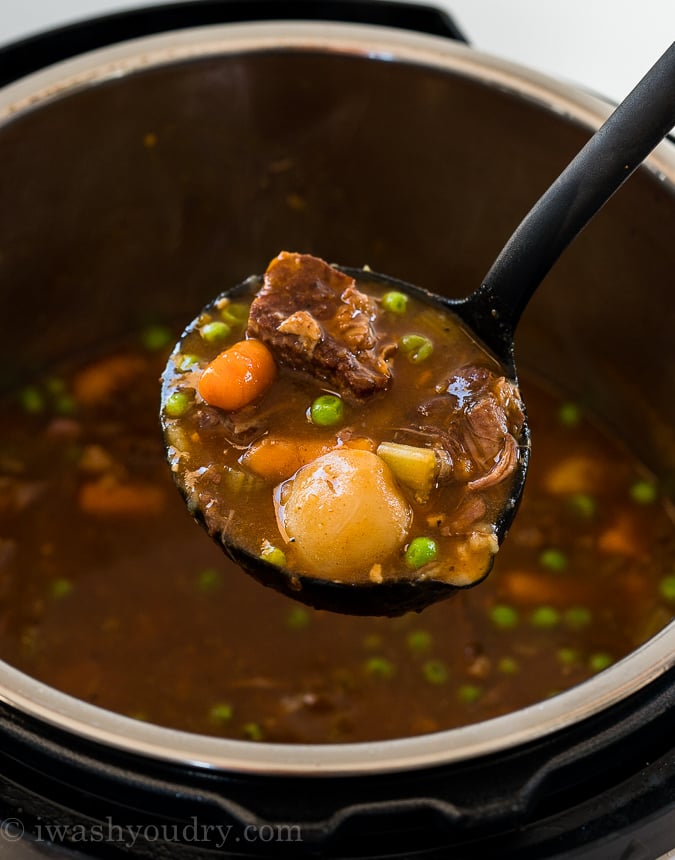 Can You Freeze Beef Stew?
Yes! You can easily freeze stew for up to 3 months. 
Let the beef stew come to room temperature, then ladle into gallon-size freezer bags.
Lay flat if possible in the freezer until stew is frozen, then you can store upright.
Let beef stew defrost in the fridge, then reheat on the stove top or microwave.
Since this recipe makes enough for 8 servings, we usually have plenty of leftovers. I like to freeze the leftovers in individual size bags so I can quickly heat up myself a bowl of beef stew for lunch!
What To Serve With Beef Stew
Beef stew is the ultimate comfort food. It's like a warm hug on a chilly night. Here are a few of my favorite side dishes to serve with this cozy stew.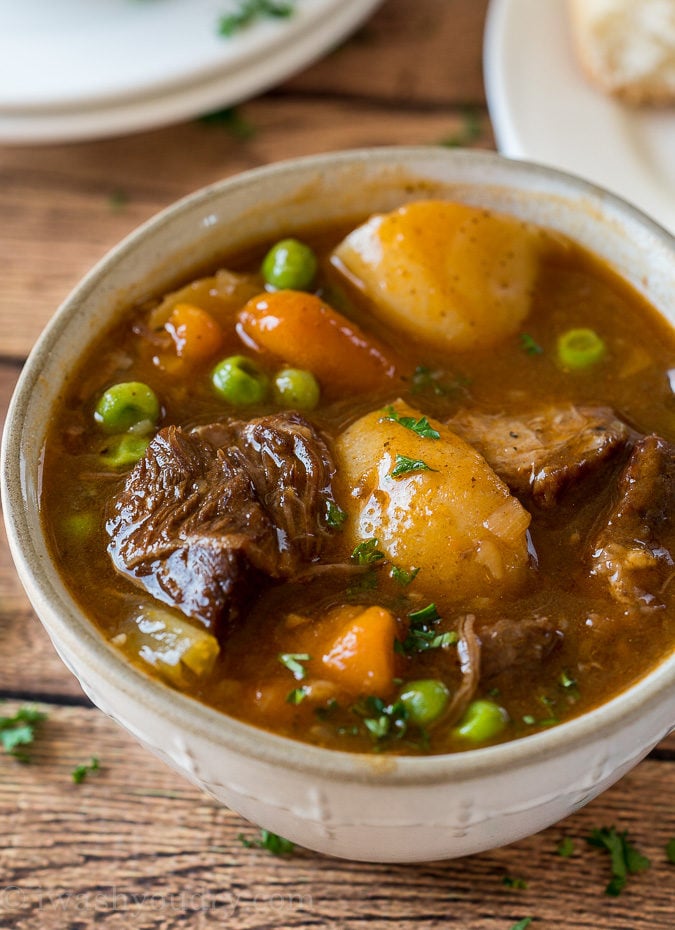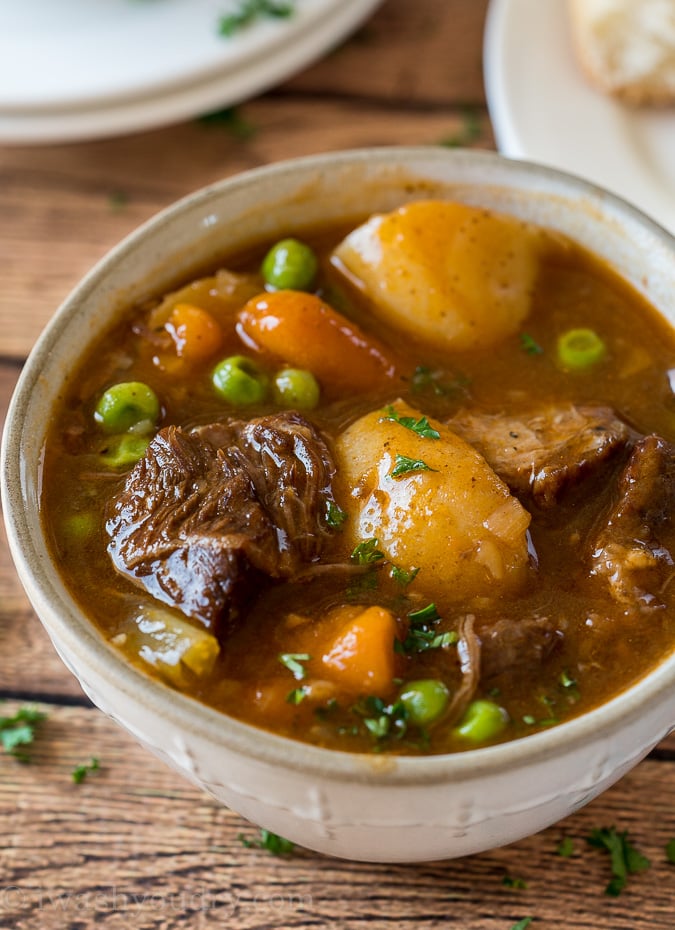 You're going to be making this super easy recipe for Beef Stew all winter long!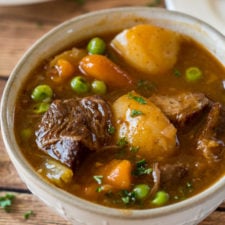 Print Recipe
Pin Recipe
Rate this Recipe
Best Instant Pot Beef Stew Recipe
This is the BEST Instant Pot Beef Stew Recipe! Filled with tender chunks of beef and potatoes in a thick gravy, made in a fraction of the time.
Course: Main Dish
Cuisine: American
Servings: 8
Calories: 355 kcal
Author: Shawn
Ingredients
2 to 2.5

lbs.

Chuck Roast

,

cut into bite-size pieces (trim fat)

3

tbsp

Olive oil

1

large onion

,

diced

3

tsp

minced garlic

4

cups

low sodium beef broth

2

tbsp

tomato paste

2

tbsp

Worcestershire sauce

1

lb.

dutch baby gold potatoes

,

cubed

1/2

lb.

baby carrots

,

cut in half

4

large stalks celery

,

cut into slices

2

sprigs fresh Thyme

,

or 1 tsp dried

1

bay leaf

3

tbsp

cornstarch

3

tbsp

water

1

cup

frozen peas
Instructions
Season the beef chunks with salt and pepper to taste. Heat the Pressure cooker* to Sauté Mode and add the olive oil, enough to coat the bottom of the pot. Once hot, add the beef in an even layer (you may have to do this in batches). Let the beef cook until it forms a golden brown crust on all sides. Remove from pot to a bowl and set aside.

Add the onions and garlic to the pot and cook, until fragrant about 3 minutes. Stir in the beef broth and use a wooden spoon to gently scrape any stuck on bits from the bottom of the pot.

Add in the tomato paste, Worcestershire sauce, potatoes, carrots, celery and beef (along with any collected juices from the bottom of the bowl). Place the thyme and bay leaf on top (do not stir) and close lid.

Set pressure cooker to HIGH pressure for 35 minutes (make sure the valve is set to the sealed position). After the 35 minutes is up, let the pressure cooker naturally release pressure for 15 minutes, then flip the valve and release any remaining pressure.

Remove the thyme leaves (if using fresh) and bay leaf and discard. Turn the pressure cooker to Sauté Mode. In a small bowl whisk together the cornstarch and water, creating a slurry. Pour into the beef stew and stir until the mixture begins to thicken.

Turn off heat and stir in the frozen peas until they're heated through and enjoy!
Notes
*Recipe can be made in an 8 quart or 6 quart instant pot or pressure cooker.
Nutrition
Calories: 355kcal | Carbohydrates: 21g | Protein: 27g | Fat: 19g | Saturated Fat: 6g | Cholesterol: 78mg | Sodium: 429mg | Potassium: 1113mg | Fiber: 4g | Sugar: 5g | Vitamin A: 4225IU | Vitamin C: 23mg | Calcium: 59mg | Iron: 4mg
Keywords: Beef Stew, Comfort, Instant Pot, Pressure Cooker, Soup
Now Available!
The Everyday Cookbook
Top Favorite Recipes from I Wash You Dry now available in a hard-cover, spiral-bound book that's gorgeous and perfect for everyday use.
BUY IT NOW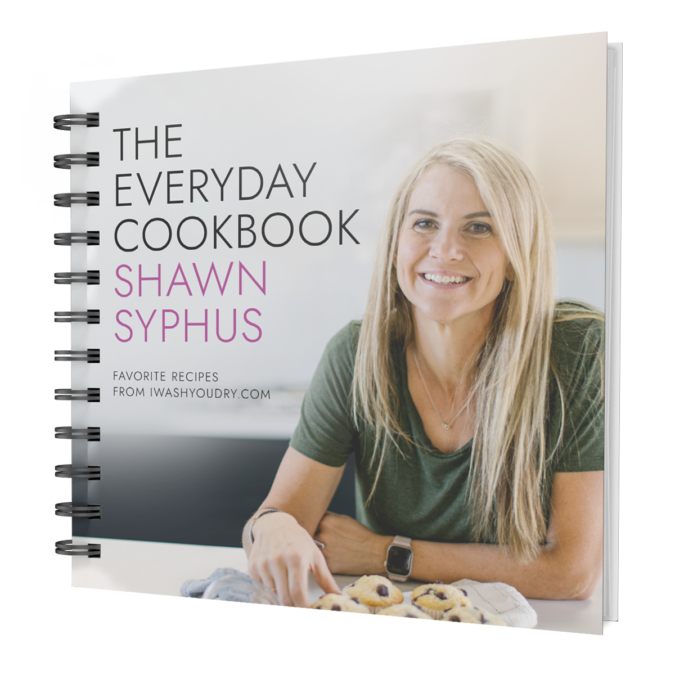 PIN THIS IMAGE TO SAVE THE RECIPE: