Pumpkin curry soup is something I like to make when I have an extra can of pumpkin in my pantry. If you have never had pumpkin soup before, it is a rich and creamy dish that has no rivals. Curry spices add a slightly spicy and savory flavor to pumpkin.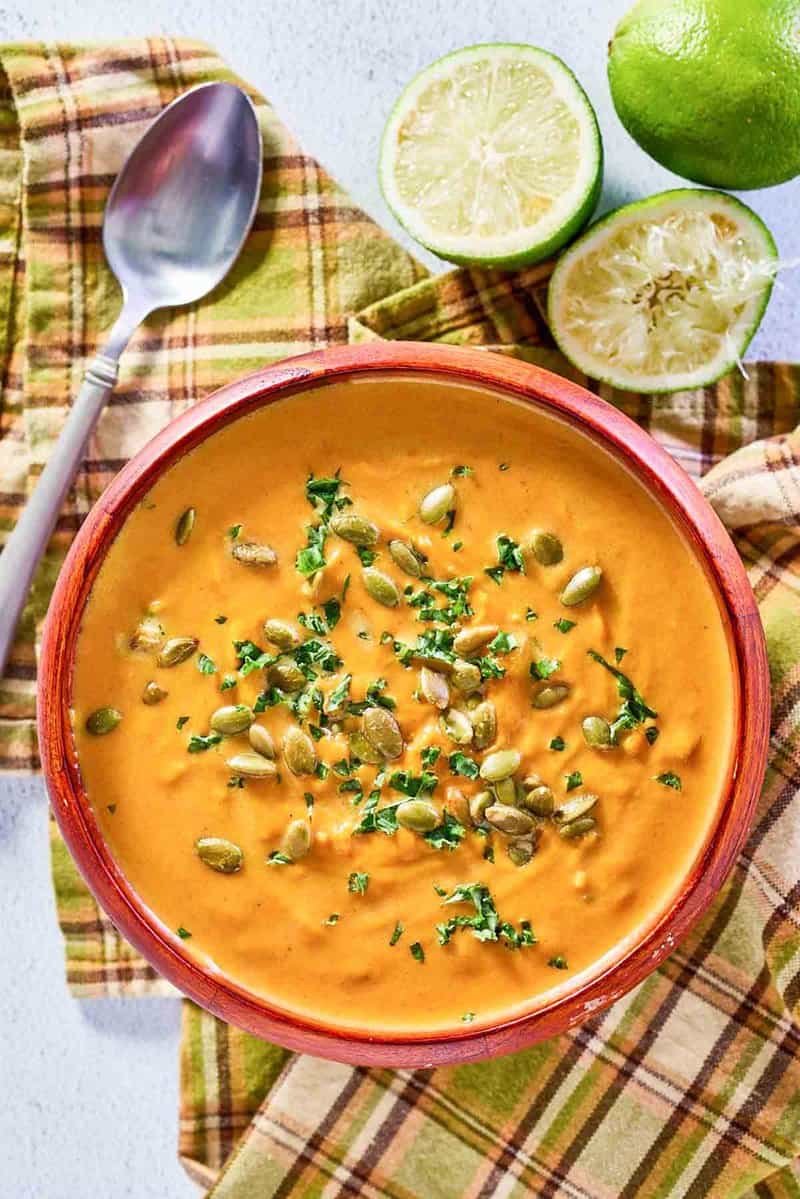 This post contains affiliate links. As an Amazon Associate, I earn from qualifying purchases.
What Makes Pumpkin Curry Soup the Perfect Soup for Fall? 
You can do much more with pumpkins than turning them into pies or Jack o' Lanterns. This pumpkin soup with curry powder is a hearty addition to almost any autumn meal.
The heavy cream in this recipe gives the soup a smooth consistency with a rich mouthfeel, while the curry powder adds just the right amount of savory spice.
Whether you are new to pumpkin soup or already a fan, you'll want to try making this version at home. 
Why This Recipe for Easy Pumpkin Curry Soup Is the One You Want To Try 
A good soup is healthy and filling, but a great soup is delicious and easy to make. This recipe is for a great soup.
Besides being gluten-free, changing some ingredients to fit your dietary needs or preference is easy. See the section below on variations for a few different ideas. 
Ingredients For Curry Pumpkin Soup
To make this soup, you'll need:
White onions
Unsalted butter
Curry powder
Pumpkin puree
Chicken stock
Heavy cream
Lime juice
How To Make This Pumpkin Curry Soup Recipe
To prepare:
Chop the onions finely.
Place a large pot or Dutch oven over medium heat. When hot, add the curry powder and toast until fragrant.
Add the butter and onions to the pot, and saute until the onions are translucent. 
Mix in a can of pureed canned pumpkin or an equal amount of roasted pumpkin. Stir or whisk until the mixture has a uniform consistency.
Pour in the stock. Continue to cook and stir until the soup begins to simmer. 
Stir in the heavy cream, reduce the heat to low, and cook the soup until hot.
Taste and season with salt and black pepper if desired.
Serve in individual bowls with a squeeze of lime. You can also finish it with a garnish of pumpkin seeds or a drizzle of plain Greek yogurt, sour cream, or coconut milk.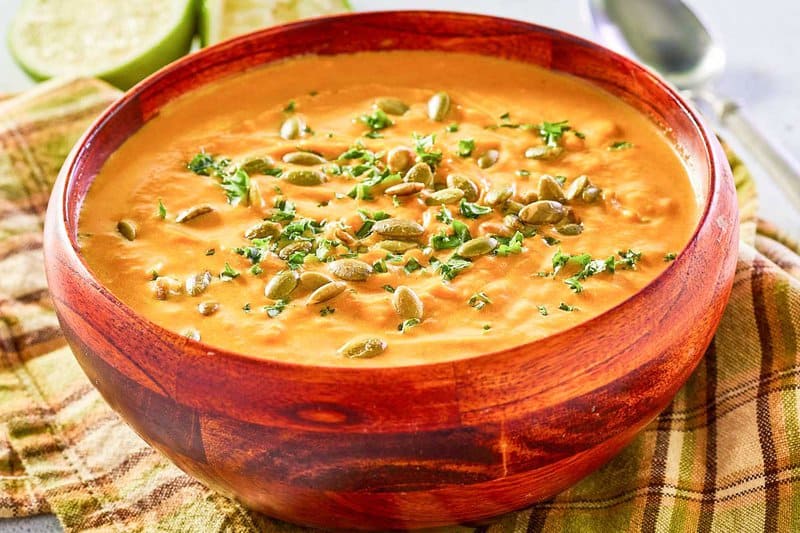 Recipe Variations
To make this recipe vegetarian, swap the chicken stock with vegetable broth or stock. If you need a vegan version, you need to also replace the heavy cream with the same amount of coconut cream. Don't confuse coconut cream for cream of coconut unless you want a very sweet soup!
Using canned pumpkin purée makes this recipe incredibly quick to throw together. Don't use pumpkin pie filling because it has other seasonings. But if you have excessive pumpkins, feel free to use them instead. However, you will need to cook them first.
Try roasting them whole on a baking tray at 350°F until they get soft and shrivel. Scrape the flesh with a spoon as soon as they are cool enough to handle.
What Type of Curry Powder Should You Use? 
There are countless types of curry powders, but for this pumpkin soup, something a little more on the milder side will please most people. Unless you're a curry connoisseur, stick with a pre-mixed national brand like McCormick or Simply Organic.
If you are more adventurous, definitely give yourself permission to experiment since most of the flavor in the soup comes from the curry seasoning.
What To Serve With Pumpkin Curry Soup 
You can air fry pumpkin seeds and sprinkle them on top.
A thick slice of toasted bread is the perfect pairing for pumpkin soup with curry powder. Choose plain bread with a tight crumb that isn't too flavorful to avoid competing with the taste of the soup.
To keep with the curry theme, you may want to try naan if you can get it fresh; otherwise, stick to something like a Pullman loaf.
How To Store the Leftovers 
You can keep extra pumpkin soup with curry powder in the refrigerator for up to five days. Before transferring the soup to an airtight container, cool it as quickly as possible to prevent spoilage.
Although there is cream in this recipe, it will freeze well for up to two months. Storing the soup in shallow, portion-sized airtight containers will let it freeze faster and make it easier to reheat. 
What's the Best Way to Reheat Pumpkin Soup
To reheat curry pumpkin soup on the stovetop:
Thaw frozen soup overnight in the fridge. While you can directly reheat frozen soup in a pinch, it will take longer, and you must keep a close eye on it to prevent scorching. 
You can try reheating the soup in a pot that is directly over medium-low heat, but for the best results, use a bain-marie to prevent burning. Whichever method you decide to use, remember to stir constantly and try thinning out the soup with some chicken or vegetable stock.
Popular Pumpkin Recipes
Favorite Soup Recipes
Check out more of my easy soup recipes and the best recipes for fall on CopyKat!
Pumpkin Curry Soup
This homemade pumpkin curry soup is made from scratch and has just the right amount of spice. 
Print
Pin
Rate
Add to Collection Go to Collections
Servings: 2
Calories: 403kcal
Ingredients
1

cup

chopped white onions

1 1/2

teaspoons

curry powder

2

tablespoons

butter

16

ounces

pumpkin puree

2

cups

chicken or vegetable stock

1/4

cup

heavy cream

squeeze of lime juice
Instructions
In a pot over medium heat, sauté the onions and curry powder in butter until the onions become translucent.

Add the pumpkin puree and stir.

Add the chicken broth and heat until the soup just begins to bubble.

Add the heavy cream and stir well.

Serve each bowl with a squeeze of lime juice.
Video
Nutrition
Calories: 403kcal | Carbohydrates: 36g | Protein: 10g | Fat: 26g | Saturated Fat: 15g | Cholesterol: 78mg | Sodium: 469mg | Potassium: 881mg | Fiber: 8g | Sugar: 14g | Vitamin A: 36085IU | Vitamin C: 15.9mg | Calcium: 111mg | Iron: 4.3mg