Cheesy Potatoes are a family-favorite recipe! Diced potatoes tossed in an irresistibly creamy cheese sauce and then topped with crunchy buttered breadcrumbs–what's not to love?
This cheesy potato casserole is made from scratch with diced potatoes. If you're looking for a cheesy potato recipe with hash browns, you've got to try our favorite Funeral Potatoes!
Cheesy Potato Casserole
Not to be confused with Funeral Potatoes which are made with frozen hash browns, Cheesy Potatoes are made with diced fresh potatoes. Sometimes called party potatoes or great potatoes — this potato casserole is one of my family's favorites!
While somewhat similar to Au Gratin potatoes, this casserole has a deeply savory cream sauce with loads of cheese and perfectly cooked potatoes. They basically melt in your mouth!
We finish this casserole with an irresistible crunchy topping that adds texture and nuance to the dish. In fact, we loved the topping on this one-pan Tuna Casserole so much that we had to steal it for these potatoes. A touch of fresh thyme complements the potatoes and sauce, pulling everything together beautifully!
QUICK TIP
We make these Cheesy Potatoes in the oven, but if you want to make cheesy potatoes in the crockpot, you've got to try our Crockpot Au Gratin Potatoes!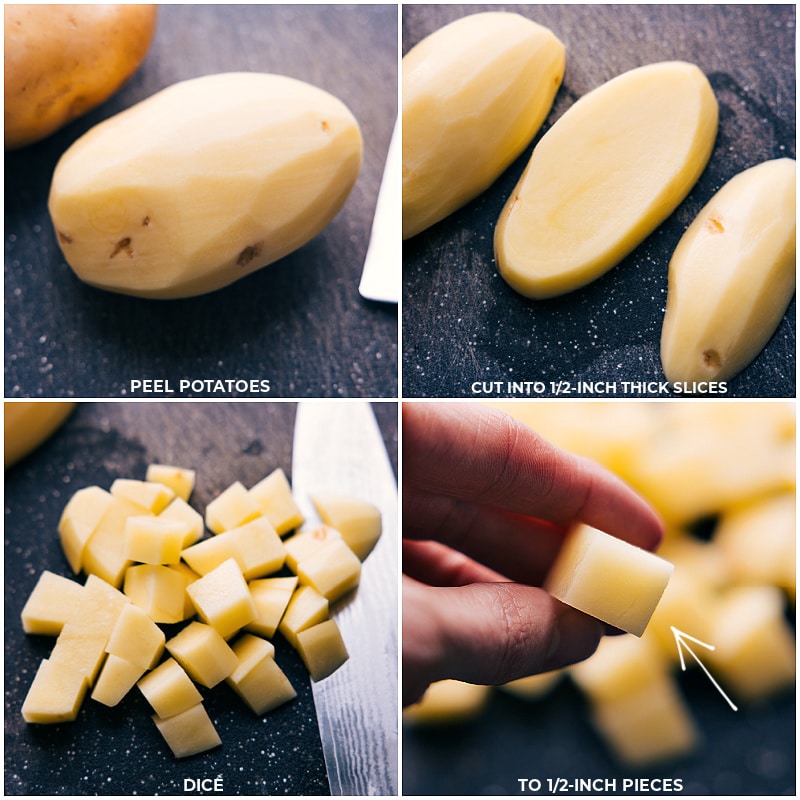 How To Make Cheesy Potatoes
Prep potatoes. Turn on your favorite playlist or podcast and get started peeling and chopping the potatoes. See "variations" tip below.
Prep cream sauce. We start with a roux (butter plus flour) and gradually add in some milk. Once the sauce is nice and thick, we mix in some cheese–the perfect creamy, cheesy sauce to bathe the potatoes in!
Assemble. The potatoes are layered, alternating with grated cheese.
Bake. These potatoes require a good amount of oven time, so this is a dish that requires planning ahead. After they've mostly baked through, we finish this Cheesy Potato recipe off with (more) cheese, a crunchy topping, and bake again!
VARIATIONS
Make cheesy scalloped potatoes by following this recipe, but thinly slicing the potatoes (1/8th-inch thick) instead of cutting into cubes!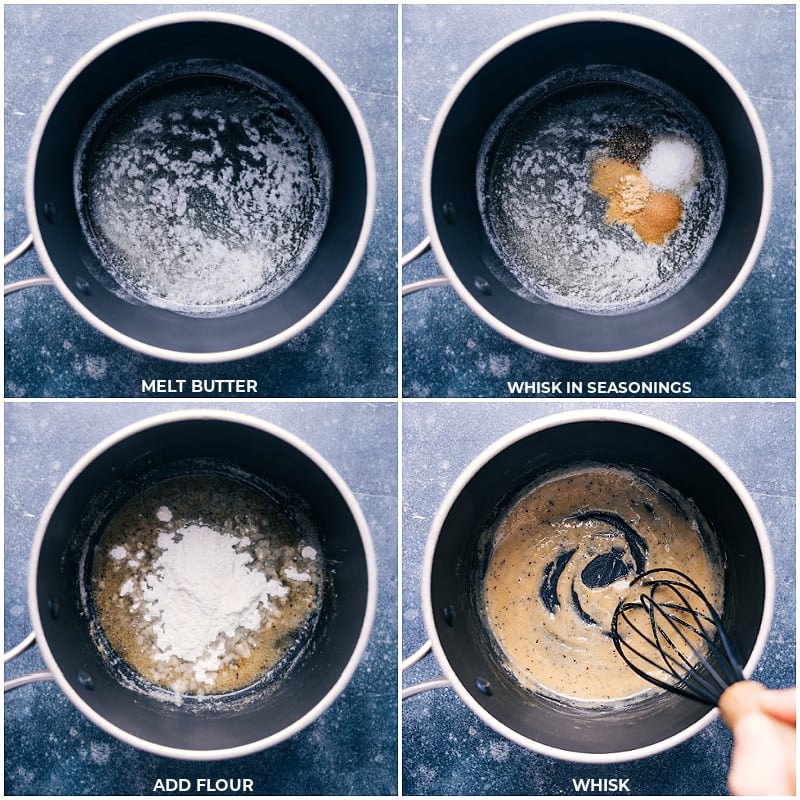 Cheesy Potatoes With Real Potatoes
Ditch the box mixes– nothing beats using real potatoes! Speaking of potatoes, Yukon gold (also called gold, Yukon, or yellow potatoes) are our hands-down favorite potato to use in this recipe.
Yukon gold potatoes are small to medium-sized potatoes with a light yellow flesh, delicate skin, and an irresistible creamy flavor and ever-so-slight sweetness. Once you try these potatoes in this casserole you'll never want to go back to any other type!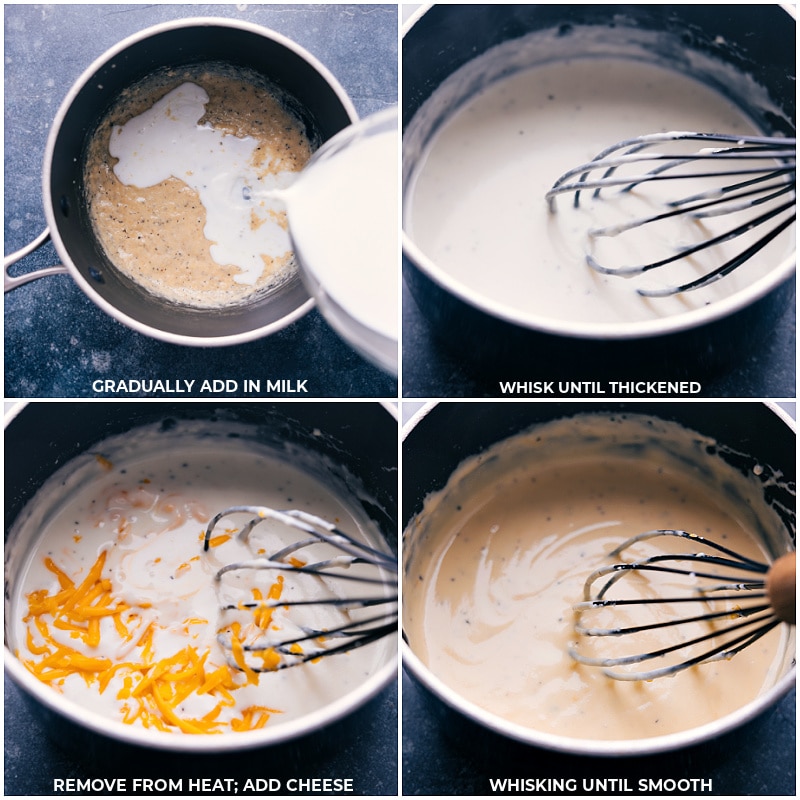 Cheesy Potatoes Without Soup
A lot of potato casserole recipes start with a "cream of something" soup. But, we love making the cheese sauce from scratch — it tastes so good and doesn't require too much extra effort. The one ingredient that really sets this sauce apart is the cheese.
Sharp Cheddar — or extra sharp. Sharp (and extra sharp) indicates a more aged cheese that will deliver a richer and more pungent flavor. If you've ever noticed your cheese sauce to be lacking, it's likely because the cheese wasn't aged (or the sauce needed more salt!)
QUICK TIP
Grate your own cheese! Already-grated packaged cheese will give the sauce a powdery texture and won't melt as nicely (Pre-grated cheeses have a powder coating to keep shreds from clumping in the bag).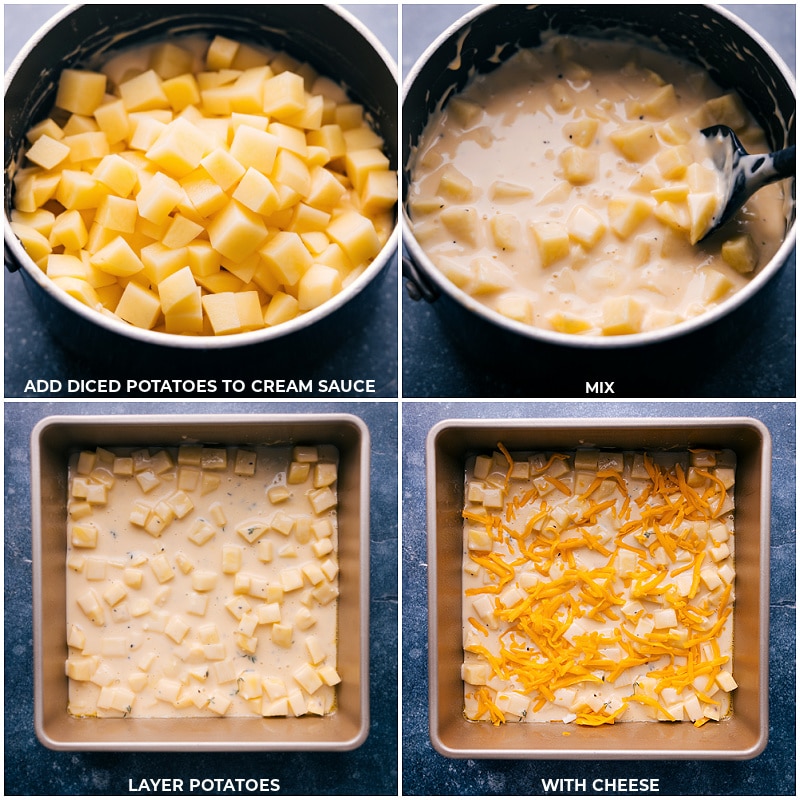 What Goes With Cheesy Potatoes
You can serve Cheesy Potatoes pretty much anywhere where you'd serve Mashed Potatoes . We typically serve it alongside a meat main (like pulled pork, grilled chicken, a flat iron steak, or blackened chicken) with a big garden salad or roasted vegetables. 
These potatoes are also a great addition for a holiday dinner: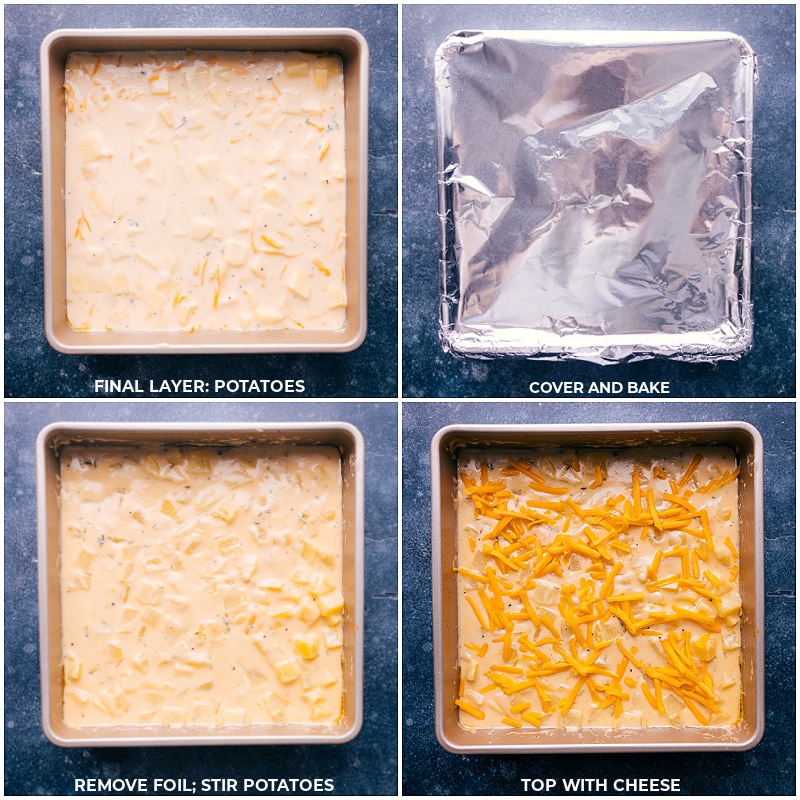 Crispy Topping
Cheesy Potatoes get topped with everything from crushed potato chips to corn flakes! While all are delicious, we like these cubed potatoes best with a buttered panko topping.
What is panko? Panko is similar to regular bread crumbs but creates a much crunchier, crispier, lighter, and more delicate result. You'll find it near the bread crumbs or breading mixes in the grocery store. Grab plain Panko instead of a seasoned one!
Why toast the panko? To give the panko topping even more flavor and keep it from getting soggy, we toast it in a skillet. This step is quick, but adds so much to the casserole! That said, if you'd prefer, melt the butter in the microwave, stir in the Panko plus salt and just add that on top of the casserole. It won't be as brown, but still delicious!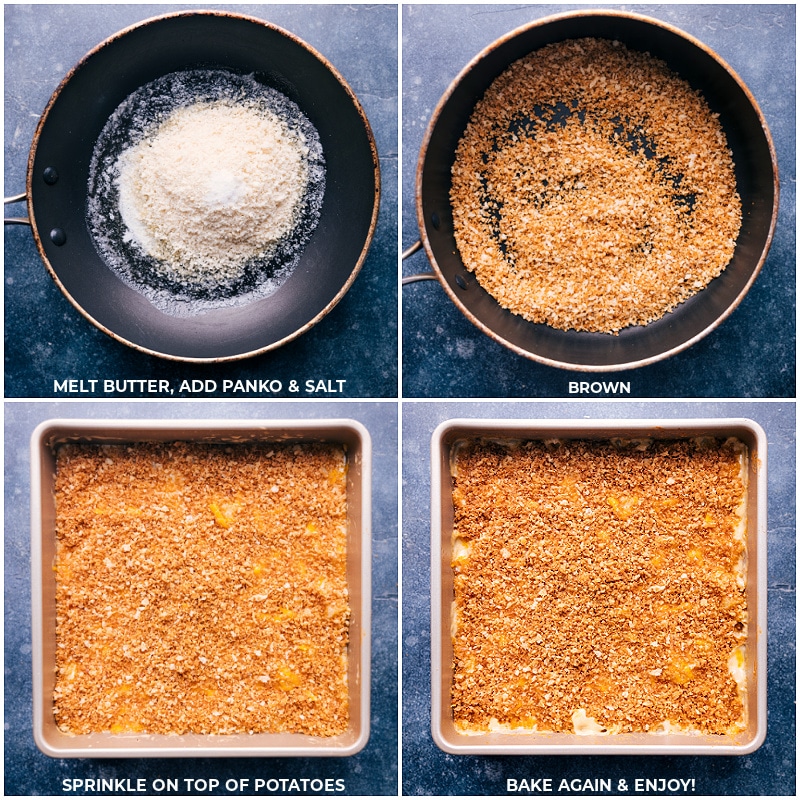 STORAGE
Storage
These potatoes are best hot out of the oven! As they sit, the topping does soften and the potatoes will continue to absorb the surrounding sauce.
Even though they do absorb the sauce more and more, they store well for about 5-7 days in the fridge– but the crispy topping will soften and become soggy. If you won't be finishing the entire casserole in a day, only add topping to what will be used at the time.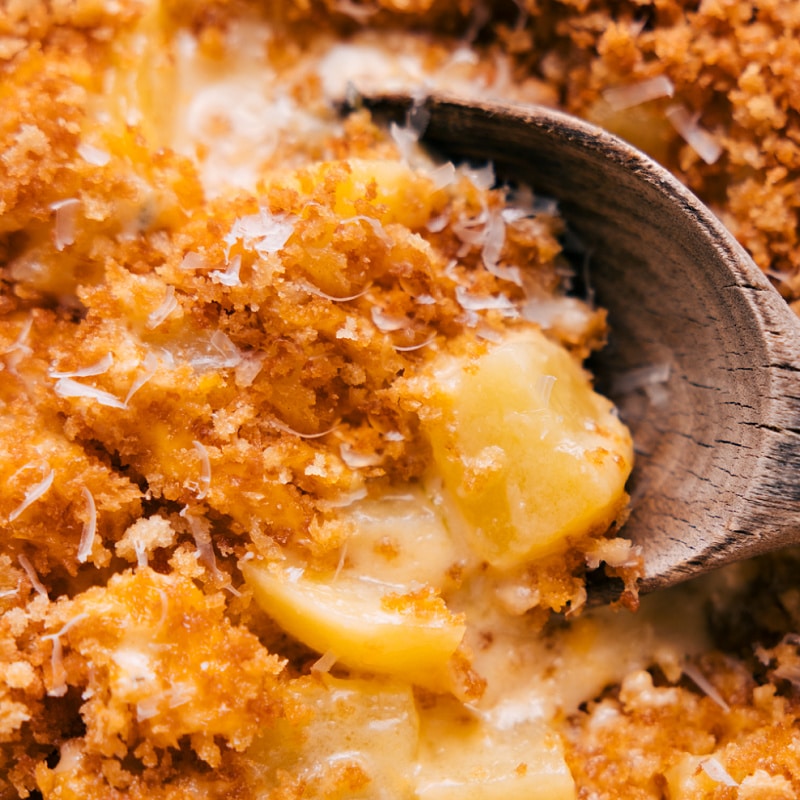 QUICK TIP
Make this Side Dish Into A Main Course! 
Transform Cheesy Potatoes into a main course! Add in some smoked sausage, cooked ground beef, or diced rotisserie chicken. Add any of these additions after the initial 1 hour, 15 minute bake time. (Stir up the potatoes, mix in the protein, add in the topping, and finish baking.)
More Great Side Dishes:
Cheesy Potatoes
Cheesy Potatoes are a family-favorite recipe! Diced potatoes tossed in an irresistibly creamy cheese sauce and topped with crunchy buttered breadcrumbs. What's not to love?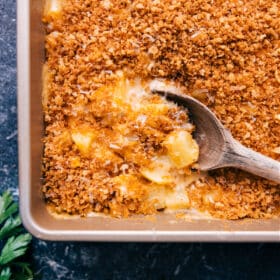 Cheesy Potatoes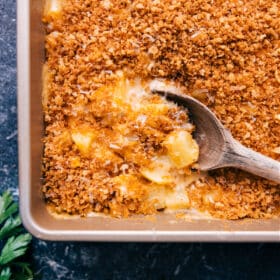 Cheesy Potatoes are a family-favorite recipe! Diced potatoes tossed in an irresistibly creamy cheese sauce and topped with crunchy buttered breadcrumbs. What's not to love?
Instructions
PREP: Preheat oven to 350 degrees F. Generously grease a 9×9-inch (or 2-quart) pan with cooking spray and set aside.

PREP POTATOES: Peel and dice potatoes (1/2-inch). Tightly pack potatoes in measuring cups to ensure a full 5 cups.

SAUCE: Melt butter in a large nonstick pot over low heat. Once melted, add garlic powder, mustard powder, and onion powder. Season to taste (I add 1-1/2 tsp salt & 1/4 tsp pepper). Sauté 1 minute or until fragrant. Sprinkle in flour and whisk constantly for 1 minute until smooth (don't let it brown). Very gradually pour in 1 cup milk while whisking constantly. Once completely smooth, increase heat to medium-high and gradually add in the other cup of milk. Stir occasionally until mixture comes to a boil.

SAUCE, CONT.: Once boiling, reduce the heat to medium low and stir constantly for 2 minutes or until mixture is nicely thickened (Note 4). Remove pot from heat and let cool for 2 minutes. Stir in 1 cup Cheddar cheese, mixing gently until melted and smooth. Add in the diced potatoes and stir to coat. Mix through fresh thyme if using.

ASSEMBLE: Add 1/3 of the potatoes to prepared pan. Sprinkle with 1/2 cup Cheddar cheese. Add another 1/3 of potatoes on top and sprinkle with another 1/2 cup of cheese. Add remaining potatoes on top smoothing to an even layer. Cover pan with foil and bake for 1 hour 15 minutes.

TOPPING: Meanwhile, melt 2 tablespoons butter in a large skillet over medium-high heat. Once melted, add in panko and salt to taste, I add 1/4 teaspoon. Stir constantly until lightly browned and then remove from heat and set aside.

BAKE: Remove foil and use a table knife to pierce the middle of the pan to test if the potatoes are tender. (If not, bake a 5-10 more minutes and check again.) Remove from oven and use a spatula to gently stir the potatoes and then smooth again in an even layer. Sprinkle on remaining 1/2 cup Cheddar cheese. Sprinkle panko topping evenly over cheese and bake for another 10-15 minutes or until golden and bubbly. Remove and let stand for 5-10 minutes before serving. Sauce will thicken as it stands. Enjoy!
Recipe Notes
Note 1: Potatoes: Yukon gold (also called gold, Yukon, or yellow potatoes) are our hands-down favorite potato to use. Russet potatoes will also work. Peel potatoes, rinse in cool water then cut into 1/2-inch cubes.
Note 2: Milk: We like whole milk best; it delivers the richest end result. 2% and 1% will work, but we do not recommend skim milk or plant-based milk alternatives.
Note 3: Cheese: Pre-grated cheese has a powdery coating to keep it from clumping in the bag, so we recommend freshly grating the cheese so it melts nicely into the sauce. Use sharp or extra-sharp to ensure there is enough flavor in the sauce! Mild Cheddar will leave the sauce lacking.
Note 4: Thickness check: The sauce should be thick enough to coat the back of a wooden spoon. Lift up the spoon and immediately trace a line across the back of the spoon with your fingertip. If the line retains a clear track, the sauce is thick enough. If not, the sauce needs to be cooked a bit longer.
Nutrition Facts
Calories: 277kcal | Carbohydrates: 10g | Protein: 11g | Fat: 21g | Saturated Fat: 12g | Polyunsaturated Fat: 1g | Monounsaturated Fat: 5g | Trans Fat: 0.3g | Cholesterol: 61mg | Sodium: 296mg | Potassium: 139mg | Fiber: 0.4g | Sugar: 3g | Vitamin A: 683IU | Vitamin C: 1mg | Calcium: 339mg | Iron: 1mg
We do our best to provide accurate nutritional analysis for our recipes. Our nutritional data is calculated using a third-party algorithm and may vary, based on individual cooking styles, measurements, and ingredient sizes. Please use this information for comparison purposes and consult a health professional for nutrition guidance as needed.