The most tender, flavorful Crockpot Chicken Tacos made with just 4-ingredients!
Season chicken breasts with taco seasoning and then cook them in a slow cooker with a jar of salsa and taco night is ready in no time.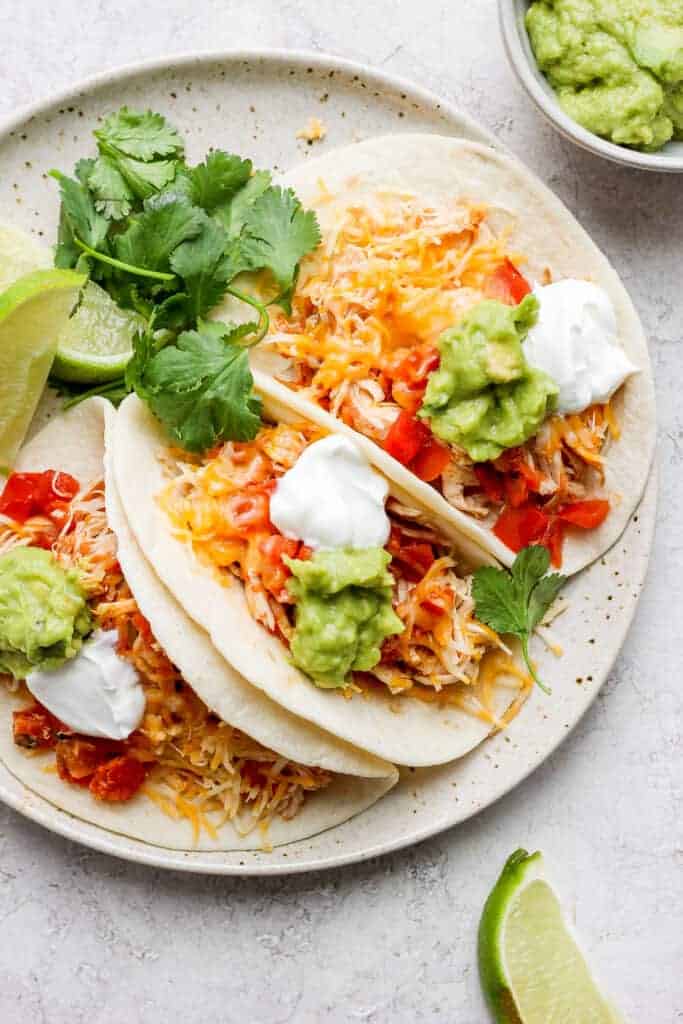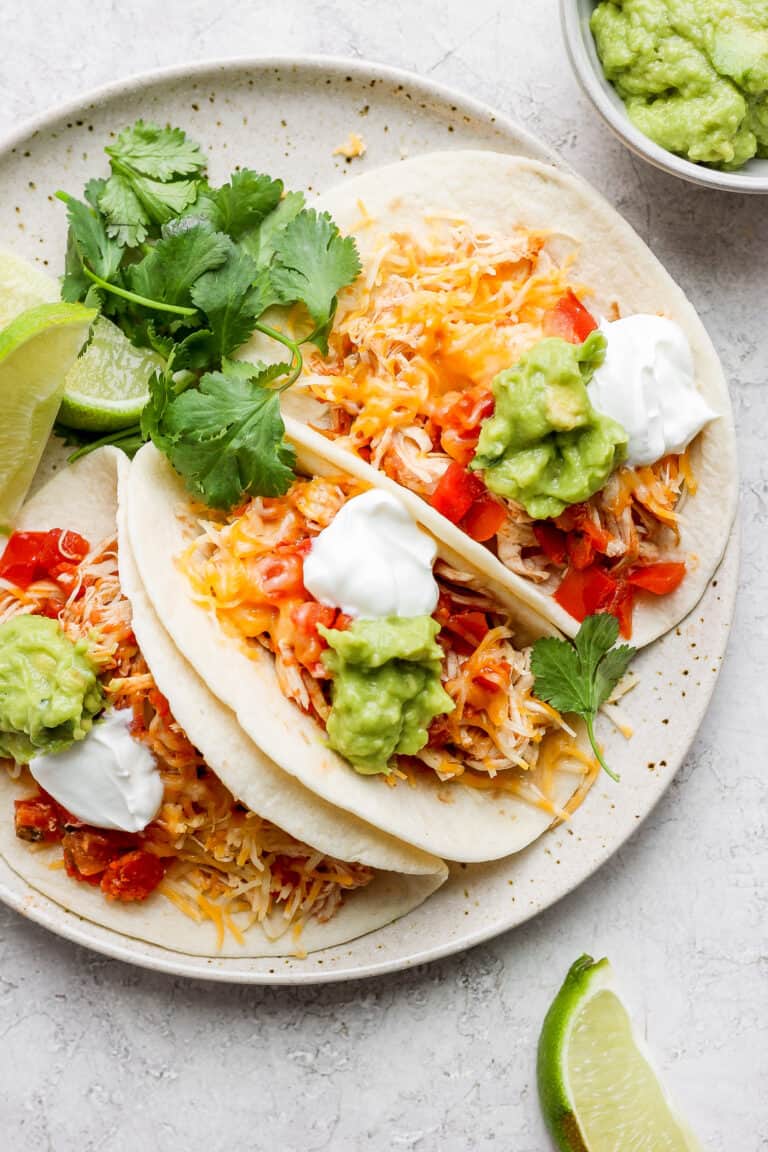 Seriously Easy Crockpot Chicken Tacos
These chicken tacos are made with delicious slow cooker shredded chicken, taco seasoning, and a jar of salsa. It seriously doesn't get much easier.
I love that this is a set it and forget it kind of meal and that there's barely any prep work! Plus, you can serve this crockpot chicken tacos meat in a taco shell, as a bowl, or even on top of nachos. Your options are endless.
why make this chicken taco recipe?
4-Ingredients: 4 ingredients is all you need and you're ready to rock!
Versatile: Eat these slow cooker chicken tacos in a taco shell, as a salad, or even in a burrito!
Healthy: this recipe is high-protein, and low-carb making it a healthy dinner option.
Hands-off: no flipping, sauteeing, or grilling involved Place all of the ingredients in your slow cooker, turn it on, and walk away.
One-Pot: we love that you only need one pot to make these crock pot chicken tacos! Easy clean up for an easy dinner.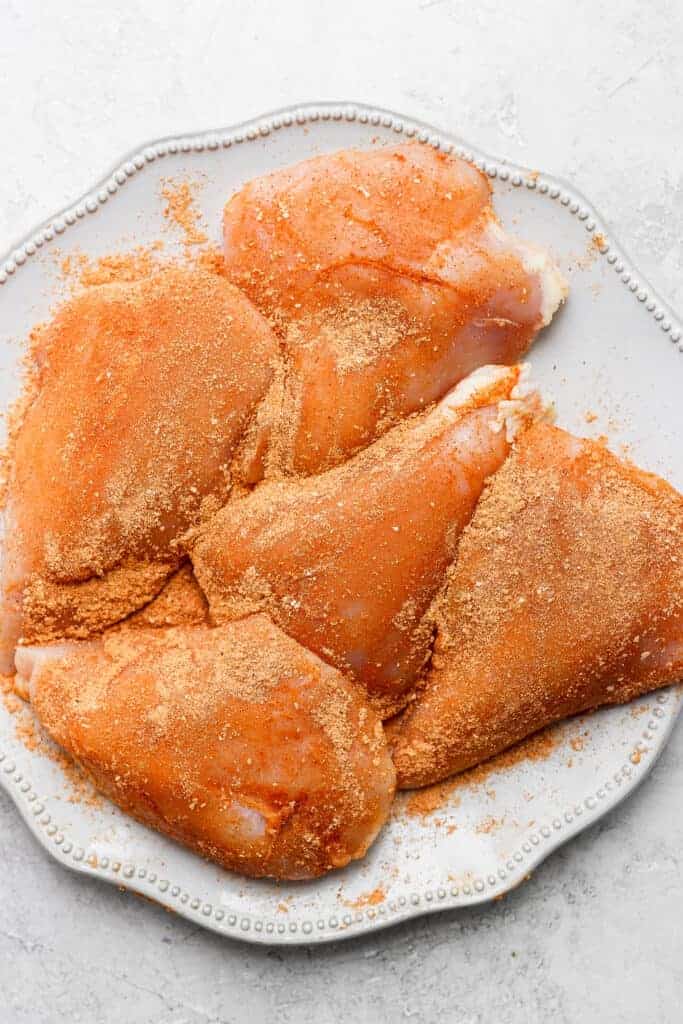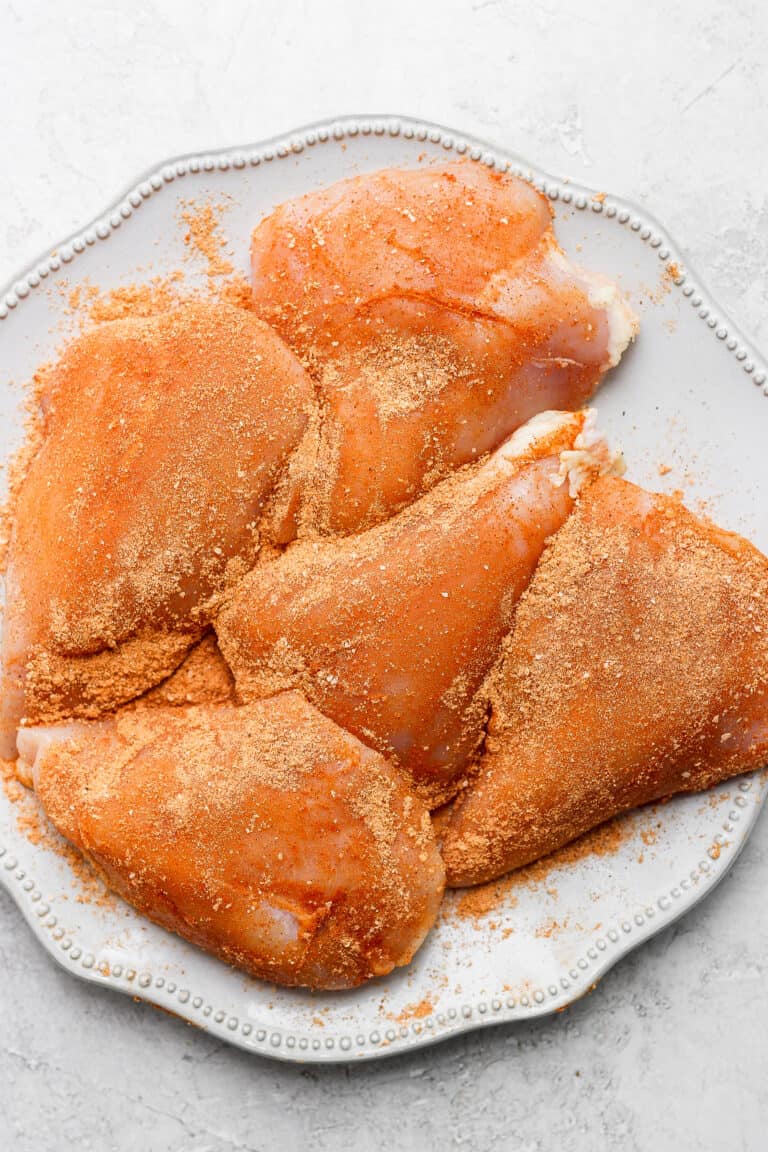 What You Need
Chicken breast: we love using chicken breasts for crockpot chicken tacos because they cook perfectly in the slow cooker and come out super moist.
Taco seasoning: we always recommend using our homemade taco seasoning, but you're more than welcome to sub a store-bought taco packet instead.
Salsa: these slow cooker chicken tacos call for a 16-oz. jar of salsa. Feel free to use your favorite kind (mild, medium, or hot).
Water/broth: a little bit of water or broth is going to help make sure the chicken stays nice and tender and doesn't dry out.
Best Homemade Taco Seasoning
Our homemade taco seasoning is seriously the holy grail of these tacos. This spice mix is ALWAYS in my cabinet for reasons just like this recipe! Here's what you need to make it:
chili powder
garlic powder
ground cumin
onion powder
coarse sea salt
red pepper flakes
ground black pepper
ground oregano
smoked paprika
If you don't have time to make our taco seasoning, I highly suggest Siete Foods' taco seasoning packet. It's made with clean ingredients and super tasty.
Salsa Recommendations
The beauty about these crock pot chicken tacos is that a lot of the flavor actually comes from a jar of salsa. This is the fun part. If you like it spicy, buy a spicy jar of salsa. The same goes for a more mild flavor!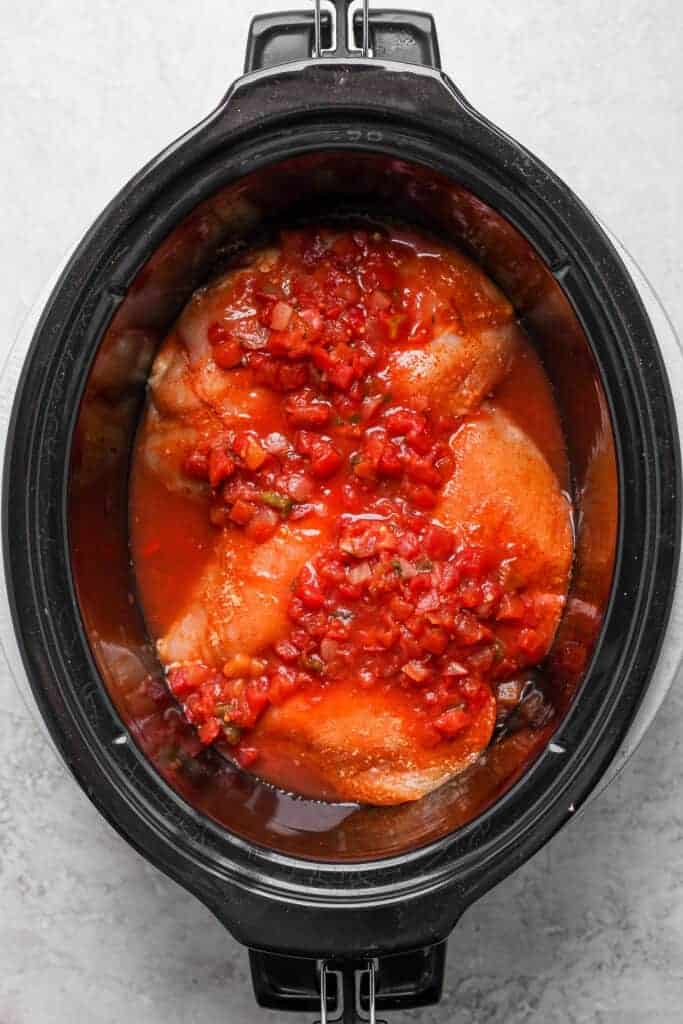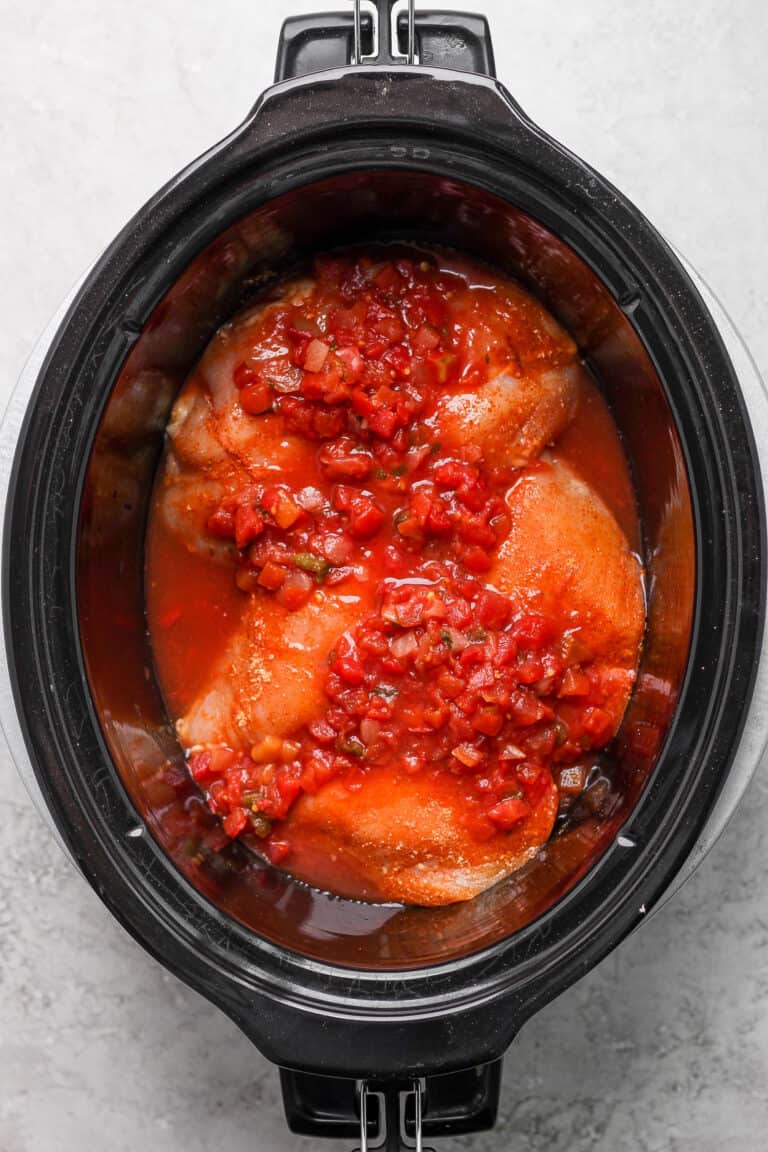 How to Make Crockpot Chicken Tacos
I'm not sure a recipe can get any easier! These crockpot chicken tacos take 10 minutes to prepare and then it's hands-off from there.
Season chicken breast: First, season your chicken breast on both sides with the taco seasoning.
Place Ingredients in Slow Cooker: Pour 1/2 cup of salsa on the bottom of your slow cooker and mix it with water. Then, add the chicken breast and pour the rest of the salsa on top of the chicken.
Cook: Cover slow cooker and cook on high for 2-3 hours or on low for 6-8 hours.
Shred: Once your chicken is fully cooked (165ºF internally) use 2 forks to shred the chicken. Then, mix it with the leftover juices and salsa.
Eat: Serve crockpot chicken tacos immediately!
#1 Tip for Perfect Slow Cooker Chicken Tacos
If you are big into the slow cooker, I'm sure you noticed that most recipes have 2 options – cooking on high or on low. Let me share a little secret for these slow cooker chicken tacos!
The lower and slower you cook them, the better!
One of the biggest worries when it comes to cooking chicken breasts in the slow cooker is drying them out. By cooking them on a lower heat and for a longer amount of time, they stay nice and tender. Plus, here is a good amount of liquid in the slow cooker with the chicken breast, so that helps too!
FAQ
Can you put frozen chicken in the slow cooker?
According to food safety laws, we do not recommend putting frozen chicken in your crockpot. It will likely take too long for the chicken to fully thaw and cook in a safe amount of time to avoid e-coli and other foodborne illnesses.
Does taco seasoning work on chicken?
Taco seasoning works on all meats and veggies. You can use regular store-bought taco seasoning or homemade taco seasoning on chicken.
Can you freeze crockpot chicken tacos?
To freeze, place all ingredients into a gallon-size plastic bag and remove as much air as possible. Seal and freeze for up to 3 months. When you're ready to cook, thaw completely and follow the instructions in this recipe card.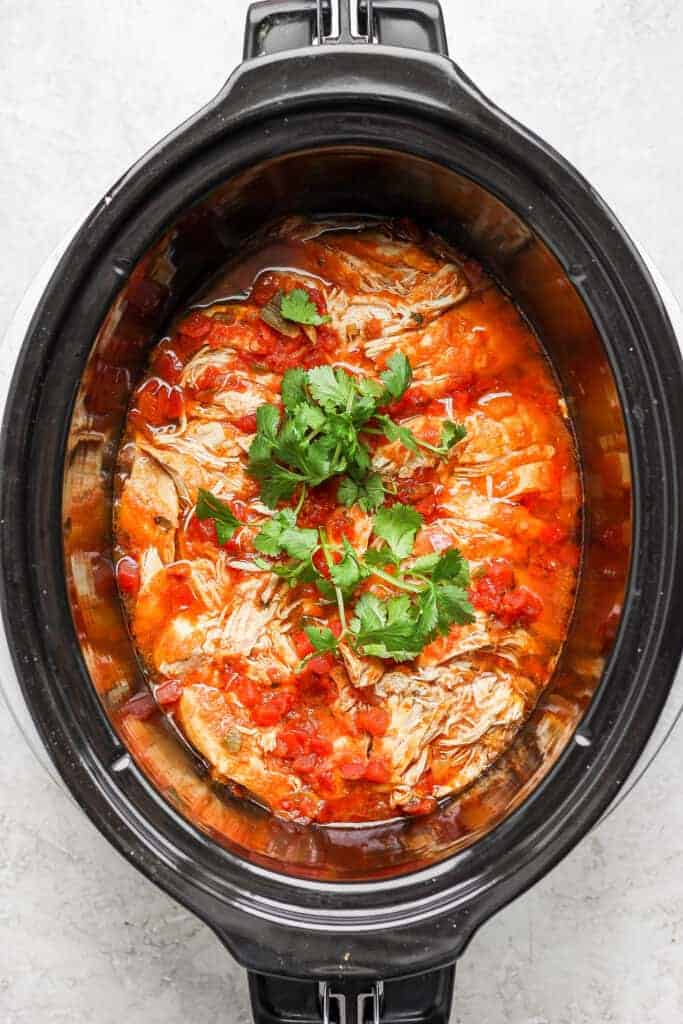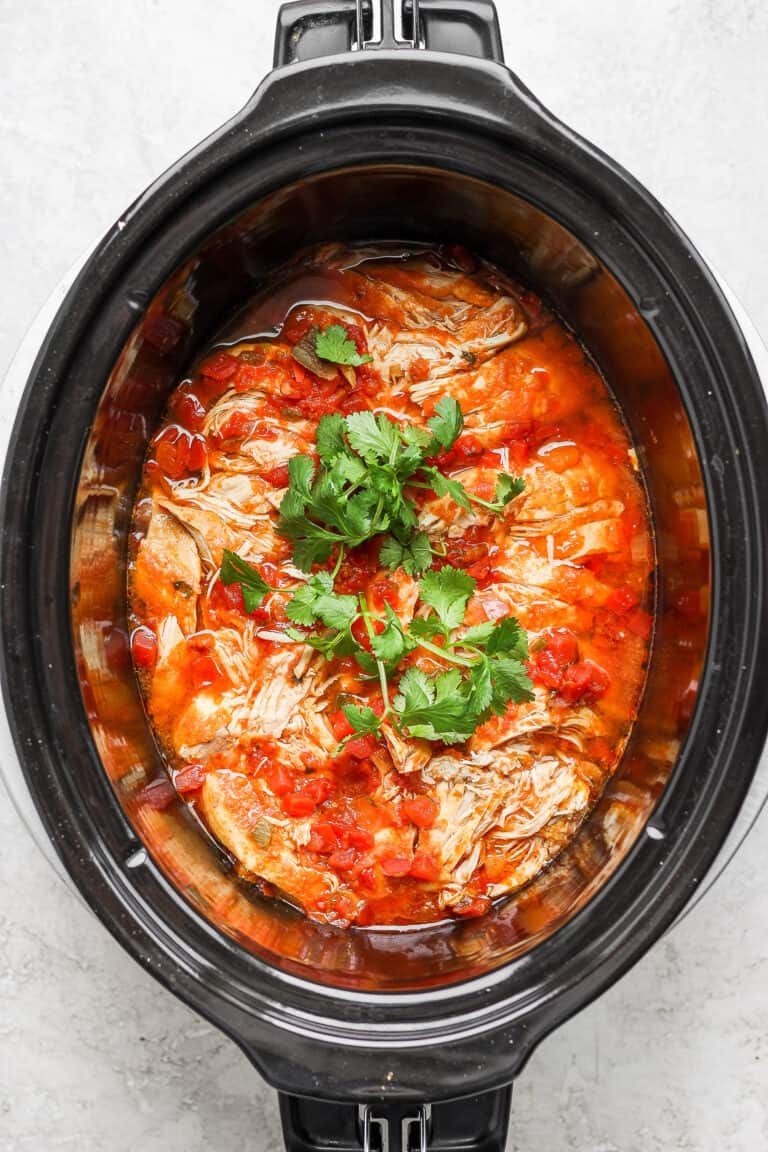 Instant Pot Instructions
Salsa chicken tacos are so easy to make in the Instant Pot! All you have to do is season your chicken with taco seasoning. Then, place the trivet in the Instant Pot and place the chicken on top. Pour in the salsa and water and cook on high pressure for 8-10 minutes. Shred chicken and enjoy!
Baking Instructions
Want to bake these crock pot chicken tacos instead? It's super simple. Here's how to do it:
Spray a casserole dish with nonstick cooking spray and pour 1/2 cup of salsa on the bottom and mix it with 1/4 cup of water.
Season chicken breasts with taco seasoning and then place the chicken in the casserole dish. Cover the chicken with the remaining salsa.
Bake chicken at 375ºF for about 25 minutes or until the chicken is 165ºF internally.
Shred chicken and enjoy!
Topping Ideas
Shredded chicken taco meat isn't a taco without all of the fixings! The beauty about tacos is that you can really customize them however you want once you have the meat nailed down. Here's how we made ours:
street taco tortillas
shredded Mexican cheddar cheese
Greek yogurt/sour cream
diced red pepper
homemade guacamole
fresh cilantro
Other Ways to Serve Your Crock Pot Chicken Tacos
Salad: Make a taco salad! Chop up romaine lettuce and serve your shredded chicken tacos meat with fresh tomatoes, olives, green onion, and our avocado cilantro lime dressing.
Taco Bowls: Not a tortilla person?! Make a taco bowl instead. Pair your crockpot shredded chicken tacos with cilantro lime rice and serve it with fajita veggies and salsa.
Burritos: chicken burritos are a favorite at FFF. Wrap your shredded chicken in a large tortilla and then add Mexican rice, fajita veggies, and refried beans. BONUS – you can easily freeze these for later.
What to Serve Them With
Guacamole: This is hands down the BEST guacamole recipe on the internet and it only requires 5 ingredients and 10 minutes of your time!
Skinny Margaritas: Our signature Fit Foodie margarita is made with 4 simple ingredients: lime juice, tequila, ice, and your choice of honey or agave simple syrup!
Mexican Street Corn Salad: This delicious healthy side dish is made with grilled corn, fresh veggies, and the most delicious cotija yogurt sauce. Drop everything you're doing and make this Mexican Street Corn Salad today!
Churros Cookie Dough Dip: If churros batter were edible, it would be this recipe! Made with garbanzo beans, coconut sugar, ground cinnamon, and dates, this churro edible cookie dough dip is a healthy dessert or snack option for any day of the week.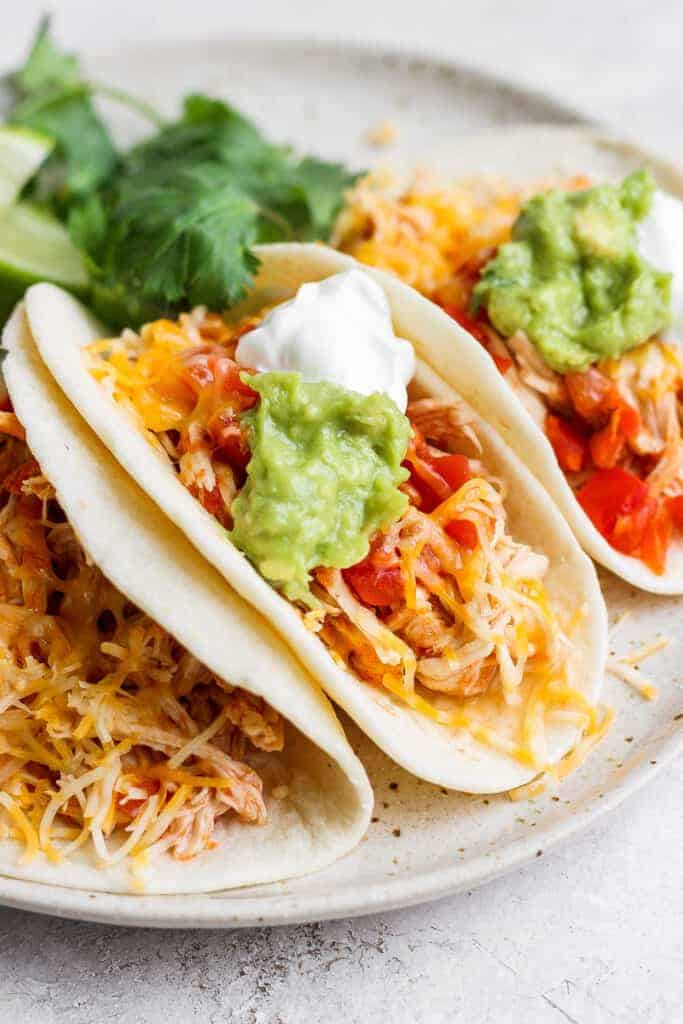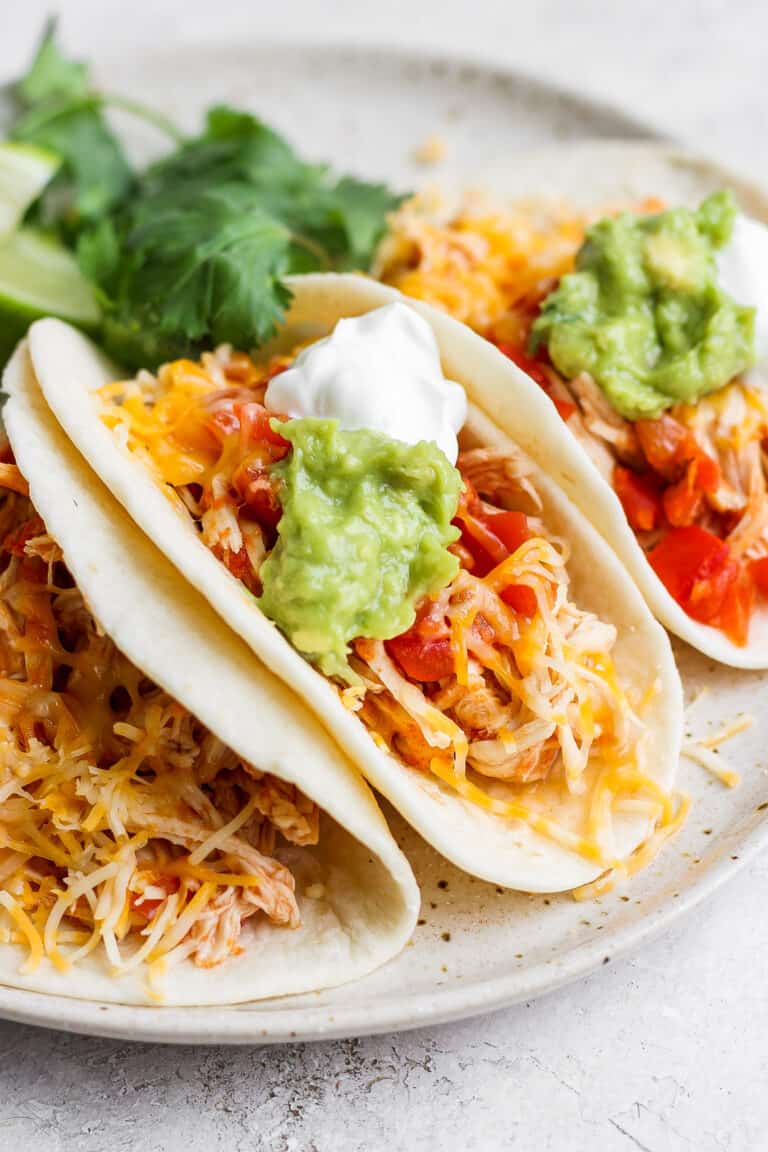 Storage
Let crock pot chicken tacos cool completely. Then, transfer them Into an airtight container and store them in the fridge for up to 3-5 days.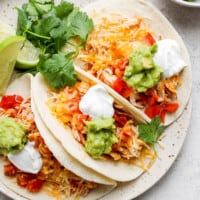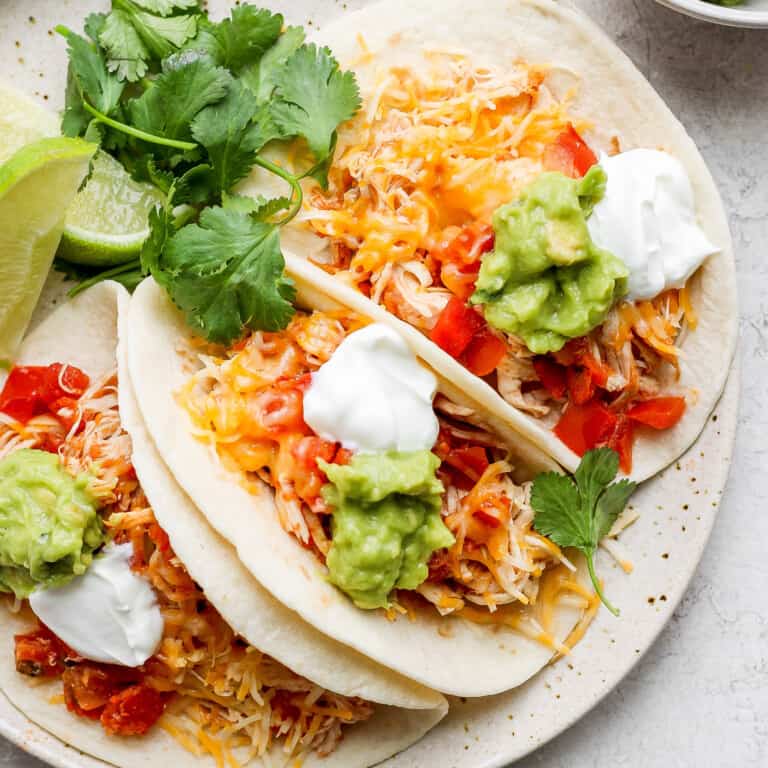 Easy Crockpot Chicken Tacos Recipe
Easy Crockpot Chicken Tacos made with chicken breast, tacos seasoning, and a jar of salsa! These slow cooker chicken tacos come out so tender and delicious.
Prep:10 minutes
Cook:3 hours
Total:3 hours 10 minutes
Ingredients
For the Chicken
2

lbs.

chicken breast

2

tablespoons

homemade taco seasoning

or 1 packet taco seasoning

16

oz.

jar salsa

1/4

cup

water

or broth
For the Tacos
Street taco tortillalas

Guacamole

Fresh cilantro

Minced red pepper/tomato

Sour cream
Instructions 
First, season chicken breast with taco seasoning, making sure to cover both sides. 

Next, pour about ½ cup of salsa onto the bottom of your slow cooker and mix with ¼ cup water. Then, place chicken breast on top.

Pour the rest of the salsa on top of the chicken.
Close and cook on: Low: 6-8 hours (recommended) or High: 3 hours.
Once the chicken is fully cooked, use 2 forks to shred the chicken. Then, mix the shredded chicken with the salsa in the slow cooker. Cover and let cook for an additional 30 minutes on low to thicken the sauce.

Serve slow cooker chicken taco meat in tacos, on nachos, or in a bowl.
Tips & Notes
Nutrition information is just for the slow cooker chicken tacos meat.
This recipe was updated on April 5, 2021. For the original recipe click HERE.
Nutrition facts
Calories: 170kcal Carbohydrates: 2g Protein: 36g Fat: 2g Fiber: 0g Sugar: 0g
Photography: photos taken in this post are by Erin from The Wooden Skillet.