This easy enchiladas recipe is always a hit! Featuring a flavorful homemade sauce and lots of melty cheese, it's simple, comforting, and delicious.
This enchiladas recipe is the kind of simple, comforting dish that we all need in our weeknight rotations. It's easy, it's flavorful, and it will win over the pickiest palates (our kiddo always asks for more!).
The filling is a combo of gooey cheese, black beans, and steamed spinach. I roll it up in corn tortillas, which I then smother with homemade enchilada sauce and more cheese. Finally, I bake the enchiladas until the cheese is melty and the edges of the tortillas are crisp. For such a simple recipe, the taste, texture, and overall deliciousness are out of this world! I think you're going to love it.
Cheese Enchiladas Recipe Ingredients
Though enchiladas are now a fixture in American home kitchens and Tex Mex cuisine, they have their roots in Mexico. Styles of enchiladas vary greatly from region to region and from kitchen to kitchen, but generally, they consist of tortillas dipped in a sauce and then rolled around a filling. They are also sometimes left unfilled, folded over, and topped with meat, cheese, or vegetables. This cheese enchiladas recipe is a version of the enchiladas I grew up eating in the Midwest, and it's similar to some Tex Mex enchiladas I've enjoyed at restaurants in Austin too. Here's what's in it:
Corn tortillas – I love the rich corn flavor they add to this recipe, though you could sub flour tortillas if you prefer. Tortillas made with a corn/flour blend are also nice here, as they're more pliable than regular corn tortillas, but they still have a nice corn flavor.
Red enchilada sauce – My homemade version is so much better than the store-bought kind! It's easy to make with tomato sauce, veggie broth, and spices.
Cheddar, Monterey Jack, and Oaxaca cheese – The cheddar adds great sharp flavor, and the Jack and Oaxaca cheeses melt beautifully. You'll use the cheddar and Jack cheeses on top of the enchiladas and add all three cheeses to the filling.
Black beans – They add creamy texture and earthy flavor to the enchilada filling.
Spinach – Its silky texture is fantastic inside the enchiladas.
And the toppings – Avocado, cilantro, and jalapeños offer the perfect fresh contrast to the cheesy filling.
Serve with a squeeze of lime!
Find the complete recipe with measurements below.
How to Make Enchiladas
This cheese enchiladas recipe is so simple! Here's how it goes:
First, prep the sauce and fillings. The sauce is quick and easy to make on the stove (we're talking 15 minutes!). It also keeps well for up to 5 days in the fridge if you want to make it in advance. Once the sauce is set to go, you'll need to steam and chop the spinach and grate the cheddar and Jack cheeses. Tear the Oaxaca cheese into strips.
Next, fill the enchiladas. Spread 1/2 cup of the sauce at the bottom of a large baking dish. Place a little of each cheese and some of the black beans and spinach in a tortilla, and roll to seal. Place it, seam side down, in the prepared baking dish. Repeat to assemble the remaining enchiladas.
Then, add more sauce and cheese. Pour the remaining sauce down the center of the enchiladas, leaving the edges of the tortillas bare so that they crisp up in the oven. Scatter the remaining cheddar and Jack cheeses in the center as well.
Finally, bake in a 350°F oven until the cheese is melted and the edges of the tortillas are crisp.
Let the enchiladas cool slightly, then load them up with fresh cilantro, diced avocado, and sliced jalapeños, and dig in!
Oh, and if you want to get creative with your toppings, don't hold back. Sliced radishes, diced white onion, shredded cabbage or lettuce, or a dollop of sour cream would be great here too.
Enchilada Recipe Tips
Squeeze the water out of the spinach. Once you steam the spinach, place it in a clean kitchen towel or paper towel and wring out any excess water. This quick steps prevents that water from seeping into the enchiladas and making them soggy.
Tortillas cracking? Pop them in the microwave. In a traditional recipe, you'd lightly fry the tortillas in oil to make them pliable before assembling the enchiladas. To cut down on prep time, I skip this step when I make enchiladas at home. Instead, I wrap the tortillas in a damp kitchen towel and microwave them for about 10 seconds. They come out soft and flexible, easy to roll up without cracking.
Leave the edges of the tortillas bare. That way, they'll crisp up in the oven, offering a great crunchy contrast to the gooey enchilada middles.
Make this recipe your own! Do you prefer plain cheese enchiladas? Omit the black beans and spinach from the recipe. Like a heartier veggie filling? Add roasted butternut squash or cauliflower and green onions. Though this enchiladas recipe is delicious as written, you can treat it like a blank canvas. Have fun making it your own!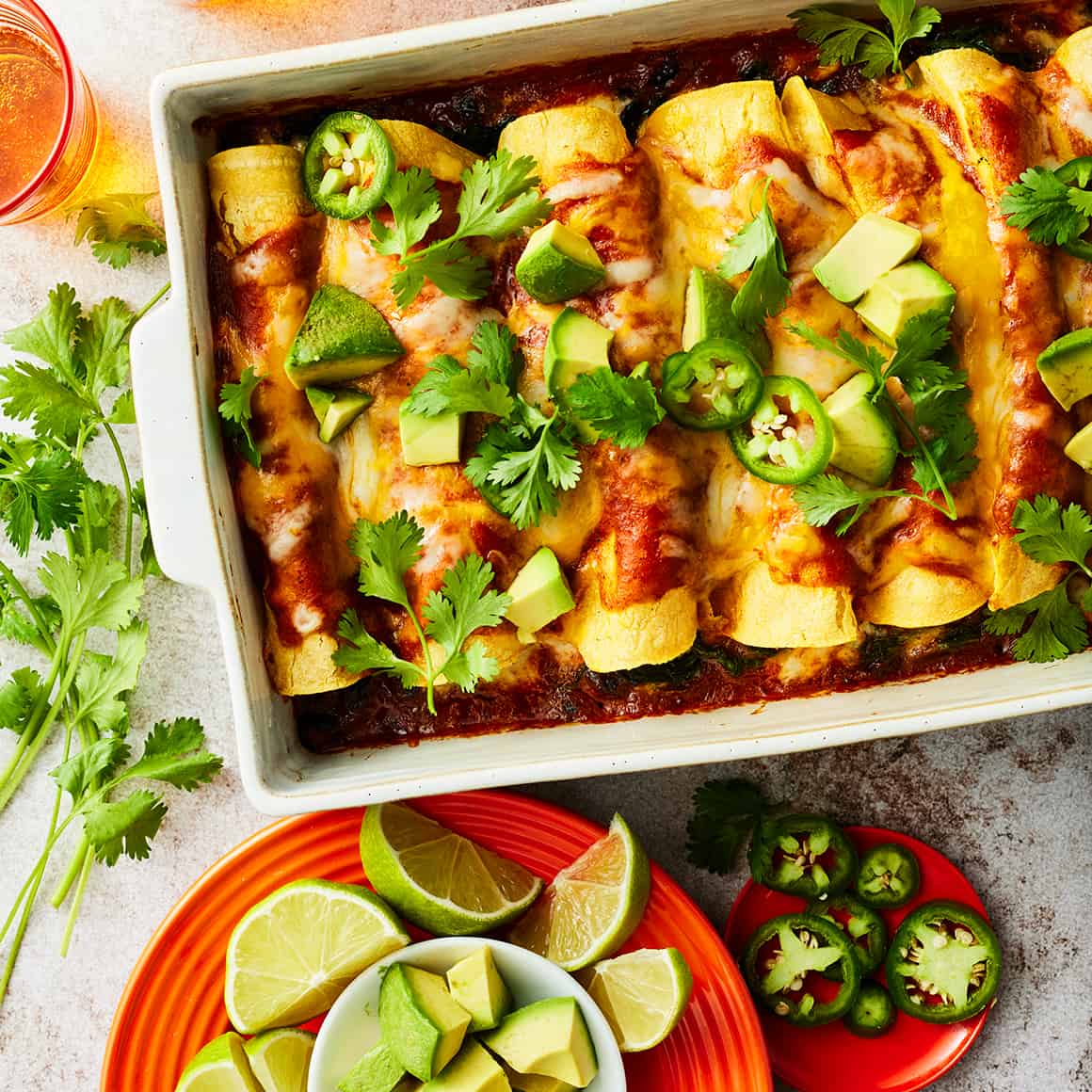 More Favorite Weeknight Dinners
If you love this enchiladas recipe, try one of these easy weeknight dinners next:
Cheese Enchiladas
Serves 4
This cheese enchiladas recipe is a delicious meal that's easy to make on any night of the week. To get ahead, prepare the sauce in advance. It will keep for up to 5 days in the fridge.
1½

cups

Enchilada Sauce

8

corn tortillas

1¼

cups

shredded sharp cheddar cheese

1¼

cups

shredded Monterey Jack cheese

8

ounces

Oaxaca cheese

,

torn

1

cup

cooked black beans

,

drained and rinsed

5

ounces

steamed and chopped spinach*

1

jalapeño pepper

,

thinly sliced

½

cup

chopped fresh cilantro

½

avocado

,

diced

½

lime

,

for squeezing
Preheat the oven to 350°F and spread ½ cup of the enchilada sauce on the bottom of a 9×13-inch baking dish.

If your tortillas are too stiff to roll without cracking, wrap them in a damp towel and warm them for a few seconds in the microwave.

In a small bowl, mix together ¾ cup of the cheddar cheese and ¾ cup of the Jack cheese.

Fill a tortilla with some of the cheese blend and some of the Oaxaca cheese, black beans, and spinach. Roll the tortilla closed and place it seam side down in the prepared baking dish. Repeat with the remaining tortillas. Pour the remaining 1 cup sauce on top of the enchiladas, leaving the edges of the tortillas bare, if desired. Top with the remaining ½ cup cheddar cheese and ½ cup Jack cheese.

Bake, uncovered, for 20 minutes, or until the cheese is melted and the edges of the tortillas are crisp. Remove from the oven and let cool slightly, then top with jalapeño slices, cilantro, avocado, and squeezes of lime and serve.
*Place the spinach in a steamer basket and set over a pot filled with 1 inch of water. Bring the water to a simmer, cover, and steam for 1 minute, or until the spinach is wilted. Transfer to a strainer and squeeze out the excess water. If desired, roughly chop the spinach.