This super easy French Onion Beef and Rice Casserole Skillet is a complete meal made in one pan. 
Filled with fluffy rice, sweet caramelized onions and hearty ground beef in a delicious french onion sauce… you're going to love it!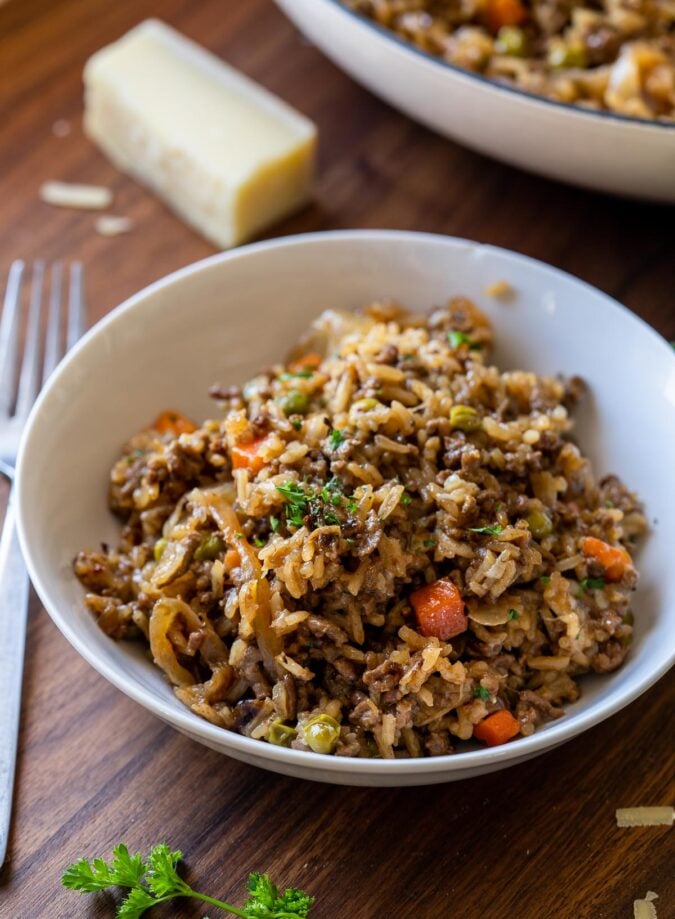 If you're a fan of French Onion Soup, you're going to love this hearty ground beef and rice dinner. 
French Onion Beef and Rice
All you need is one pan to whip up this super simple weeknight dinner recipe using ground beef. 
Ingredients Needed
Here's the basic list of ingredients you'll need in order to make this ground beef casserole. As always, you can find the full list of ingredients located in the printable recipe card below.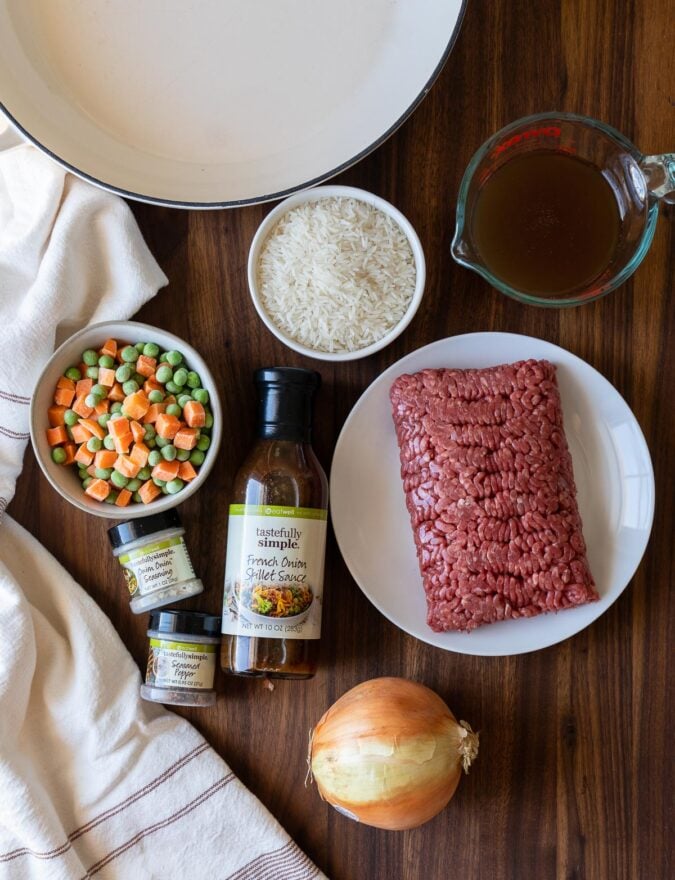 I'm so excited to share this recipe with you today because it features a handful of products from Tastefully Simple! I love their clean and natural ingredients, plus they always make my recipes taste that much more delicious. 
If you haven't checked them out, this is definitely the time!
How To Make French Onion Beef and Rice
One taste of this French Onion Skillet Sauce and I knew I wanted to incorporate it into an easy one-pan dinner. The sauce is savory-sweet which compliments the beef and rice perfectly.
CARAMELIZE ONIONS   Start by caramelizing your onions in a skillet over medium-high heat. Drizzle a little bit of avocado oil in the bottom of the pan and stir the onions occasionally until they're golden brown and giving off a nutty aroma. 
BROWN GROUND BEEF   Remove the onions from the pan and add in the ground beef, breaking it up until it's crumbled and brown. Drain off any fat and return the pan to heat.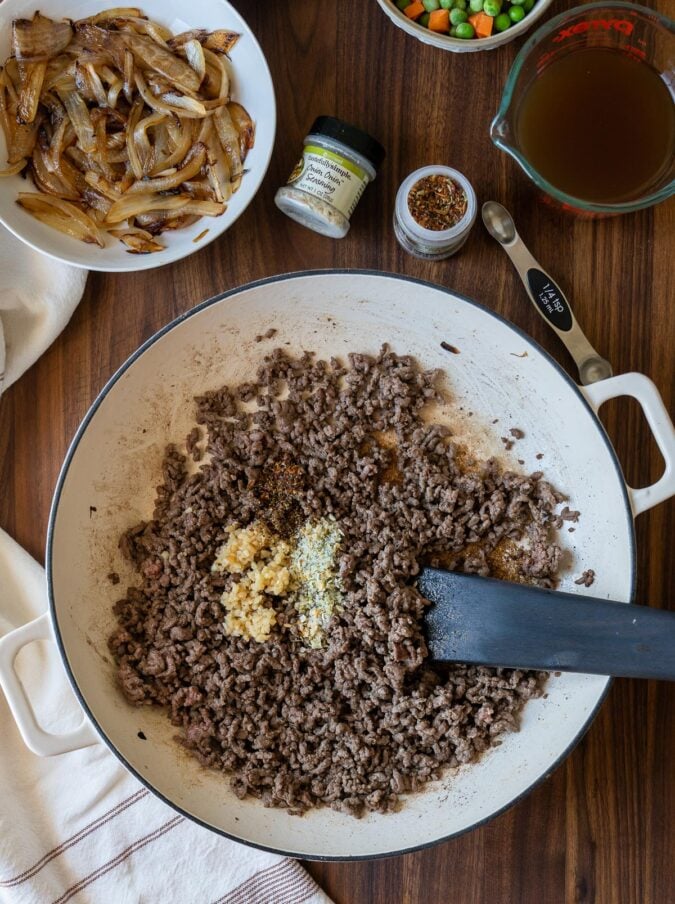 ADD SEASONINGS   Once the beef is cooked, add in the garlic and seasonings and cook until fragrant, about 30 seconds.
BRING TO A BOIL    Add in the uncooked rice, beef broth, French Onion Skillet Sauce, caramelized onions and frozen mixed veggies to the ground beef mixture and stir to combine. Bring the mixture to a boil, reduce heat, cover and let cook until rice is tender.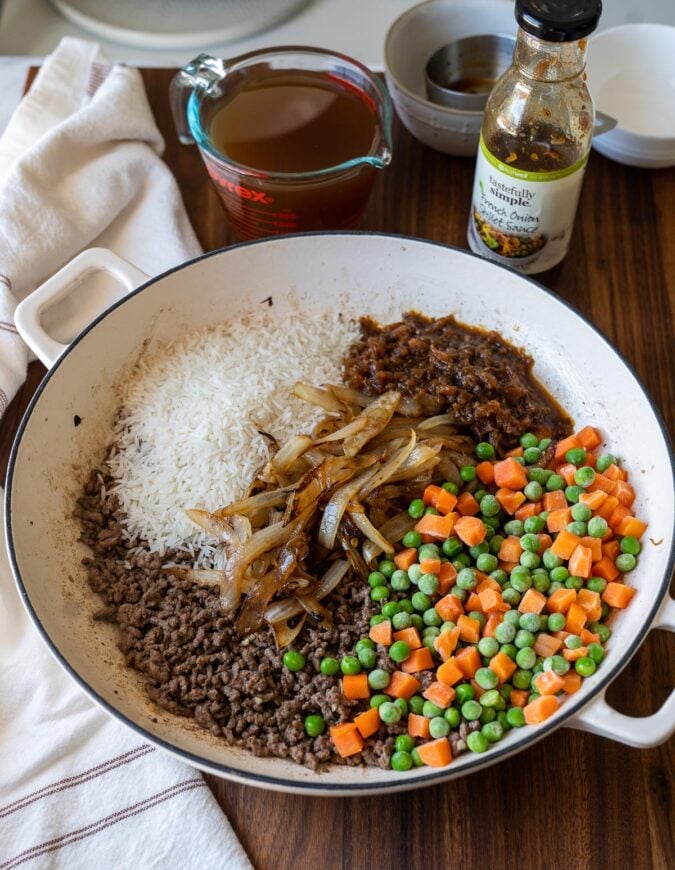 STIR IN CHEESE   Once the rice is tender, fluff with a spoon and then stir in the shredded cheese. Serve with a bit of extra cheese on top if desired.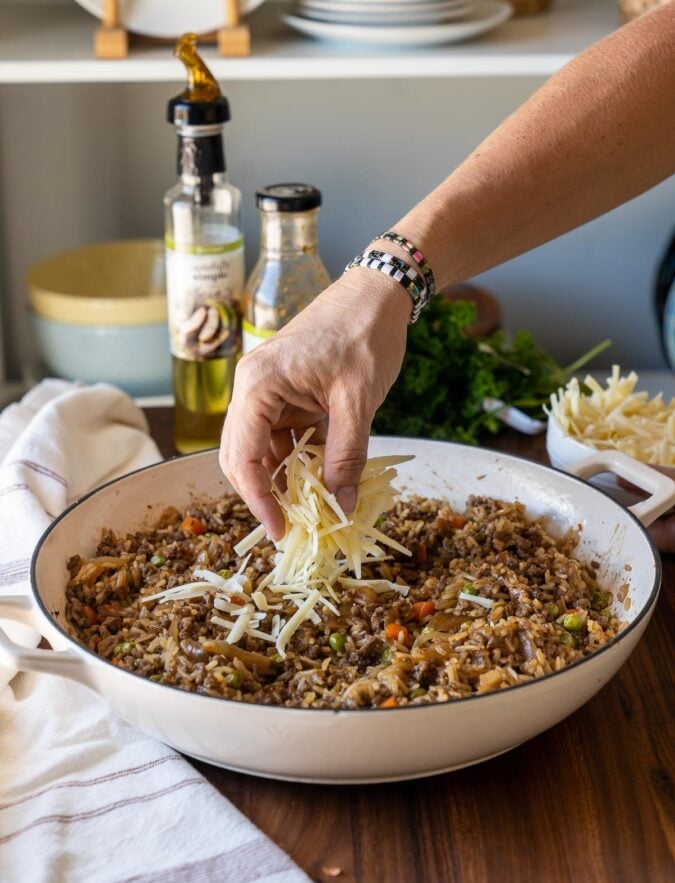 The best thing about cooking the rice in this manner is that it absorbs all the delicious flavors, making it one heck of a tasty dish! 
Each bite is sweet and nutty, hearty and savory, plus it's filled with veggies, ground beef and rice… it's a complete meal in one pan. 
What's not to love about that?!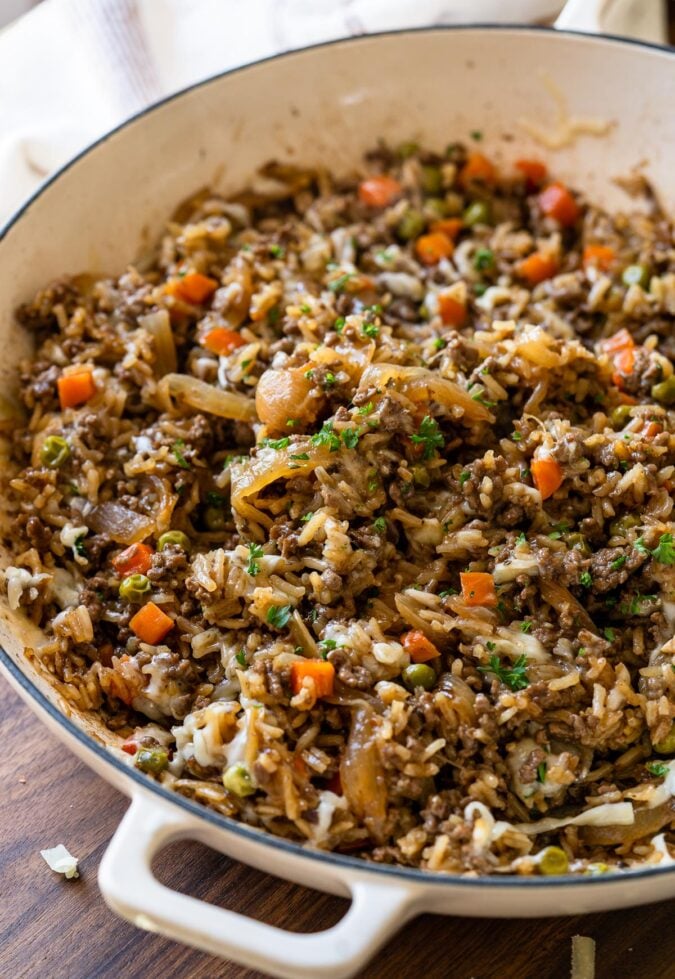 What Makes It French Onion?
You might be wondering what makes this recipe more "French Onion", rather than just "Onion"? 
I've taken a slew of hints from the classic French Onion Soup and used that to create this one pan casserole with beef and rice. 
ONIONS – a traditional French Onion soup uses yellow onions to create that sweet caramelized onion flavor. 
BROTH – we're cooking the rice mixture in a hearty beef stock, similar to the base of a French Onion Soup. 
CHEESE – by adding in the nutty Gruyére cheese to the beef and rice mixture, it gives this casserole the balance of sweet and nutty, similar to the soup. 
To give us even more French Onion flare, we're adding in the French Onion Skillet Sauce from Tastefully Simple, which really brings it all together.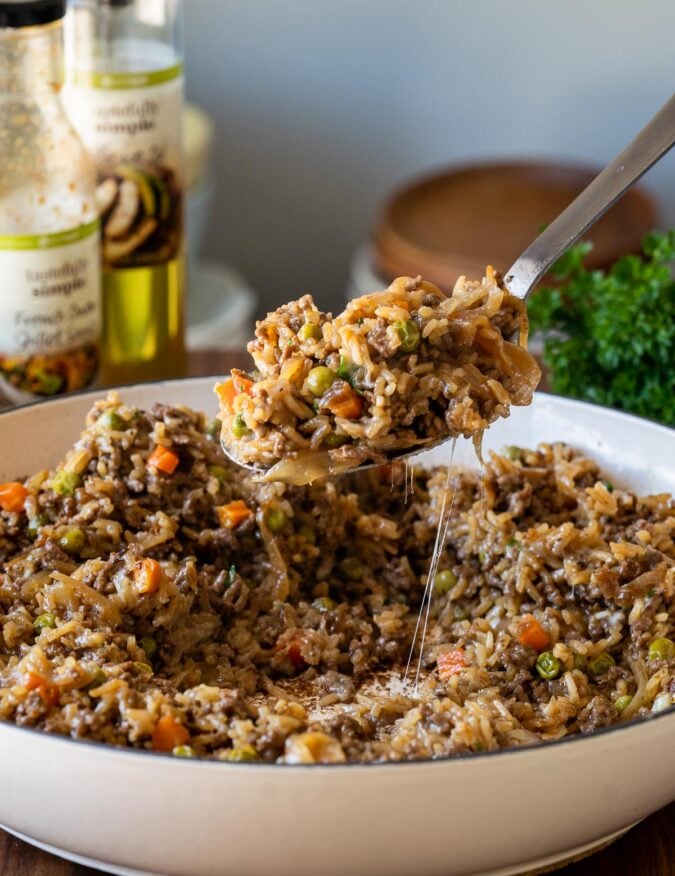 More Ground Beef Casserole Recipes
I love using ground beef to make easy casseroles like this one. Here are a few more tasty recipes I think you'll love…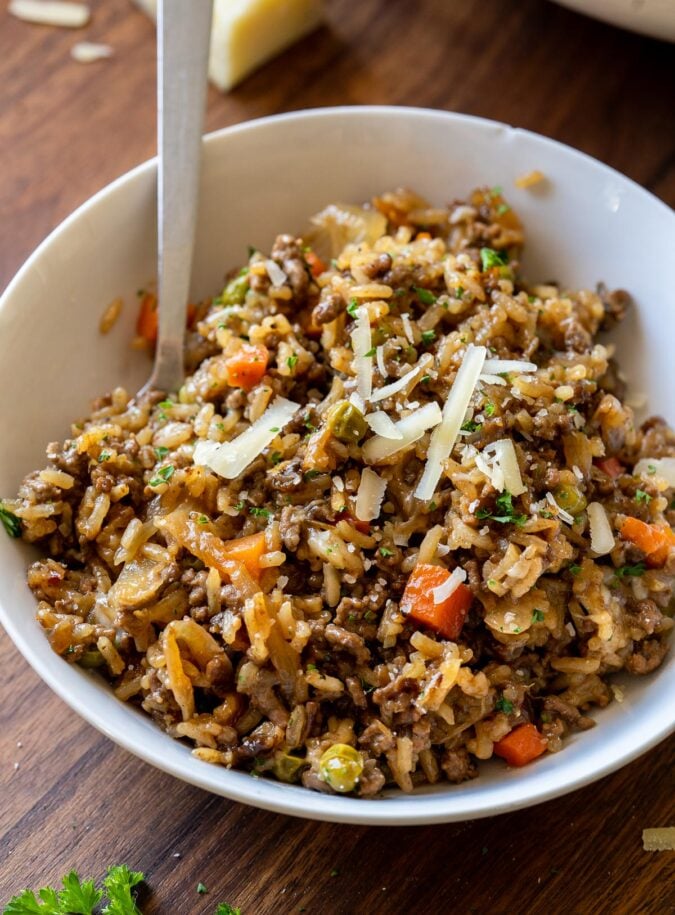 I can't wait for you to give this easy French Onion Beef and Rice Casserole recipe a try! 
LIMITED TIME OFFER: For 10% off any product order until Nov. 1, 2022 – Use my code: IWYD1022 at TastefullySimple.com.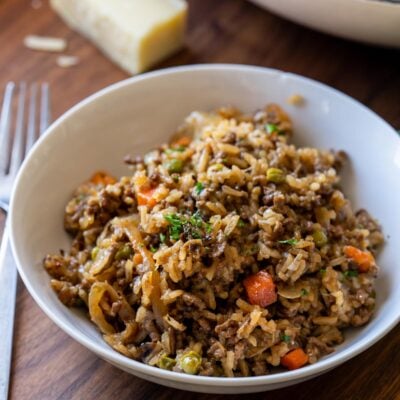 Print Recipe
Pin Recipe
Rate this Recipe
French Onion Beef and Rice
If you're a fan of french onion soup, this hearty ground beef and rice skillet is sure to bring a smile to your face!
Course: Main Course
Cuisine: American
Servings: 8 people
Calories: 332 kcal
Author: Shawn
Instructions
Add avocado oil to a large skillet over medium-high heat. Cook onion in the hot oil, stirring occasionally, until the onion is golden brown and caramelized. This can take up to 20 minutes. *If the onion starts to burn, reduce the heat and add a little more oil to the pan.

Remove the caramelized onions to a plate and add the ground beef in the same skillet, breaking up with a spoon until cooked through and crumbled. Drain any excess fat from the pan. Return the pan to the stove top and add in the garlic, onion onion seasoning and seasoned pepper. Cook for about 30 seconds, until fragrant.

Add in the rice, beef stock, French Onion Skillet Sauce, frozen peas and carrots and the caramelized onions. Stir to combine and bring mixture to a boil. Reduce the heat to low, cover and let cook for 18 to 20 minutes, until the rice is tender.

Fluff the rice and ground beef mixture with a spoon, then add in the shredded cheese. Stir until combined and then serve.
Nutrition
Calories: 332kcal | Carbohydrates: 23g | Protein: 18g | Fat: 18g | Saturated Fat: 8g | Polyunsaturated Fat: 1g | Monounsaturated Fat: 7g | Trans Fat: 1g | Cholesterol: 58mg | Sodium: 290mg | Potassium: 368mg | Fiber: 1g | Sugar: 1g | Vitamin A: 1819IU | Vitamin C: 4mg | Calcium: 199mg | Iron: 2mg
Keywords: French onion, Ground Beef, One Pan, rice
Now Available!
The Everyday Cookbook
Top Favorite Recipes from I Wash You Dry now available in a hard-cover, spiral-bound book that's gorgeous and perfect for everyday use.
BUY IT NOW