This Greek pasta salad is incredible! From the multitude of fresh ingredients to the flavorful dressing and feta cheese, it's simple to make and so delicious!
Please meet your new favorite salad.
Not only is it pretty to look at (all the colors!), but this Greek pasta salad is one of the most delicious salads I've ever had.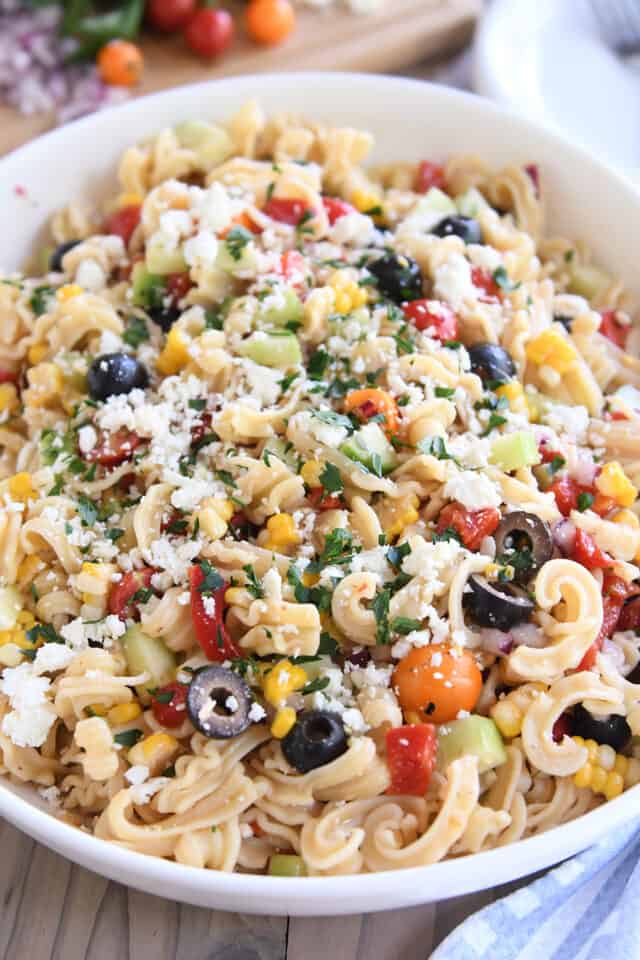 Greek-Inspired Ingredients
Here's a glimpse of what we're facing when diving head first into this salad:
pasta (spirals, tubes, choose whatever shape you like!)
olives (black or kalamata)
cherry tomatoes
cucumbers
red onion (soak those pungent pieces in ice water for 10 minutes to lessen the overpowering notes but still give great, mild flavor)
roasted red peppers
corn kernels (fresh or frozen – thaw if frozen, and if using fresh, sweet corn, no need to even cook, just slice the kernels right off the cob)
feta cheese (and lots of it)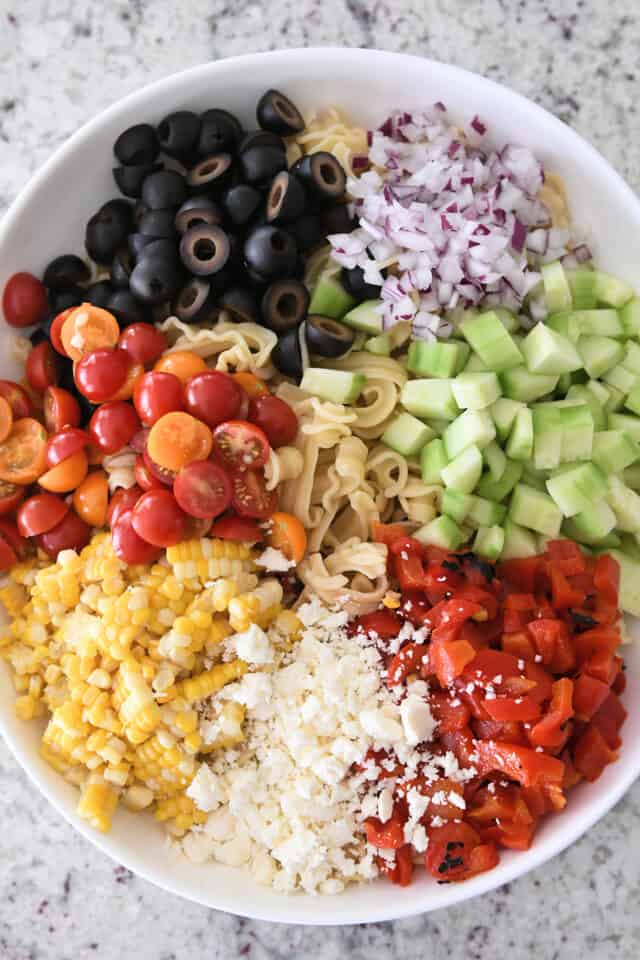 The Dressing
All of those colorful, fabulous ingredients are fine but they wouldn't amount to much unless they were drizzled with the tangy, fresh, flavorful dressing.
Wow. The simple dressing is good. Incredible, really.
This salad is pretty lightly dressed (perfectly so, in my humble opinion), but if you like things a bit heavier on the dressing, just increase the dressing ingredients as needed.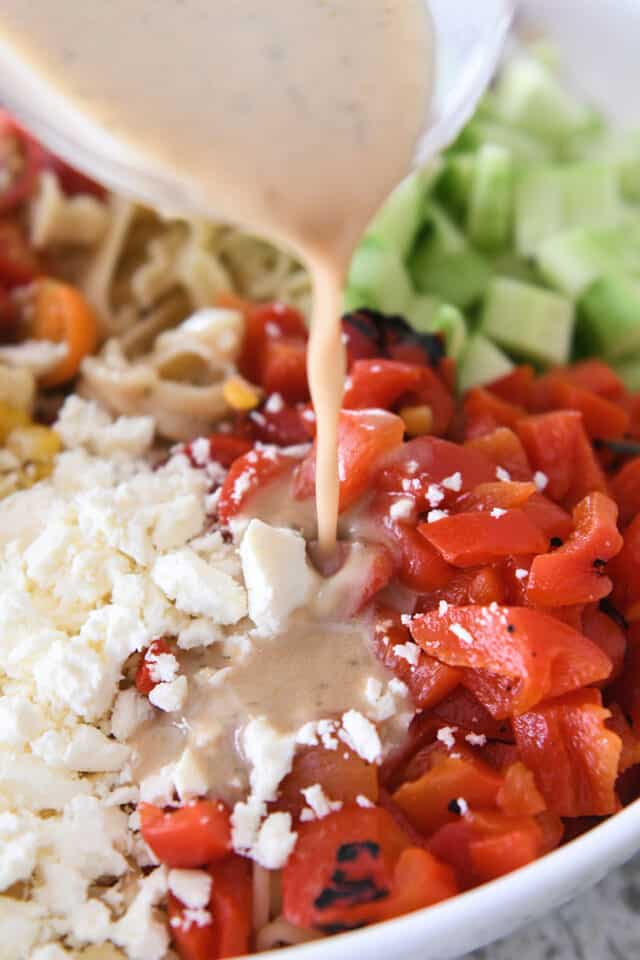 Toss and Serve
Give the salad a good toss and garnish with a bit more feta and fresh herbs.
It is an absolute explosion of texture, color and flavor!
I have always loved a good pasta salad, but this Greek version is what my pasta salad dreams are made of. There's a lot going on, and I love it!
I really hesitate to pick a favorite ingredient here, but if I had to, I'd say it's the corn. (Ok, and the feta…and roasted red peppers…and…) Those crunchy sweet kernels are everything good in the world and they round out the salad perfectly.
While this Greek pasta salad is a very worthy side dish and a fabulous offering at a potluck or get-together, it is also fantastic served as a meatless main dish. Or, add lemon and garlic grilled chicken – yum!
Pair the salad with this easy, crusty peasant bread (and a righteous amount of soft, creamy butter for spreading on the bread, of course), and you have a meal that aligns with my taste buds so perfectly, I could easily eat it every day and never get bored.
This pasta salad comes together fast and is an absolute keeper of a recipe! (Typed while sneakily eating the leftovers from their hiding spot in the back of the fridge.)
One Year Ago: Grilled Rosemary Ranch Chicken 
Two Years Ago: Double Chocolate Zucchini Muffins Whole Grain
Three Years Ago: Zucchini Banana Bread 
Four Years Ago: Teriyaki Chicken and Veggie Sheet Pan Dinner 
Five Years Ago: The Best Energy Bites Master Recipe: Tons of Add-In Options!
Six Years Ago: Strawberry Cream Puff Cake 
Seven Years Ago: Skillet Zucchini and Yellow Squash My Fave Summer Side
Eight Years Ago: My Mom's Famous Calico Baked Beans 
Nine Years Ago: Amazing Gluten-Free Chocolate Cake with Whipped Chocolate Frosting
Ten Years Ago: Creamy Peanut Butter Tart 
Greek Pasta Salad
Dressing:
½

cup

olive oil

⅓

cup

red wine vinegar

2

tablespoons

fresh lemon juice

1

teaspoon

honey

2

cloves

garlic, finely minced

½

teaspoon

dried oregano

¼

teaspoon

salt (use more if using coarse, kosher salt)

¼

teaspoon

dried parsley

¼

teaspoon

dried dill
Salad:
12 to 16

ounces

tube- or spiral-shaped pasta (like penne, cascatelli, rotini, etc.)

1

cup

halved cherry or grape tomatoes

1

cup

diced cucumbers (about 1 small English cucumber)

1

cup

chopped, roasted red peppers (a 12-ounce jar, drained)

1

cup

black or kalamata olives, sliced or halved (6-ounce can, drained)

1

cup

sweet corn kernels (fresh or frozen – thaw and pat dry if frozen)

½ to 1

cup

crumbled feta cheese (see note)

¼ to ½

cup

finely diced red onion (see note)

Chopped fresh parsley or basil (optional)
For the dressing, whisk together all the ingredients (or shake in a jar) until well-combined. Set aside.

For the pasta, cook in a pot of boiling, lightly salted water until al dente, according to package directions. Drain. Let it cool to room temperature, tossing now and again to prevent sticking.

While the pasta cooks, start chopping ingredients for the salad.

Combine the pasta with all the other salad ingredients (can save feta to add last, if you want). Whisk the dressing to recombine and drizzle over the salad. Toss well.

Garnish with a bit more crumbled feta and fresh parsley, if desired. Serve. (If the salad has sat for a while, give it a good stir, getting the dressing up from the bottom to recombine with the salad ingredients.)
Red Onion: if you want mild onion flavor without the pungent overpowering flavor, soak the onions in ice water for 10 minutes before using. Drain and pat dry before using in the recipe.
Feta Cheese: look for feta cheese sold in a block vs pre-crumbled if you want creamier texture and flavor to the feta. It's pretty easy to find in most specialty cheese sections. 
Adaptable: all of the salad ingredients can be varied based on preferences. Add more of any (or all the ingredients) or sub in different veggies if you'd like.
Dressing: this is a lightly dressed salad. Feel free to 1 1/2 or double the dressing if you'd like more on the salad.
Serving: 1 serving, Calories: 371kcal, Carbohydrates: 50g, Protein: 10g, Fat: 15g, Saturated Fat: 3g, Cholesterol: 8mg, Sodium: 659mg, Fiber: 3g, Sugar: 4g
Follow @MelsKitchenCafe on Instagram and show me the recipes you are making from my blog using the hashtag #melskitchencafe. I love seeing all the goodness you are whipping up in your kitchens!
Recipe Source: from Mel's Kitchen Cafe
Disclaimer: I am a participant in the Amazon Services LLC Associates Program, an affiliate advertising program designed to provide a means for me to earn fees by linking to Amazon.com and affiliated sites. As an Amazon Associate I earn from qualifying purchases.