This green goddess salad is a fresh and fun way to enjoy a salad. Fresh green ingredients mixed with a nutty green dressing make this a satisfying meal in itself!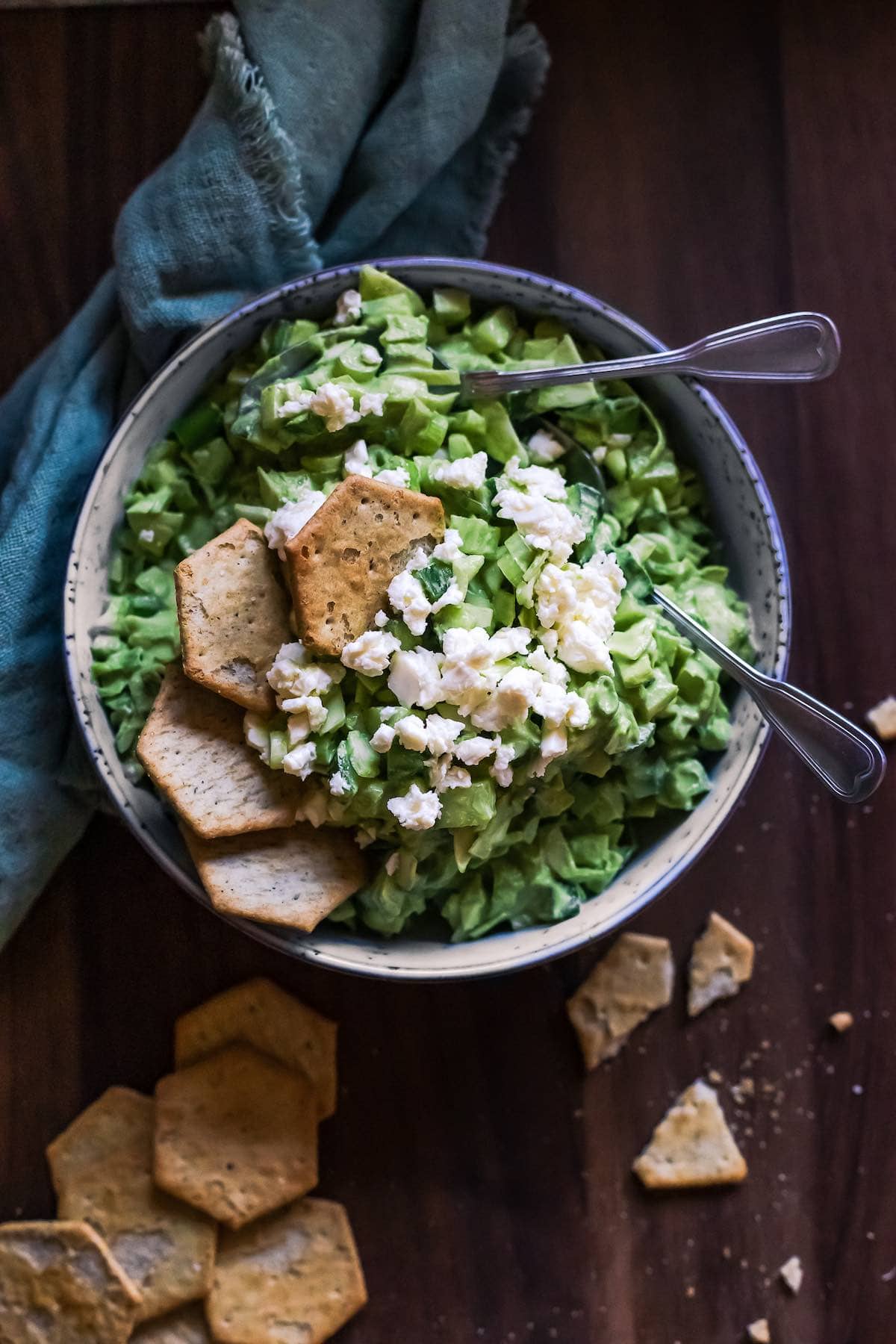 Who said you can't make friends with salad?
When done correctly, salads can be impressive and delicious. We have some favorites up our sleeve. These include a ramen noodle salad, kani salad, and this viral Green goddess salad. 
Why is it called green goddess salad?
While the green goddess salad became widely popular on TikTok last year, it has actually been around for over a century. 
The salad first became popular in the early 1920s as a tribute to film star George Arliss. The dressing of the salad has French roots, especially with royalty. 
The bottled versions of the green goddess salad dressing became available in the 1960s and are now widely available in stores and salad bars. In fact, you can find this salad at many fast-food outlets, including Panera Bread and Wholefoods. 
Oh, and Baked By Melissa also brought it out of hiding! 
We've been obsessed with it over the last year or so, and make it at least once a week. It makes a fabulously fast lunch or paired with some chicken for a filling and satisfying dinner. 
Ingredients needed
This recipe is ridiculously simple and besides a few greens and pantry staple basics, there isn't too much else that goes into it. Here is what you'll need: 
For the salad:
Lettuce. Chopped romaine, iceberg, or butter lettuce.

 

Cucumber. Chopped cucumbers of your choice for a crisp texture and refreshing flavor.

 

Green onion. Finely chopped green onions to add onion flavor that is not overpowering.

 
For the dressing:
Basil. I use basil for my green goddess dressing for a bright and fresh flavor, and of course, green color.

 

Cashews. A handful of cashews to adds a creamier texture and healthy fats.

 

Shallots. I prefer using shallots for their delicate and sweet flavor as regular onions can be too sharp.

 

Vinegar. I use rice vinegar for its mild flavor. White wine vinegar will work well too.

 

Olive oil. To thin out the dressing. You can use any other oil of your choice.

 

Garlic. Minced.

 

Lemon. Lemon juice to brighten up the flavor of the dressing.

 

Parmesan cheese. Shredded or grated, to sprinkle on top of the salad right before serving it.
How to make it
With less than two minutes hands on time, this entire dish comes together in no time. 
Step 1- Mix the salad ingredients
Shred some romaine lettuce and chop the cucumbers. Finely chop stalks of green onions. Add these ingredients into a large bowl and mix well.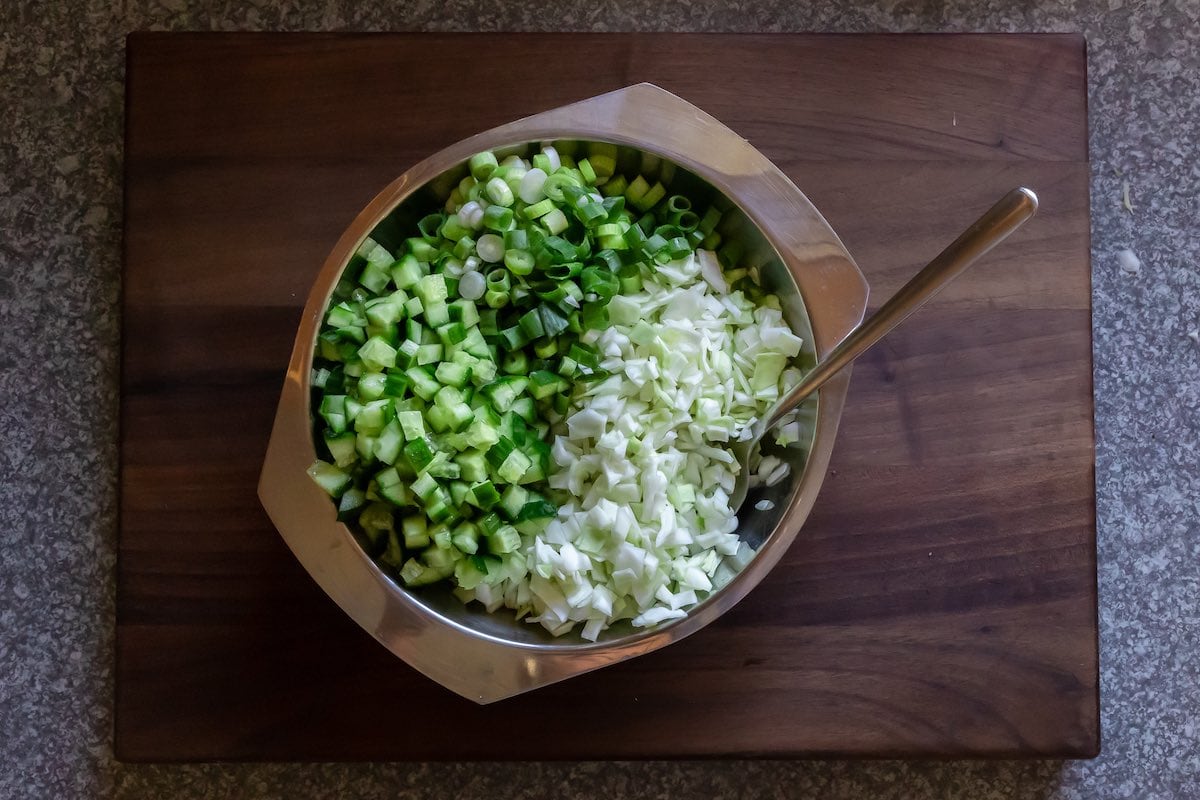 Step 2- Prepare the dressing
For my signature green goddess dressing, I add the basil, cashews, shallots, and garlic into the food processor and blend until fully combined. Then I add the liquid ingredients–lemon juice, vinegar, and olive oil, and blend until smooth.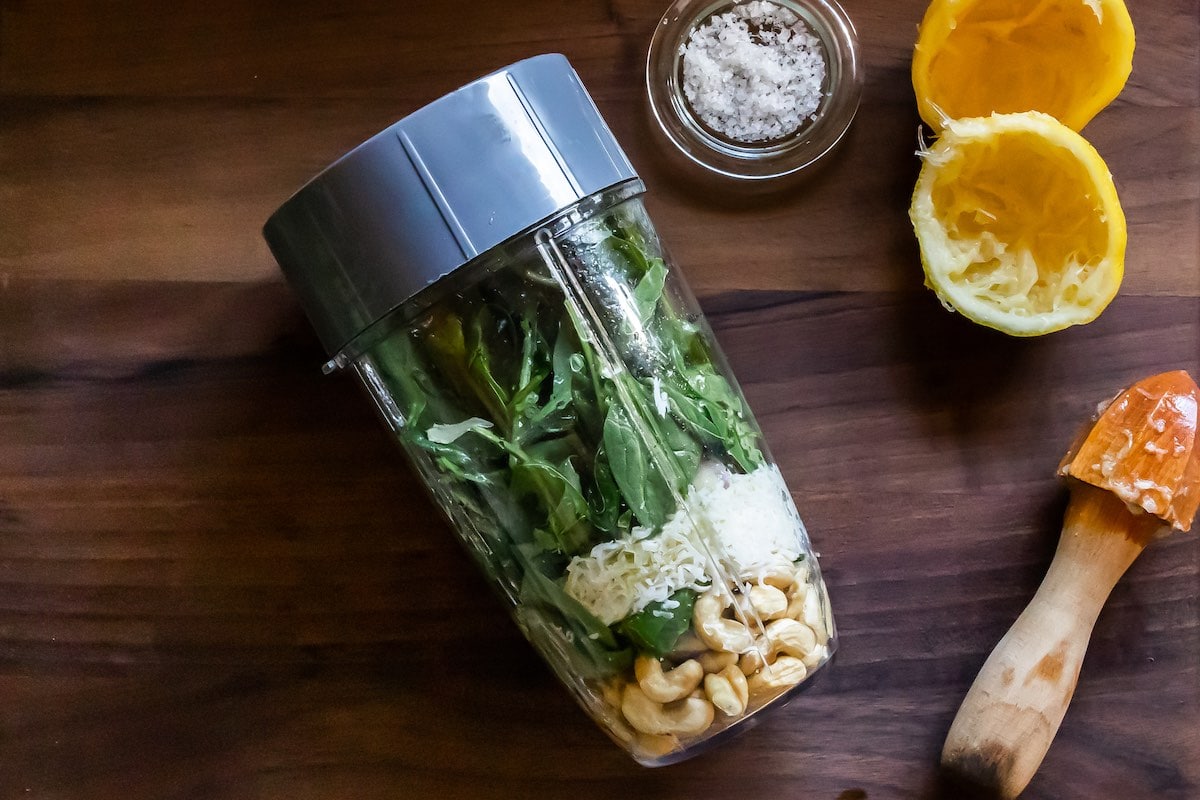 Step 3 -Assemble the salad
It's time to assemble the salad. Pour the dressing on top of the chopped ingredients and toss to coat thoroughly. 
Transfer the salad into a serving bowl. Sprinkle with parmesan cheese and serve with crackers.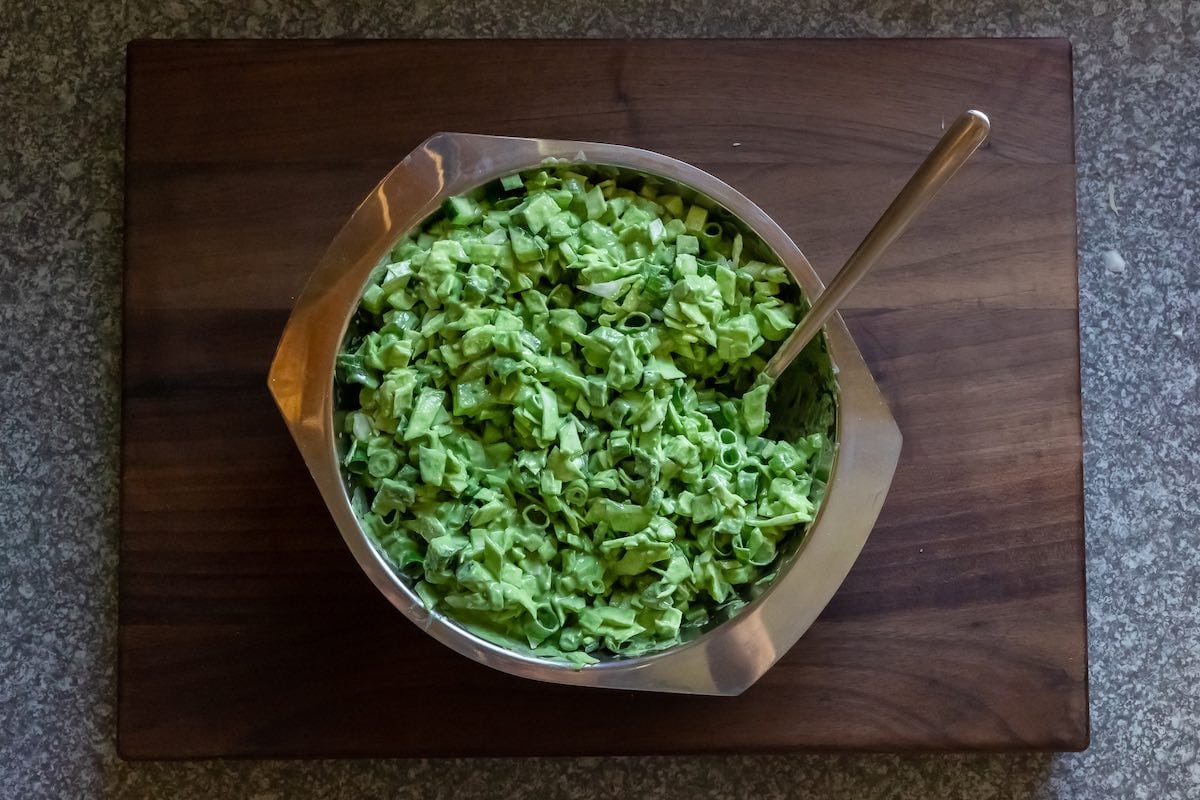 Tips to make the best recipe
Go wild with the greens. The green goddess salad is totally customizable. You can use any greens you have at home, including parsley, chives, and tarragon.

 

Use sour cream or mayonnaise for the dressing. For a creamier base, use sour cream or mayonnaise for the dressing. You can also use Greek yogurt to make the dressing.

 

Add some protein. To make the green goddess salad more filling, add some protein to it. Serve it with chicken or shrimp or add peas to the salad to keep it plant-based.

 

Don't mix all at once. As the green goddess salad comprises light and crunchy ingredients, you don't need to mix it with the dressing in advance. Toss the greens with the dressing right before serving the salad. Doing this helps keep the salad ingredients fresh and crispy.

 

Make it dairy free. If you follow a vegan diet or can't tolerate dairy, swap out the parmesan for nutritional yeast.
Storage instructions
It is best to store the dressing and the chopped salad ingredients separately. 
Store the leftover dressing in an airtight container, or jar and refrigerate it. The dressing will last 3 to 4 days in the fridge. You can also freeze it for up to 6 months.
The salad itself should be stored in an airtight container. It will keep fresh for around 2 days in the fridge. After that time, the shredded lettuce will wilt while the cucumber will release water and dry out.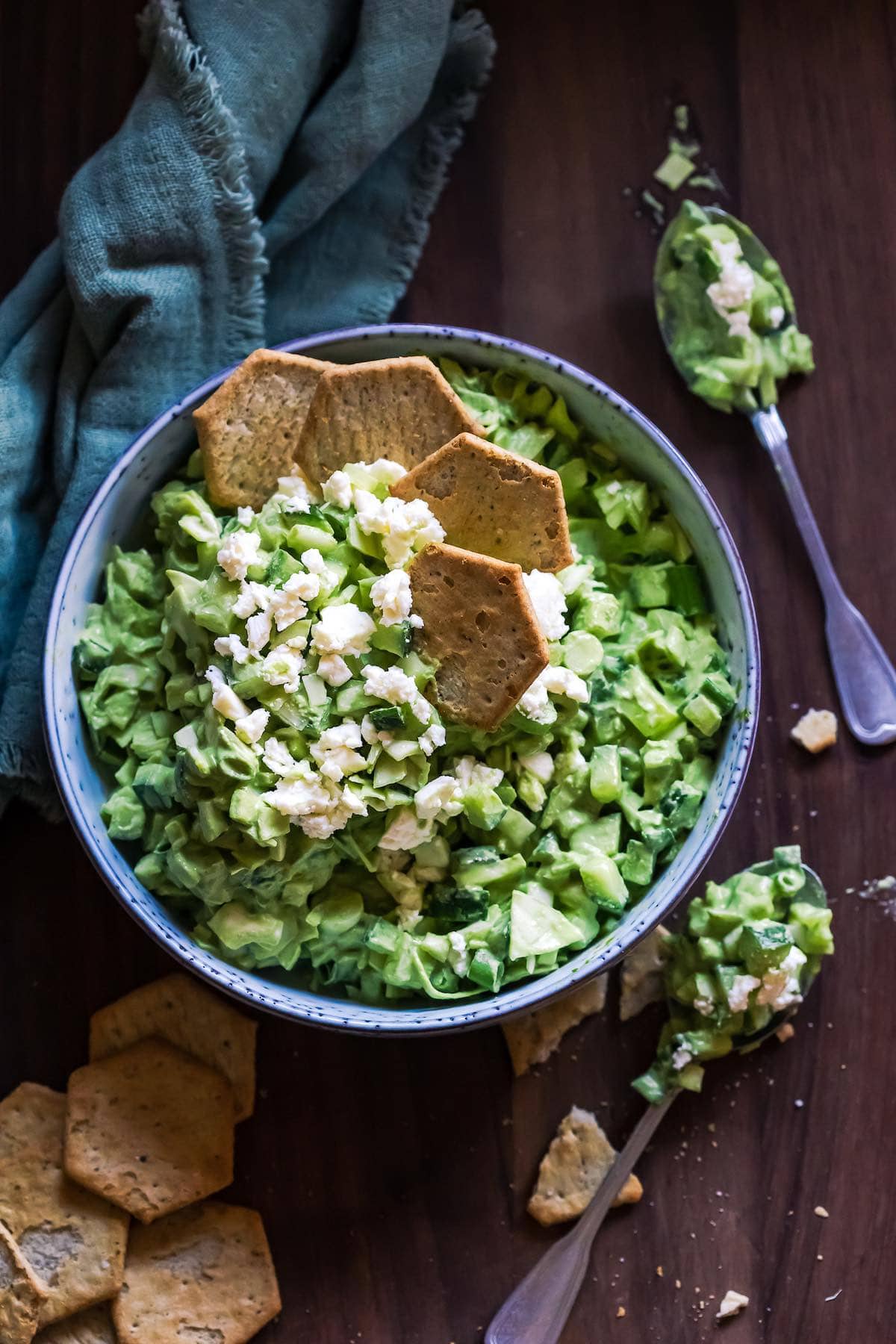 What to serve with this salad
While delicious on its own, make it a meal by serving it with some simply cooked protein. Here are some favorites: 
Frequently asked questions
What is Kraft green goddess salad dressing made of?
Kraft green goddess salad dressing is made of soybean oil and vinegar. It also contains corn syrup, sugar, modified starch, and other texture and flavor enhancers. So, avoid using it if you are trying to avoid dairy and make your own green goddess dressing at home. 
Is the salad at Panera Bread healthy?
The green goddess salad at Panera isn't all that green. But if you don't have time to make this green goddess salad at home and are looking for a healthy alternative for when you are eating out, Panera Bread green goddess salad is a good option. 
It consists of a base of mixed greens, tomato wedges, slices of pickled red onion, avocado, hard-boiled eggs, and chopped bacon. You can choose to add sliced chicken to it too. All ingredients are tossed with Panera Bread's signature green goddess dressing. 
What does this salad taste like?
This green goddess salad tastes fresh and herby. The dressing tastes a lot like pesto, but it is on the tangier side and with a thinner consistency for easy mixing.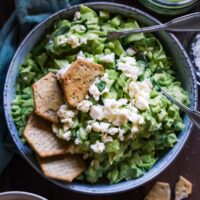 For the salad
1

large

romaine lettuce

chopped

2

large

cucumbers

chopped

6

large

green onions

chopped
For the Green Goddess Salad
1/2

cup

basil

1

small

shallot

1/2

cup

cashews

2

tablespoons

rice wine vinegar

1/3

cup

olive oil

2

cloves

garlic

minced

1

small

lemon

juiced

1/4

cup

parmesan cheese
In a large mixing bowl, add the salad ingredients and mix well.

Make the dressing by adding the basil, shallots, cashews, and garlic in a food processor. Add the remaining ingredients and blend until smooth.

Pour the dressing on top and toss through until all the salad is coated.
TO STORE: Dressing can be stored in the refrigerator for up to 4 days.
TO FREEZE: Place the dressing in a jar and store it in the freezer for up to 6 months. 
Serving: 1serving | Calories: 295kcal | Carbohydrates: 15g | Protein: 5g | Fat: 26g | Sodium: 13mg | Potassium: 491mg | Fiber: 4g | Vitamin A: 1249IU | Vitamin C: 28mg | Calcium: 73mg | Iron: 2mg | NET CARBS: 11g