The most tender and juicy Instant Pot Pulled Pork recipe made with a delicious dry rub and your favorite bbq sauce!
We love Instant Pot Pulled Pork because you get the most perfectly tender pulled pork in half the amount of time!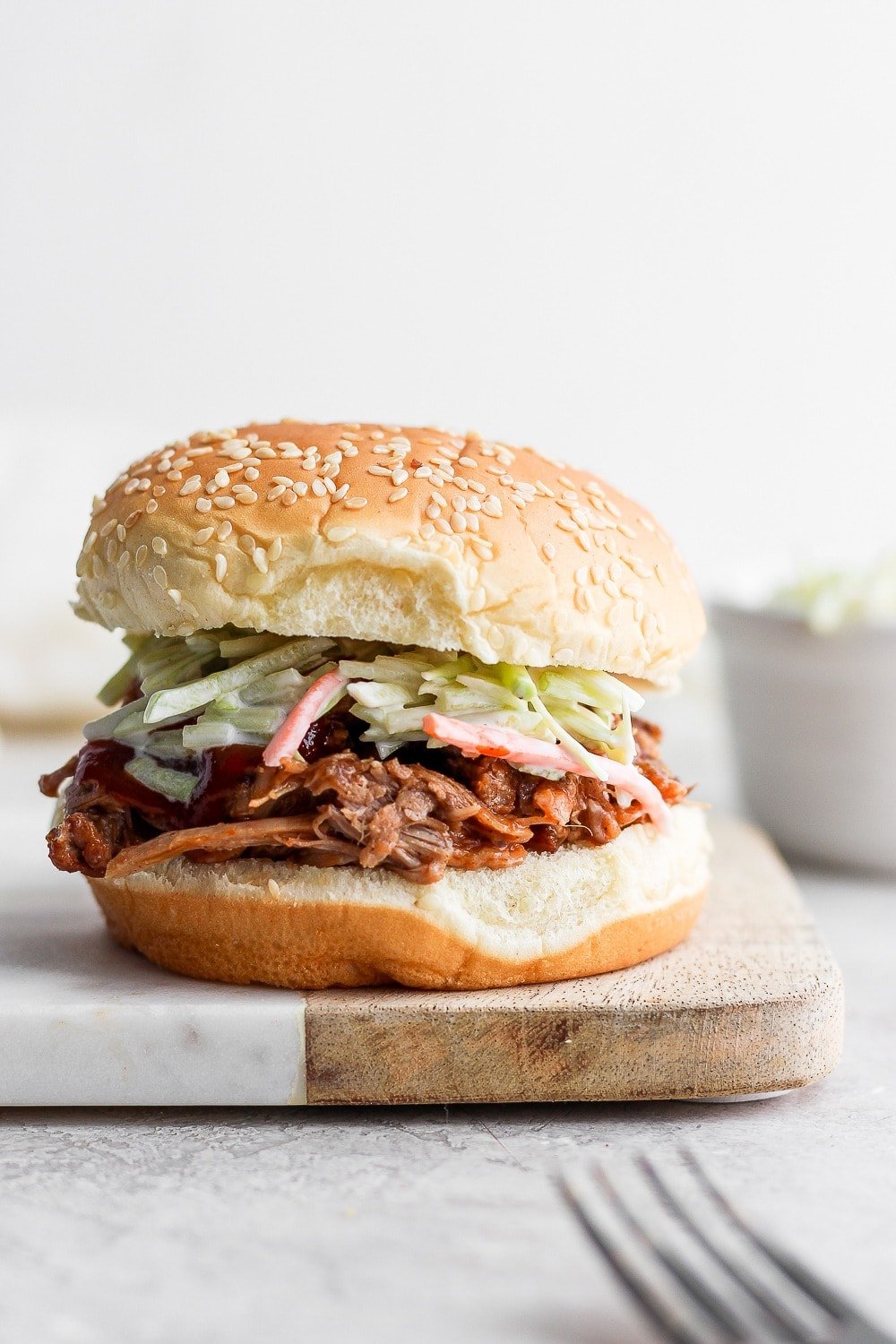 This might be one of my all-time favorite Instant Pot Pork recipes and I'm so excited for you guys to whip this up in no time for your family and friends to enjoy.
Juicy Instant Pot Pulled Pork recipe
From game day to summer BBQs to weeknight meals to lunch meal prep >> pulled pork is such a fun and delicious main meal to make! That's why we're teaching you how to make Instant Pot Pulled Pork slathered in BBQ sauce!
this instant pot pulled pork is:
tender
juicy
flavorful
Saucy
kid-friendly
gluten-free
easy made paleo
easy made keto
The Instant Pot is our favorite way to make bbq pulled pork because you get that tender, juicy texture in almost 1/4 the amount of time as a slow cooker or oven roast!
What is the best cut of meat to use for pulled pork?
First things first, let's chat about what cut of pork you need for this recipe! Like our Instant Pot Carnitas, this recipe calls for a Boneless Pork Shoulder Roast. Make sure you find a roast that is around 2.5 – 3 lbs.
The reason why we suggest a pork shoulder roast is because it has a good amount of fat in it, making it the perfect cut of pork to shred.
Did you know >> a boneless pork shoulder roast is also referred to as a pork butt and Boston butt?!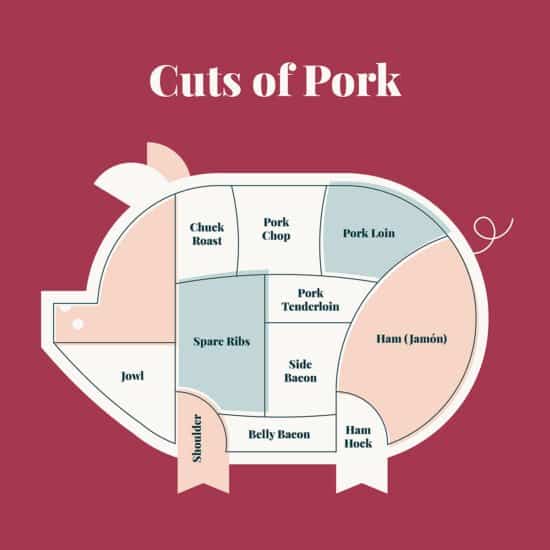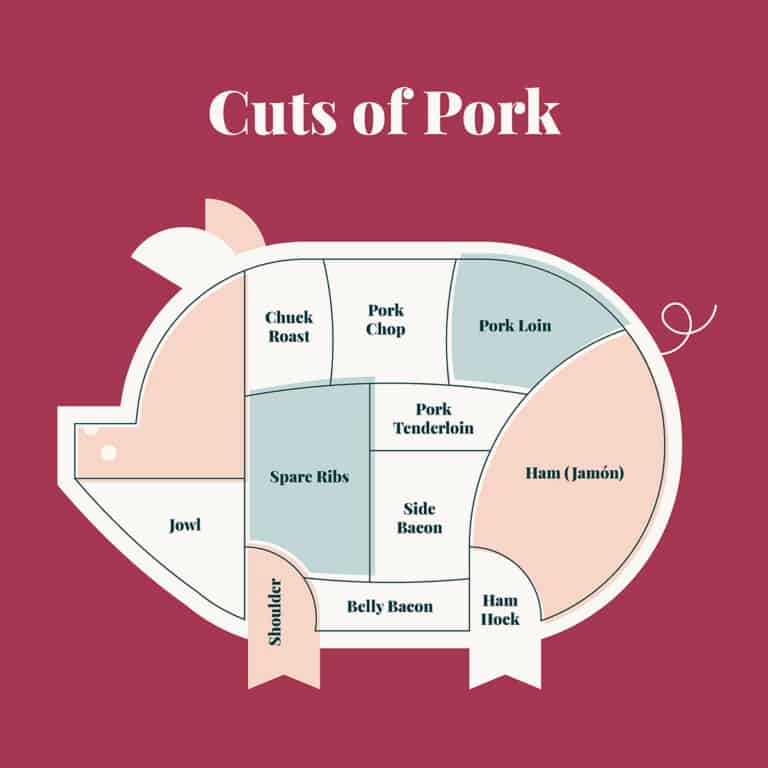 Can I use a pork tenderloin for this recipe?
Unfortunately, we don't recommend using a pork tenderloin for this recipe. Pork shoulder is a fattier cut of meat, which allows it to be "shredded."
If you are interested in a delicious pork tenderloin recipe, we recommend trying our Instant Pot Pork Tenderloin!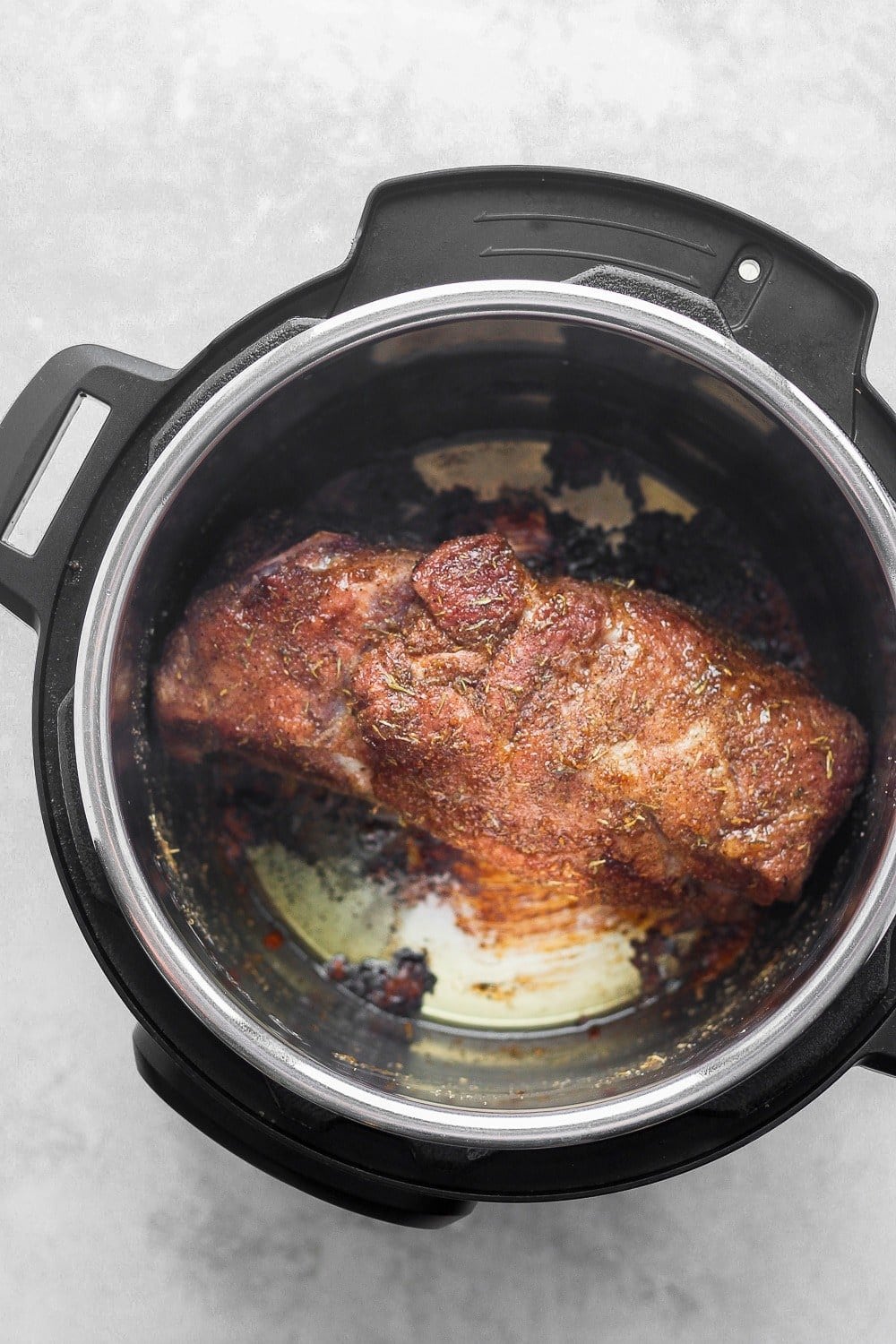 How to Make Instant Pot Pulled Pork
Make this wonderful Instapot Pulled Pork in just 6 easy steps! Here's a quick rundown for yah.
Rub: Use our homemade pork rub to add flavor to your roast before cooking! Don't skimp on this step as it's super important for flavor! Here's what you need for the rub: brown sugar, garlic powder, onion powder, coarse salt, cinnamon, dried thyme, and ground pepper.
Sear: Sear pork roast on each side for around 2-3 minutes in order to brown. This will add great texture in the end and also help heat up your Instant Pot so it doesn't take so long to build pressure.
Deglaze + Saute: Deglaze the pot with broth and then cook onions and garlic for a few minutes.
Pressure Cook: Add pork roast back into the Instant Pot and seal. Turn Instant Pot to manual > high pressure > and set the timer for 90 minutes. Then, quick release the Instant Pot.
Shred: Remove the meat from the Instant Pot and then remove any large pieces of fat. Use 2 forks to shred pork.
Sauce: Don't forget to keep around 1 cup of the liquid from the Instant Pot and discard the rest. Add the liquid to the shredded pork and then add your favorite bbq sauce. Feel free to add as much or as little as you'd like.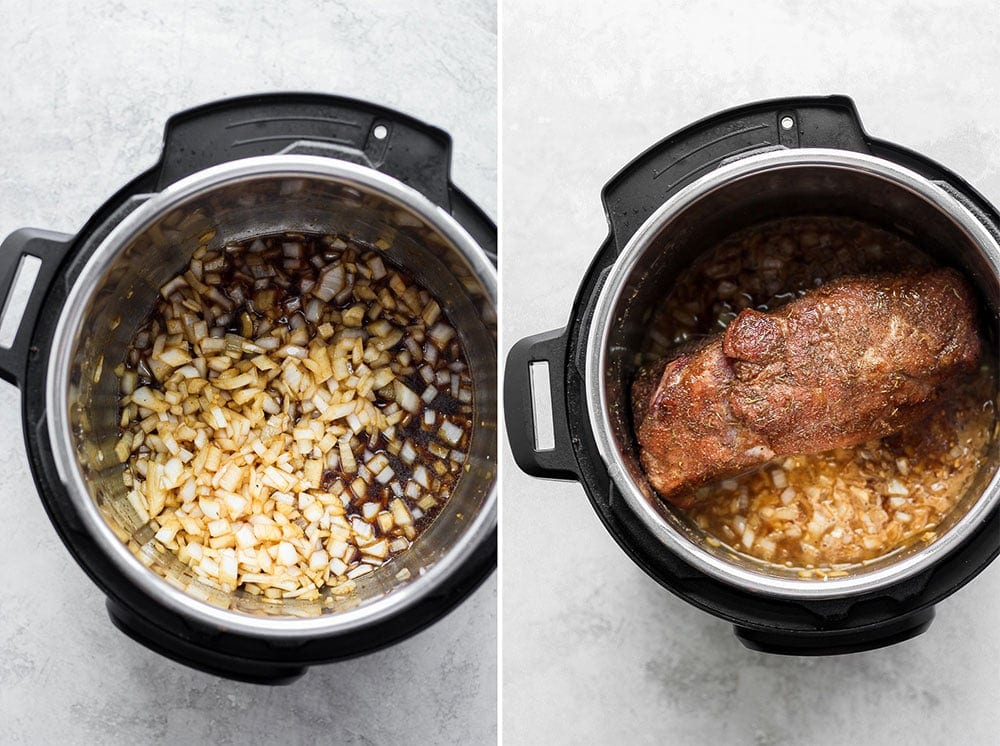 How long do you cook pork in the Instant Pot?
A 3 lb. boneless pork shoulder roast will take around 90 minutes on high with a quick release. Remember that the Instant Pot takes time to build pressure, so it will take around 15 minutes to start counting down from 90.
Our cook time might seem a little higher than other recipes on the internet, but that's because we aren't huge fans of the natural release. We like to quick-release whenever possible! Furthermore, fattier cuts of pork can't really be overcooked, so don't worry!
Can you use a bigger roast? Yes, of course, you can! 1. Just make sure it fits in your Instant Pot and 2. Use 90 minutes as a starting point and go from there. You can always check how tender your roast is after 90 minutes and put it back in for longer if it's not quite there yet.
Why won't my pork pull apart? It is likely that your pork won't pull apart because it hasn't cooked long enough. If this is the case, continue cooking your pork shoulder for 5-10 more minutes.
what if I get the burn notice?
If you get the burn notice, that means that you don't have enough liquid on the bottom of your Instant Pot. Add a few more tablespoons of broth and you should be good to go.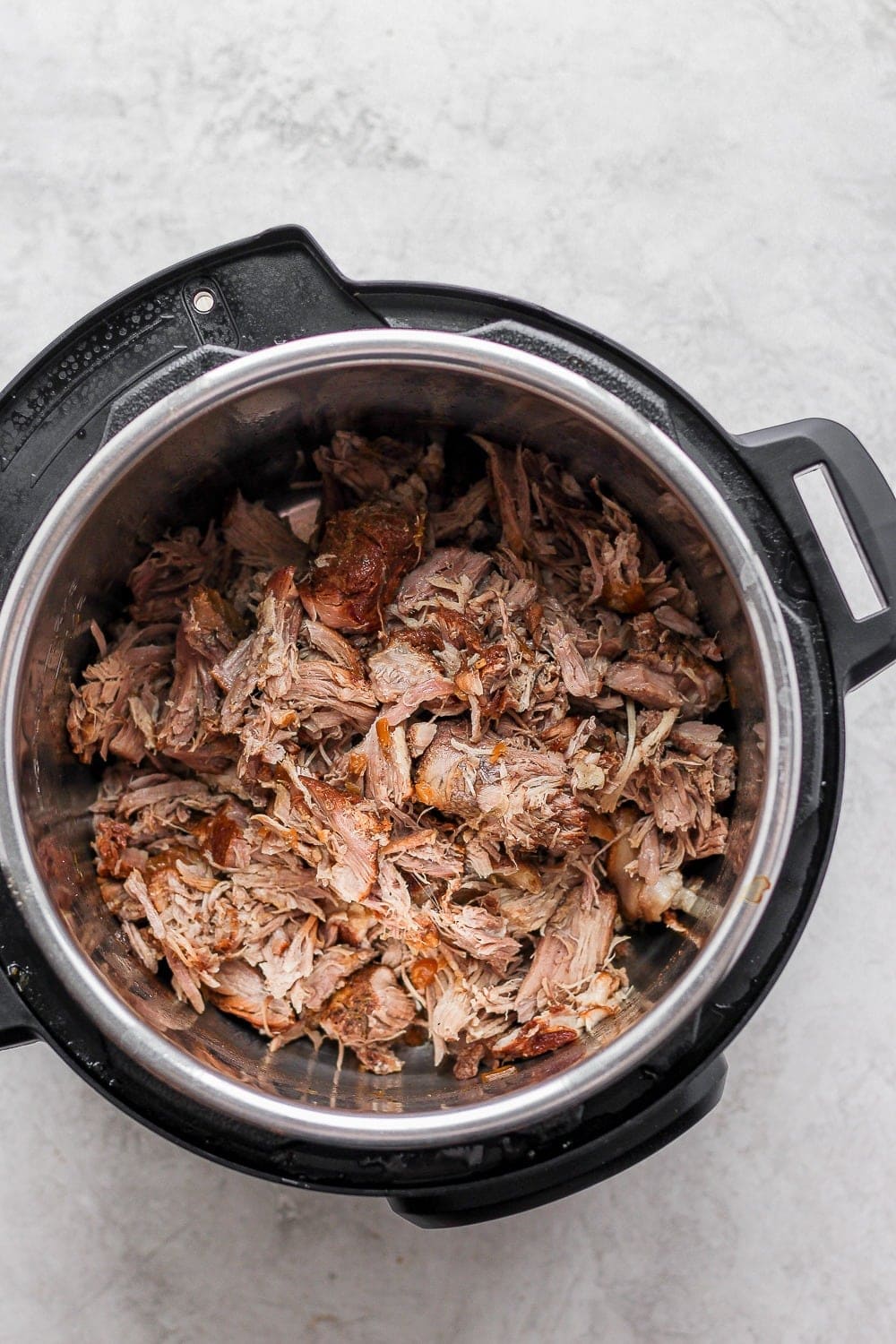 Make this pulled pork your own!
Shredding Size: Shred the pork as big or as little as your heart desires.
BBQ Sauce: Hoping to keep this gluten-free or keto? Use your favorite BBQ sauce that suits your needs. Remember, that this pork will take on the flavor of the BBQ sauce you use, so make sure it's a good one! Here are our favs:
Amount of BBQ Sauce: Love it nice and saucy? Add more BBQ sauce than we suggest? Or, take it to the other extreme and don't use BBQ sauce at all!
Serving Suggestions
Get creative with your IP pulled pork and use it in SO MANY WAYS.
On a bun – get your favorite bun and serve your pulled pork with some coleslaw.
In a meal-prep bowl: we have the most delicious pulled pork meal-prep bowl recipe that this Instant Pot Pulled Pork would go delicious with!
As the meat of a taco: instead of adding bbq sauce, eat your pulled pork as tacos! Check out our Instant Pot Pork Carnitas for some inspo.
In a lettuce wrap: looking to keep things low carb? Serve this bbq pulled pork in a lettuce wrap!
As the base of chili – instead of mixing in bbq sauce at the end, simply use the pulled pork for the meat in chili. Check out the flavors in our Instant Pot Pork Chili.
In a burrito: whether you're craving a breakfast burrito with scrambled eggs or a Mexican burrito with rice and beans, this pressure cooker pulled pork would be such a filling!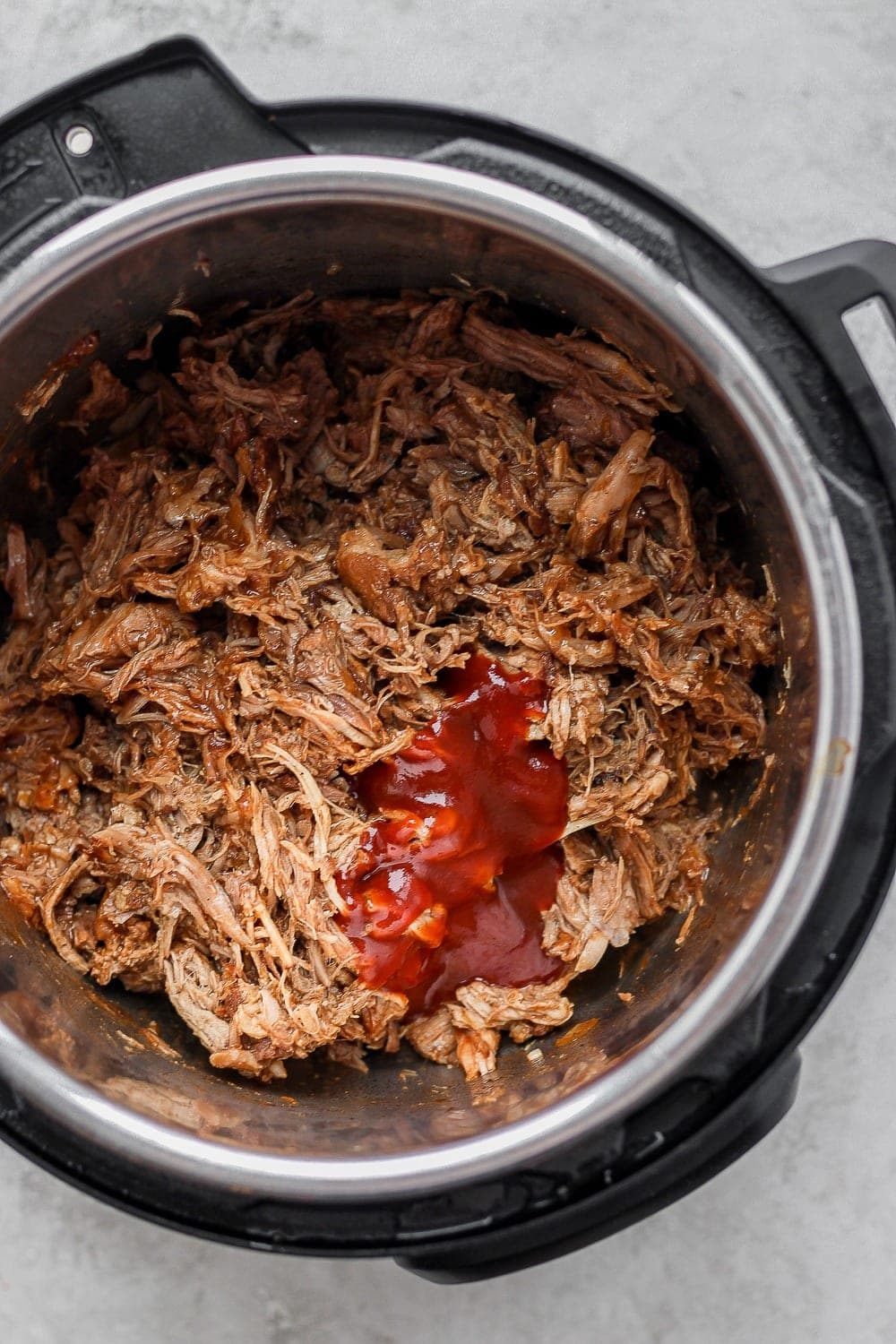 FAQ
Can you overcook pulled pork in Instant Pot?
You can absolutely overcook pulled pork in Instant Pot. For a 2-3 lb. roast, the sweet spot is right around 90 minutes in order to get fall-off-the-bone shredded pork. Anything more will start denigrating the pork.
Is pulled pork better in Instant Pot or slow cooker?
We love pulled pork in the Instant Pot because it cooks faster, but is just as tender.
What is the best liquid to cook pulled pork in?
The best liquid for cooking pork in the Instant Pot is broth because it adds flavor and a little salt.
How long do you cook pulled pork for?
Cook a 2-3 lb. pork roast in the Instant Pot for 90 minutes on high pressure.
Storage
Store pulled pork in an air-tight glass container in the refrigerator for up to 5-7 days.
Reheat: reheat in the microwave on high or pan fry on the stovetop.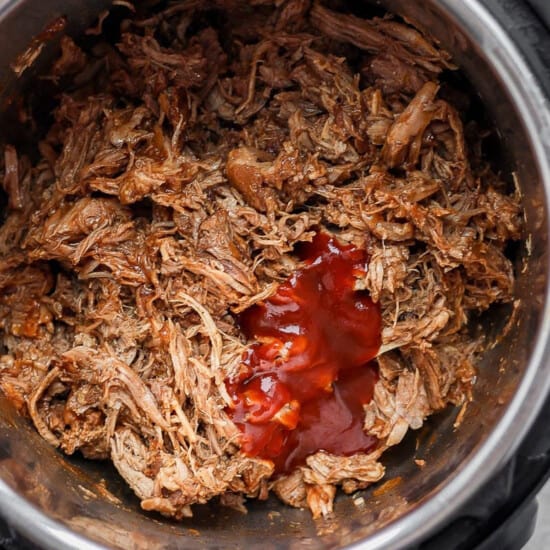 Instant Pot Pulled Pork Recipe
Get tender, juicy Instant Pot Pulled Pork in no time! Start with a pork rub on your pork shoulder, sear it, pressure cook it for 90 minutes, shred it, and then toss it in BBQ sauce.
Prep:20 minutes
Cook:1 hour 30 minutes
Total:1 hour 50 minutes
Fat 21
Carbs 10
Protein 25
Ingredients
2-3

lb.

boneless pork shoulder roast

we used a 2.5 lb roast

1/4

cup

pork rub*

2

tablespoons

olive oil

1

cup

chicken broth

or any kind

1/2

white onion

chopped

3

whole garlic cloves

smashed and minced

1/2

cup

bbq sauce
Instructions 
First, (if you haven't already) mix together all of the ingredients for the spice rub in a bowl using a fork to get rid of any lumps! You only need 1/4 cup of this rub, so you can save the rest for later.

Next, rub the spice mixture all over your pork roast with your hands. Be sure that every inch of the roast is covered. Set aside.

Turn on the Instant Pot's saute feature and add two tablespoons of olive oil.

When olive oil is fragrant add pork roast and sear for 2-3 minutes on each side to brown the pork.

Remove pork from Instant Pot and deglaze your Instant Pot by pouring half of the broth (1/2 cup) onto the bottom of the pot. Scrape all of the brown bits from the bottom the Instant Pot with a spatula.

Next, add onion and garlic to the pot and cook for 2-3 minutes.

Then, add the rest of the broth to the Instant Pot and place the pork roast back into the Instant Pot.

Turn off the saute feature and then put the lid on. Seal the Instant Pot and set it to manual high pressure for 90 minutes. It should take a little bit to build pressure before it starts to count down from 90.

Once the timer goes off, quick release the pressure from the Instant Pot and remove the pork roast. Save 1 cup of the cooking liquid for later. Discard the rest of the liquid.

Place the pork back into the Instant Pot and shred it with two forks The pork should shred very easily. If it doesn't, you likely need to continue cooking.

Once shredded, Pour the remaining cup of cooking liquid and the bbq sauce over the pork and mix well.

Turn the saute feature on the Instant Pot and let the pork cook for 2-3 minutes. Serve immediately on your favorite bun!
Tips & Notes
If you don't have our pork rub made, here's what you need: 2 tablespoons brown sugar, ½ tablespoon garlic powder, 1 teaspoon onion powder, ½ tablespoon coarse sea salt, ½ teaspoon ground cinnamon, 1 teaspoon dried thyme, and ½ teaspoon ground pepper.
To make paleo: use coconut sugar instead of brown sugar and use a paleo-friendly bbq sauce.
To make keto: omit brown sugar and use a keto-friendly bbq sauce.
Nutrition facts
Calories: 348kcal Carbohydrates: 10g Protein: 25g Fat: 21g Fiber: 0g Sugar: 5g
Photography: photos taken in this post are by Erin from The Wooden Skillet.