My Oven Roasted Chicken with Peaches is one of those family favorite dinners that's in our regular rotation.
Oven Roasted Chicken with Peaches
This fun and fruity, high protein dish is a mouthwatering delight.
During the warm weather and into fall, I use fresh peaches, for winter, I use frozen peaches to bring back the sweet taste of summer.
Healthy Oven Roasted Chicken Recipe
The healthiest way to prepare chicken is in the oven, as this avoids the high heat that can oxidize oils when frying and the potential carcinogenic properties that may come from grilling.
Best Oven Roasted Chicken Recipe
This oven roasted chicken recipe is both sweet and savory, I hope you love it as much as my gang does!
Oven Roasted Chicken with Peaches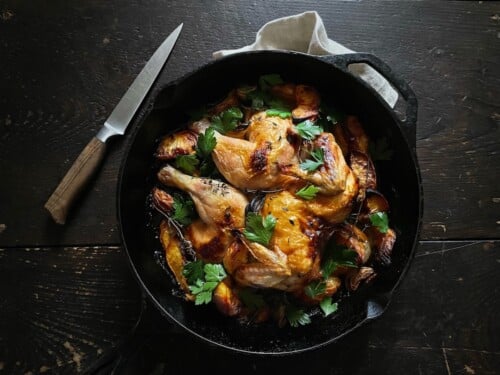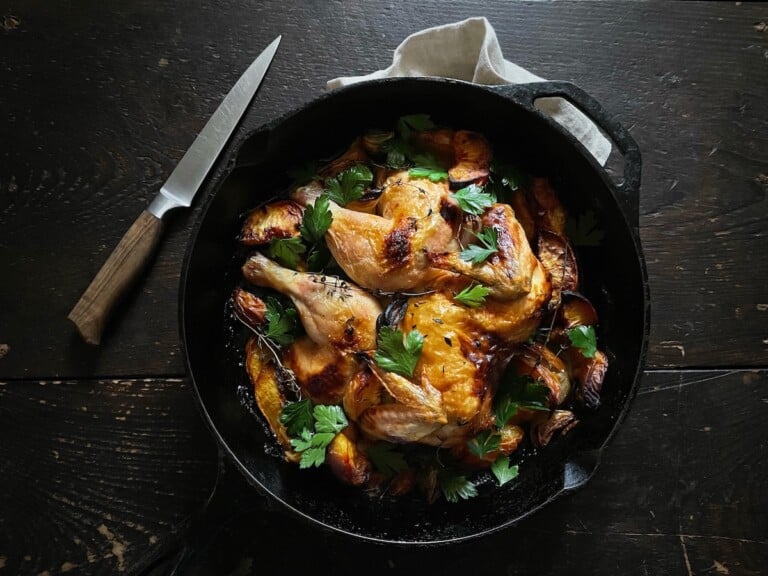 Print
Email
Pin Recipe
Ingredients
1

whole chicken (2-3 pounds)

¼

cup

olive oil

1

teaspoon

celtic sea salt

4

peaches, sliced

4

shallots, halved

6

sprigs fresh thyme

parsley leaves
Instructions
Position chicken breast side down and cut out backbone

Flip over and press on chest bone to flatten

Rub with oil, season with salt, then scatter peaches, shallots, and thyme around the chicken

Roast at 400°F for 80 minutes

Serve with peaches and pan sauce, garnish with parsley
Prep Time 20 mins
Cook Time 1 hr 20 mins
Total Time 1 hr 40 mins
Prevent your screen from going dark
Spatchcock Chicken: How To
In this recipe, I spatchcock the bird because removing the backbone and pressing it flat allows the breasts and thighs to cook through evenly.
This leaves both the white and dark meat cooked through, yet tender and juicy.
As opposed to cooking the bird whole, when you spatchcock chicken in the oven, it cooks at a faster rate and browns the skin to a crisp golden finish.
Recipes Quick Dinner
Chicken is king when it comes to dinner recipes that are healthy and easy, and I oven roast it a couple times a week.
Growing up in the fat-free 80s, we ate a lot of poultry, most of it boneless, skinless breast prepared with little fat, in a simple manner. There's nothing wrong with that!
Dinner Recipes Healthy Easy
Still, over the years, I've worked to keep the health in "healthy dinners" while adding as much fun and flavor as possible.
And with the Keto Diet, there's no more fat shaming –this important macronutrient is back on the menu and once again appreciated.
Along with fat, we need protein, and below are some of the best sources that you can find.
High in Protein Foods List
Living with MS, I focus on getting enough protein into my diet to maintain muscle mass and rebuild the coating that protects my nerves, referred to as the myelin sheath.
Animal protein is mission critical when it comes to this.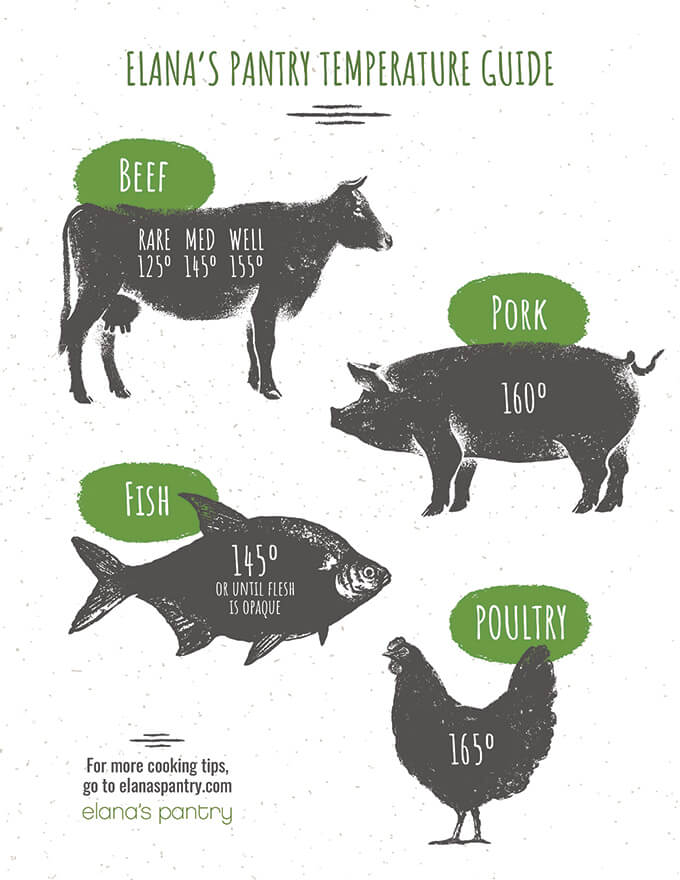 Above is my handy dandy meat temperature cooking guide. I printed it out and taped it to the inside of a cabinet in our kitchen so that I can easily reference it.
One other thing that makes cooking easy? This meat thermometer.
Low Carb Recipes with Chicken
I love making low carb recipes with chicken because it's such a versatile protein.
I've been on a low carb diet for over a decade because it increases brain derived neurotropic factor (BDNF)1, reduces inflammation, and stabilizes blood sugar levels.
Healthy Recipes Chicken
Below you'll find some of my favorite healthy recipes for dinner.
If you're in the mood for an Asian themed dish, check out the Asian Stir Fry in my Paleo Cooking from Elana's Pantry or my Thai Wraps here on the blog.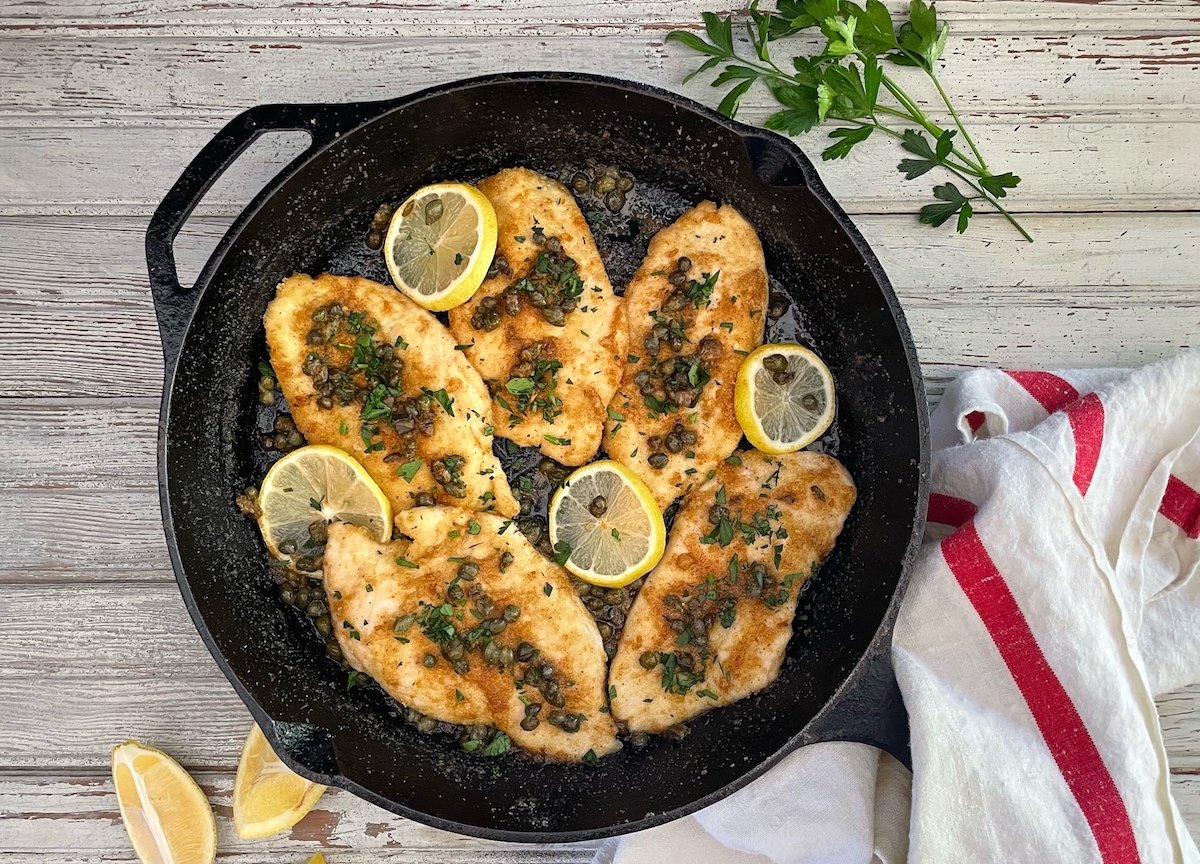 Easy Recipes with Chicken Breast
My low carb, keto Chicken Piccata Recipe is simple. Dip the breast in egg, then almond flour, then sautè in bone broth and capers for a piquant tang,
This is a chicken recipe for dinner that will wow your family and have you in and out of the kitchen swiftly.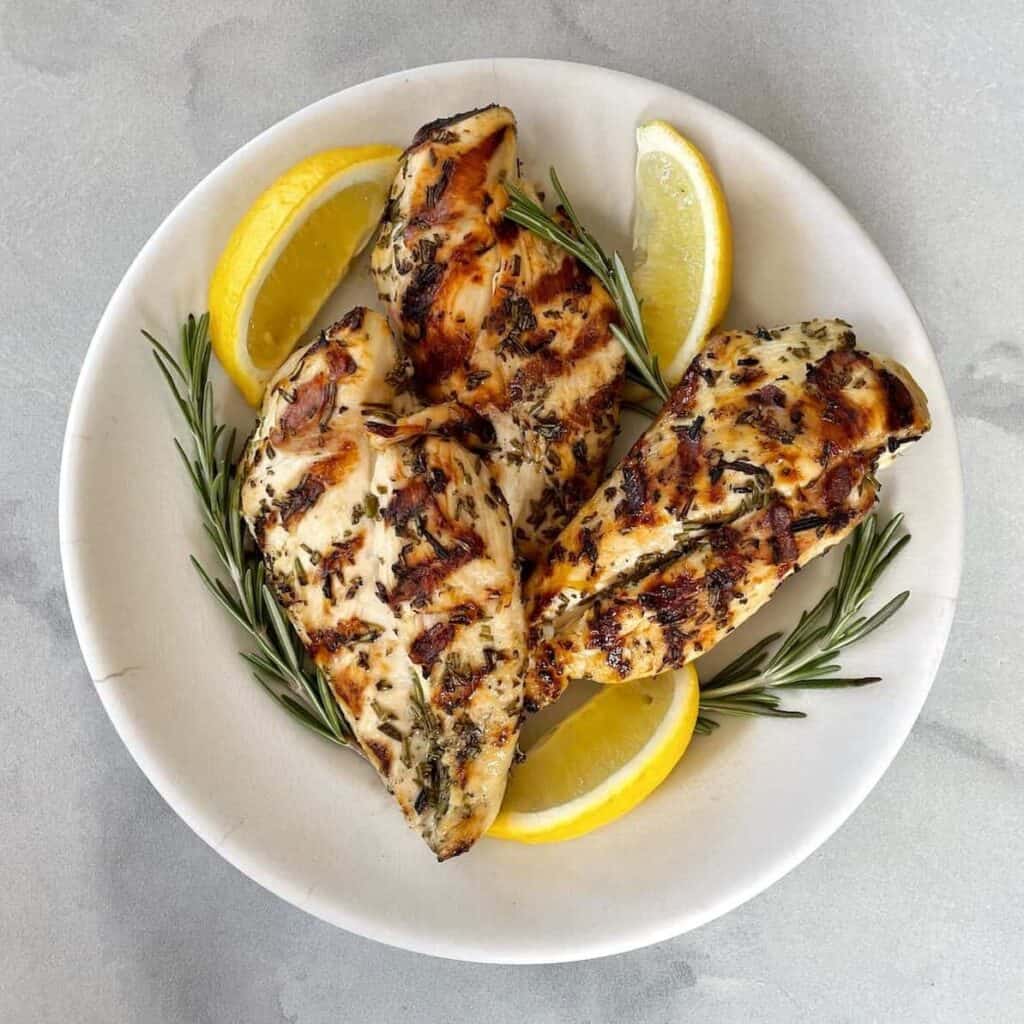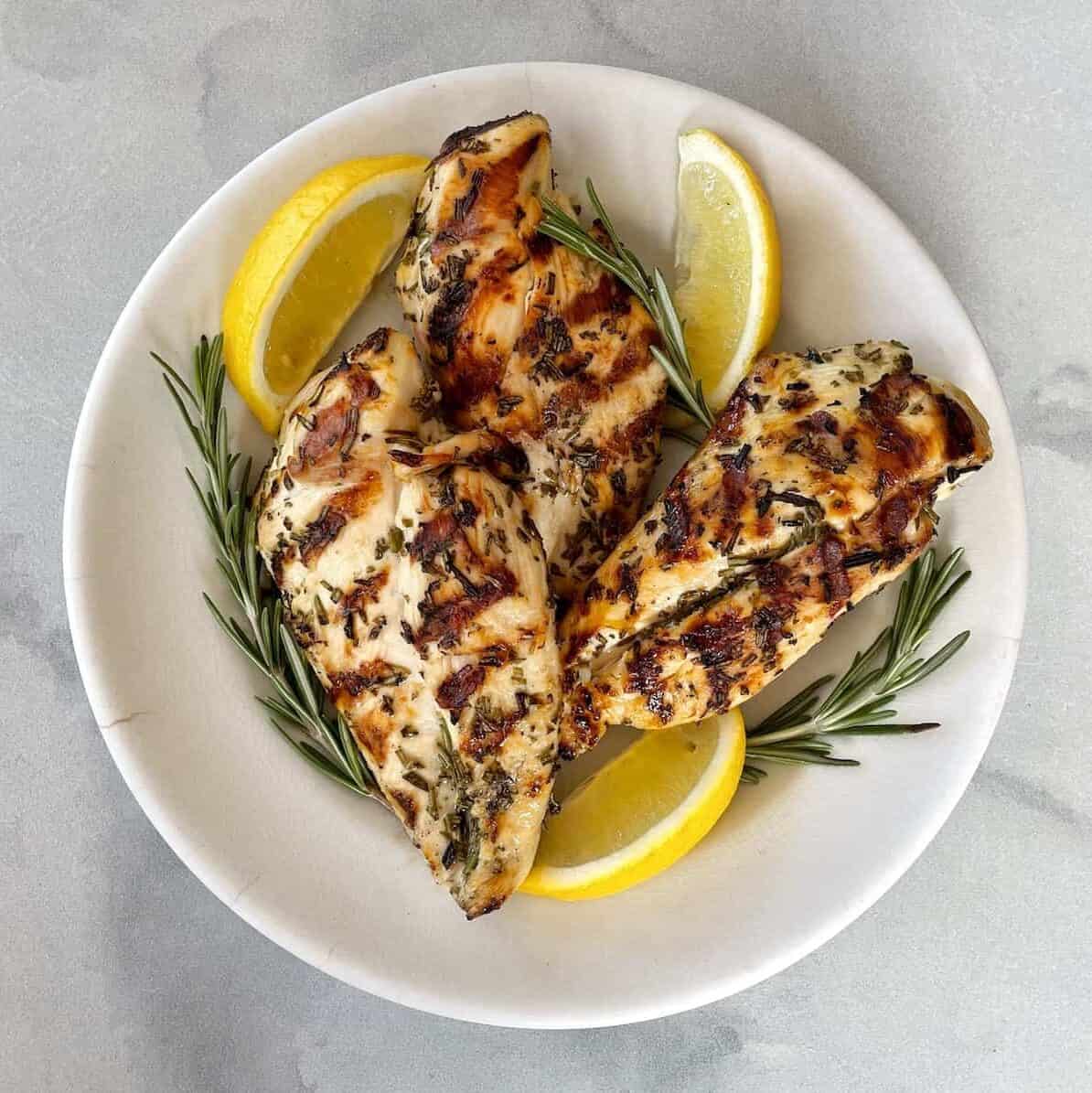 Recipe for Grilled Chicken Breast
My recipe for Rosemary Chicken with Lemon is as mouthwatering as it is healthy and easy to make.
A robust flavor profile of aromatic rosemary, zesty lemon, and fresh garlic add up to make this one of the best recipes for grilled chicken we've ever had!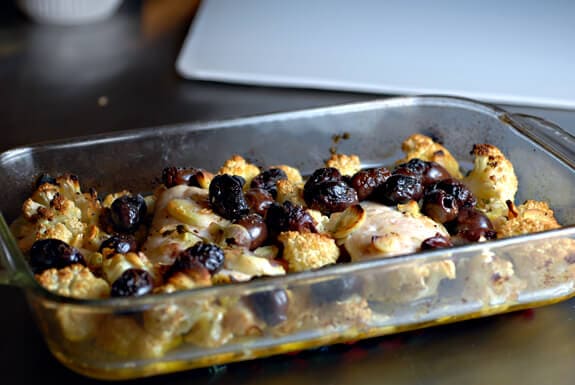 Baked Chicken Recipe Easy
Need a baked chicken recipe that's easy? My one-dish Recipe with Cauliflower Olives and Chicken is a cinch to prepare.
Make it the night before and then pop in the oven when you arrive home too tired for hands on cooking, and voilá, dinner is at the ready.
What could be better than a protein dense dinner with roasted cauliflower in the oven, spiked with fresh thyme, lemon zest, and tangy black olives?!
This oven roasted chicken is a great keto dinner option that has an explosion of flavor in every bite.
Recipes Vegetarian Dinner
Vegetarians, do not fret! If poultry is not your thing and you're looking for recipes for a vegetarian dinner, check out my quick and easy Huevos Rancheros Casserole. It's another one of our keto favorites!
Simple Recipes with Chicken
My oven roasted chicken recipe is based on "Roast Chicken with Balsamic Peaches," from Real Simple magazine's October 2006 issue. Whether roasting, grilling, or baking, any way you slice it, I'm here to help with easy recipes that are high in protein.
The key to a great healthy dinner that your family will love is a marinade for chicken recipe that's tangy or sweet and full of flavor. Make sure to use whole foods and natural ingredients. What is your favorite dinner?
This recipe for Oven Roasted Chicken is an oldie but goodie from the archives. I first shared it in 2007.