[ad_1]

This post may contain affiliate links. Please read my disclosure policy.
This fresh peach gazpacho recipe features a delicious blend of sweet and savory flavors and comes together easily in just 10 minutes.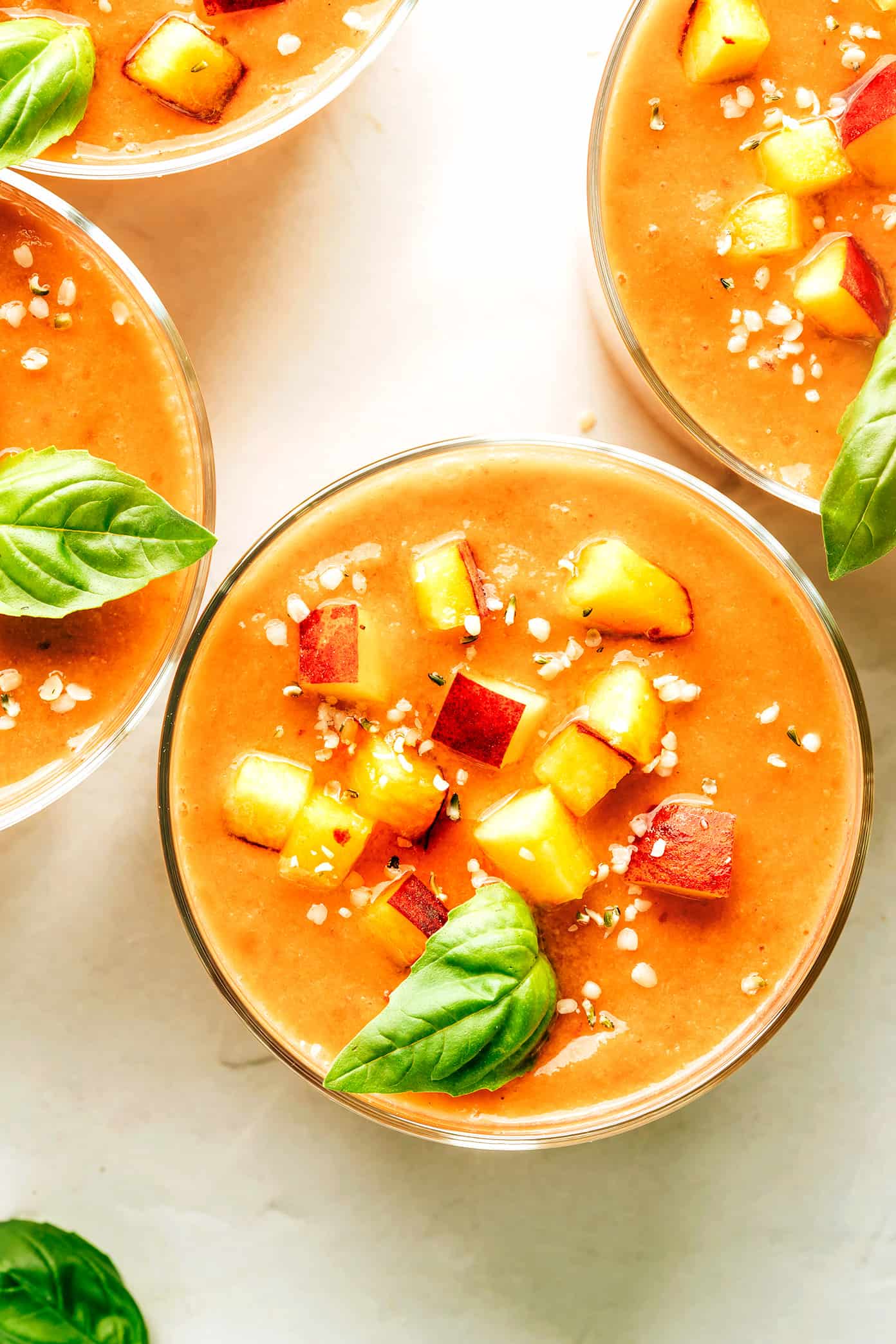 Peach season around here this year has been the cutest. ♡
Our little guy, Teo, is currently 16-months-old and loving his first summer getting to sample all the ripe produce the season has to offer. But I have to say that fresh peaches have definitely emerged lately as a new favorite. Teo has already learned where to look out for them at the market (and I've learned to look out for those tiny little hands darting from the stroller to try and nab them, ha!). And each time he bites into a fresh peach slice, he lets out the most adorable little squeal of delight. As a first-time toddler mama, I have to say, is there anything sweeter than watching fresh peach juice dribble down your baby's chin?!
Needless to say, we've been bringing home a record amount of peaches lately for all of us. And since gazpacho is an absolute essential here in Spain during the summertime, we've been blending any leftovers into quick batches of this cold soup to beat the heat. The sweetness of the peaches balances out the savory notes of classic tomato gazpacho just perfectly. And when seasoned with a hint of fresh basil and served up perfectly chilled, there's nothing more refreshing on a hot summer's day.
The great news about this particular peach gazpacho recipe is that it's also incredibly quick and easy to blend up. It requires zero cooking or heating up the kitchen (which is especially welcome right now during Europe's current record-breaking heat wave). And — as is the case with most gazpacho recipes — it always tastes even better for leftovers the next day.
So grab a few more fresh peaches while they're still in season, and let's make some peach gazpacho together!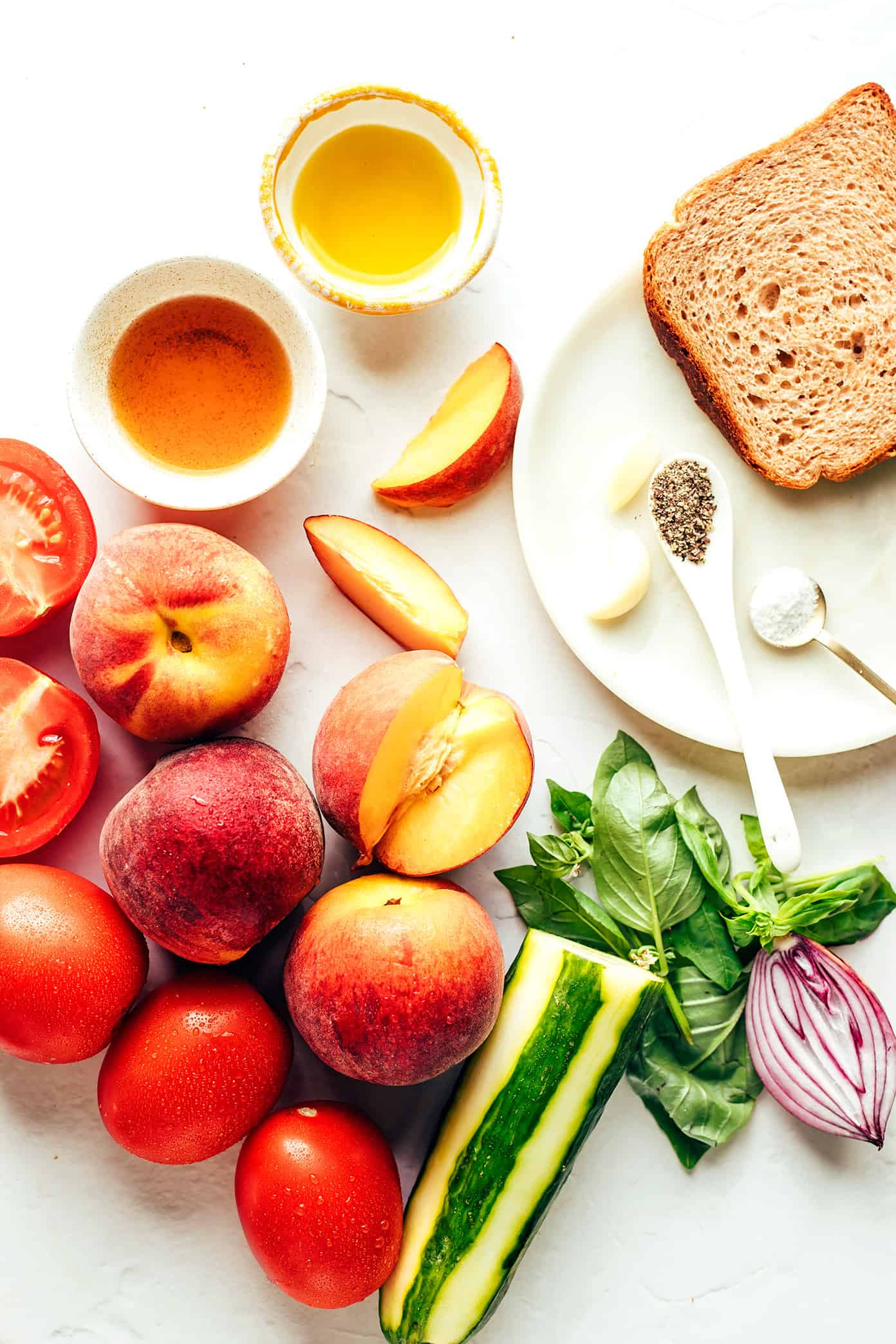 Peach Gazpacho Ingredients
Before we get to the full peach gazpacho recipe below, here are a few notes about the key ingredients that you will need:
Peaches: Any variety of fresh peaches that you love best will do, preferably as ripe and juicy as possible. No need to peel them!
Roma tomatoes: I love using Roma (a.k.a. "pear") tomatoes in gazpacho, which you will need to core before using. (Just slice them in half, then scoop out and discard the seeds and white cores.)
Bread: Here in Spain, it's traditional to toss in a slice of dry leftover bread to thicken gazpacho and help prevent it from separating. I added a slice of whole wheat bread to this batch, but just about any bread that you have on hand will do.
English cucumber: I like using English or Persian cucumbers for this recipe, since there's no need to remove their seeds. (That said though,  you only have a traditional cucumber on hand, no prob — just use a spoon to scoop out and discard its seeds.) I also usually peel cucumbers when making gazpacho, but this step is optional if using an English or Persian cucumber.
Red onion: We will also add a small amount of roughly-chopped red onion, which you're welcome to rinse in cold water first if you would like to mellow out its flavor a bit.
Fresh basil: I love the taste of fresh basil paired with the peaches and tomatoes in this recipe. That said, fresh mint would be a delicious option here too!
Olive oil: We will add a few tablespoons of good-quality extra virgin olive oil to the gazpacho, plus you are welcome to drizzle on extra as a garnish.
Sherry vinegar: Vinaigre de Jerez (sherry vinegar) is the traditional choice for gazpacho here in Spain and tastes wonderful in this recipe. That said, if you do not have any sherry vinegar in your pantry, red wine vinegar or apple cider vinegar could work as a substitute.
Salt and pepper: A hint of sea salt and freshly-ground black pepper as always, for seasoning.
Garlic: I love the spicy bite that two small cloves of raw garlic add to this gazpacho. But feel free to use less garlic if you prefer.
Garnishes: Garnishes are always the fun part of serving gazpacho, so get creative and add whatever sounds good! Chopped peaches, cucumber, fresh basil, hemp seeds, croutons, chopped nuts (I especially love marcona almonds or pine nuts), and/or a drizzle of olive oil would all be delicious options.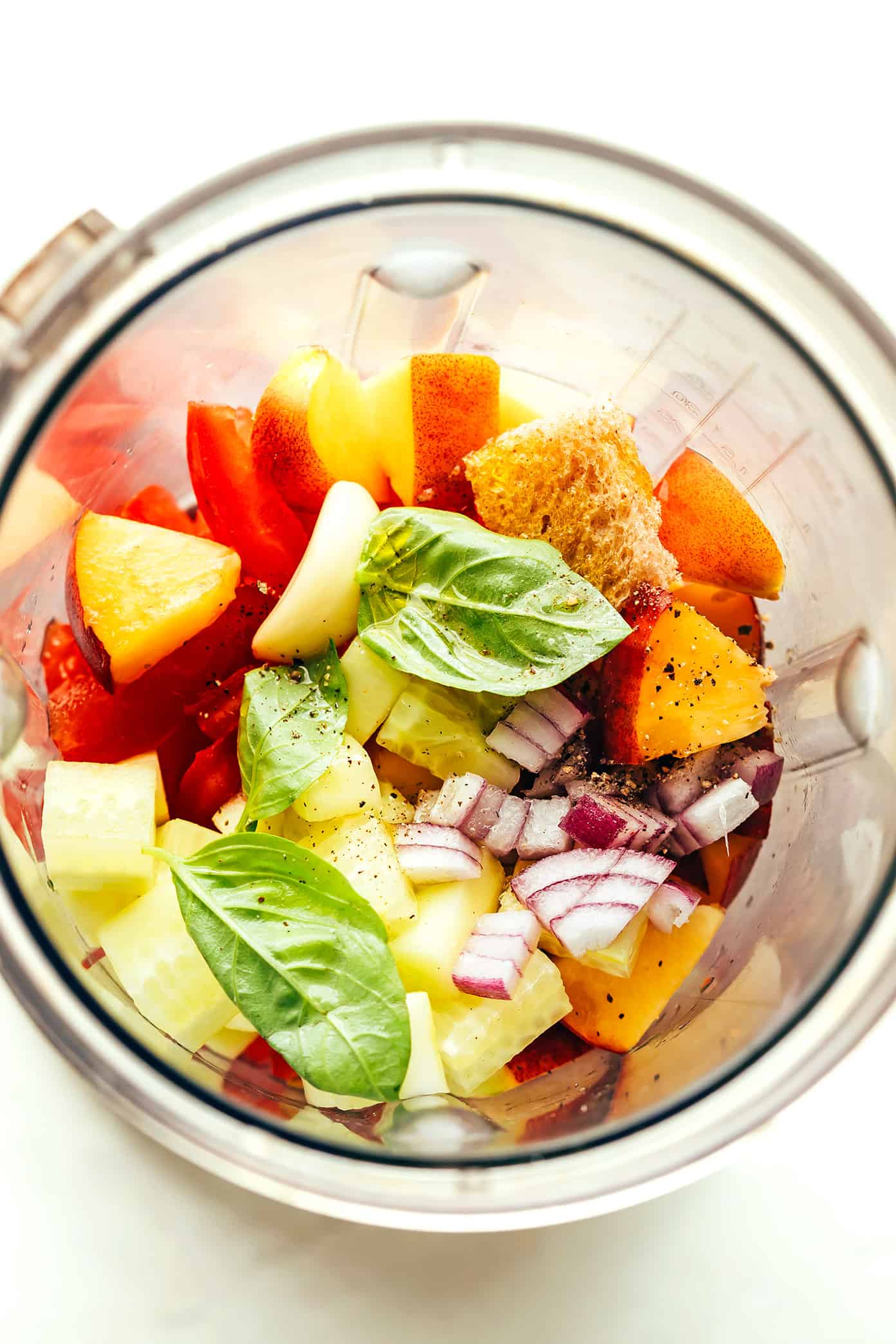 Possible Recipe Variations
Here are a few other variations you are welcome to try with this peach gazpacho recipe:
Make it creamy: Add a swirl of heavy cream to the gazpacho to make it extra creamy.
Make it spicy: Add in a pinch of crushed red pepper flakes or a few slices of fresh chile (such as jalapeño) to amp up the heat.
Make it gluten-free: Use gluten-free bread to make this recipe gf.
Make it vegan: Done! This peach gazpacho recipe is already naturally vegan.
Serve it with a straw: Gazpacho is often served with a drinking glass and straw here in Spain…which I find so fun! If the gazpacho seems a bit too thick, just add in a few extra tablespoons of ice water to thin it down a bit, then sip away. 🙂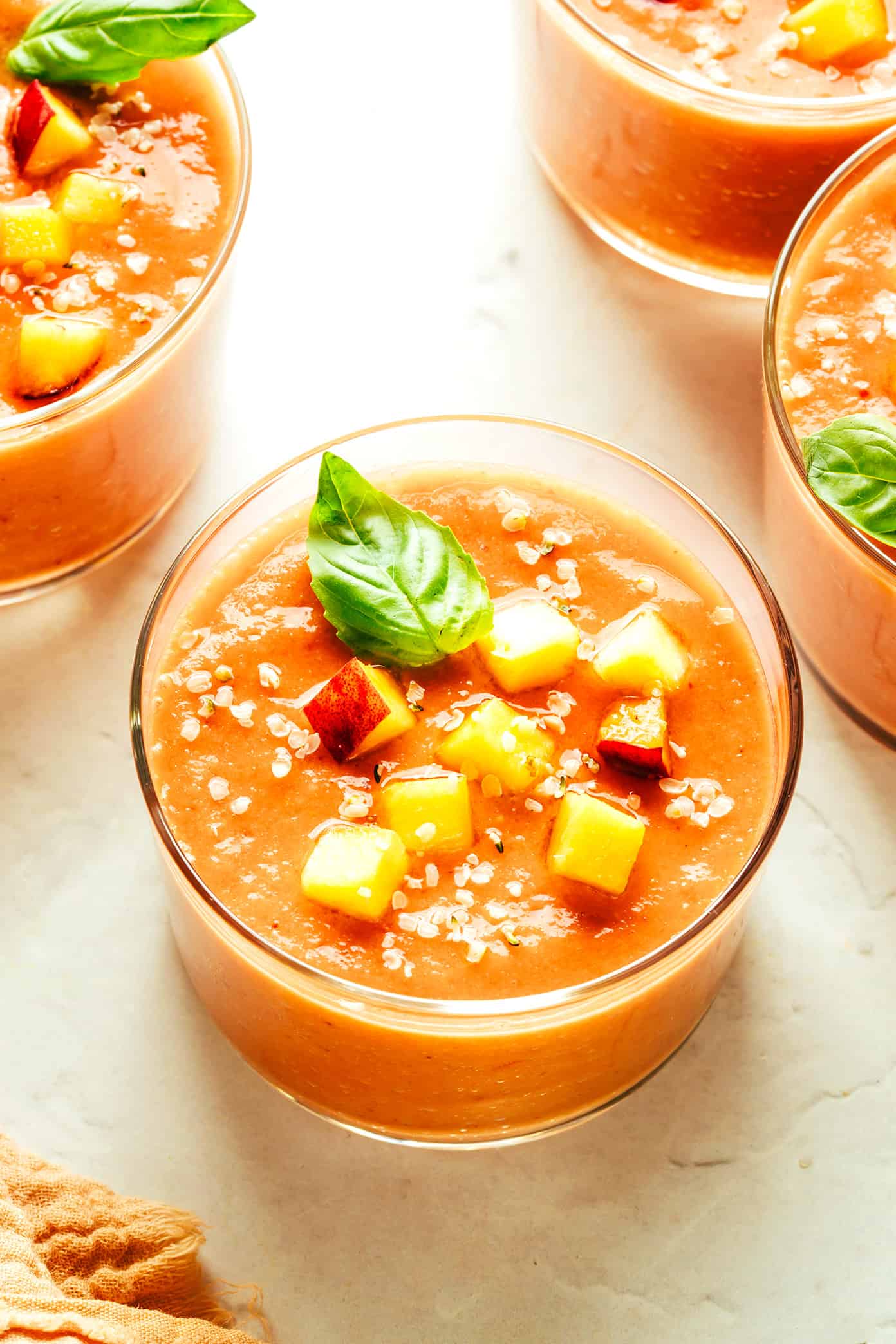 More Gazpacho Recipes
Looking for more gazpacho recipes to try? Here are a few of my faves:
Print
---
Description
This fresh peach gazpacho recipe features a delicious blend of sweet and savory flavors and comes together easily in just 10 minutes.
---
1

pound peaches, pitted and roughly chopped

1

pound Roma tomatoes, cored* and roughly chopped

1

slice whole wheat bread

half of an

English cucumber (about

6 ounces

), peeled and roughly chopped

half of a

small red onion (about

2 ounces

), peeled and roughly chopped

¼ cup

packed fresh basil leaves (about

8

to

10

large leaves)

3 tablespoons

olive oil

2

to

3

teaspoons sherry vinegar, to taste

1 teaspoon

fine sea salt

a few twists of freshly-ground black pepper

2

small cloves garlic

optional garnishes: chopped peaches, cucumber, fresh basil, hemp seeds, croutons, chopped nuts, and/or a drizzle of olive oil
---
Blend.

Combine all ingredients in a blender and purée until smooth.

Season.

Taste and season with additional salt, pepper, sherry vinegar, and/or basil if needed.

Strain (optional).

Strain the mixture through a large fine mesh strainer, if you would like a silky smooth texture.

Chill.

Refrigerate in a sealed container for at least 3 to 4 hours, or until completely chilled.

Serve.

Serve cold, topped with your desired garnishes.
---
Notes
How to core tomatoes: Slice the tomatoes in half lengthwise. Use a spoon to scoop out and discard the seeds and tough white cores.
Storage instructions: Leftover gazpacho can be refrigerated in a sealed container for up to 2-3 days.
[ad_2]

Source link