This delicious pesto balsamic chicken tortellini toss is loaded with so many yummy ingredients and flavors, like roasted tomatoes, fresh mozzarella, artichokes and more!
The flavor explosion in this tortellini toss salad is absolutely unreal.
Yes, there is a lot going on. And yes, we're just going to lean into that, because it.is.so.worth.it.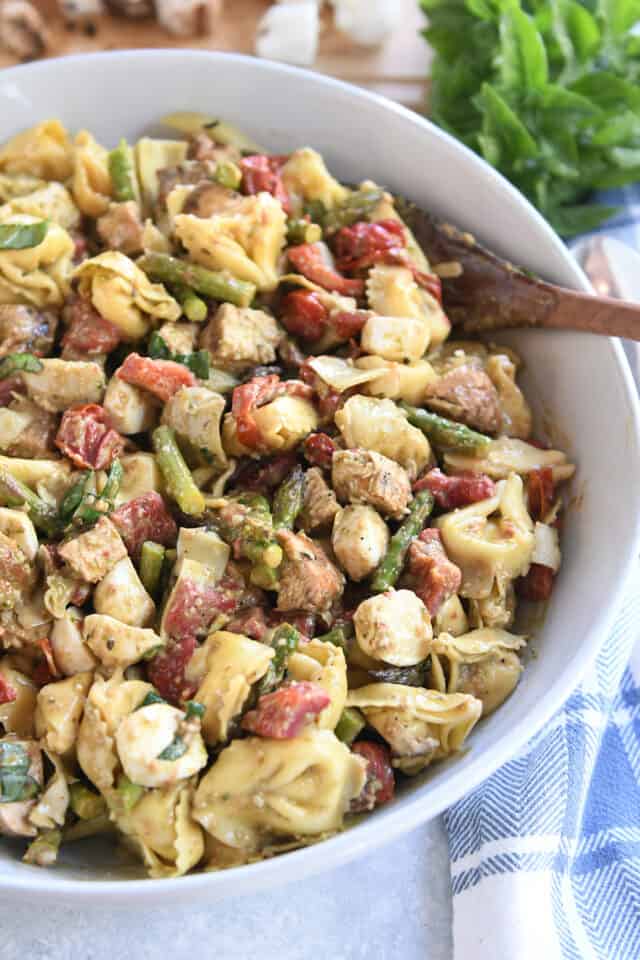 Balsamic Chicken
This recipe starts by building lots of flavor with a balsamic marinaded chicken.
I prefer grilling the chicken. But you can cook it a variety of different ways: baking or broiling in the oven, in an air fryer, cut into cubes and cooked in a skillet.
Basically: just get that chicken cooked up nice and juicy.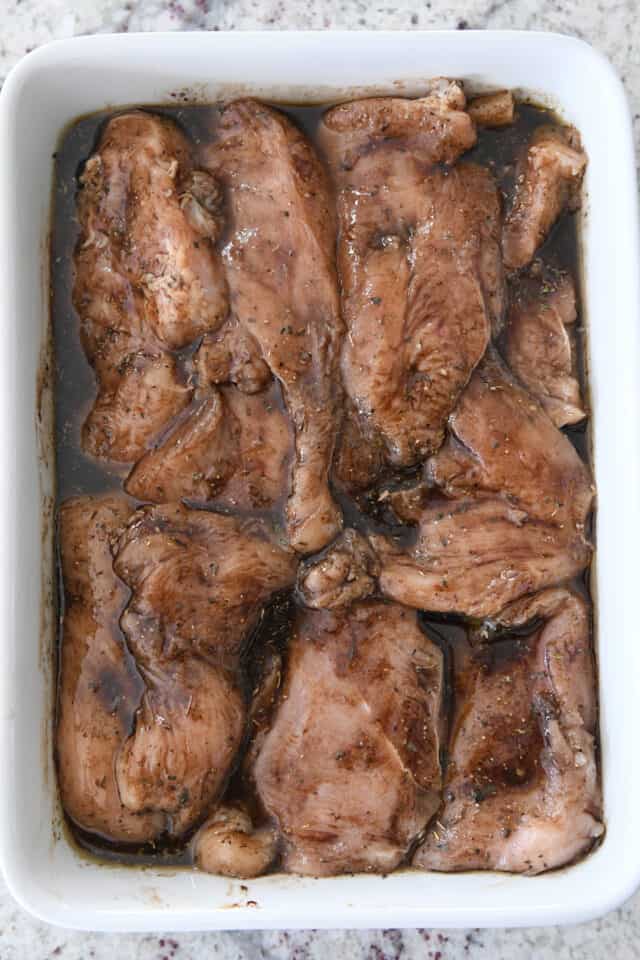 Tortellini Toss Ingredients
The key to this recipe is maximizing time by prepping/cooking ingredients simultaneously. While the chicken cooks, work on prepping some of the other ingredients.
Speaking of ingredients, this salad is loaded with an inordinate amount of yummy things:
tortellini (the fresh/refrigerated kind!)
roasted red peppers
canned artichoke hearts
fresh mozzarella
fresh herbs (basil is my fave in this salad)
grilled chicken
asparagus
tomatoes
Roasted Tomatoes and Asparagus
The tomatoes get tossed on a sheet pan with a little olive oil, salt and pepper, and thrown in the oven to roast until sizzling and bubbling.
About halfway through their metamorphosis, the asparagus is added to the sheet pan. And the two veggies continue roasting until the tomatoes are juicy and the asparagus is crisp tender.
The sweet, roasted tomatoes are one of my favorite parts of this pesto balsamic chicken tortellini toss!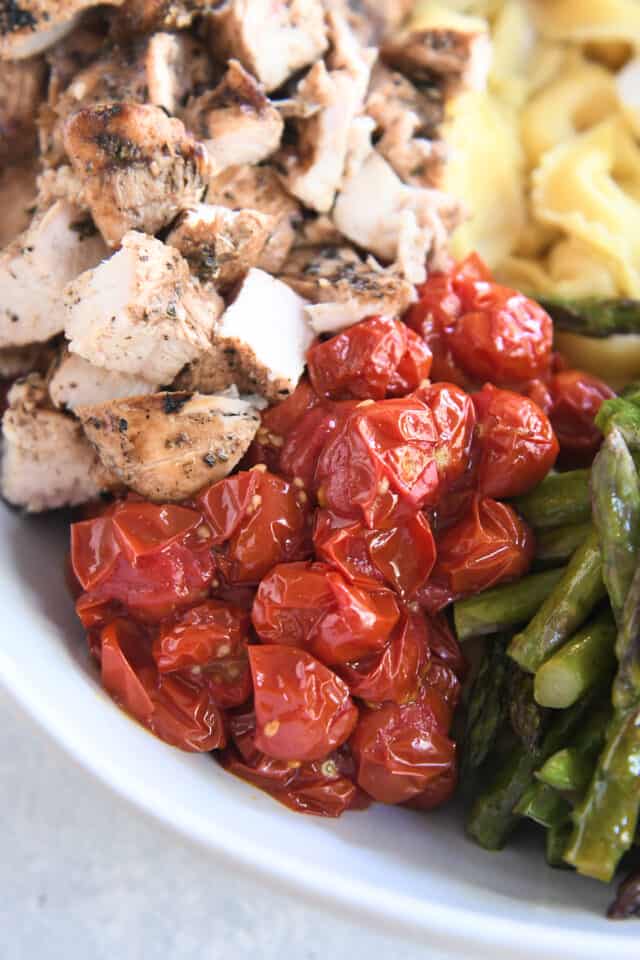 Pesto Balsamic Dressing
Ah, the dressing that brings everything together into one cohesive jumble.
It's simple! Just three ingredients:
pesto (see notes in the recipe about what kind of pesto to use)
balsamic vinegar
mayonnaise
The mayo lends a creamy element to the dressing which helps offset the stronger flavors of the vinegar and pesto.
However, you can leave it out if you so desire for a more vinaigrette-style dressing (I haven't tried subbing it with yogurt or sour cream).
A Really Beautiful Toss
The name of this recipe is apt as the ingredients are literally all tossed together into a colorful, jubilant salad.
Sometimes if there's too much going on in a recipe, it can be distracting. But in this recipe, it ends up as beautiful, edible chaos.
These flavors just speak to me. The pesto. The balsamic. All the delicious veggies and fresh mozzarella and juicy chicken. YUM.
I could eat this every day and be the happiest woman on the planet.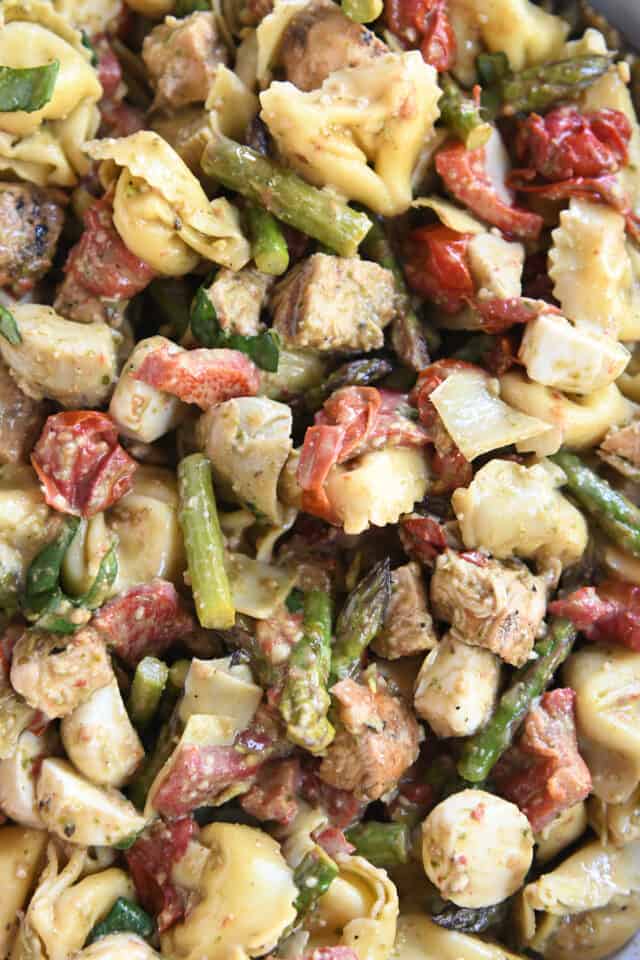 A Few Notes
This tortellini toss would make a really delicious side dish, potluck offering, or vegetarian main dish (just leave out the chicken).
Also, a few other important notes:
Do NOT over cook the tortellini. Fresh or refrigerated tortellini only needs 1-2 minutes of cooking time. Err on the side of al dente instead of falling apart mushiness. Trust me.
If some of these ingredients aren't available, play around with substitutions. Zucchini or broccoli for the asparagus. Parmesan for the fresh mozzarella. Salmon for the chicken. Etc, etc.
The salad can be made and refrigerated for a few hours. It's meant to be served chilled or at room temperature (not warm). If you need to make it farther in advance than a few hours, consider waiting to dress the salad right before serving, or reserve some of the dressing to stir in before serving in case the salad dries out a bit.
This tortellini toss is a bit of an investment of ingredients and time (and yes, a few pans). But I promise it's worth it.
It's a salad people will be talking about for years.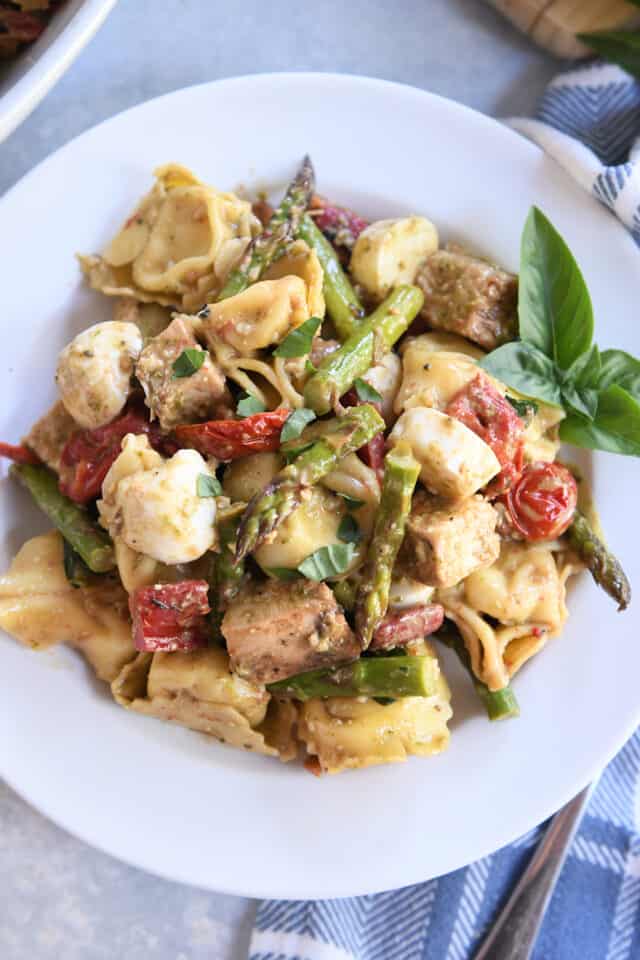 Pesto Balsamic Chicken Tortellini Toss
Chicken + Marinade:
½

cup

balsamic vinegar

¼

cup

olive oil

2-3

cloves

garlic, finely minced

1

teaspoon

salt

1

teaspoon

dried basil

1

teaspoon

dried oregano

¼

teaspoon

dried thyme

⅛

teaspoon

black pepper

1 ½

pounds

chicken breasts, tenders or thighs, trimmed
Salad:
20

ounce

packaged fresh/refrigerated cheese tortellini

1 to 1 ½

pounds

asparagus, tough ends trimmed, cut into 2-inch pieces

3 to 4

cups

grape or cherry tomatoes

16-ounce

can

artichoke hearts, drained and coarsely chopped

12-ounce

jar

roasted red peppers, drained and coarsely chopped

1 to 2

cups

fresh mozzarella balls, halved (or fresh mozzarella, cubed)

Fresh chopped herbs of your choice, like basil, parsley, etc (optional but delicious)
Pesto Dressing:
¾

cup

prepared basil pesto (see note)

¼

cup

balsamic vinegar

¼

cup

mayonnaise
Whisk together all the marinade ingredients until well combined. Pour over the chicken, cover, and refrigerate for at least 4 hours or up to 24 hours.

Preheat a grill to medium-high heat. (See note for alternate cooking options.) Cook the chicken for 4-6 minutes per side, or until an instant-read thermometer register 165 degrees at the thickest part. Remove from the grill and set aside to cool a bit.

SIDENOTE: Step #3 and Step #4 can be done simultaneously with a little planning, so read through the next few steps before starting so you can maximize time and cooking.

Preheat the oven to 425 degrees. Place the tomatoes on a rimmed baking sheet. Drizzle with olive oil, sprinkle with salt and pepper, and roast for 10 minutes. Remove from the oven and add the asparagus in an even layer on the pan. Drizzle with a bit more olive oil if needed. Cook the tomatoes and asparagus for 8-10 minutes until the tomatoes are bursting and sizzling and the asparagus is crisp-tender.

Cook the tortellini according to package instructions. DO NOT OVERCOOK. If using refrigerated/fresh tortellini, it will only need 1-2 minutes of cooking time. You want it al dente rather than falling apart soft. Drain the tortellini, quickly rinse with cool water to prevent sticking, drain again, and transfer to a serving bowl. Let cool, tossing occasionally, while prepping the rest of the ingredients.

Cut the chicken into bite-size pieces.

For the dressing, whisk together the pesto, balsamic vinegar and mayonnaise. (The mayo can be left out for a less creamy dressing.)

To the bowl with the tortellini, add the chicken, roasted asparagus and tomatoes, artichokes, red peppers, mozzarella, and fresh herbs.

Pour the pesto dressing over the top. Toss to combine. Serve or refrigerate until serving.
Cooking Timeline: there is a lot going on in this recipe! Several components can be cooked at the same time. Preheat the oven at the same time as putting water on to boil for the tortellini. The asparagus and tomatoes can be roasting in the oven at the same time the chicken is cooking on the grill. 
Chicken: the chicken can be cooked in an air fryer, in the oven (baked or on broil setting), or cubed and cooked in a skillet. 
Pesto: I prefer fresher tasting store bought basil pesto from the refrigerated section (Costco's Kirkland brand is really good) rather than the jarred kind in the pasta aisle. Homemade pesto works, too!
Asparagus: if asparagus isn't in season or easily found, broccoli, zucchini or another vegetable can be used. 
Make-Ahead: this tortellini toss can be made ahead of time and refrigerated. If it's going to be refrigerated longer than 1-2 hours, consider reserving some of the dressing to stir in right before serving OR dress it completely right before serving so it isn't dry. 
Serving: 1 serving, Calories: 539kcal, Carbohydrates: 38g, Protein: 33g, Fat: 28g, Saturated Fat: 7g, Cholesterol: 89mg, Sodium: 1367mg, Fiber: 7g, Sugar: 7g
Follow @MelsKitchenCafe on Instagram and show me the recipes you are making from my blog using the hashtag #melskitchencafe. I love seeing all the goodness you are whipping up in your kitchens!
Recipe Source: adapted a fair amount from a recipe my mom gave me (someone served it to her and my dad on one of their recent travels)
Disclaimer: I am a participant in the Amazon Services LLC Associates Program, an affiliate advertising program designed to provide a means for me to earn fees by linking to Amazon.com and affiliated sites. As an Amazon Associate I earn from qualifying purchases.