This protein oatmeal is thick, creamy, and packs in over 30 grams of protein per serving! Easy to customize and makes a healthy and filling breakfast.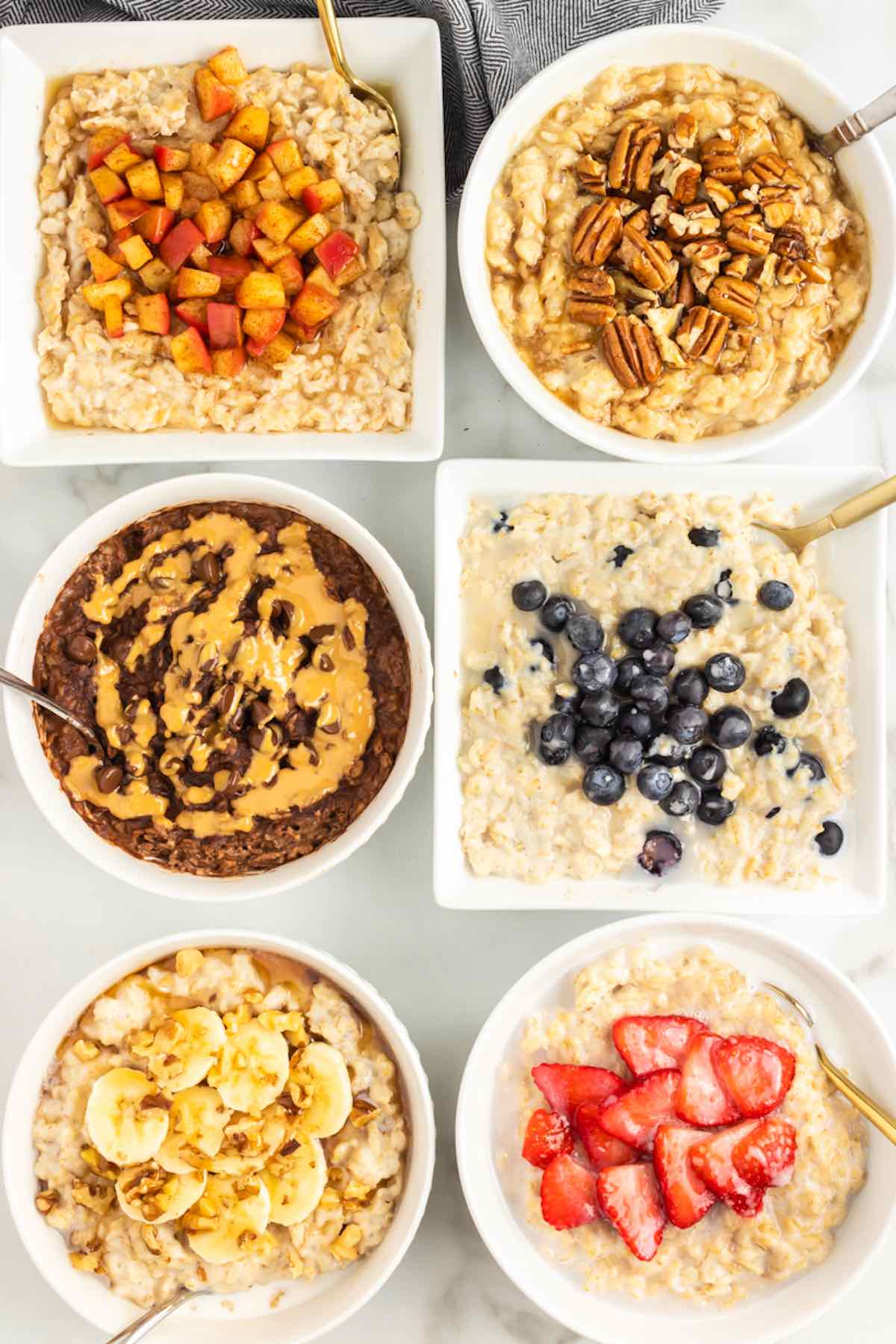 It's a proven fact that high protein breakfasts are the best meal to kick-start a day. 
Some ideas include a frittata, protein pancakes, or even a bowl of protein cereal. An easy and delicious option is high protein oatmeal. 
Can you add protein powder to oatmeal?
Adding protein powder to oatmeal is a fantastic way to turn an already bowl of oats into something even more satisfying and delicious.
Typically, one scoop of protein powder adds around 30 grams of protein, and I've been regularly doing this each morning. Protein is known for keeping you fuller for longer and helping repair muscles after exercise. 
What we love about this protein oatmeal recipe is just how easy it is to customize. There are tons of protein powder flavors out there, so you can enjoy chocolate oats, vanilla oats, cookie dough oats, and more. 
Make a big batch on the weekends and have breakfast sorted for the week ahead! 
Ingredients needed
This recipe is very simple and uses affordable, everyday ingredients. Here is what you'll need:
Rolled oats. Also known as old-fashioned oats. These have a chewier and more satisfying texture than quick oats. 
Water. 
Milk. I used unsweetened almond milk but any milk works. 
Salt. Just a pinch to bring out the natural sweetness of the oats. 
Protein powder. Either flavored or unflavored. 
Mix-ins. Like any good bowl of oatmeal, you can flavor it up any way you like. 
How to make protein oatmeal
Step 1- Cook the oats
Using either the stovetop or the microwave method, combine the oats, water, milk, and salt and bring to a boil. Once boiling, reduce the heat to low and simmer for 2-3 minutes, until the oats are thick.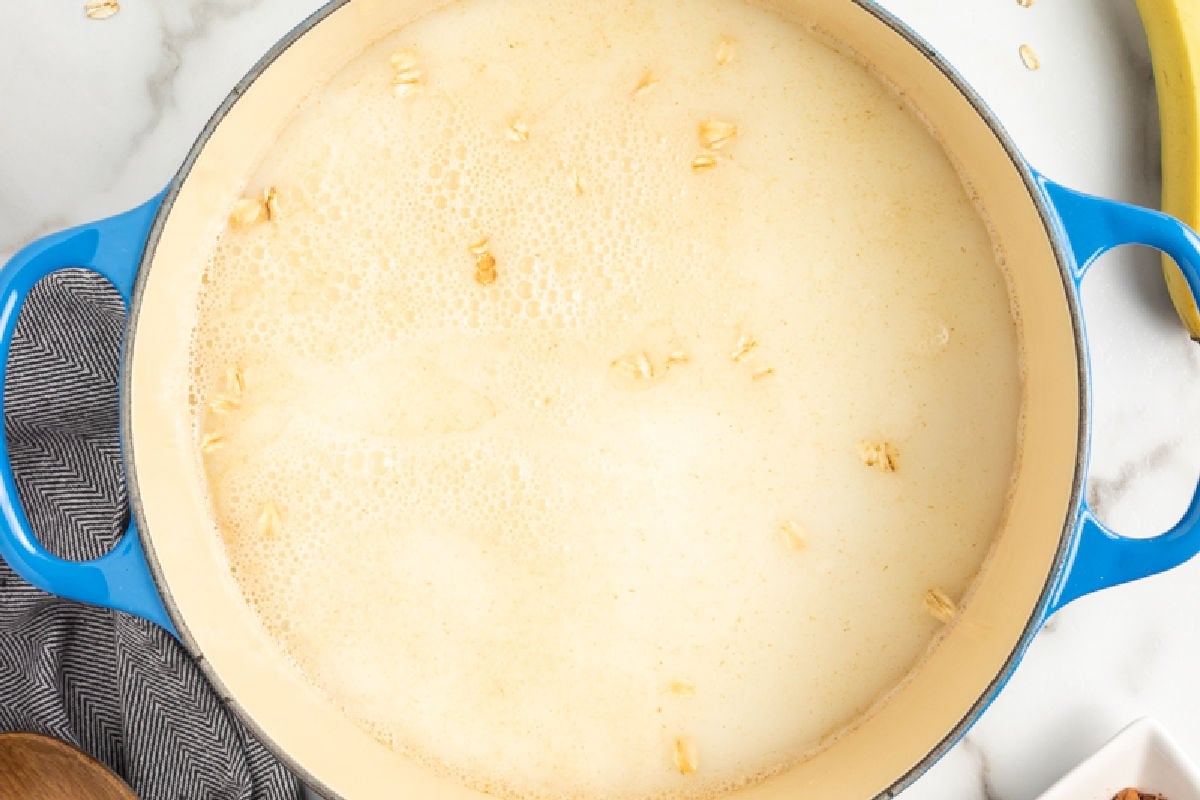 Step 2- Add protein powder
Moving quickly, whisk in the protein powder, ensuring there are no clumps throughout. If the oatmeal is too thick, stir through some milk or water.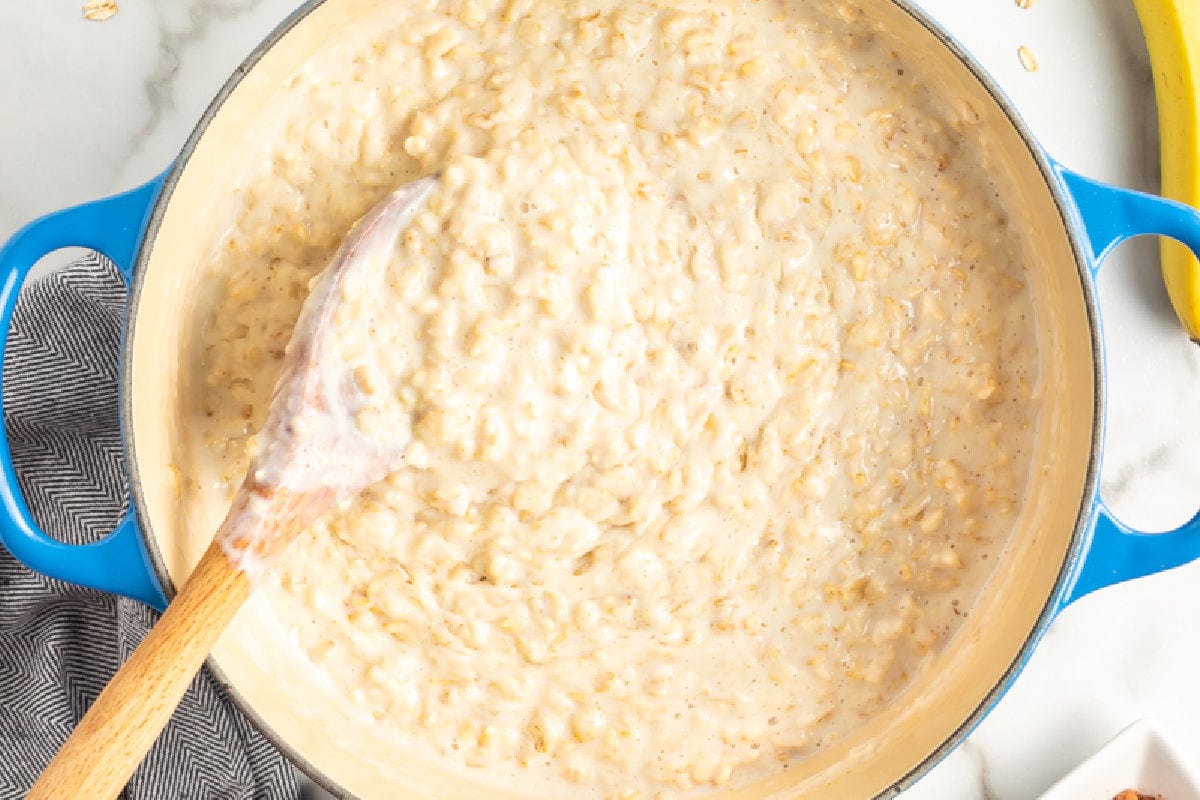 Step 3- Add toppings
Top with fresh fruit, maple syrup, nut butter, chocolate, or whatever toppings you like.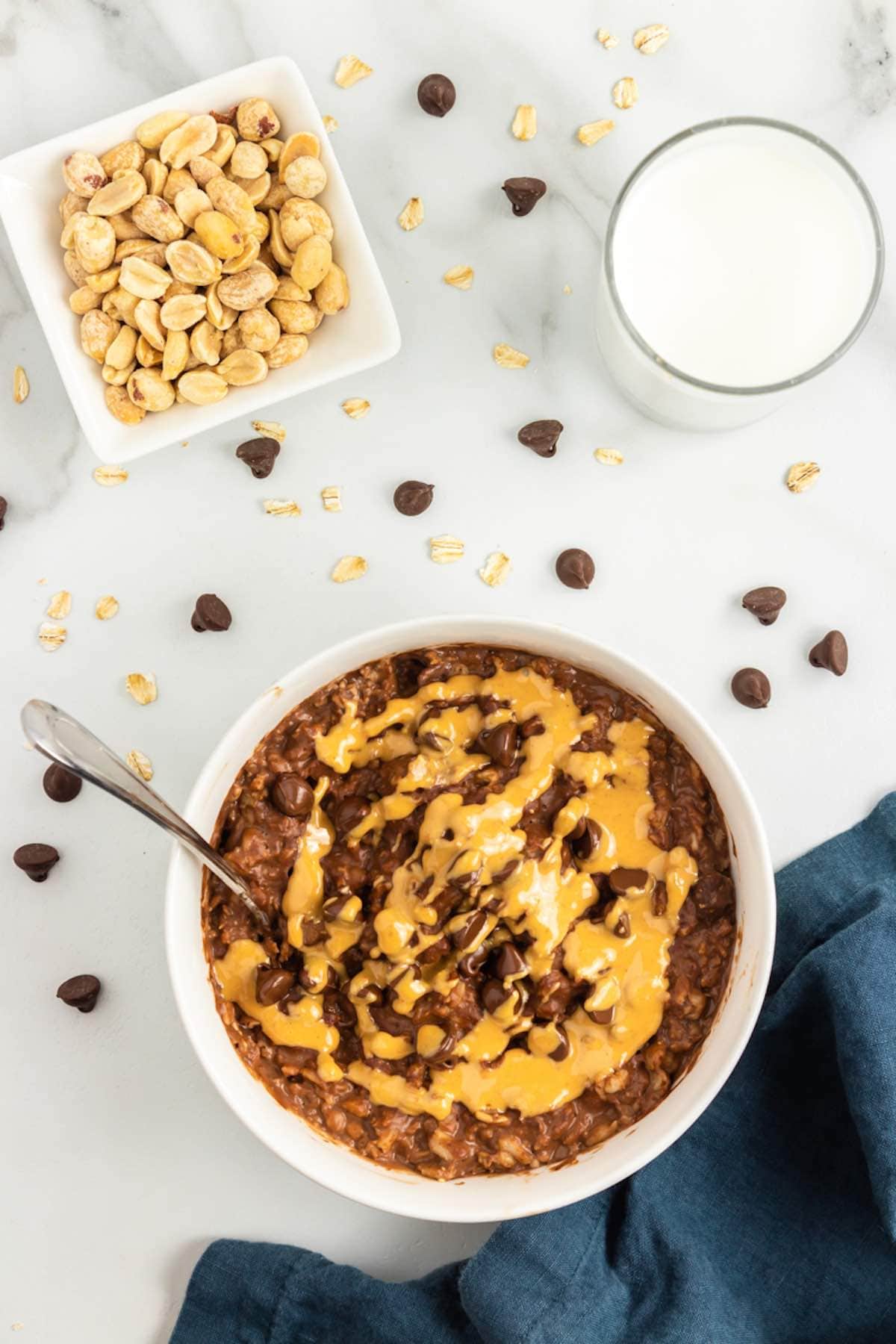 Best protein powder for oats
Not all protein powder is equal. Many of them are loaded with sugar, fillers, and almost as much carbs as protein. Here are the best options to choose from: 
Casein protein powder. This protein provides the thickest texture. If you add casein protein, you will need to add an extra 1/2-1 cup of liquid to compensate for it.
Brown rice protein powder. Vegan and gluten-free protein powder. It's thick and mixes well, and can come in a variety of flavors. Be wary though, some brands can have an 'earthy' texture, meaning it can have a quite distinct taste. Stick to vanilla, chocolate, or plain varieties. 
Whey protein powder. While not as thick as the other two kinds of powder, whey is easy to find at any grocery store and has minimal ingredients.
Storage instructions
To store: Leftovers can be stored in the refrigerator, covered, for up to five days. 
To freeze: Place the cooked and cooled oats in freezer safe containers and store in the freezer for up to 6 months. 
Reheating: Microwave the oats for 30-40 seconds until warm. Add more milk or water, if needed.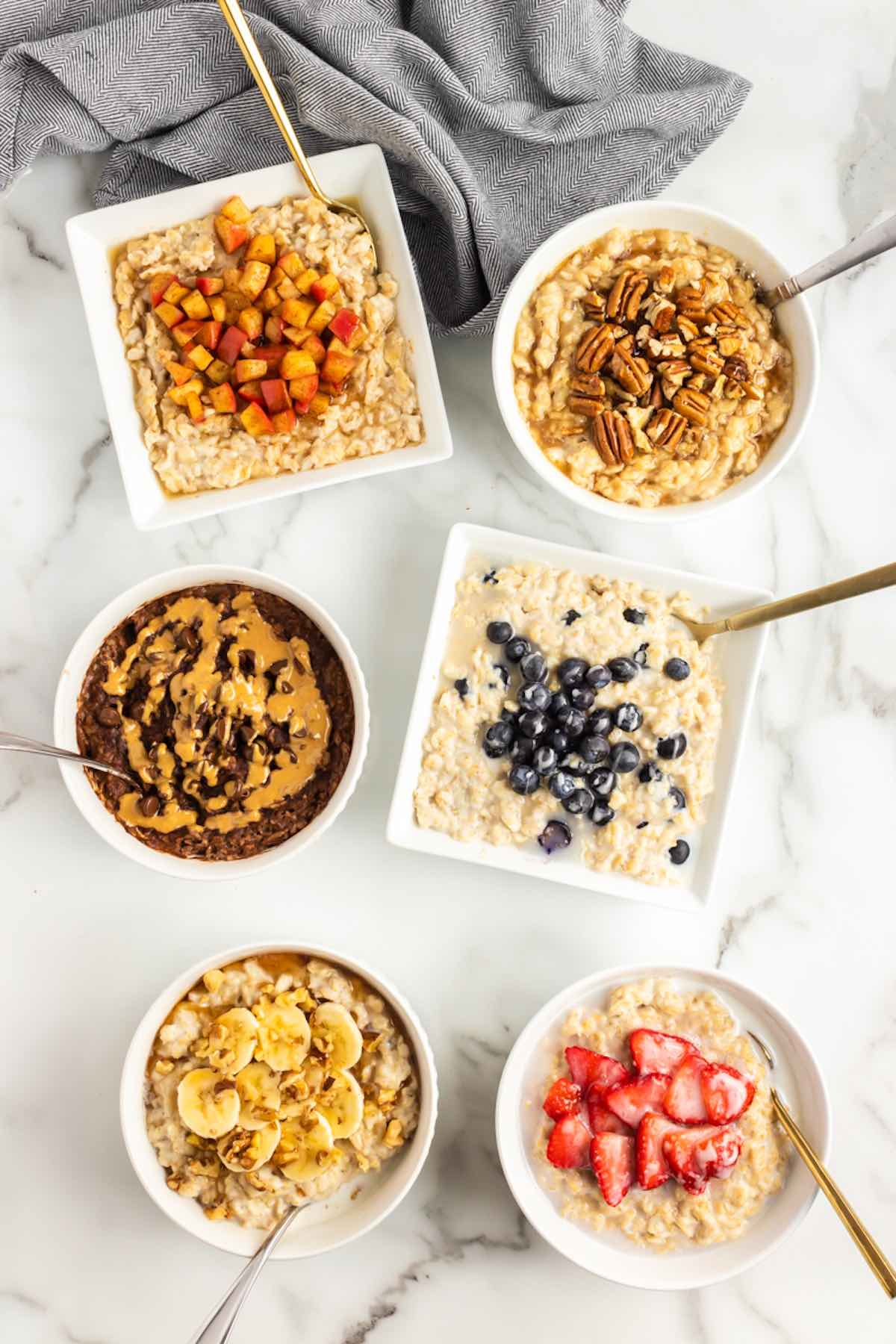 Frequently Asked Questions
Is oatmeal a good source of protein?
Compared to other breakfast cereals, oatmeal is a solid source of protein. Each half-cup serving provides 8 grams of protein. 
Other ways to add protein to oats?
If you don't like protein powder, you can add Greek yogurt, cottage cheese, or a high protein milk and still enjoy at least 12-15 grams of protein. 
What protein can I pair with oats? 
If you enjoy like to enjoy oatmeal with no mix-ins, pair them with some fried eggs or a protein smoothie.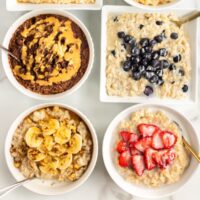 Add the oats, water, milk, and salt to a small saucepan or microwave-safe bowl.

Bring the oats to a boil then once boiling, reduce to a simmer. Let the oats simmer until they are nice and thick.

Remove the oatmeal off the heat and whisk in the protein powder.

Add toppings and enjoy immediately.
Serving: 1serving | Calories: 335kcal | Carbohydrates: 36g | Protein: 32g | Fat: 8g | Sodium: 682mg | Potassium: 411mg | Fiber: 4g | Vitamin A: 270IU | Calcium: 267mg | Iron: 4mg | NET CARBS: 32g