Slow Cooker Green Bean Casserole has all the classic flavors for this traditional Thanksgiving side dish, but frees up space in the oven. Make your holiday a breeze with this easy recipe!
Every holiday dinner at our house includes our favorite pistachio salad. Creamy and sweet, it adds a great touch to every meal. We also serve up our veggie quiche for holiday breakfasts!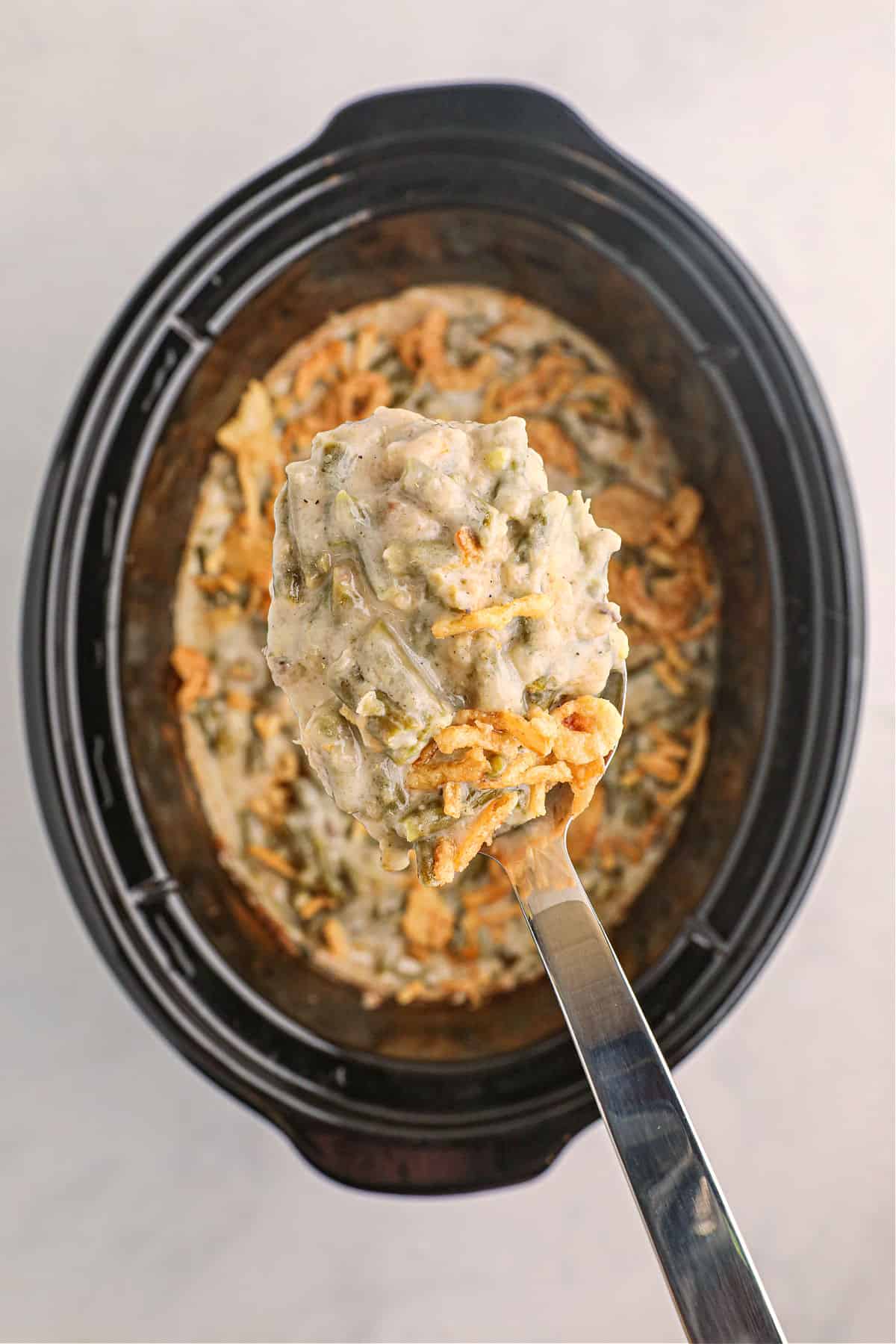 Why This Recipe is Best
Thanksgiving would not be complete without our favorite side dishes, and that always includes green bean casserole! The creamy mushroom soup and those crunchy fried onions are a must for the holidays.
And this crock pot green bean casserole makes the biggest cooking day of the year way less stressful! This easy-to-prep recipe will be cooking away on your counter top so you can save your oven for the turkey, sweet potato casserole, and hashbrown casserole.
You only need 5 minutes to get this recipe prepped. That's a huge win on Thanksgiving day!
All of the classic flavors are here, from the tender green beans to the creamy soup to those delicious crunchy fried onion bits mixed in and on top of the casserole.
The slow cooker can be timed to finish when you are ready to serve your meal, guaranteeing this dish is nice and hot!
This makes enough for 12 servings, so it's a great, easy way to serve a big crowd at the holidays.
If you have an Instant Pot, try our Instant Pot Green Bean Casserole next. Same great flavor in the pressure cooker! Looking for more side dishes? We've gathered up all our favorite thanksgiving sides just for you!
Ingredient Notes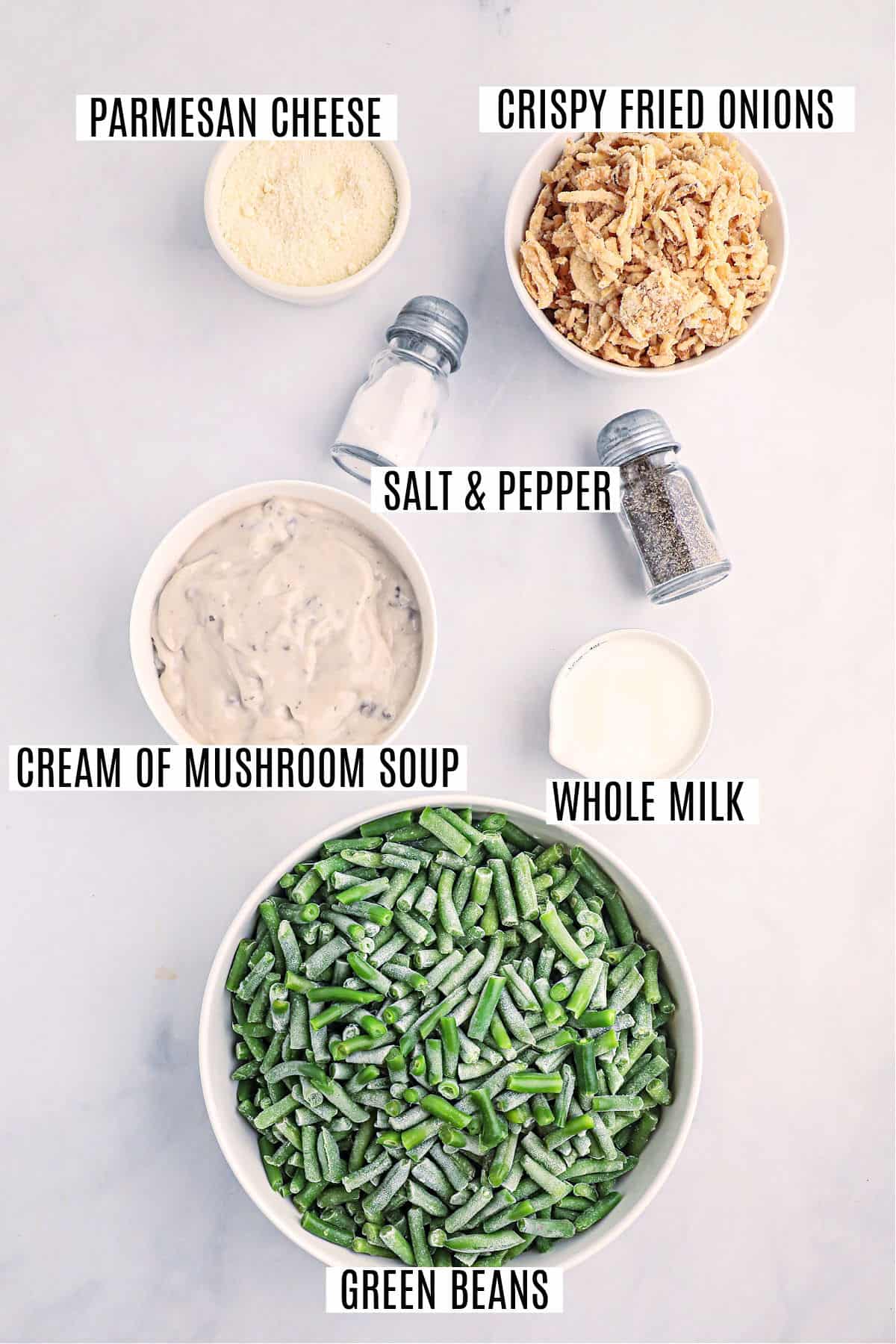 Green Beans – Use 2 (16 ounce) packages of frozen fresh cut green beans or substitute 4 (14 ounce) cans of green beans for this recipe.
Cream of Mushroom Soup – Use the canned, condensed kind (like Campbells). You need 2 cans.
Milk – Whole milk will yield a creamier casserole, but 2% milk would work fine as well.
Soy Sauce – Want to give a big flavor boost? Substitute 1 teaspoon of soy sauce in place of the salt. You'll love it!
French's Fried Onions – No green bean casserole is complete without the famous crispy onions. Sub another favorite brand of fried onion topping if you prefer.
Easy Instructions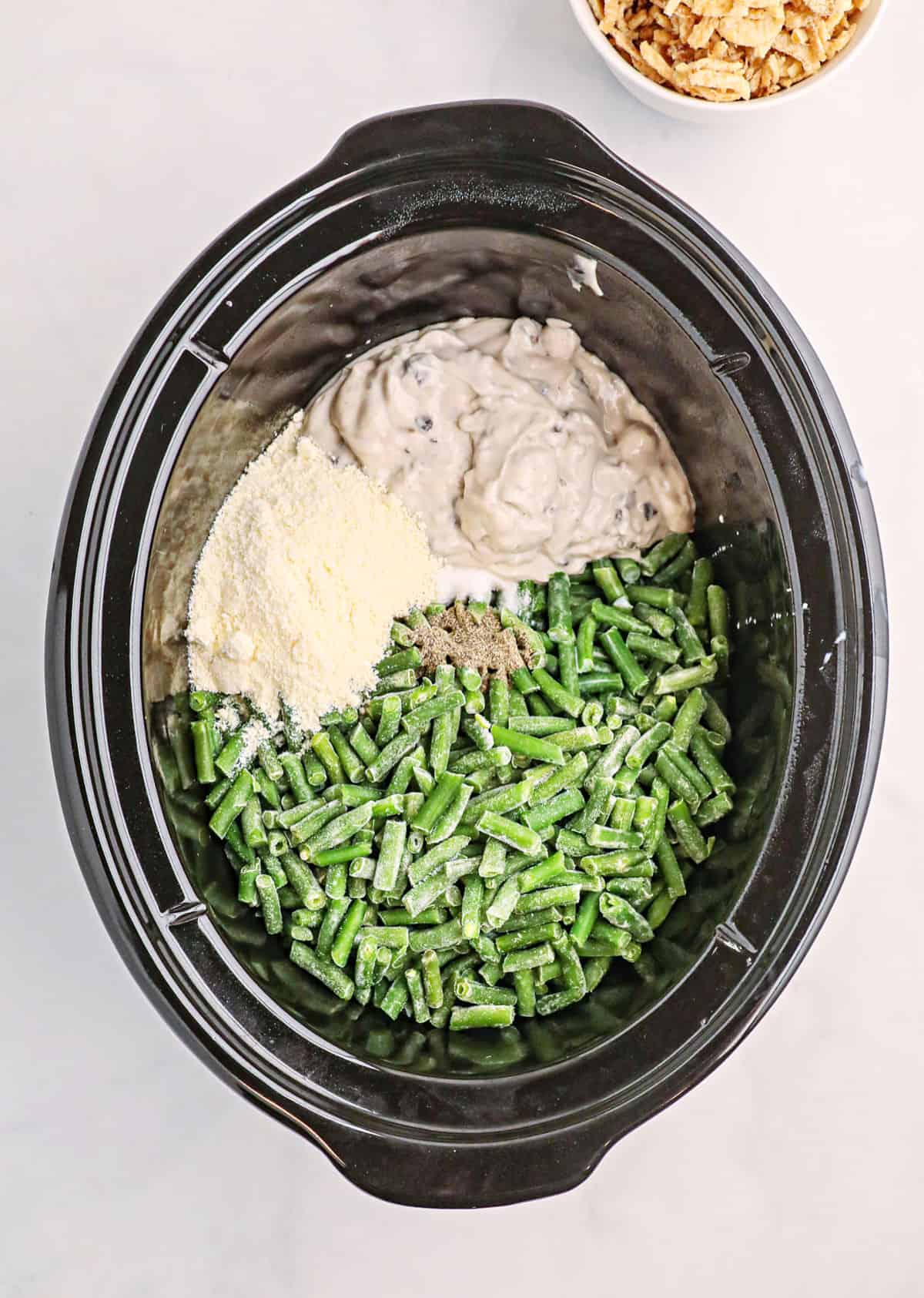 Part of the beauty of this dish is how very easy it is to prepare, including in the slow cooker!
STEP 1. Add and mix. Add the green beans, canned soup, Parmesan cheese, milk, salt and pepper to the slow cooker insert. Mix well and then fold in half of the fried onions.
STEP 2. Cover and cook. Cover the slow cooker and cook on low for 4 hours.
STEP 3. Top and serve. Top the casserole with the remaining crispy fried onions and it's ready to serve!
Tips and Tricks
Spray the slow cooker with cooking spray or coat with butter before you add your ingredients. This will make the casserole easier to serve.
Use frozen or canned green beans. The amount of water in fresh green beans is different, so the casserole recipe won't work the same way. 
Divide the fried onions. Half go into the casserole as it cooks and the remaining half are sprinkled on top before serving.
Leftovers can be stored, covered, in the refrigerator for up to 3 days.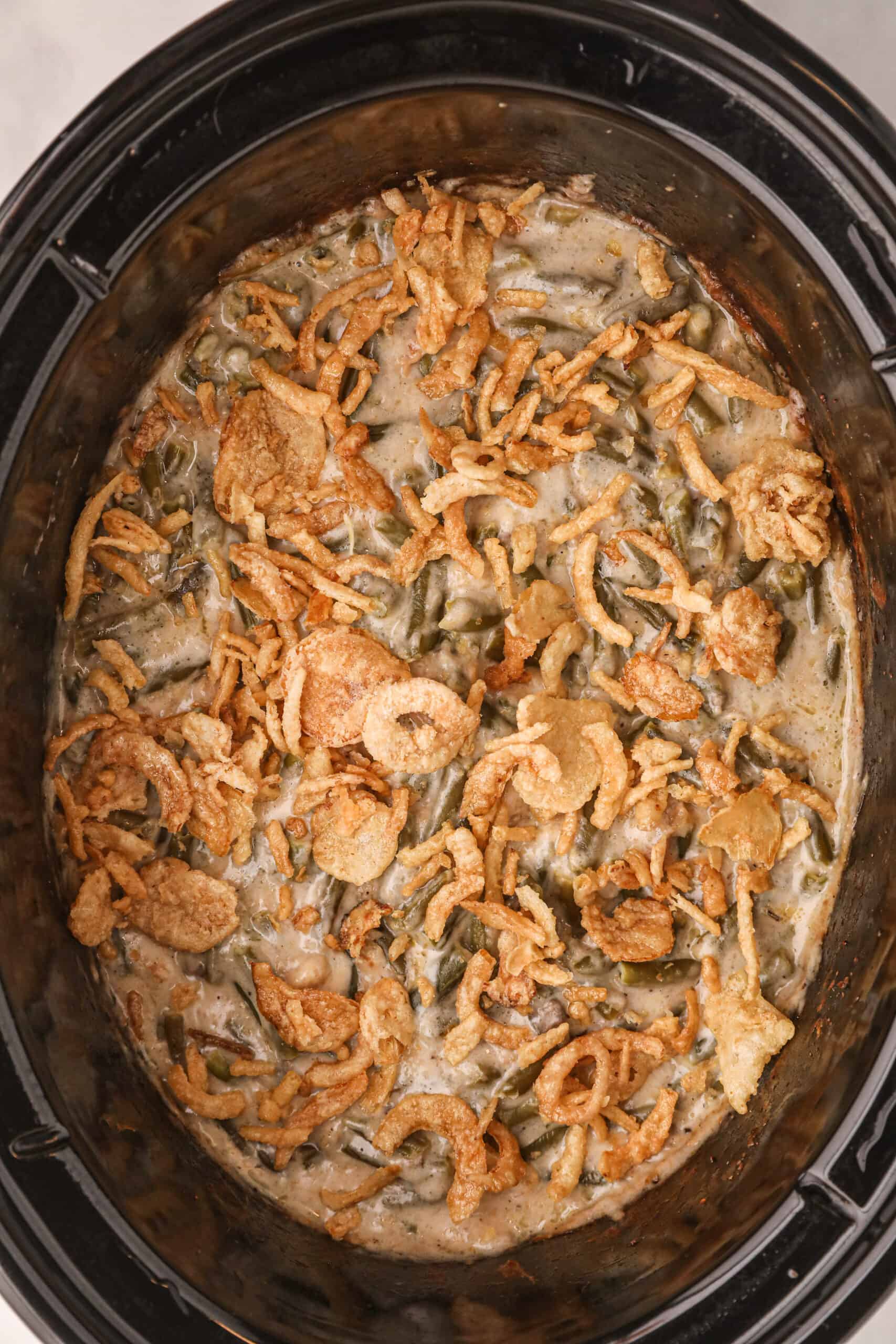 Recipe FAQs
Can I freeze green bean casserole?
The casserole can be mixed together ahead of time, without the extra crispy fried onions on top, and placed in a container in the freezer for up to 2 weeks. Thaw in the refrigerator overnight then add the mixture to the slow cooker and proceed with the recipe.
How do I transport this green bean casserole?
If you need to transport this to a Thanksgiving gathering, you can make the casserole, cook it and then transport it in the slow cooker. Return to a warm setting when you arrive. Also, wait to add the fried onions on top until shortly before serving to make sure they stay crispy!
How do I serve this casserole?
You can serve this dish directly from the slow cooker. Or you can transfer the casserole to a baking dish, then top with the fried onions and serve from there (or place the baking dish on your table for serving).
More Thanksgiving Recipes