St. John's Mourns Passing of Nickolas Davatzes '62C, '64G, '95HON, CEO Emeritus of A&E Television Networks
3 min read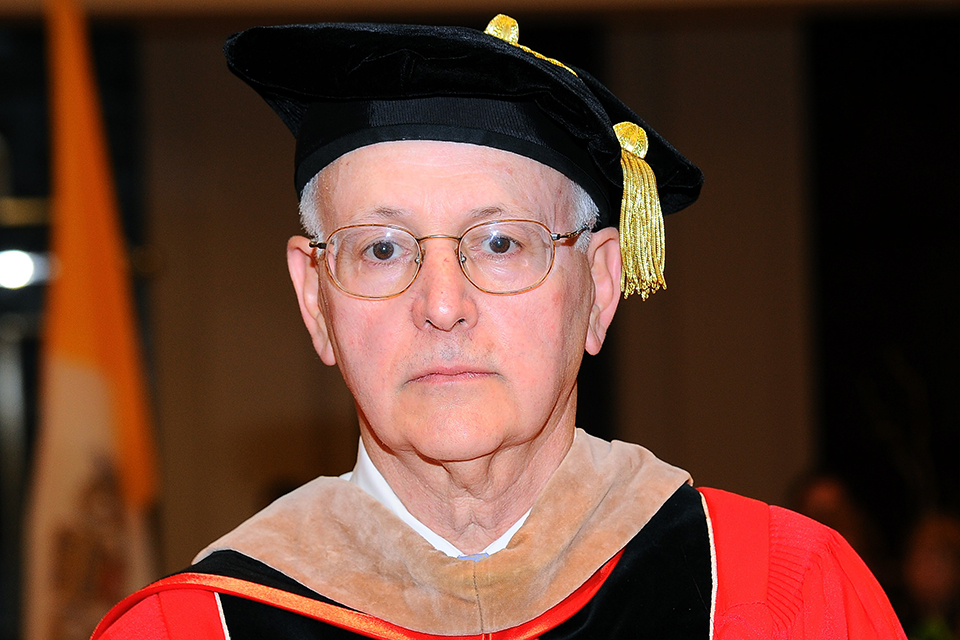 August 25, 2021
St. John's College mourns the passing of Nickolas "Nick" Davatzes '62C, '64G, '95HON, Trustee Emeritus, cable tv pioneer, and partner of Dorothea Hayes Davatzes '66Ed. Mr. Davatzes died at his residence in Wilton, CT, on August 21. He was 79 years aged.
Acknowledged through the entertainment industry as the visionary who launched A+E Networks and The Heritage Channel, Mr. Davatzes is fondly remembered by the St. John's community as a devoted alumnus, a generous philanthropist, and a devoted champion of the College.
"St. John's has missing one particular of the most beloved and revered associates of our relatives, Nickolas Davatzes," said William J. Janetschek '84CBA, '17HON, Chair of the St. John's Board of Trustees and Retired Companion and Chief Monetary Officer, Kohlberg Kravis Roberts & Co. L.P. "Nick and Dorothea have never ever forgotten their St. John's roots, and have given their unwavering assist to the College for several years."
Mr. Davatzes grew up in New York Metropolis and represents the classic St. John's accomplishment tale. The son of Greek immigrants, he graduated from William Cullen Bryant Superior College in Astoria, NY, and enrolled at St. John's University—where he met his future wife, Dorothea Hayes. He gained his Bachelor of Science degree in Economics in 1962, followed by a Master of Arts degree in Sociology two yrs later.
After earning his graduate degree, he volunteered for the US Marine Corps, serving in both of those active and reserve capacities.
In 1968, he and Dorothea wed, and shortly thereafter he recognized a situation with the Xerox Company, exactly where he labored in numerous roles right up until 1977. He then joined Intext Conversation Programs, the place he served as President for two yrs.
He acknowledged a situation with Warner Amex Cable Communications in 1980, wherever he served as Senior Vice President, Administration and Human Resources, and was speedily promoted to Team Executive the next calendar year. With his experience, he was a purely natural for the purpose of President and Main Government Officer (CEO) of the freshly developed A+E Networks, a placement for which he was tapped in 1983.
As President and CEO of A&E Television Networks, LLC, he presided more than the start of The Background Channel, Biography, Armed forces Heritage, Background Channel en Español, and other ventures. He is a 2005 inductee in the Cable Hall of Fame.
Mr. Davatzes was a member of the University's Board of Trustees, The Peter J. Tobin School of Enterprise Board of Advisors, The McCallen Modern society, The Loughlin Modern society and The Founders Modern society.
Mr. Davatzes was awarded an honorary Physician of Industrial Science Degree from the College in 1995 and a Pietas Medal in 1989. In 2002, he was awarded St. John's President's Medal for his unfailing determination to the University. He served on the President's Evening meal Committee and was accountable for the Biography-type video clip profiles of honorees that are consistently highlighted at the supper and have turn into a hallmark of the prestigious occasion.
In 2001, Mr. and Mrs. Davatzes established the Dorothea Hayes Davatzes Scholarship Fund to profit learners in The College of Training. In 2007, they founded the Christopher N. Davatzes Memorial Scholarship Fund, named for their late son. In addition to his beloved wife Dorothea, Mr. Davatzes is survived by his sons Geody Davatzes and Dr. Nicholas Davatzes, and 4 grandchildren.
"While I hardly ever had the honor of meeting Nickolas Davatzes, I am perfectly-informed of the profound influence he has created on the tv business, the College, and his numerous colleagues, close friends, and family members associates," offered Rev. Brian J. Shanley, O.P., President of St. John's. "On behalf of the overall St. John's community, I extend my sincerest condolences to his spouse Dorothea and the entire Davatzes family members. May perhaps he relaxation in peace."