This post may contain affiliate links. Please read my disclosure policy.
This homemade chicken noodle soup recipe is made with homestyle egg noodles, thick-cut veggies, and the coziest garlic-herb broth.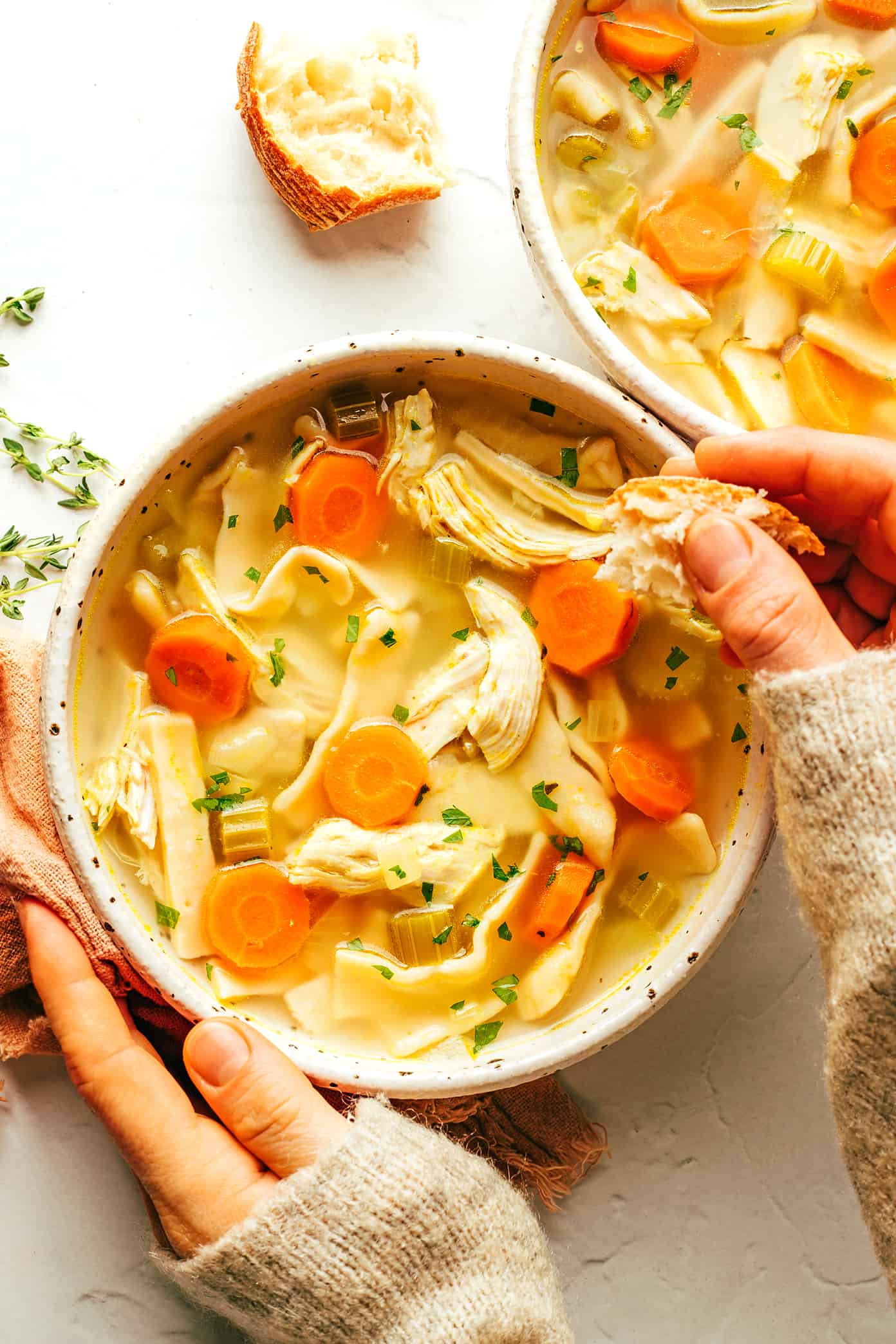 Teo and I have both been under the weather this week, so it felt like the perfect time to introduce my little boy to the comfort food that my mom always used to make for us when we were little…
…this homestyle chicken noodle soup. ♡
I don't think it will ever get more nostalgic in my book than a big pot of chicken soup simmering on the stove. But when made the way my mom always used to make this soup — with homestyle egg noodles, tender chicken, thick-cut veggies, and a rich herb broth — this classic soup levels up into the ultimate cozy comfort food. Perfect anytime your soul needs some extra warmth, right?
As I mentioned earlier this week, this recipe happens to be one of the rare instances when I'm going to recommend that you skip the freezer shortcut and spend an extra 15 minutes mixing up a quick batch of my 4-ingredient homestyle egg noodles, since their flavor and texture really are unmated here. But of course, if you're short on time (totally understand!), just grab a bag of frozen egg noodles and this soup will be ready to go before you know it. I also highly recommend serving it with a big loaf of crusty bread to mop up every last bite of that delicious garlicky herb broth. Yum.
I'm happy to report that Teo absolutely adored this soup, which made this next-generation mama's heart so happy. Here's to hoping that you will too!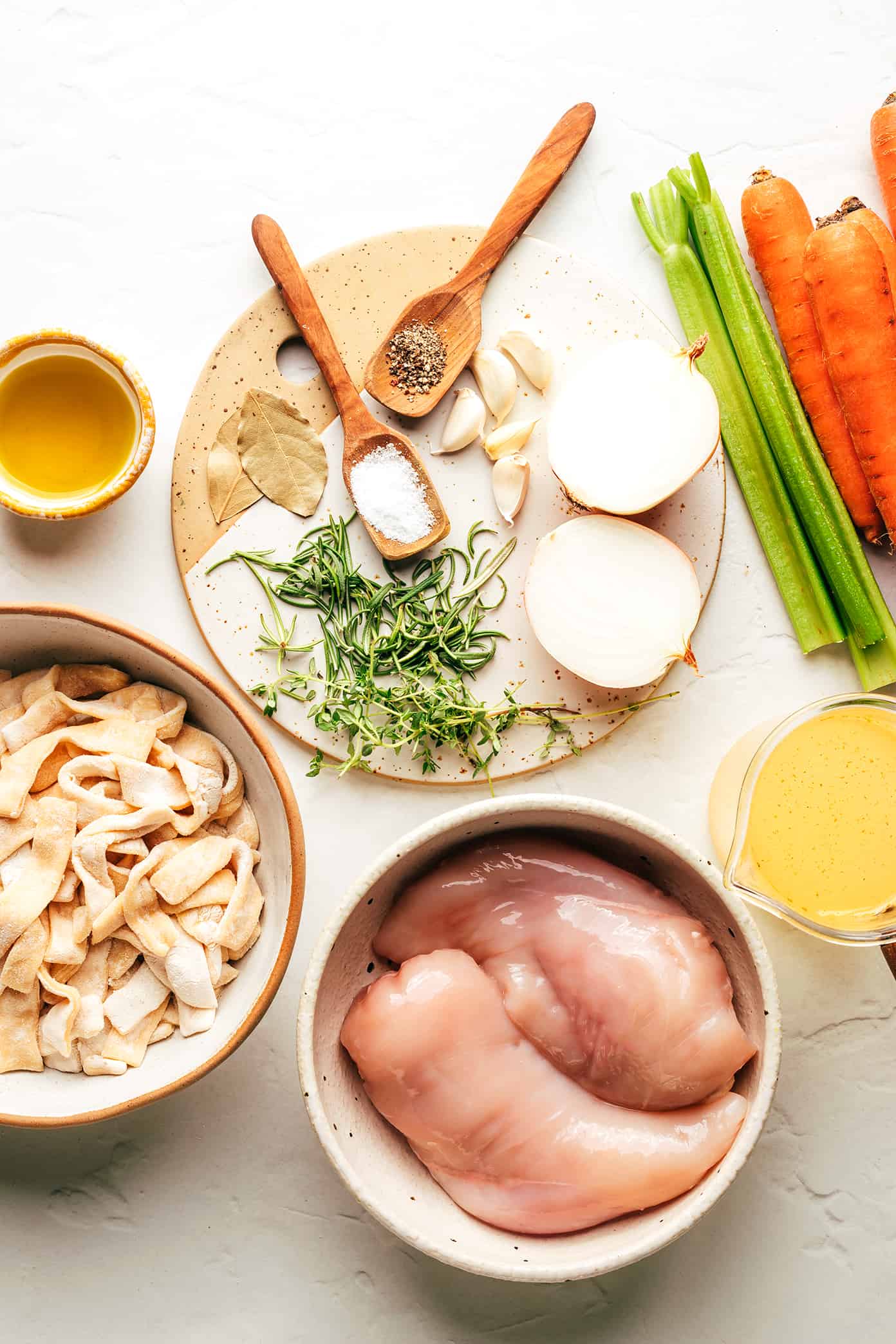 Chicken Noodle Soup Ingredients
Before we get to the full homemade chicken noodle soup recipe below, here are a few brief notes about the ingredients you will need:
Mirepoix: We'll use the classic mix of onion, carrots and celery as the veggie base for this soup, which I like to slice a bit chunkier than usual to complement the texture of the thick egg noodles.
Garlic: I love adding a generous amount of fresh garlic to this soup, either minced or pressed.
Chicken stock: You're welcome to use either chicken or vegetable stock as the base for our broth. I recommend trying to find a good-quality, organic brand whose flavor you really love!
Chicken breasts or thighs: Both will work in this soup, which you can either cook directly in the broth and then shred or dice. Or, if you already happen to have a pre-cooked rotisserie or other leftover cooked chicken on hand, feel free to just add it directly to the soup.
Seasonings: I generally stick with a simple mix of chopped fresh rosemary, thyme and bay leaves. But feel free to toss in any other soup-friendly fresh or dried herbs that you love best. (Basil, tarragon, oregano, sage and parsley would be lovely options.) We will also use fine sea salt and freshly-ground black pepper to season, as always.
Homestyle egg noodles: You're welcome to use my favorite recipe for homemade egg noodles, which only takes about 15 minutes to make with 4 ingredients. Or if you'd like a freezer shortcut, you can use a frozen bag of egg noodles instead!
Parmesan: Finally, I recommend serving your bowls with a sprinkle of freshly-grated Parmesan for an extra delicious kick of umami. So good!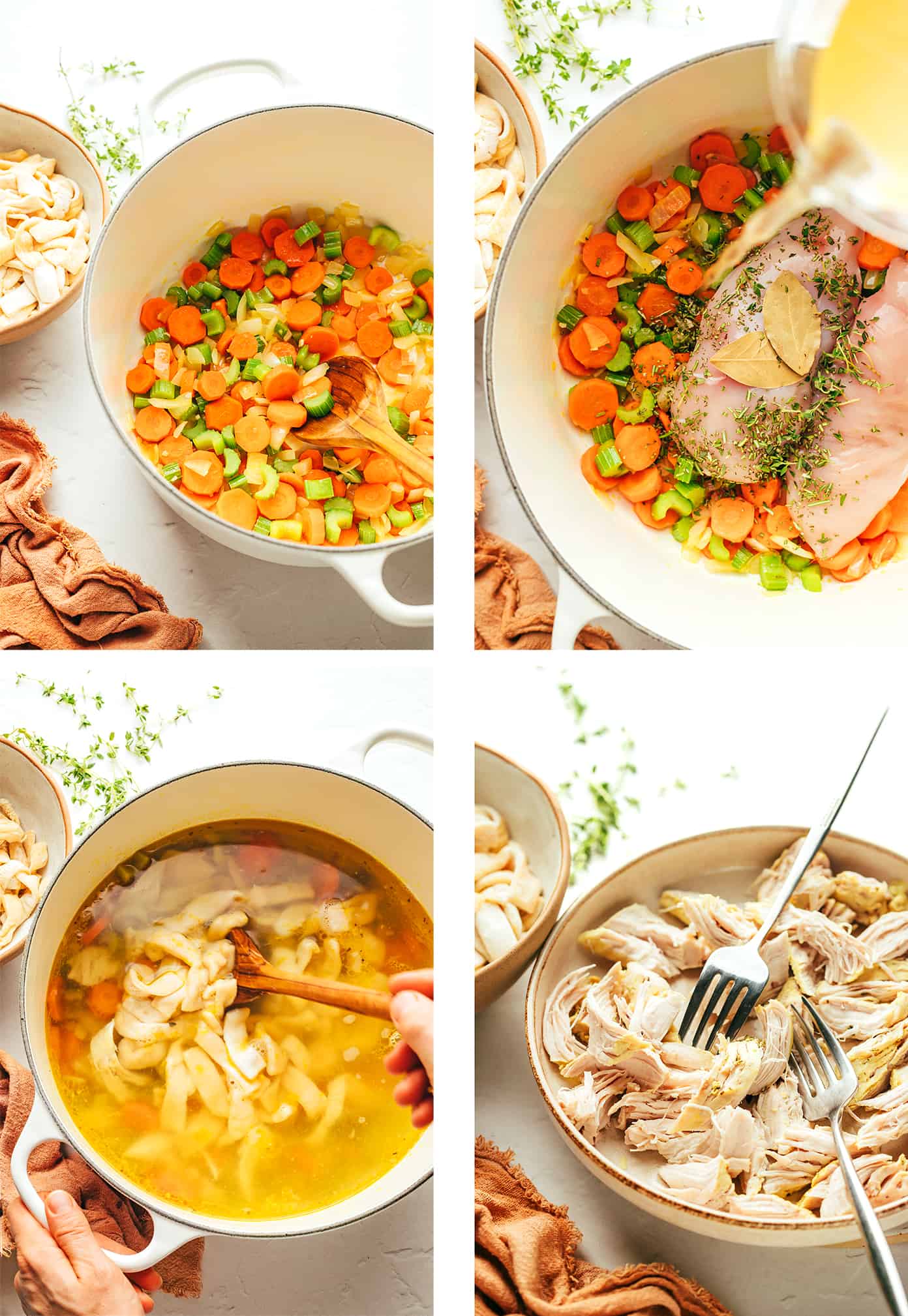 Recipe Variations
Here are a few other variations that you are welcome to try with this chicken soup recipe:
Add pepperoncini: If you happen to have a jar of sliced pepperoncini peppers on hand, they add a fantastic briny kick to this soup.
Add extra veggies: Bell peppers, fennel, mushrooms, peas, tomatoes, or other soup-friendly veggies would also be delicious in this soup.
Add turkey: If you happen to have leftover turkey on hand (perhaps around the holidays!), it's an easy substitute for chicken!
Make it spicy: I also love adding a generous pinch of crushed red pepper flakes to this soup to give it a bit of a kick.
Make it creamy: Add a splash of heavy cream if you would like to make a creamy chicken noodle soup.
Make it vegetarian: Add a can of chickpeas (rinsed and drained) in place of the chicken.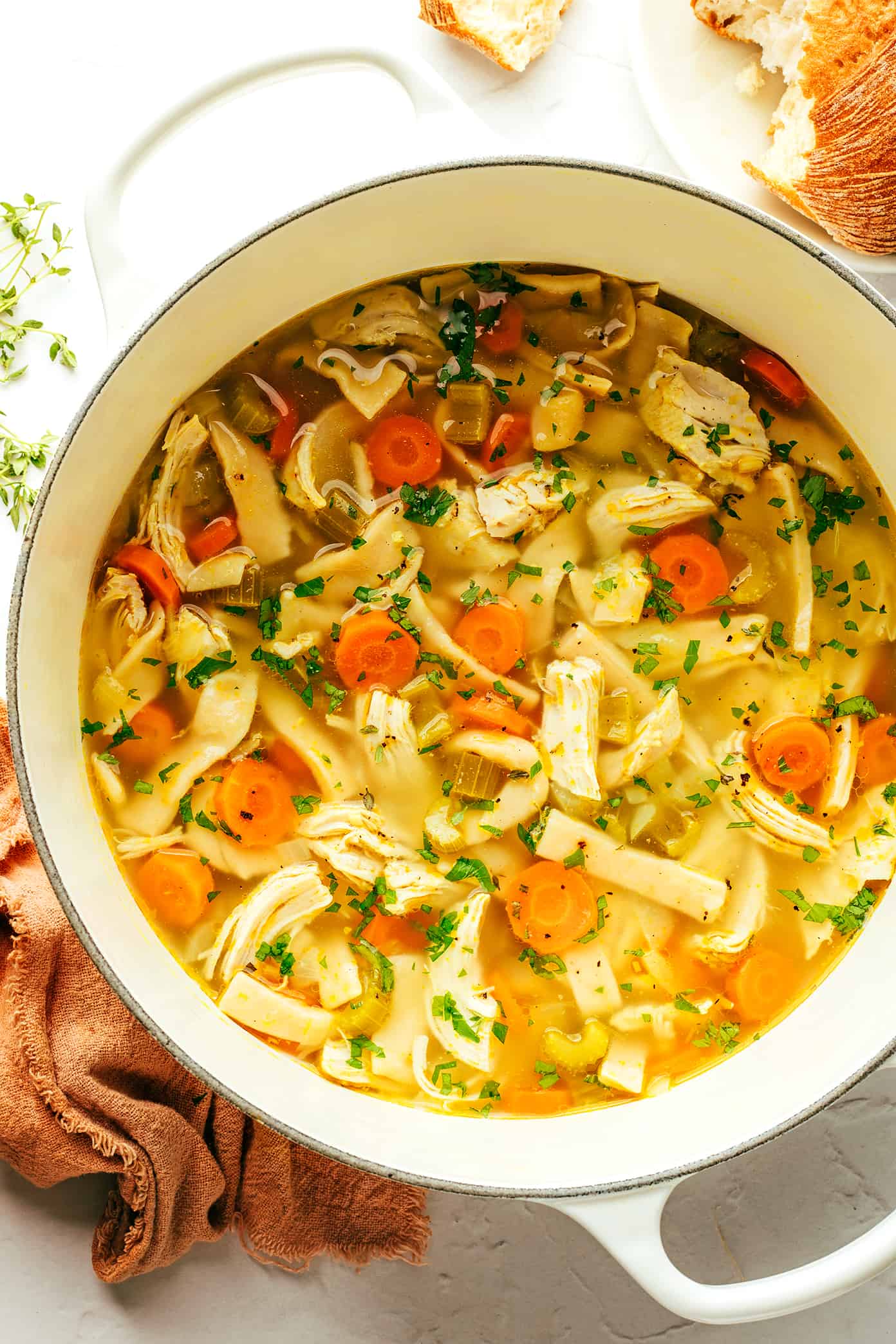 More Chicken Soup Recipes
Looking for more cozy chicken soup recipes to try this season? Here are a few of our faves: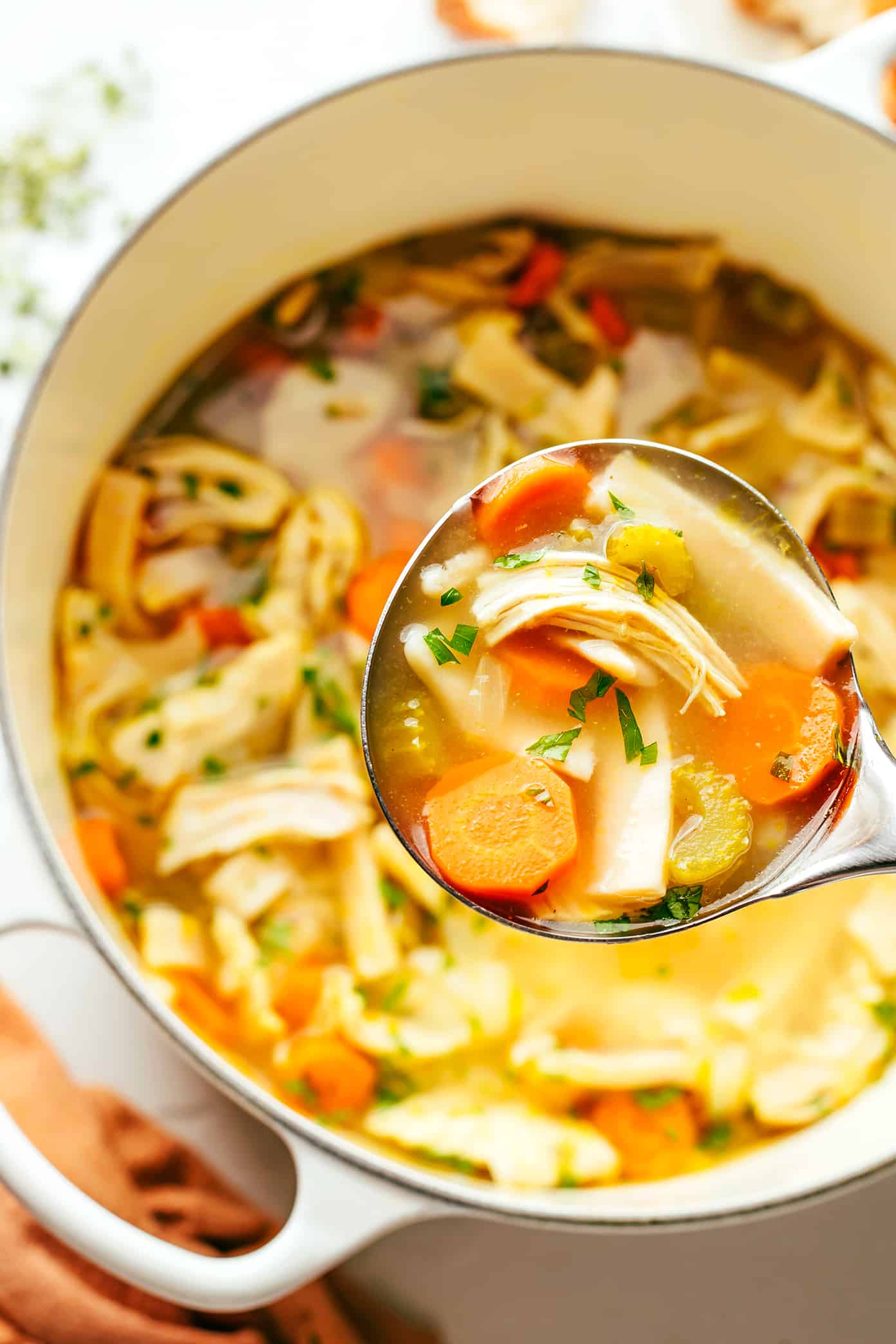 Print
---
Description
This homemade chicken noodle soup recipe is made with homestyle egg noodles, thick-cut veggies, and the coziest garlic-herb broth.
---
2 tablespoons

olive oil

1

white onion, diced

4

carrots, thinly sliced

3

celery stalks, thinly sliced

5

cloves garlic, pressed or minced

8 cups

good-quality chicken stock

1

pound boneless skinless chicken breasts or thighs

2

bay leaves

2 tablespoons

chopped fresh rosemary

1 tablespoon

fresh thyme leaves

fine sea salt and freshly-ground black pepper

1

batch homestyle egg noodles (or

16 ounces

frozen egg noodles)

chopped fresh parsley and freshly-grated Parmesan, for serving
---
Sauté the veggies.

Heat the oil in a large stockpot over medium-high heat. Add the onion, carrots and celery and sauté for 8 to 10 minutes, stirring occasionally, until the onion has softened. Add the garlic and sauté for 2 minutes, stirring frequently.

Simmer.

Add the chicken stock, (whole) chicken breasts or thighs, bay leaves, rosemary, thyme, and a few twists of freshly-ground black pepper. Cook until the soup reaches a simmer, then reduce heat to medium-low to maintain the simmer. Cover and cook for 20 to 25 minutes or until the chicken is cooked through.

Shred the chicken.

Carefully transfer the chicken to a clean plate. Use two forks to shred the chicken into bite-sized pieces, then transfer it back to the soup.

Add the noodles.

Add the noodles to the soup and gently stir to combine. Continue cooking for 2-3 minutes (if using freshly-made homemade egg noodles) or 15-20 minutes (if using frozen egg noodles) until the noodles reach your desired level of doneness.

Season.

Remove and discard the bay leaves. Taste the soup and season with additional salt and pepper, if needed.

Serve.

Serve immediately, garnished with chopped fresh parsley, and enjoy!
---