[ad_1]

Need a great dessert for your next camping trip? These 3 walking dessert recipes are convenient, delicious and easy to make! Strawberry Pretzel Jello, Banana Pudding, and S'mores. With lots of substitutions available too!
If you love easy on the go treats, be sure to whip up a batch of our favorite rice krispie treats. Or give our popcorn balls a try, wrap them up in plastic wrap and off you go!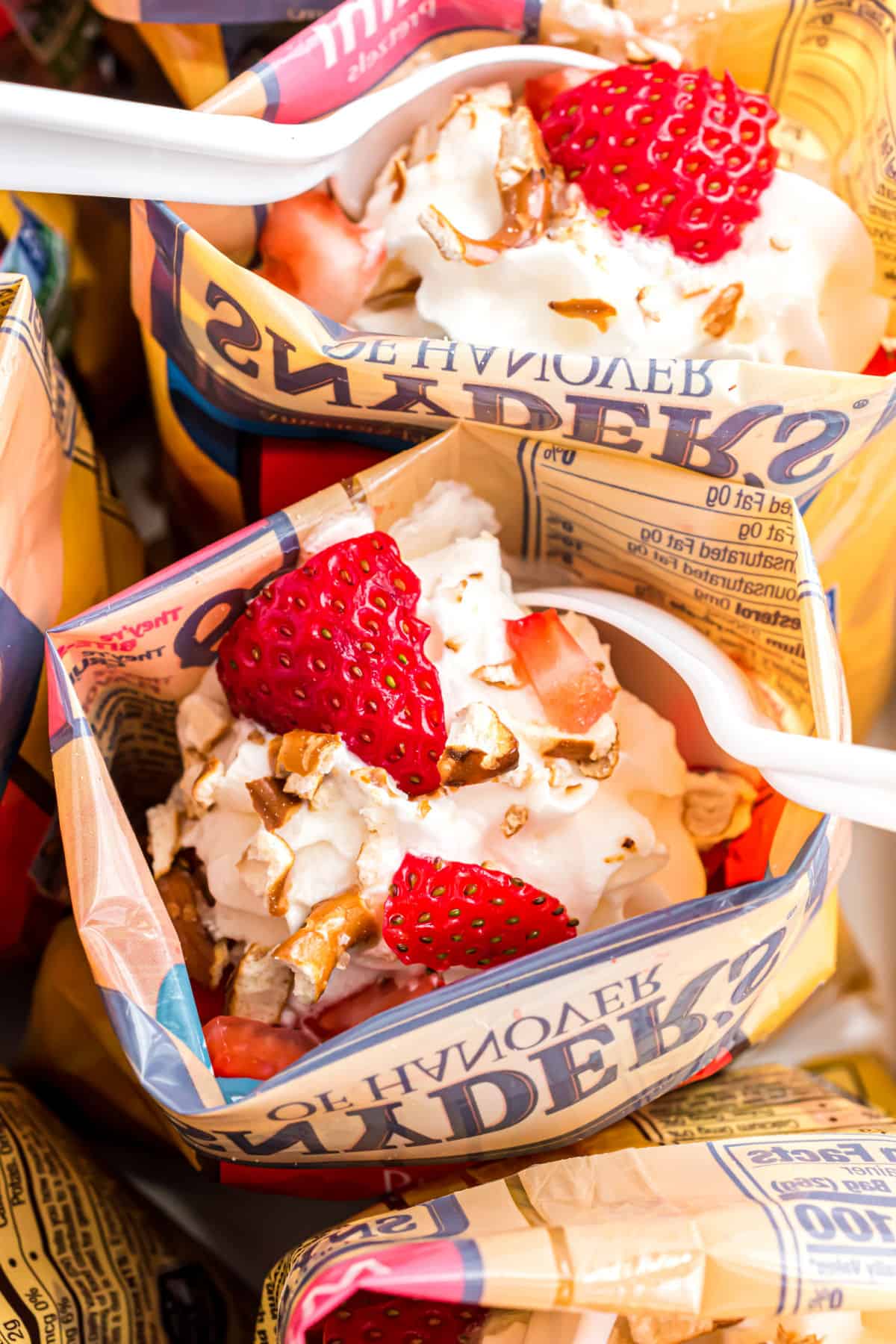 Why Make Walking Desserts
You've heard of Walking Tacos, right?
Walking desserts are like a sweet version of that fun festival food.
Perfect for picnics, camping or other outdoor gatherings.
Made in individual portions for easy serving.
So many different flavor options!
They take just minutes to throw together.
Today, we're sharing three favorite walking dessert ideas. Whether you're in the mood for strawberries and pretzels, s'mores or banana pudding, you'll find the ideal portable dessert to satisfy your sweet tooth.
Ingredient Notes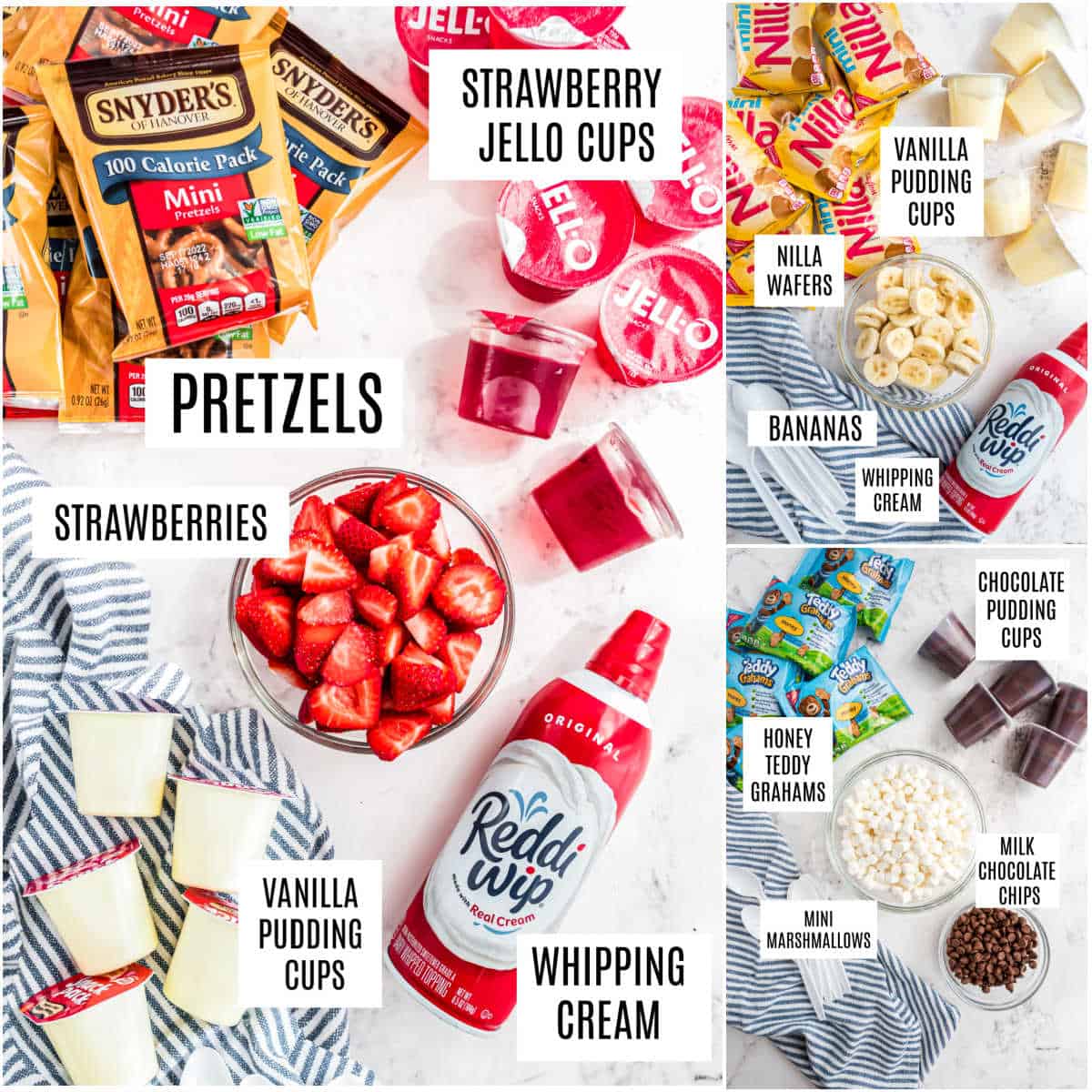 Whether you choose to buy in bulk, or buy individual bags and packages is your choice. We love setting up an "assembly line" with all the ingredients and the kids can pick and choose and assemble their own walking desserts.
You can get creative too and mix and match all three walking desserts to create one ULTIMATE treat (although you may need a bowl not a little bag for that haha).
The basics of each walking dessert remains the same.
One bag of crunchy pretzels or cookies
One cup of pudding or JELLO or a combination of both
Fresh Fruit
Chocolate chips and Marshmallows
Whipped Cream
Don't forget plastic spoons!
Strawberry Pretzel Salad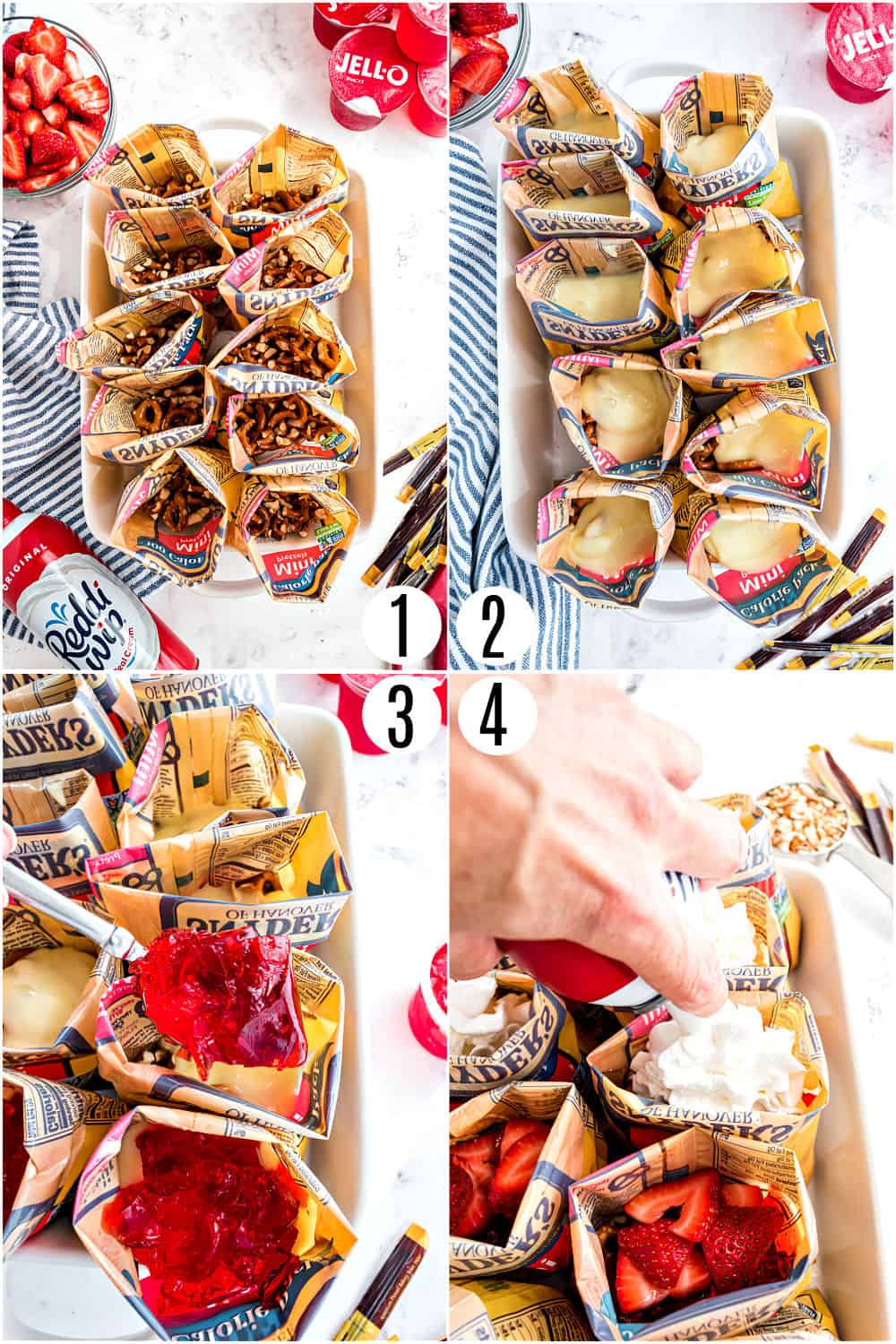 The first walking dessert on our list is based on my Strawberry Pretzel Salad, which is really more dessert bar than salad. The "walking" version is every bit as tasty, with the perfect blend of sweet and salty flavors.
It starts with individual mini pretzel bags.
Add strawberry JELL-O and vanilla pudding.
Layer in fresh sliced strawberries then add a dollop of whipped cream for the finishing touch!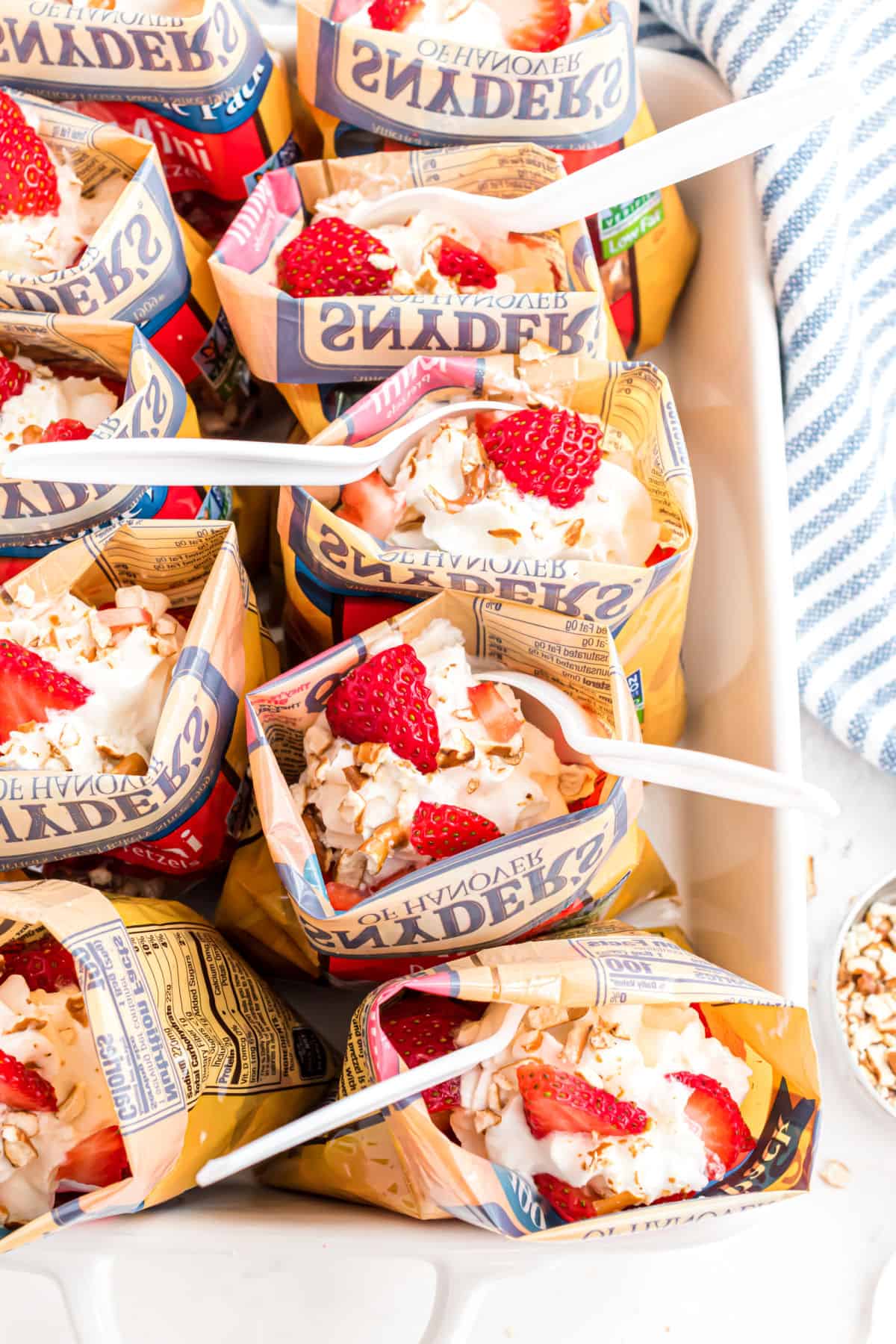 S'mores Dessert
I couldn't possibly write about walking desserts without including a s'mores inspired version to my list! We already have numerous recipes on the site inspired by my love of the campfire treat, including this s'mores dip and these s'mores cookies.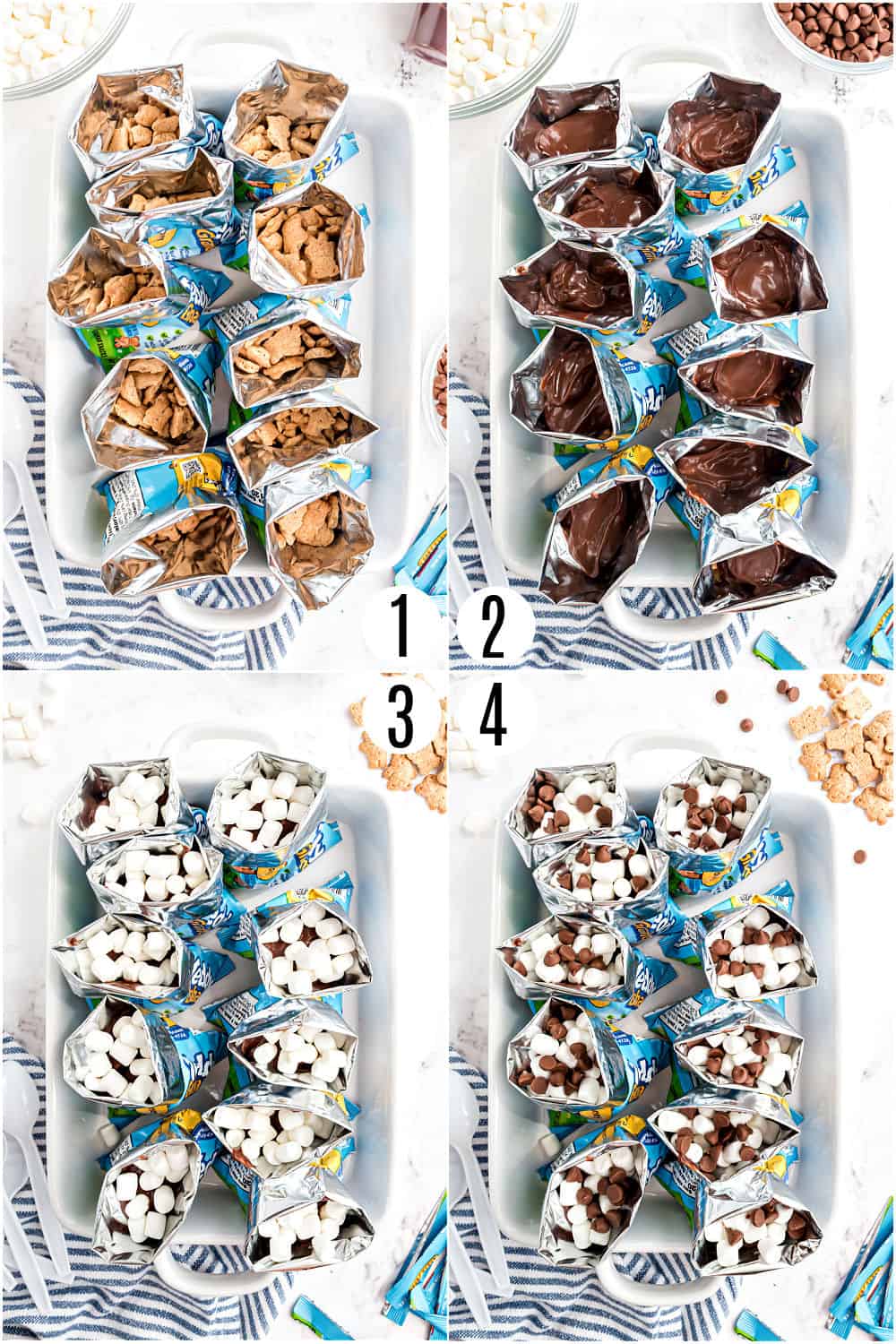 This portable s'mores recipe would be great for a kids' camp when you don't want the little ones around fire, or simply any time you're craving the irresistible combo of marshmallows, chocolate and graham crackers.
Here's how to make a walking s'mores dessert:
Open bags of individual honey teddy grahams (slightly crushed).
Spoon chocolate pudding over the grahams.
Add mini marshmallows and chocolate chips.
Sprinkle extra teddy graham crumbs on top, then dig in!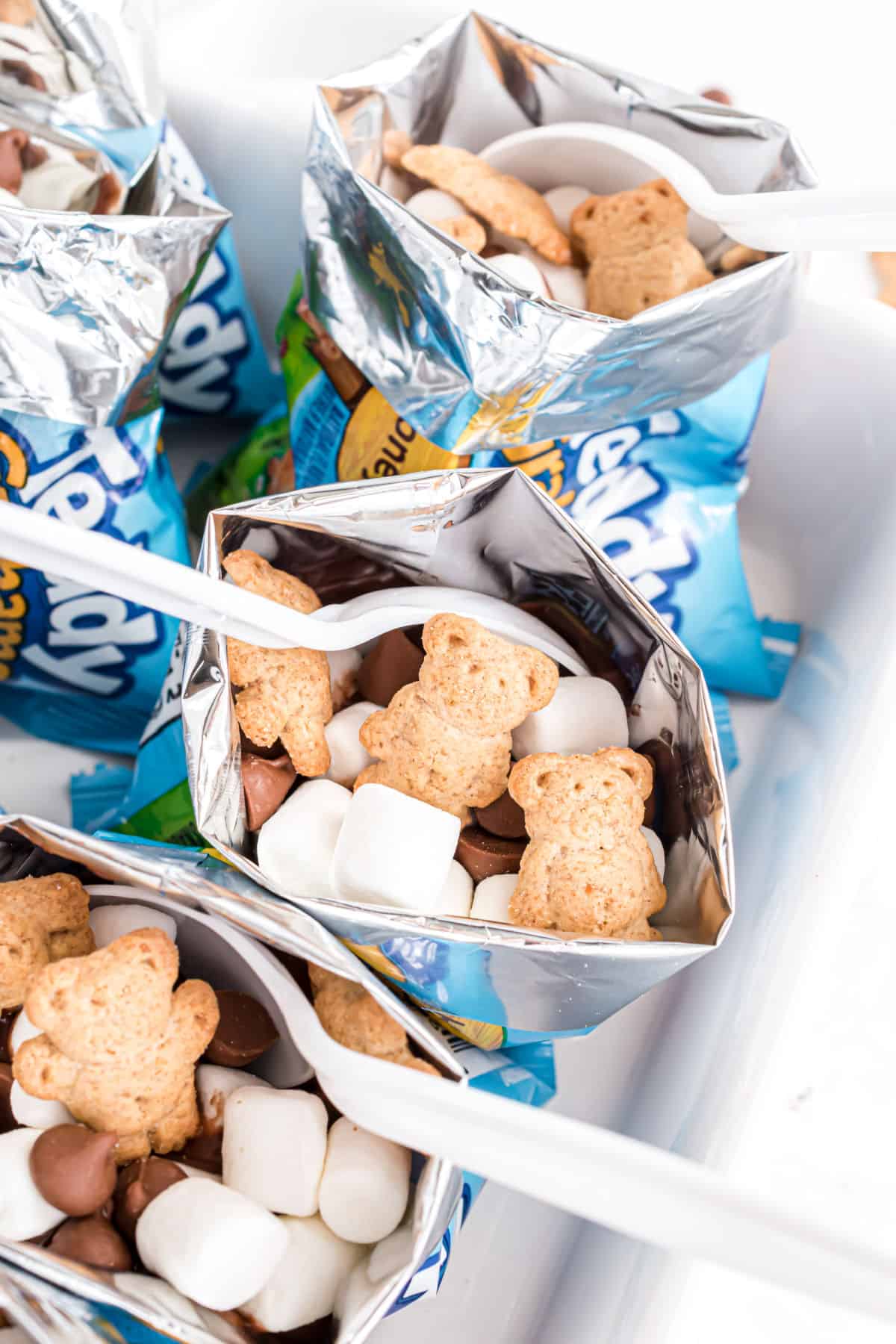 Banana Pudding Dessert
Banana Pudding deserves more accolades, am I right?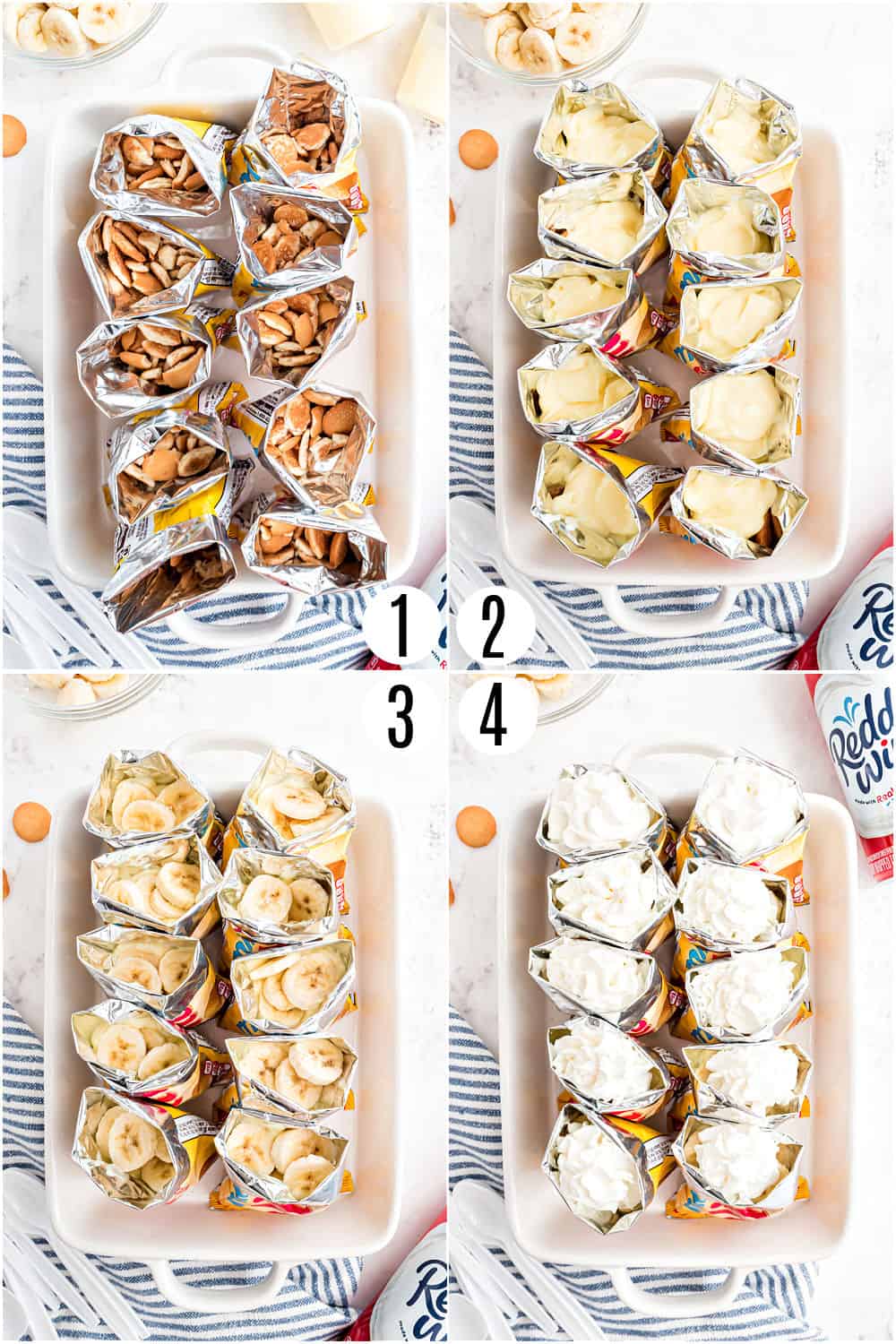 Creamy vanilla pudding, sweet fresh banana slices and crunchy wafer cookies make a comforting and picture-perfect dessert, even served in a bag!
Individual bags of Nilla Wafers cookies are the base.
Layer in vanilla pudding and banana slices.
Add whipped cream and a few crushed wafer cookies on top to finish the dessert.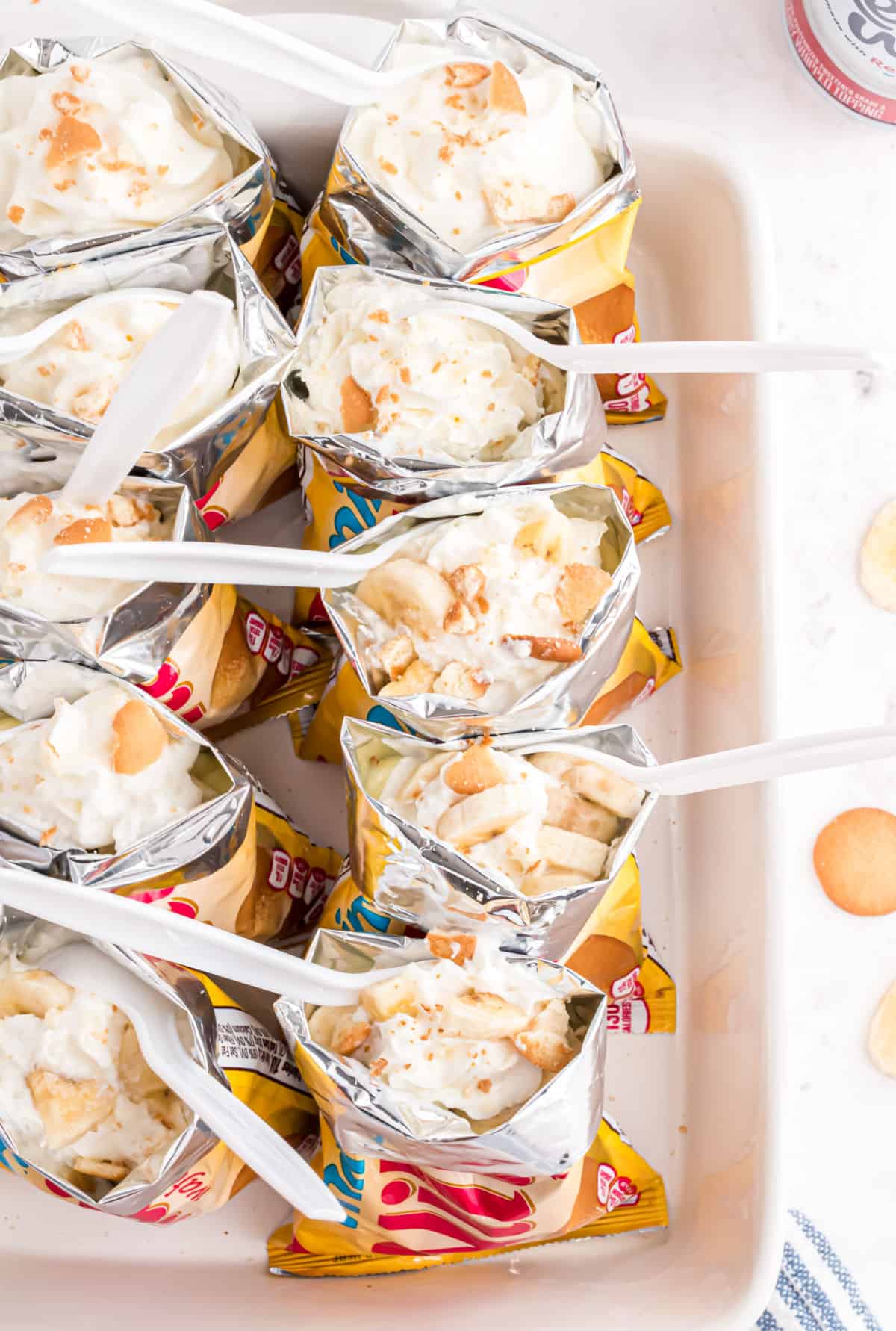 Tips and Tricks
Open the snack bags BEFORE crushing the contents. Believe me. If you crush them while they're sealed, the seams can pop open spilling the contents.
Fold over the tops of the snack bags before adding the other ingredients. This helps make the bags sturdier so they're easier to eat out of.
Use a spoon to chop up the JELL-O. This makes it easier to divide between the pretzel bags in the Strawberry Pretzel Salad dessert.
Assemble walking desserts as close to serving time as possible. The combination of crunchy snacks (cookies, pretzels) with the soft creamy pudding means that walking desserts are best eaten right away, otherwise the cookies or pretzels will become mushy.
Use homemade whipped cream if you prefer. But if you're looking for a truly on-the-go quick and easy dessert, grab a can of whipped cream!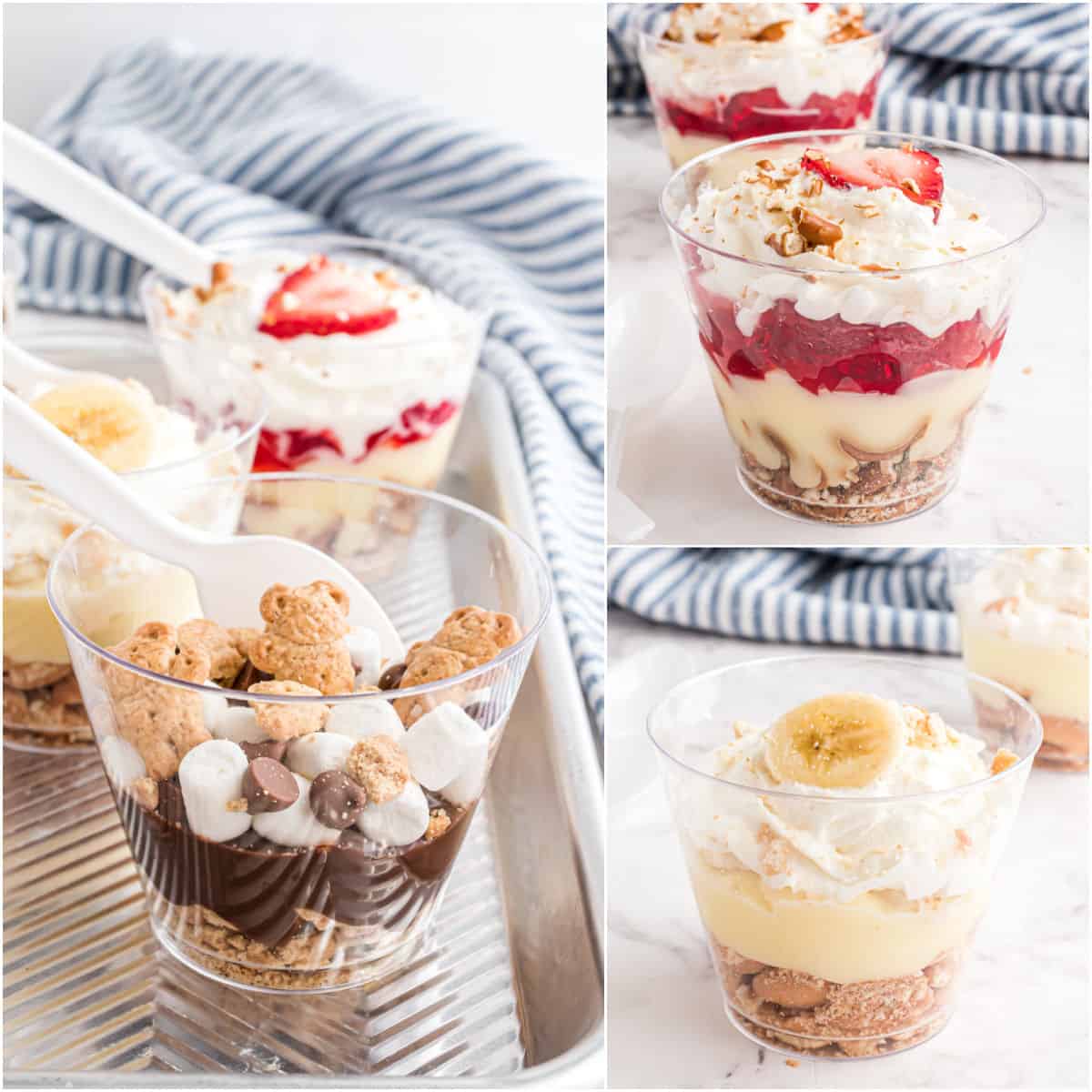 Recipe FAQs
What can I use instead of individual snack packages?
The individual bags of pretzels, teddy grahams and Nilla Wafers are convenient for assembling and serving walking desserts. We use the individual pudding cups for convenience (and easy measuring) too. If it's too expensive to purchase all those individual bags and cups, there are plenty of alternatives! Buy the ingredients in bulk, then assemble them in 5 ounce cocktail cups for serving.
If I use bulk ingredients, how much do I need?
You will need about ¼ cup of crushed cookies or pretzels for each serving of these walking desserts.
What substitutions can I use?
For the Strawberry Pretzel Dessert, you can use the strawberry cheesecake JELL-O cups as a substitute for both the vanilla pudding and the JELL-O. If you use those, you will need 1 full cup for each bag. You can also change up the flavors by using chocolate pudding in place of the vanilla in any recipe (or visa versa for the s'mores dessert!).
More Easy Dessert Recipes
Walking Dessert recipes make all your favorite desserts portable! Try these three sweet ideas for serving delicious kid-friendly desserts on-the-go.


[ad_2]

Source link