[ad_1]

Driving along the California coast in Big Sur offers incredible natural scenery. Join us as we enjoy vista points, hike the trails, and unwind in breathtaking landscapes.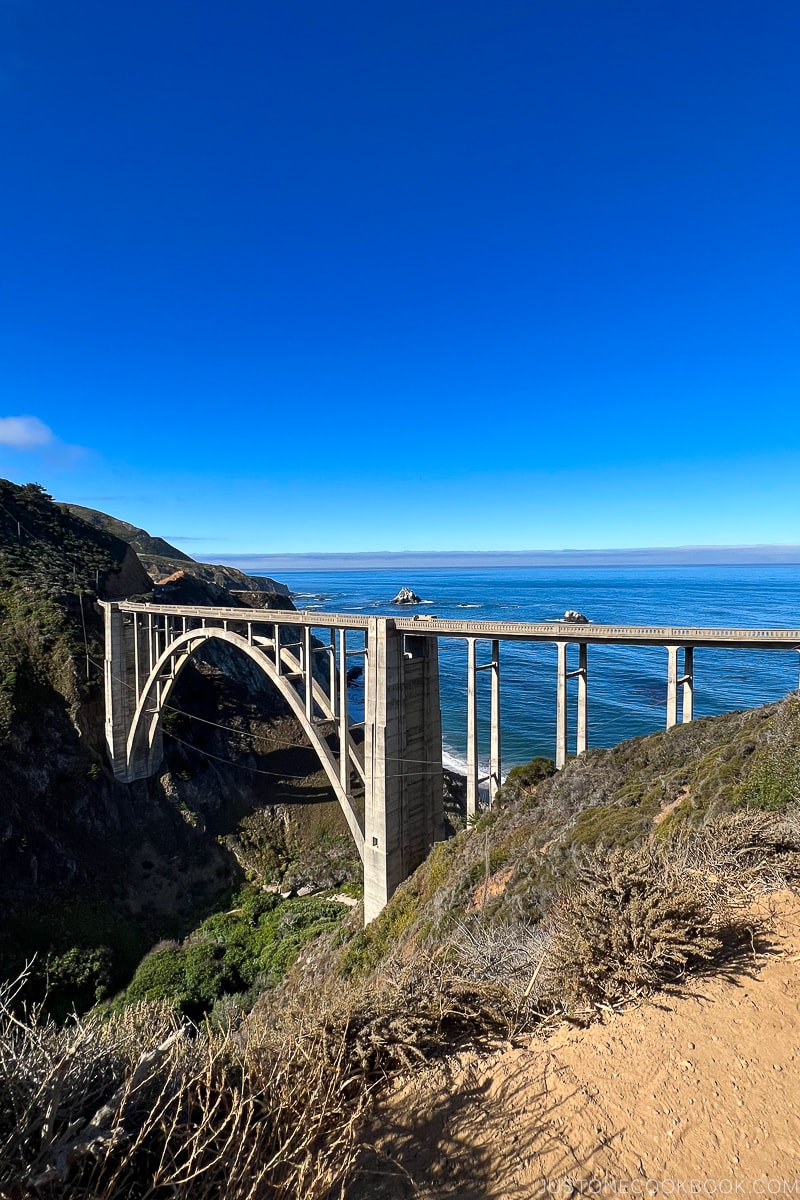 Our family loves visiting Monterey and Carmel, the two charming coastal cities located just a couple of hours south of San Francisco. We've made countless trips to the area ever since our kids were young, but whenever our schedule allows, we're always eager to go back as each visit seems to present new discoveries.
From the world-class Monterey Aquarium to the spectacular 17 Mile drive to white sandy beaches, Monterey and Carmel-by-the-Se are really special places for a family weekend getaway.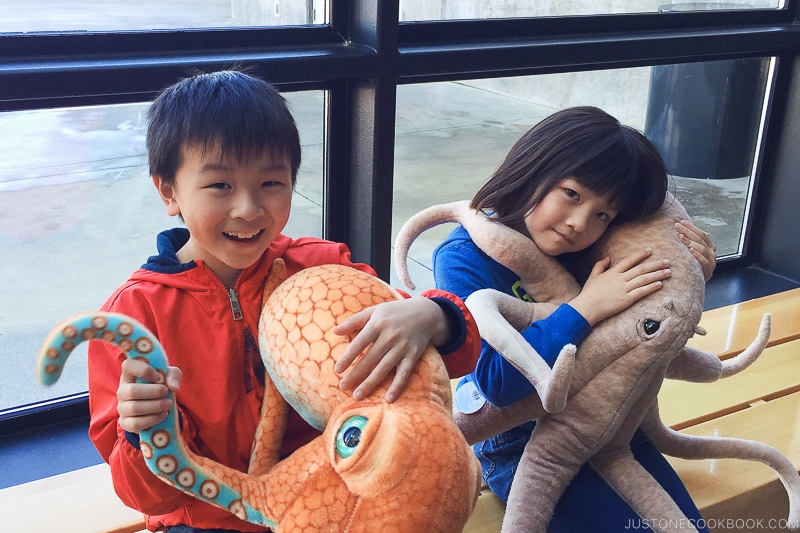 What we haven't done much in the region is to drive further south on Hwy 1 to see more of Big Sur. With our son away at the STEM camp at UC Davis and only our daughter home this summer, we decided to take her to go hiking in Big Sur and enjoy nature. 
Bordered to the east by the Santa Lucia Mountains and to the west by the Pacific Ocean, Big Sur is the longest and most breathtaking stretch of coastline located off the famous Pacific Coast Highway. We've heard many great things about the area, especially its epic hiking trails, rocky cliffs, and of course, the azure waters.
Now that we've experienced its magic, I am eager to share some tips on not-to-be-missed scenic lookouts and hiking trails to help you plan the best day trip possible. And of course, some noteworthy restaurants we've tried in Carmel at the end of this post.
Tips for Hiking and Driving In Big Sur
There aren't many shops along the way once you get on Hwy 1, so it is extremely helpful to plan ahead. Here are some of our recommendations:
Bring plenty of water on hikes
Wear hiking shoes
Don't forget sunscreen as some hikes are not shaded
Download Google Map for offline use, cell signals are weak to non-existent most of the way
Download music on your devices ahead of time
Bring some cash for day-use parking (the $10-$12). Many state parks have no attendees and you pay for day-use parking in an envelope through a lock box. The day-use parking pass is good for the entire day at state parks.
Beach gear if you plan to play in the water
Captain + Stoker Coffee
We started early in the day since we want to avoid the crowds at the vista points along Hwy 1. This is because most of the vista points and turnoff points can only fit a few cars at a time. Before we hit the road, we stopped by Captain + Stoker Coffee for breakfast pastries and coffee.
The coffee drinks were excellent and so were the pastries. A JOC reader told us that the pastries are actually from Parker Lusseau bakery so be sure to stop by and grab some when you're in Monterey.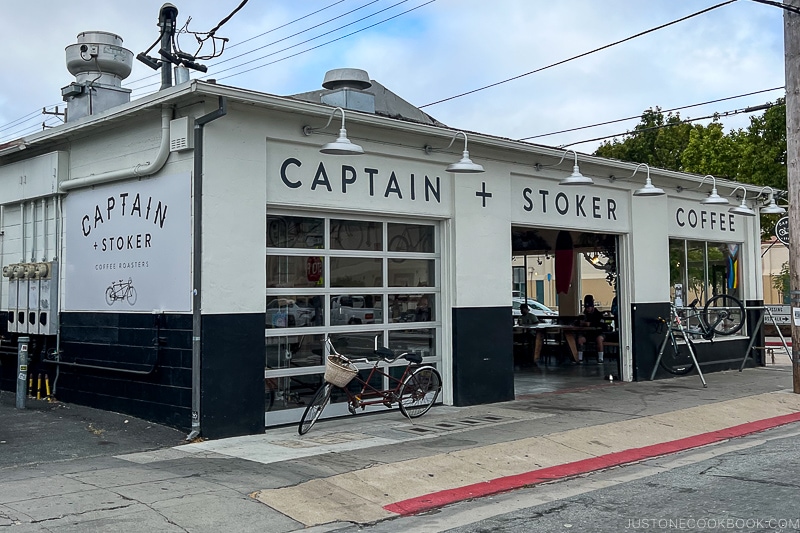 Big Sur Hwy 1
It's really easy to visit Big Sur since there's only one route, Hwy 1. Along the route, there are vista points with marked parking spots. However, there are many dirt patches that are large enough to park a few cars right by the highway to take a pit stop, take some photos, and continue on the journey.
Since the view is best on the coast side, we recommend heading south instead of north on Hwy 1 for convenience. This way it's not necessary to cross the highway to take in the views.
Another way to see Big Sur is to start from the south in Cambria and head north on Hwy 1. However, keep in mind that it takes at least 2.5 hrs by car without stopping between Carmel and Cambria. And there aren't many places to stay along the way so plan your trip accordingly.
Since we only planned a day trip and wanted to do a few hikes, we stopped roughly 1/3 of the way through Big Sur at Julia Pfeiffer Burns State Park.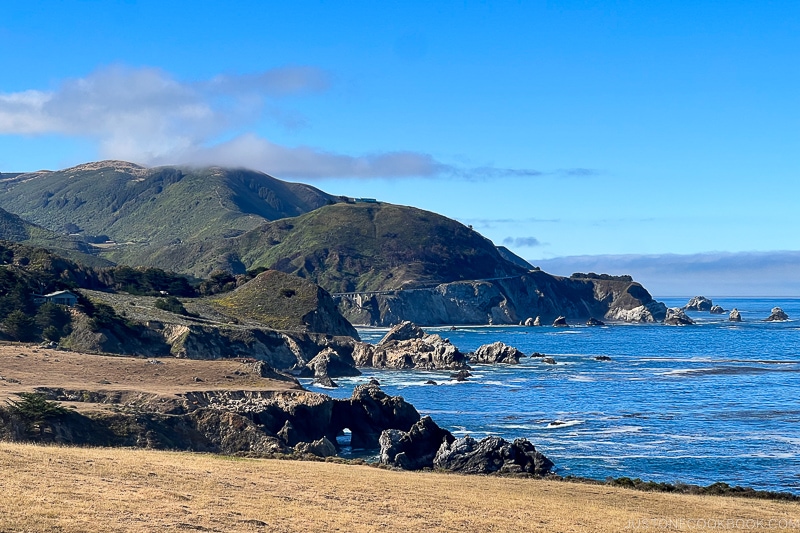 Bixby Creek Bridge in Big Sur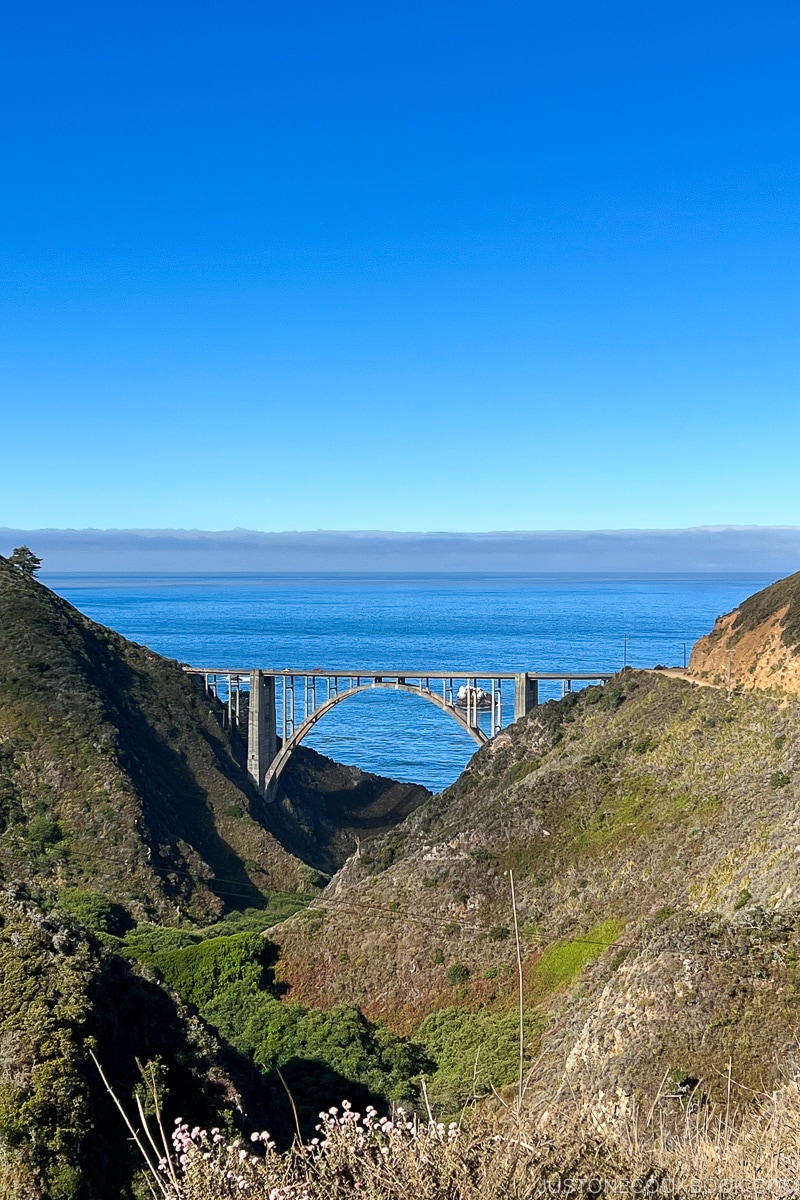 The most famous landmark in Big Sur is the Bixby Creek Bridge. The iconic bridge has been featured in many TV shows and on Mac's Big Sur desktop background. The bridge was completed in 1932 and spans an impressive canyon. It's a must-stop on Hwy 1. Travel tip: Instead of stopping at Castle Rock Viewpoint near the bridge, we drove on a sandy road to Bixby Bridge Vista Point to take in spectacular views of the bridge from the east side. It is much less crowded.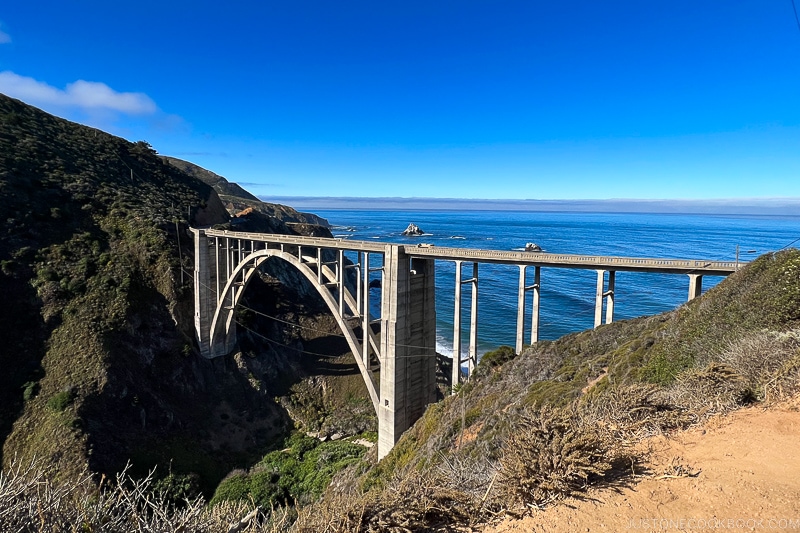 We continued south after the bridge towards the southernmost destination of our day trip, McWay Falls.
McWay Falls
Our travel plan for the day is to drive down to McWay Falls at Julia Pfeiffer Burns State Park and then head back north to hike at other places along Hwy 1. McWay Falls is a popular spot to visit with a waterfall streaming into the ocean.
The easy hike to the waterfall is quite short and only takes about 7-8 min each way. Along the path, we saw butterflies and small creatures. It felt so good to truly unplug and be in nature.
Even though it was summer and hasn't rained for a while, McWay Falls was still flowing into the ocean.
Watching the wave washing over the beautiful white sand was so peaceful. Our day was already off to a great start!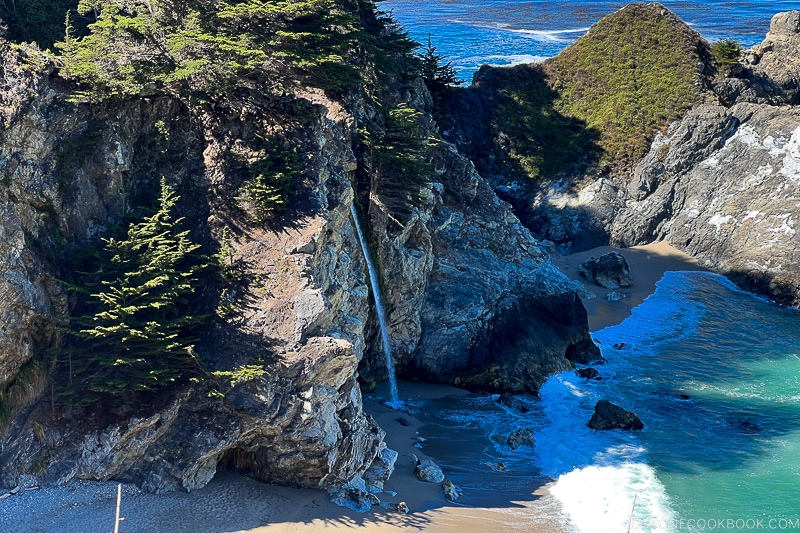 Partington Cove
Our first stop after McWay Falls is just 3 min north by car – Partington Cove. The hike is not too difficult, but it is a bit steep and the length is about 1 mile. At the bottom of the trail, the trail forks to Partington Cove on the left and Partington Point on the right.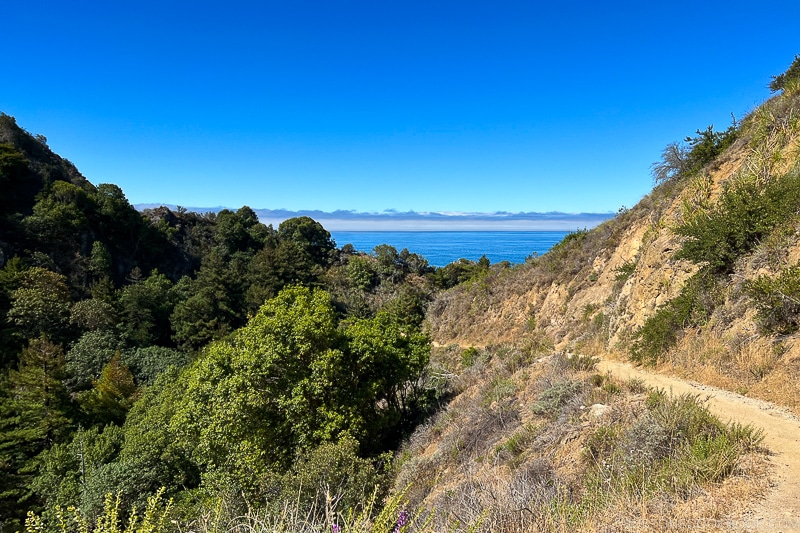 We visited Partington Cove first, and the view was simply breathtaking. It was a gorgeous day and there was no one else around.
Partington Point
After spending a bit of time enjoying the cove and the view down the coast, we tracked back and headed towards Partington Point. The area had spectacular rock formations and waves crashing into them. As we had the whole place to ourselves, we took some time to admire the rugged beauty before heading back up to the trail. We spent about 45 min hiking down and back up.
Nepenthe Restaurant
Hiking the mile back up the hill at Partington Cove was a cardio workout! Luckily, it worked up an appetite for us so we were ready for lunch. We drove north to the popular Nepenthe Restaurant and ate at the outdoor Cafe Kevah. The cafe is located on an open-air deck and serves a brunch menu and a variety of drinks. The scenic view from the deck is surreal.
Pfeiffer Big Sur State Park
After lunch, we headed to Pfeiffer Big Sur State Park and hiked two popular trails, Valley View and Pfeiffer Falls trail. We parked in a day-use parking lot and started our hike on the short Nature Trail. The Nature Trail goes through a redwood forest and these trees were incredibly tall and majestic.
Valley View Trail
After studying the trail map, we decided to do Valley View Trail first. It is the more challenging of the two trails with moderate difficulty. Most steep segments do not have stone steps and hiking shoes are highly recommended.
Both trails start together and then split off. The Valley View Trail to the left and Pfeiffer Falls trail to the right. It's a bit confusing as there is a second fork with the same options, just keep left to stay on the Valley View Trail. The Valley View trail is really fun as the scenery keeps changing. At the end of the trail, there's a bench for hikers to sit and enjoy the valley view that extends all the way to the ocean.
Pfeiffer Falls Trail
We started heading back and this time at the fork, instead of heading down the way we came we followed the sign for Pfeiffer Falls. It didn't take too long for us to get to Pfeiffer Falls. It's not a large waterfall but it was nice to hear the cool water streaming down the rock boulder.
As we took Pfeiffer Falls Trails back to our car, it was a much easier hike with mostly flat trails and stone steps for elevation changes.
There is camping available at Pfeiffer Big Sur State Park as well as other trails for hiking. The camp is right by the Big Sur River and we saw campers happily swimming and playing in the water. Hiking both trails took us about 1.5 hours.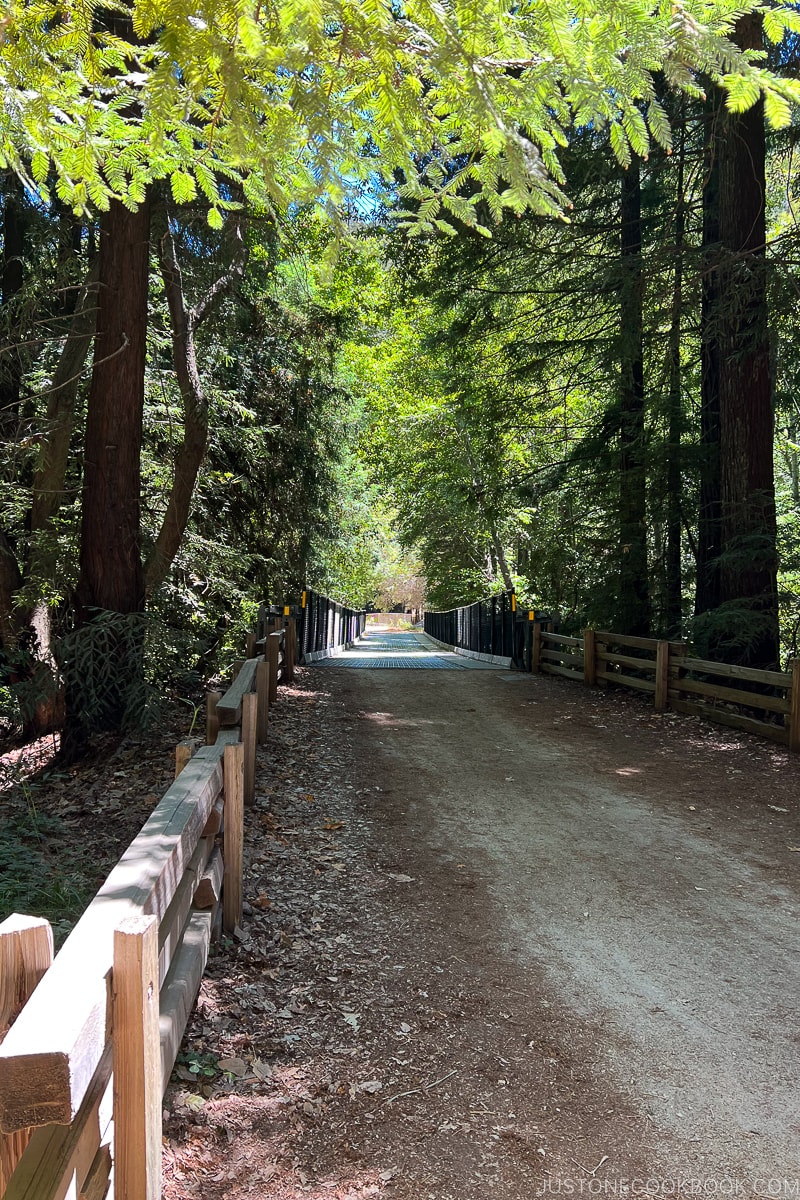 Andrew Molera State Park
Our last stop for the day is Andrew Molera State Park. It's known for a long 8-mile loop hike. As we've already completed 6 miles for the day, we took the 1-mile easy hike to Molera Beach. The path to the beach is pretty flat but be aware of the poison oak along the trail.
The hike was not very interesting and the beach didn't have the best sand. However, it was nice and secluded without many people around. The surf seems to be quite nice there as there were a number of surfers enjoying its waves. Interestingly, there are a number of huts built with driftwood, and we wondered who spent the time to build them.
After hiking 8 miles, we couldn't wait to eat!
New Restaurants We Tried in Monterey and Carmel
There are many quality restaurants in the Monterey and Carmel area and several of our favorites that we go back to repeatedly. On this trip, we wanted to try new restaurants that we'd never tried before.
Crystal Fish
We had Crystal Fish for lunch on the first day. It is a very popular Japanese Restaurant and highly reviewed by the local paper. The price was reasonable and the fish was fresh. However, the sushi quality is not as good as we had hoped. Perhaps dinner time will be better?
Cultura Comida y Bebida
For dinner the first night, we ate at the Mexican restaurant Cultura. It was such a pleasurable experience! We started with queso and guacamole, and the queso was unbelievably good!
For the main course, we had pork cheek mole, chicken enchilada, and carnitas tacos. All the foods were superb and left a lasting impression on us. We can't wait to go back with our son who couldn't join us on this trip! Reservation is highly recommended.
La Belena
For the second night's dinner, we ate at the Italian restaurant La Belena. It's a charming small restaurant with only 3 tables inside and 5 tables outdoors. La Belena is another restaurant that has received rave reviews from the local paper for many years.
We started with the fried cauliflower and it was packed with flavors. The outstanding sauce was savory, spicy, and with just a hint of sweetness. It had pine nuts, currants, chili, and bread crumbs.
The octopus appetizer was served with watermelon, mint, carrots, and fennel. It matched so well with the smoky octopus legs. We ordered two pasta and both were fantastic!
Lastly, our daughter ordered the fried chicken (1/2 chicken) and it was finger-licking good. The rice flour crust was very crispy and the meat tender and flavorful. Our family really enjoyed the meal and highly recommend it.
Stationæry Restaurant
On the last day, we ate at Stationæry Restaurant for breakfast before heading home. The breakfast dishes were exceptional. All three dishes we had were super tasty but the miso salmon on potato pancake was simply superb.
It's quite difficult to describe the dishes since they all have a lot of elements to them, but trust us when we say it's worth stopping by. The price is a bit high for breakfast but we were so full from the food we skipped lunch that day.
Our family had a fantastic time visiting Big Sur. We enjoyed the beautiful California coastal views, hiked trails, and ate plenty of good food in Carmel. Next time, we'll go a bit further south on Hwy 1 to explore.
If you have any Big Sur of Hwy 1 travel tips to share, leave them in the comments below!
Additional Big Sur Hike Sources:
[ad_2]

Source link