These festive Candy Corn Sugar Cookies have a soft, buttery sugar cookie base that's shaped in a triangle and topped with melted chocolate and white chocolate for a fun cookie perfect for Halloween!
While we love our easy pay day cookies made with candy corn, as well as our candy corn rice krispie treats, we know that some people don't love this holiday candy. So today's recipe resembles our favorite candy without tasting like it!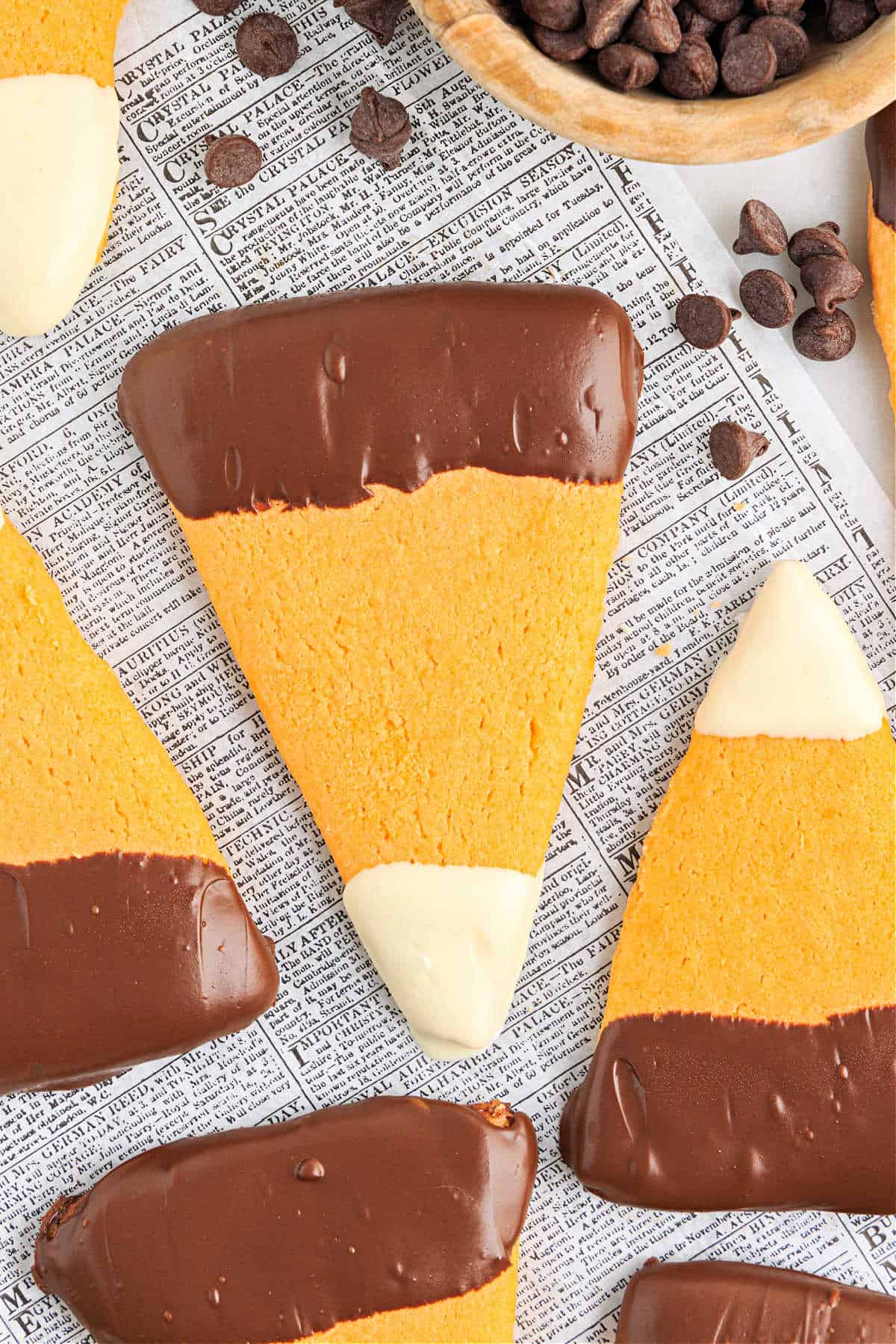 Why These Cookies are Best
Candy corn gets a cookie makeover with this fun recipe that's perfect for October and Halloween parties!
The sugar cookie base has a slight almond flavor and is dyed orange and cut into a triangle for the classic candy corn shape.
Once cooled, the cookies are topped with dark and white chocolate to make a festive tri-color cookie that's hard to resist!
While they look impressive, these candy corn sugar cookies are very easy to make, even for novice bakers.
Dark chocolate wafers and white chocolate wafers are melted down in separate bowls to make for easy dipping with the cooled cookies.
These cookies are easy to make ahead and store at room temperature. Or to freeze for later!
Ingredient Notes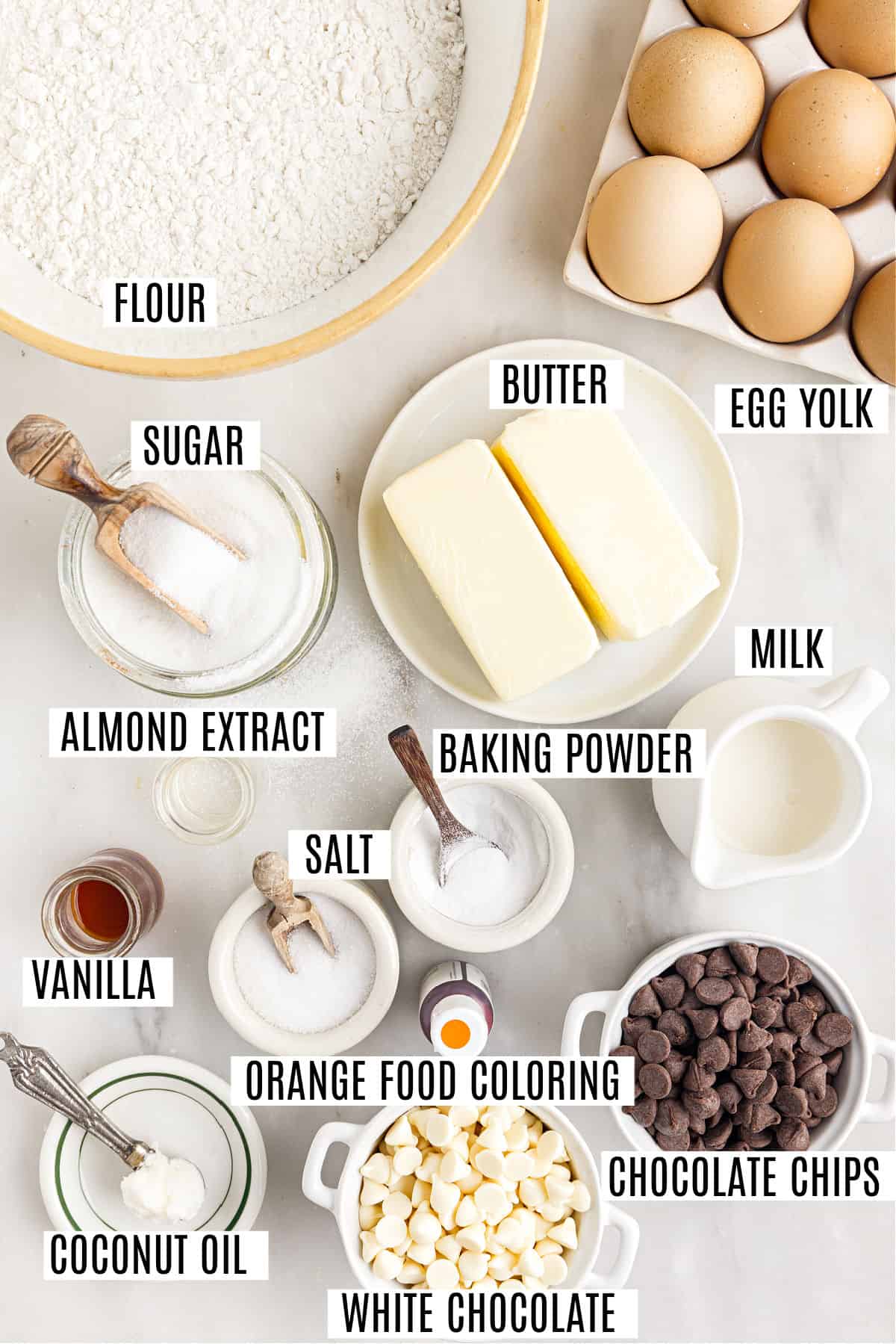 Unsalted butter – Unsalted butter is a must for these cookies. You can use salted butter if that's all you have; just leave out the added kosher salt in the recipe.
Vanilla extract – Be sure to use a PURE vanilla extract, not imitation. Use our homemade vanilla extract for best results.
Almond extract – This blends beautifully with the vanilla to enhance the flavor of the cookie. However, you can substitute extra vanilla extract if you don't have any.
Orange food coloring – Gel food coloring has the most vibrant color for dying the cookie dough, and you won't need to use as much.
Chocolate and Coconut oil – If using chocolate chips and white chocolate chips, melt with a teaspoon of coconut oil. Or use our favorite melting wafers to get the easiest, most smooth dark chocolate and white chocolate for dipping. I prefer Ghirardelli brand, but another brand can be used.
Easy Instructions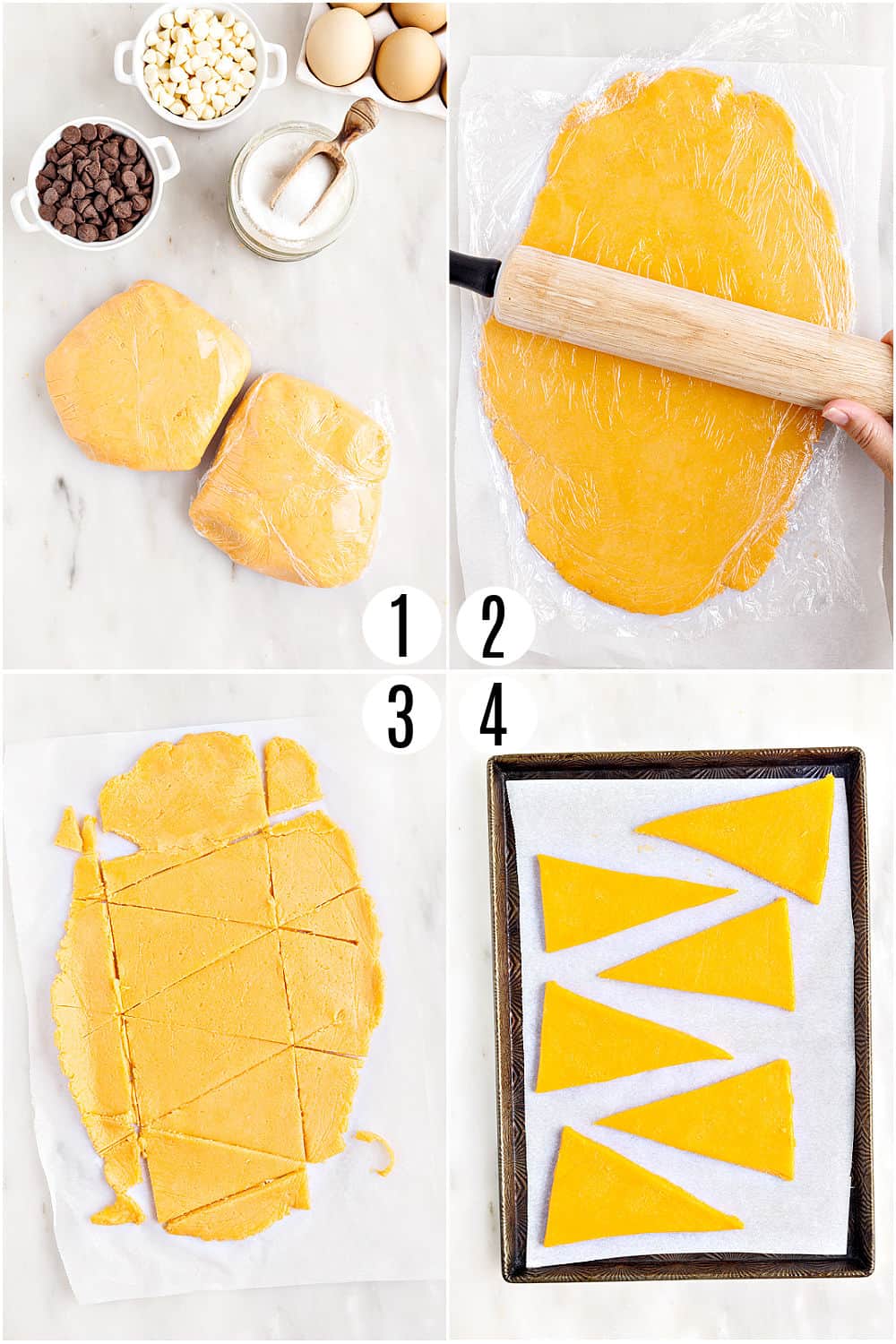 Make the cookie dough. Combine the dry ingredients. Separately, cream together the butter and sugar, then add the egg yolk and vanilla and almond extracts. Add the flour and milk alternately then divide the dough into two balls.
Chill and cut the dough. Wrap the dough balls in plastic wrap and chill for one hour. (This helps make it easier to cut!) Roll the dough out and cut into triangles. See photos for a visual guide.
Bake cookies. Bake the cookies then allow them to cool completely.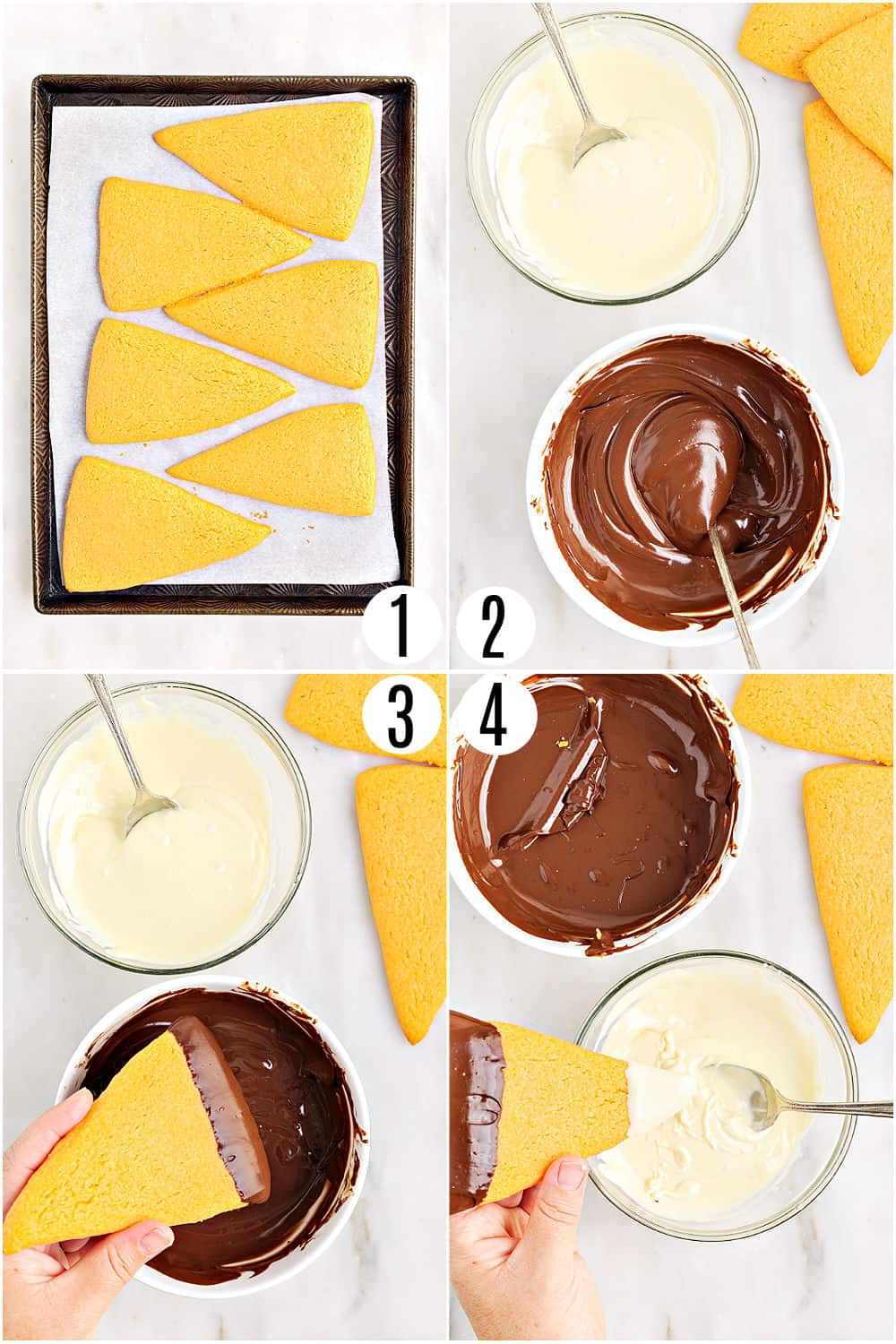 Cool cookies.
Melt white and dark chocolate.
Dip large end of cookie into the dark chocolate. Allow to set on parchment paper.
Dip pointed end of cookie in white chocolate, allow to set.
Tips and Tricks
Chilling the cookie dough makes it easier to work with and cut into the triangle shape. However, if you chill it for more than one hour, you may need to let the dough rest at room temperature for about 15 minutes until it's softened slightly and easier to work with.
Rolling the cookies out on parchment paper will prevent the cookie dough from sticking to the rolling pin. You could also use a floured surface instead.
The dough should be rolled until its about an 7" x 11" rectangle shape that is approximately ¼" thick. Then use alternating cuts to make the triangle shapes. You should have 12 total cookies. See the photos for a visual.
Cool the cookies completely before you dip the tops and bottoms in the dark chocolate and white chocolate. If the cookies are still warm, the chocolate won't set up.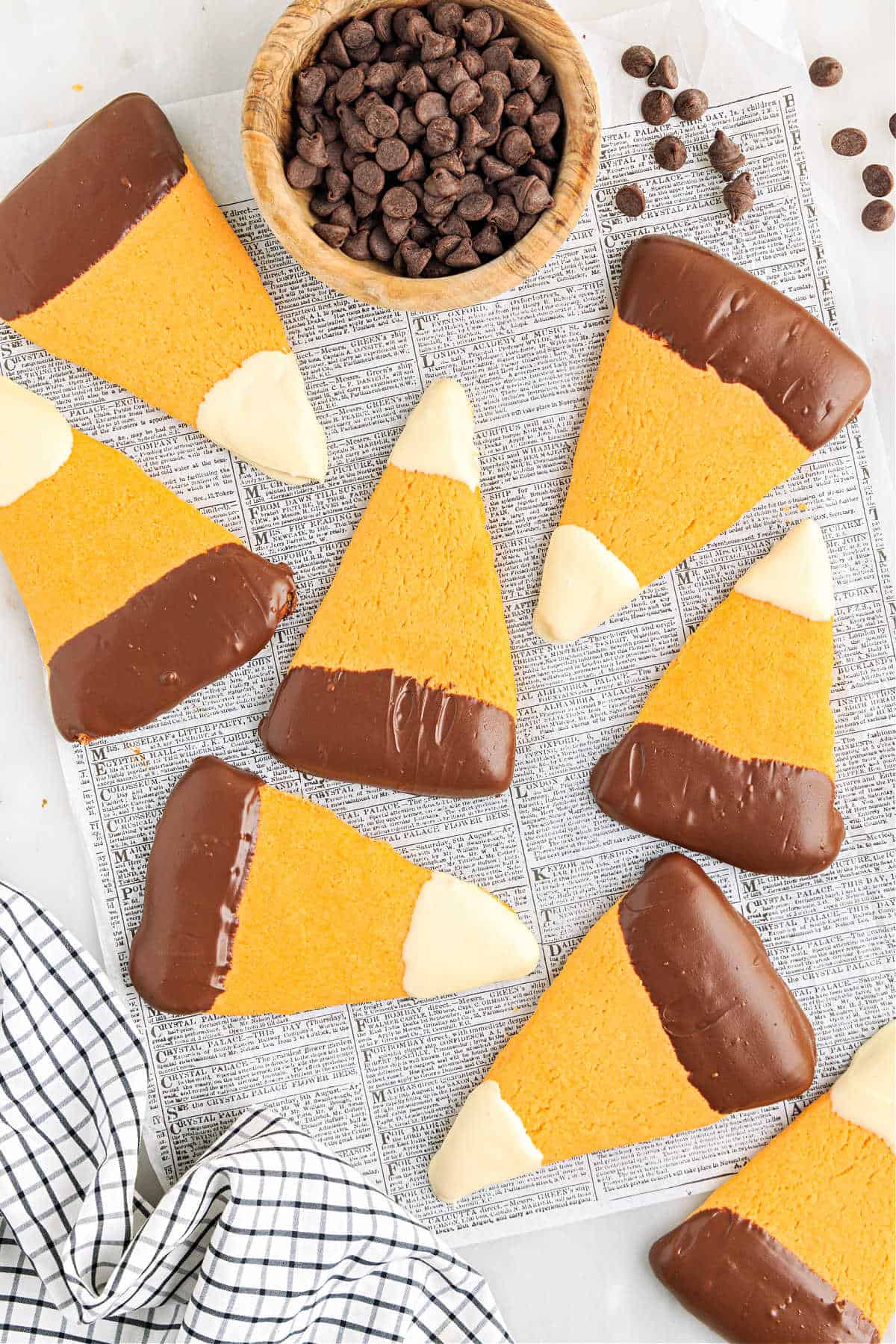 Recipe FAQs
Can I use dark and white chocolate chips instead of melting wafers?
The melting wafers tend to melt more evenly and set up a little softer than chocolate chips, which is helpful for dipping these cookies. However, you can substitute chips if needed.
Can I make candy corn sugar cookies ahead of time?
Yes, these cookies can be made in advance. Let them cool, decorate and let set up completely before storing. They will keep in a covered container at room temperature for up to 5 days.
Can I freeze these cookies?
Yes. You can freeze the baked and decorated cookies, once set, for up to 3 months.
More Fall Favorites