Chicken And Broccoli Pasta combines saucy pasta shells with tender broccoli and seasoned chicken in the quickest garlic-butter Alfredo sauce. Sprinkle on some Parmesan and be prepared to have a new pasta addiction!
For a vegetarian version, check out our quick and easy Broccoli Pasta.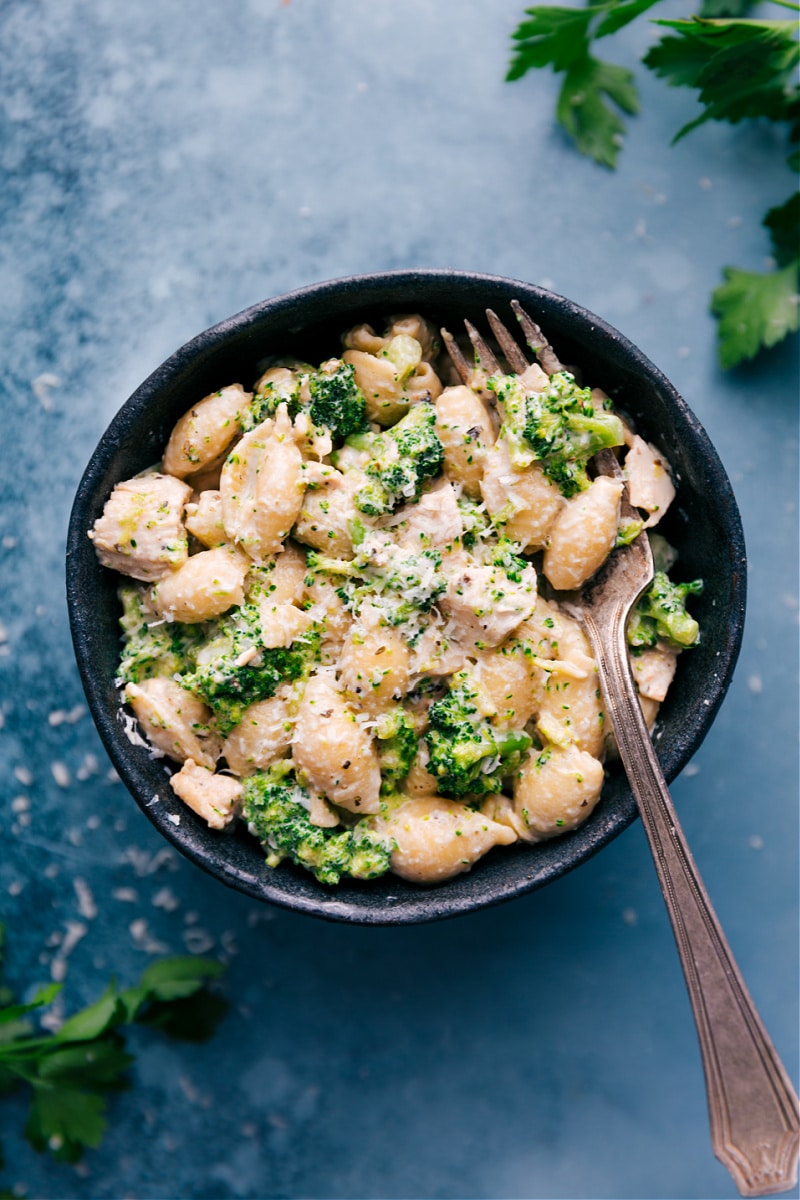 An Easy Chicken and Broccoli Pasta Recipe
Chicken and broccoli pasta recipes are classic dinner fare — everyone needs a recipe like this in their arsenal. Not only is this dish adult- and kid-friendly, it's also ridiculously easy to make, requires minimal ingredients, and screams good, hearty comfort food!
This particular Chicken and Broccoli Pasta with garlic butter sauce is no exception — it's loaded with flavor while requiring minimal effort (and ingredients). My whole family scarfs it down — even the 2-year old who's begun rejecting anything "green" as of late!
QUICK TIP
Got picky eaters? Try chopping the broccoli into very small pieces and then boiling in well-salted water along with the pasta. Further break down larger pieces by tossing vigorously in the creamy Alfredo sauce. Give it a taste — this broccoli is now irresistibly tasty and who knows — your kiddos may just be begging for more!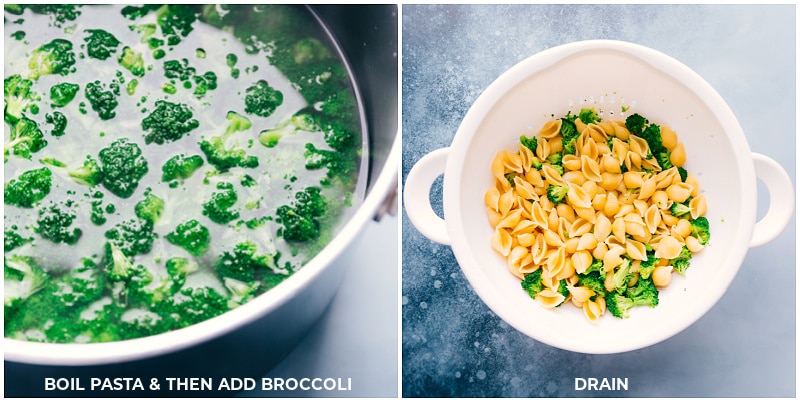 How To Make Alfredo Pasta With Chicken And Broccoli
The full recipe is below, but here is a quick overview to show on preparing this Broccoli Chicken Pasta:
Boil pasta and broccoli at the same time; drain and set aside.
Meanwhile, sauté the chicken — we cut breasts in half so they cook up ridiculously quick! Remove chicken and set aside for now.
Prepare the quick pasta sauce, which combines chicken broth, cream, and Parmesan cheese.
Emulsify! Add the chicken, broccoli, and pasta to the sauce and vigorously toss.
Yell for your family to gather around the table because the best cheesy Chicken and Broccoli Pasta is ready!
QUICK TIP
One of the great things about this recipe is that the broccoli cooks WITH the shells – score! One to two minutes before draining, add in the broccoli florets. Drain everything, and you've got perfectly cooked broccoli ready to be tossed with the Alfredo sauce.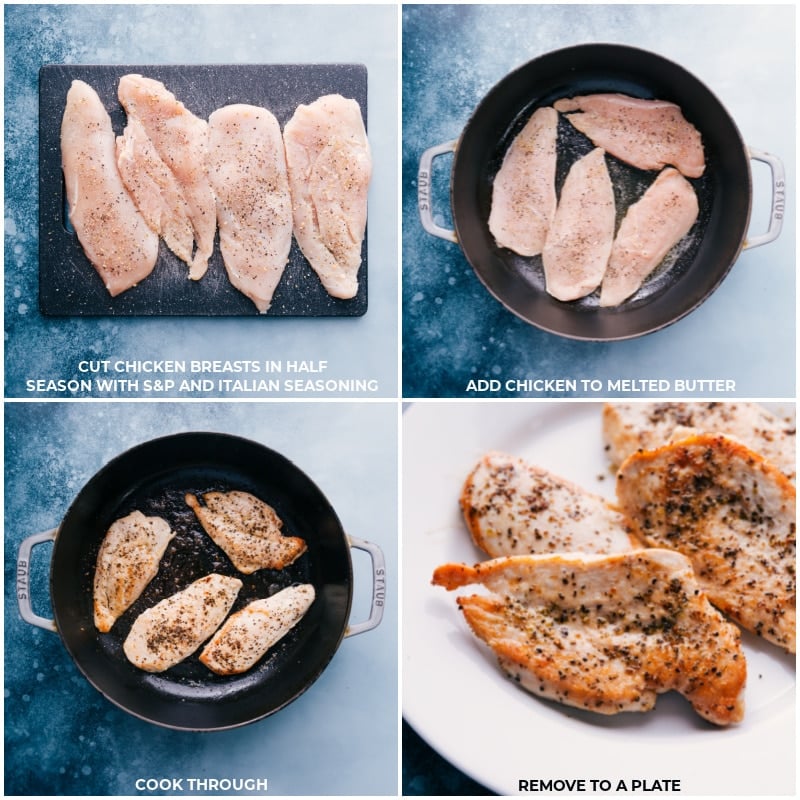 Chicken Broccoli Pasta Recipe Tips
Emulsifying is one of the secrets to Italian pasta and it's how you get a luxuriously smooth and incredibly flavorful sauce. Take the time to toss the pasta and broccoli into the sauce until the sauce clings nicely to the pasta.
We tested this recipe with fresh and frozen broccoli — either works! With both fresh and frozen, the florets do need to be cut down fairly small. If using frozen broccoli, you'll want to set it out for a bit so it can thaw enough for a quick coarse chop.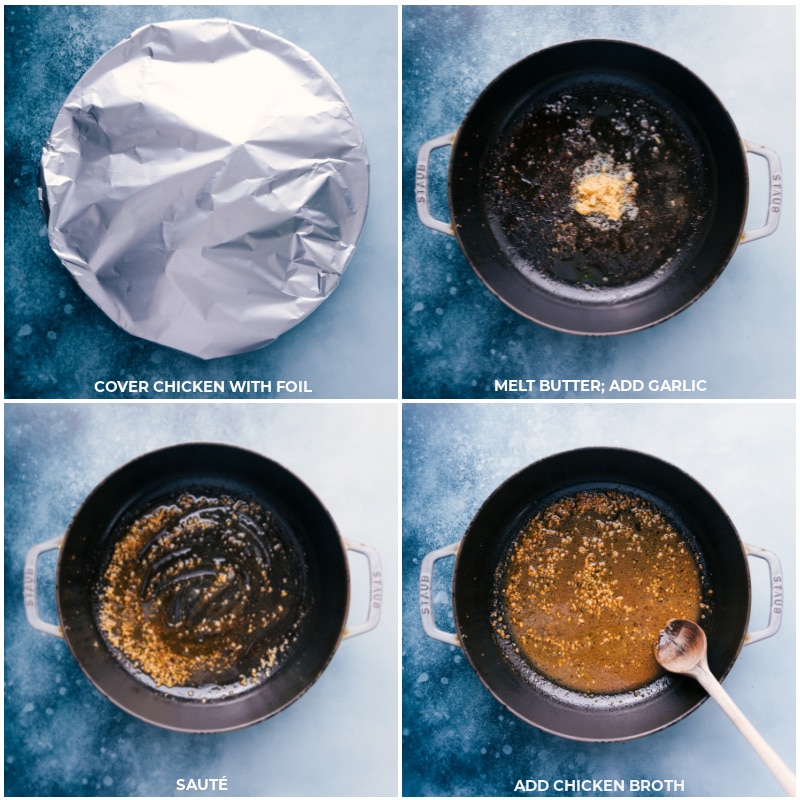 Recipe Tips Continued
Use medium-sized chicken breasts. If the chicken pieces are too big, cooking time will be longer and you may need to cook the chicken in batches so it's not overcrowding the pan.
Allow time for the Alfredo sauce to properly thicken. The sauce should be thick enough to coat the back of a wooden spoon. Lift up the spoon and immediately trace a line across the back of the spoon with your fingertip. If the line retains a clear track, the sauce is thick enough. If not, cook a bit longer.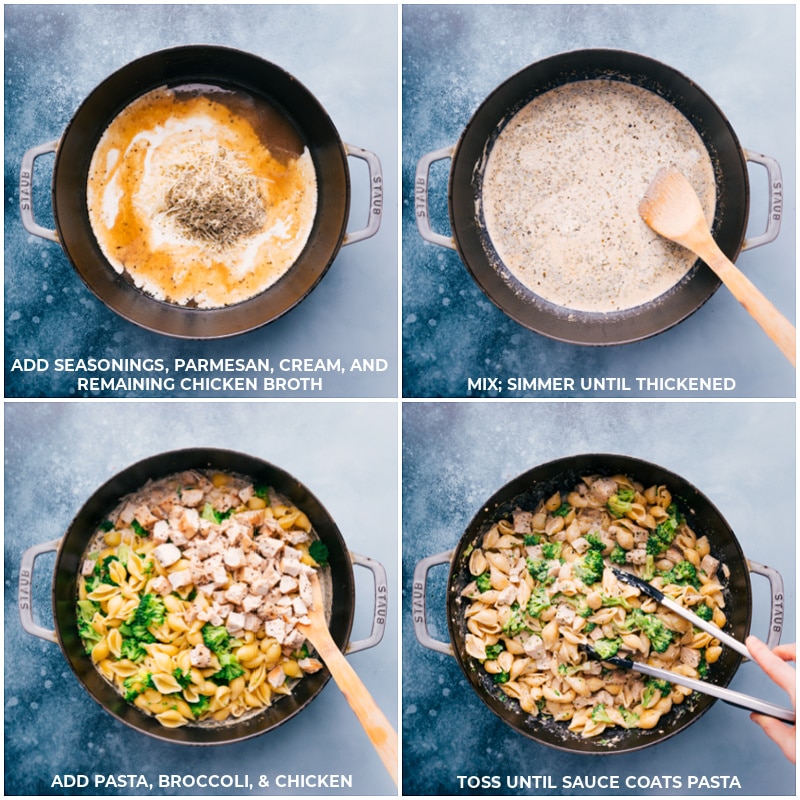 VARIATIONS
Cheesy Chicken And Broccoli Pasta Variations
Chicken and broccoli pasta from Cheesecake Factory: This recipe is fairly similar; to more closely replicate that recipe, add a diced Roma tomato, swap shells for rigatoni pasta, and crush croutons on top of the finished dish.
Healthier chicken and broccoli pasta: This chicken broccoli Alfredo uses a lightened-up cream sauce that uses chicken broth and low-fat milk. Alternatively, use the sauce in this vegetable pasta which uses a "secret" ingredient to create an ultra-creamy sauce without milk or cream! 
How to make a chicken and broccoli pasta bake: Give this recipe a whirl!
Change out the pasta: Try a different shape; we'd recommend rotini, penne, or farfalle.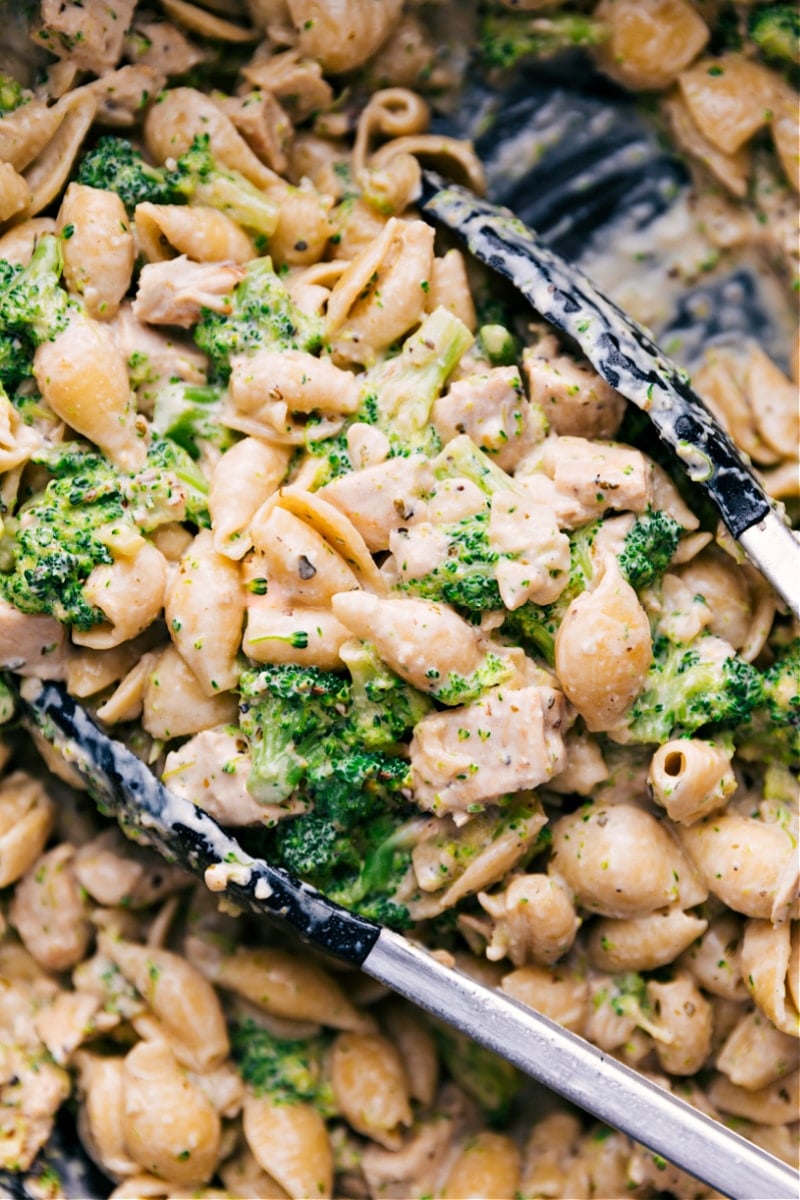 More restaurant-worthy pasta dishes
Chicken And Broccoli Pasta
Chicken And Broccoli Pasta combines saucy pasta shells with tender broccoli and seasoned chicken in the quickest garlic-butter Alfredo sauce. Sprinkle on some Parmesan and be prepared to have a new pasta addiction!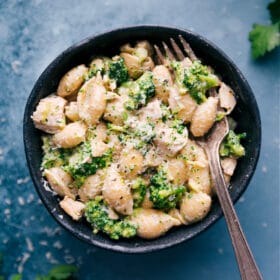 Chicken And Broccoli Pasta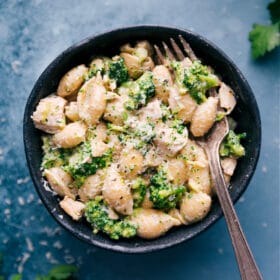 Chicken And Broccoli Pasta combines saucy pasta shells with tender broccoli and seasoned chicken in the quickest garlic-butter Alfredo sauce. Sprinkle on some Parmesan and be prepared to have a new pasta addiction!
Instructions
PREP: Chop fresh broccoli into small florets. If using frozen, let it stand out for a few minutes and then give it a quick coarse chop. Measure and set aside.

Cut chicken breasts in half widthwise to get 4 pieces. Use a meat mallet/frying pan/your fist to give each piece a quick pound (don't flatten chicken, we just want all the pieces fairly even in width). Season both sides with salt, pepper, and Italian seasoning. (I add about 1/4 teaspoon of each seasoning to one side, flip and add another 1/4 teaspoon of each seasoning to the other side.)

PASTA AND BROCCOLI: Set a large colander in the sink with a glass mug in the center of the colander (so you don't forget to grab some pasta water before draining!). Bring a large pot of water to a boil. Generously salt the water (I add 2 teaspoons salt) and then cook the pasta according to package instructions– minus 1 minute from what the package indicates. Two minutes before draining time, add in the broccoli florets. Right before draining, use the glass mug to remove a big scoop of pasta water (set aside for now) and then drain the pasta. Don't rinse under cool water.

COOK CHICKEN: Meanwhile, add 2 tablespoons butter to a large heavy bottom skillet and heat to high heat. Once melted, add in the chicken in one layer. Cook for about 2-3 minutes per side or until cooked through (registers 160 degrees/juices run clear) and remove to a plate. Tent with foil and set aside for now.

GARLIC BUTTER SAUCE: Reduce heat to medium. Add the remaining 1 tablespoon butter to the skillet. Once melted, add garlic. Cook, until golden, stirring constantly, about 30 seconds. Pour in 1/2 cup of chicken broth; it should sizzle and boil. Scrape up any browned bits off the bottom of the pan. Once this 1/2 cup is mostly evaporated, add in the other 1/2 cup. Stir.

ALFREDO: Stir in the heavy cream, Parmesan cheese, remaining 1 teaspoon Italian seasoning, garlic powder, onion powder, and dried thyme. Simmer, over medium-heat, stirring occasionally for 3-5 minutes or until it thickens up and slightly reduces. The sauce shouldn't boil– reduce heat/stir more frequently if needed. Meanwhile, dice up the chicken.

TOSS: Add the pasta, broccoli, and reserved diced chicken along with any juices left behind on the plate. Use tongs to toss ingredients into the cream sauce until the sauce thickens, nicely coating the pasta, (1-2 mins). If needed (sauce is too thick), slowly add in that set-aside pasta water. Taste and adjust adding more salt/pepper to taste.

SERVE: Serve immediately. Top individual plates with a touch more Parmesan if desired, and fresh parsley. Enjoy immediately! Pasta is best enjoyed right after being tossed!
Nutrition Facts
Serving: 1serving | Calories: 1137kcal | Carbohydrates: 142g | Protein: 50g | Fat: 41g | Saturated Fat: 23g | Polyunsaturated Fat: 3g | Monounsaturated Fat: 11g | Trans Fat: 1g | Cholesterol: 162mg | Sodium: 465mg | Potassium: 1072mg | Fiber: 8g | Sugar: 7g | Vitamin A: 1876IU | Vitamin C: 83mg | Calcium: 357mg | Iron: 4mg
We do our best to provide accurate nutritional analysis for our recipes. Our nutritional data is calculated using a third-party algorithm and may vary, based on individual cooking styles, measurements, and ingredient sizes. Please use this information for comparison purposes and consult a health professional for nutrition guidance as needed.