Deliciously fluffy Chocolate Chip Pancakes are perfect for even the biggest kid. Whip them up for breakfast or dessert!
Pancakes have got to be one of the best breakfast foods out there. They're easy and inexpensive, and can be easily changed up based on added ingredients, like Blueberry Pancakes, Funfetti Pancakes, or these heavenly Chocolate Chip Pancakes!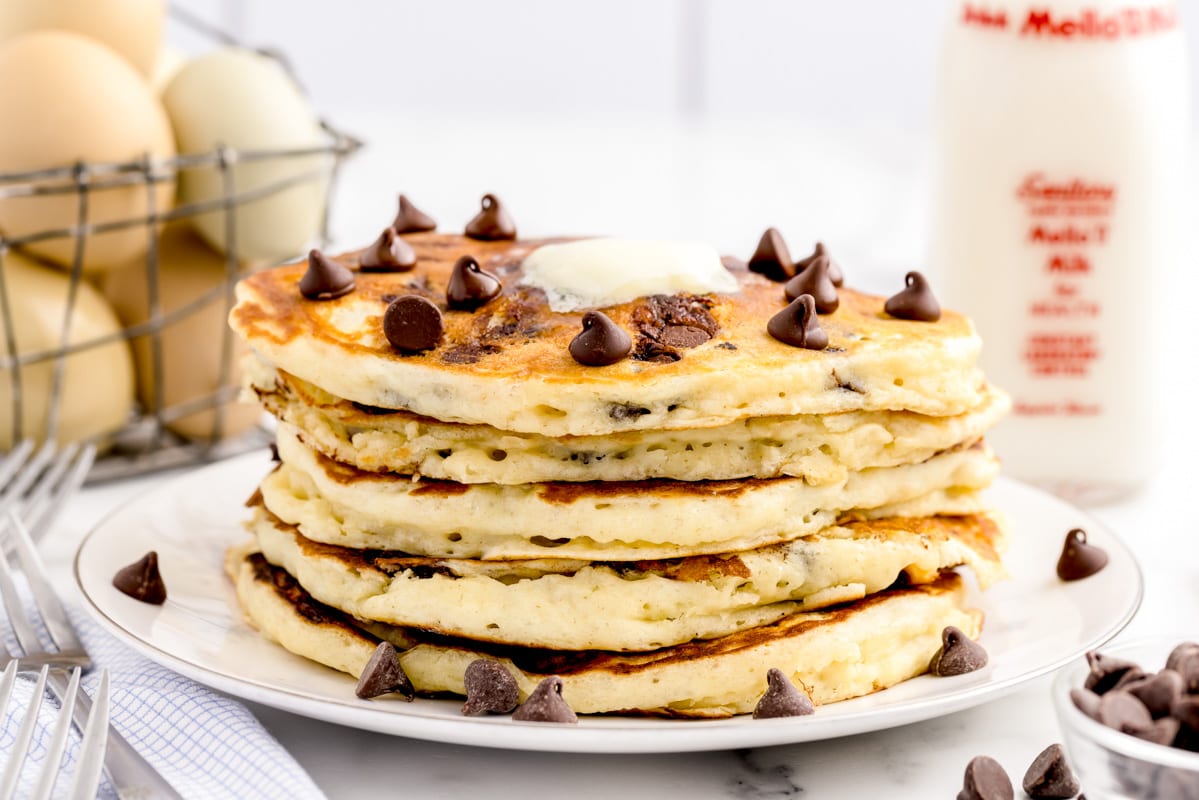 Classic Pancakes with A Twist
My whole family loves pancakes for breakfast, so you better believe we have them a few times a month.
The kids' favorite version is this Chocolate Chip Pancakes recipe, and who could blame them? You're adding chocolate to batter and covering it in sugar-y syrup.
Our favorite is our classic Buttermilk Syrup. But for a tropical twist, add in macadamia nuts and substitute vanilla with a little almond extract.
Fortunately, these pancakes are great with ANY kind of syrup, but they will definitely be your new go-to Chocolate Chip Pancake recipe! Serve these up with a side of bacon or sausage and enjoy!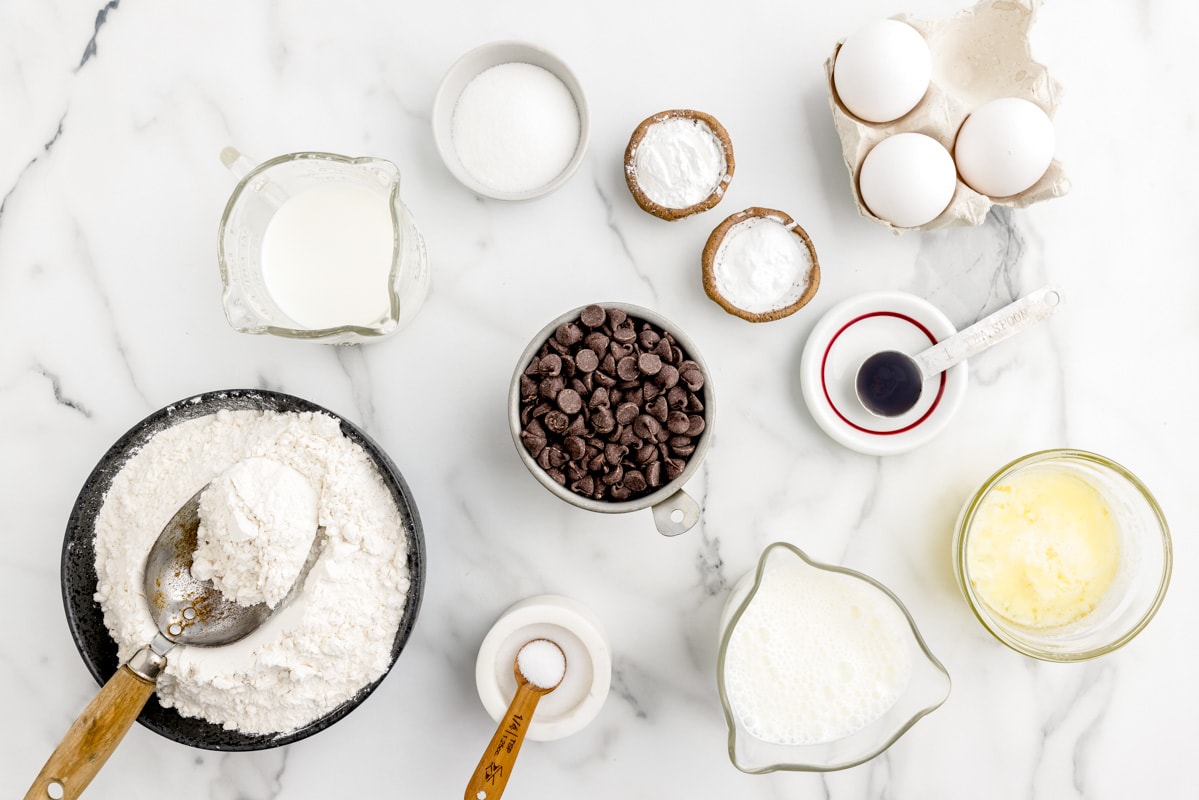 How to make chocolate chip pancakes
PREP. Preheat griddle or frying pan to medium heat.
BATTER. Whisk flour, sugar, cinnamon baking powder and salt in a large bowl. In a separate bowl stir together eggs, milk, butter and vanilla. Add to flour mixture and beat until smooth, then fold in chocolate chips.
COOK. Spoon batter into frying pan or skillet at the desired size. Flip when top begins to bubble, and cook an additional minute until golden brown. (You can add extra chocolate chips to the tops of the pancakes when they come off the griddle so they melt just a tiny bit.)
Griddle tip. Simply pour out the batter at an equal distant from each other on the griddle. This does make it more of a balancing act but it works great for making pancakes for a big family.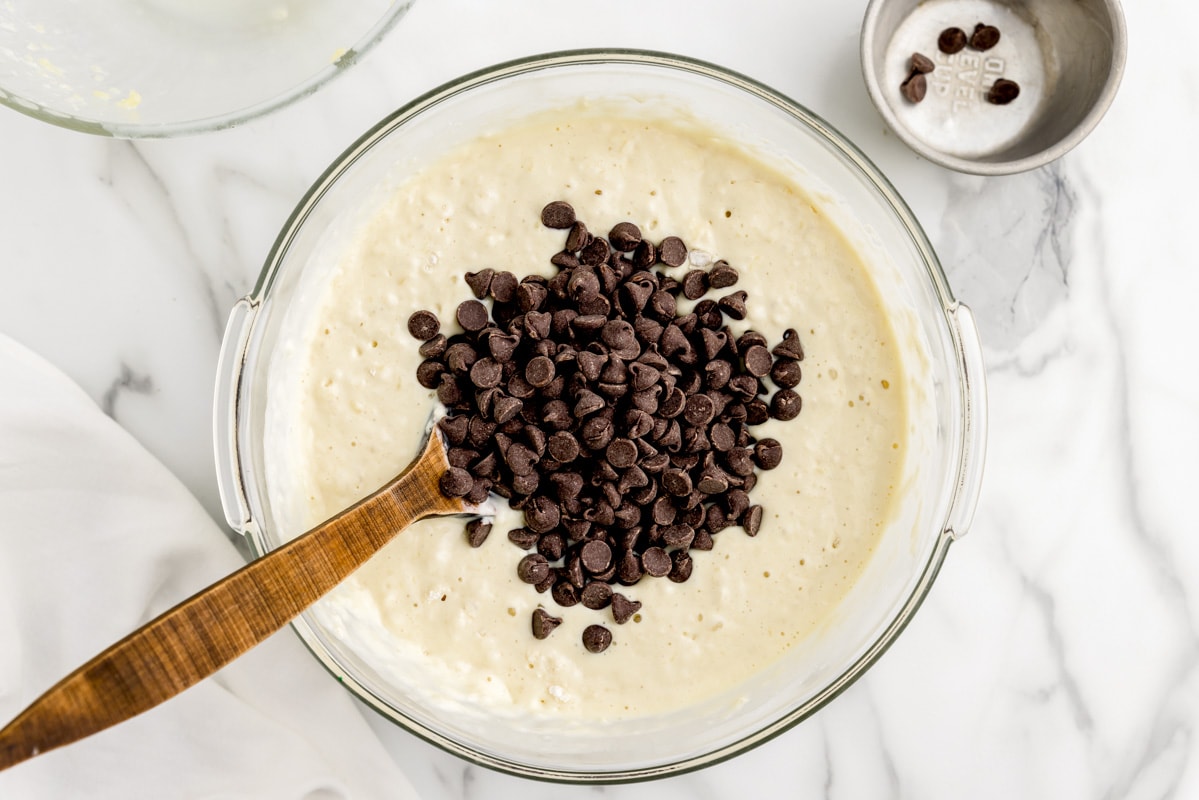 Tips for Perfect Pancakes
If these chocolate chip pancakes don't turn out as expected, it can be hard to know exactly what goes wrong in some else's kitchen. Here are a few tips to help you get the best result each time:
Test pancakes. Make 1 or 2 test pancakes and adjust.
Runny center. If the pancakes burn, but have a runny center, turn down the heat.
Room temperature. Allow the eggs and 2 cups of milk to stand at room temperature for about 30 minutes before mixing up the batter.  This will help all the wet ingredients to combine easier. 
Runny batter. If batter is too runny and spreads out too much, add a bit more flour. 
Thick batter. If batter is too thick and doesn't spread at all, add a bit more water or milk.
No rise. When the pancake spreads fine, but doesn't rise, add a bit of baking powder. 
Don't press down on the pancakes with the spatula. It doesn't help it cook any faster and just makes them flat.
Ingredient substitutions
Whole wheat flour. Change the measurements. For every cup of white flour use ¾ cup of whole wheat flour along with an additional 2 teaspoons of liquid.
Dark chocolate chips. While milk chocolate chips are our favorite, dark chocolate chips would also work well. It would give you a much richer flavor. You could even use white chocolate or butterscotch chips!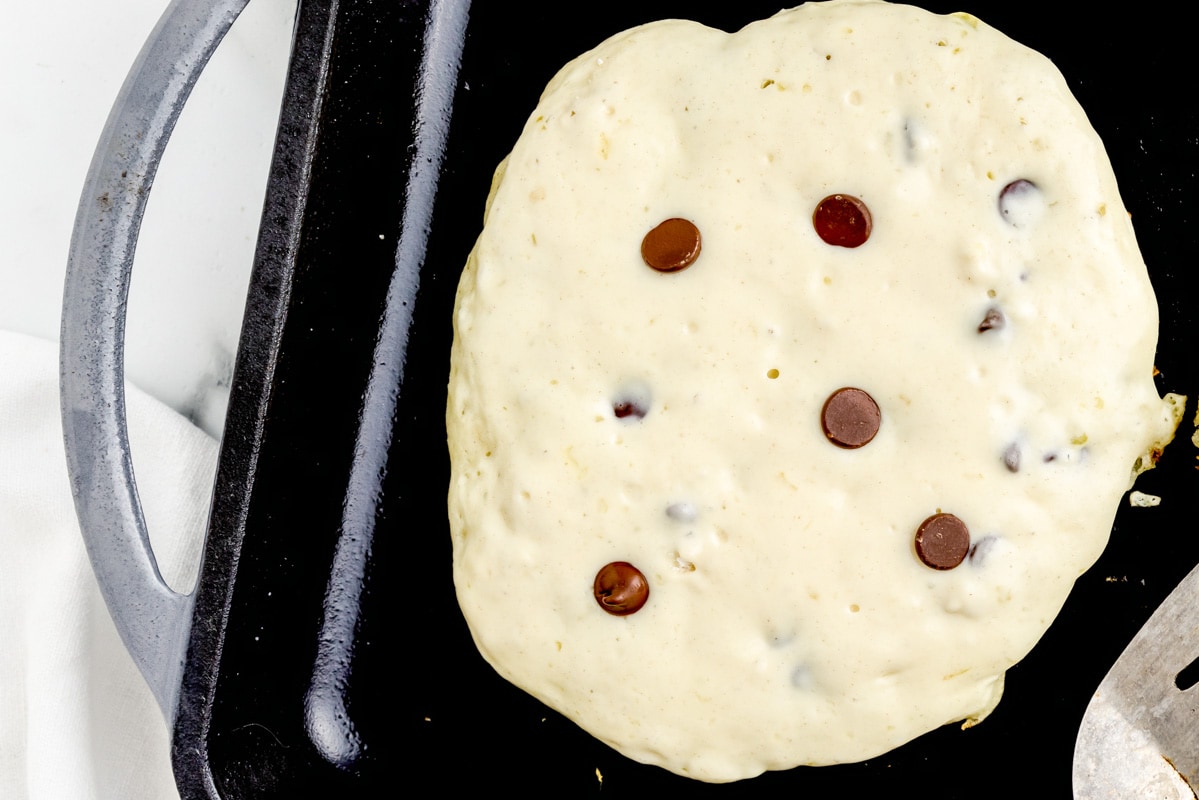 Topping suggestions
The chocolate chips are the star of these pancakes so I don't want to overshadow them very much. However, here are a few yummy suggestions:
Classic Butter and Maple syrup
Dusting of Powdered Sugar
A bit of Nutella or Peanut Butter
A dollop of Whipped Cream and sprinkle on mini chocolate chips
Sliced bananas
Raspberries
Strawberries
Melted butter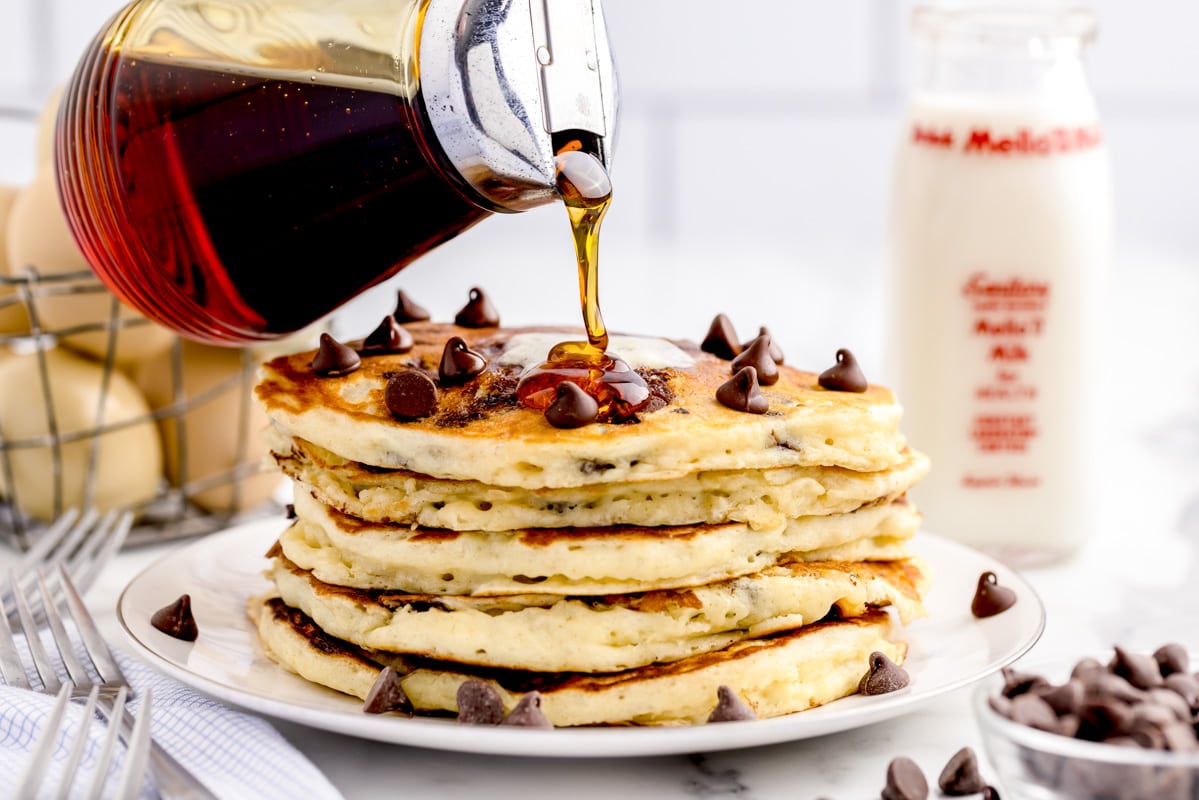 Make ahead for another day!
Pancakes are the perfect make ahead breakfast and can be made in advance and then reheated when ready to use.
FREEZE. Layer the pancakes between sheets of wax paper and pop them in a ziploc bag, airtight container, or covered on a baking sheet. Lay flat in the freezer. They should be fine for 2 months in the freezer.
To reheat:
For the microwave, heat them up for a minute to a minute and a half.
For the oven, place the pancakes on a cookie sheet and cover with foil. Bake at 375°F for 8-10 minutes.
For the toaster, set on a gentle setting—like toast or bagel. Toast for about 90 seconds to two minutes.
Wishing I had a stack of these leftover pancakes right now!! I would love to know what other ingredients you've added to your pancakes and how they turned out.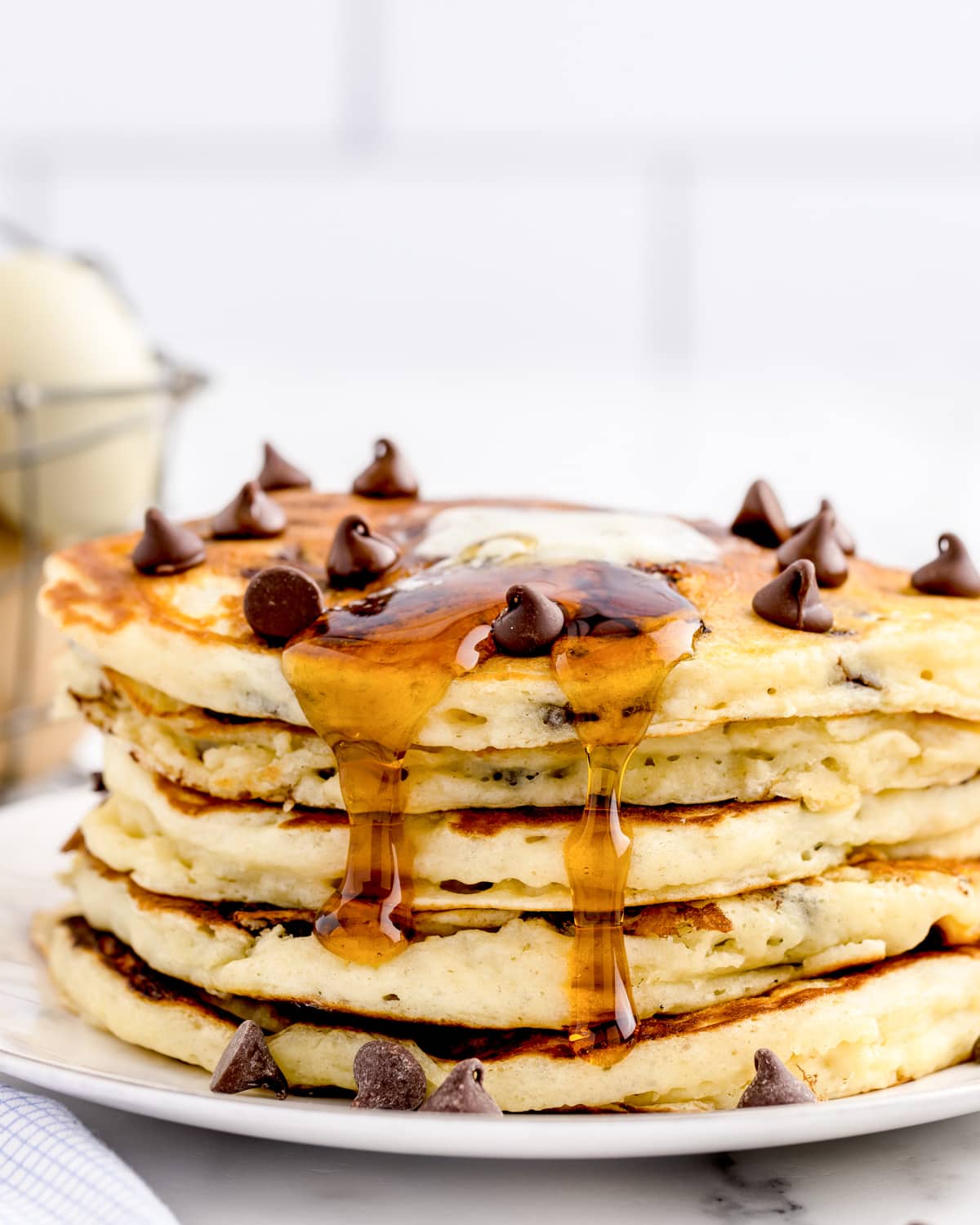 For more pancake recipes, check out:
Preheat griddle or frying pan.

Combine flour, sugar, cinnamon baking powder and salt in a large bowl.

In a separate bowl mix together eggs, milk, butter and vanilla. Add to dry ingredients and beat until smooth.

Fold in chocolate chips and spoon batter into frying pan at the desired size.

Flip when top begins to bubble, and cook an additional minute.