This Vegetable Frittata Recipe is our favorite! Packed with veggies, a creamy seasoned egg mixture, plus some cheese, this dish is sure to be a hit for breakfast, brunch, lunch, or any other time of the day!
What Does Frittata Mean?
A frittata is an open-faced (or unfolded) omelet that combines eggs, dairy, and a combination of other ingredients like meats, cheeses, and/or vegetables.
The word "frittata" is Italian and roughly translates to "fried." Typically they are started in a skillet over low heat and then finished in the oven, while an omelet is cooked quickly over high heat. To keep things as easy as possible, we're sharing a recipe that is done 100% in the oven. (That means less babysitting and less room for error when compared to a stovetop frittata!)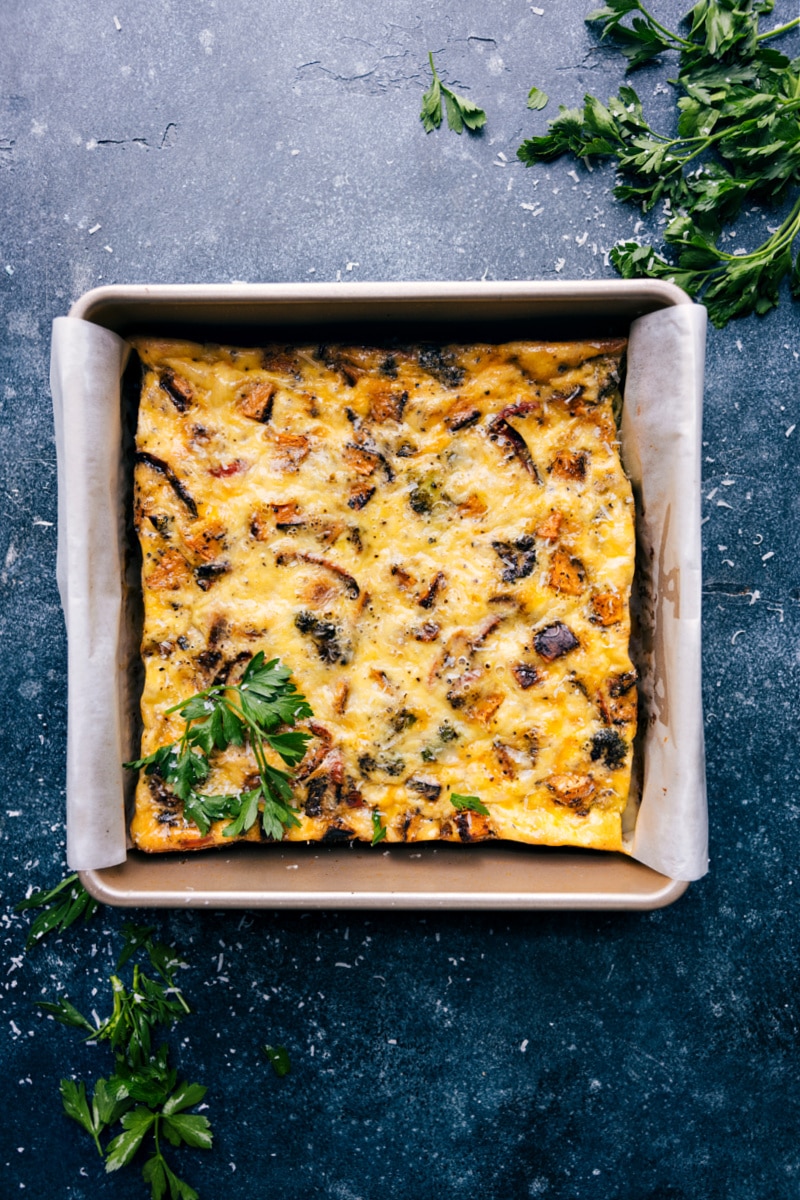 Is A Crustless Quiche A Frittata?
Frittatas are often called crustless quiches because they are an egg dish with no crust. A couple main differences — quiches typically have a more custard-like interior and quiches always have a crust. Calling this a crustless quiche is kind of like calling peanut butter a crustless PBJ. It's just not at all the same!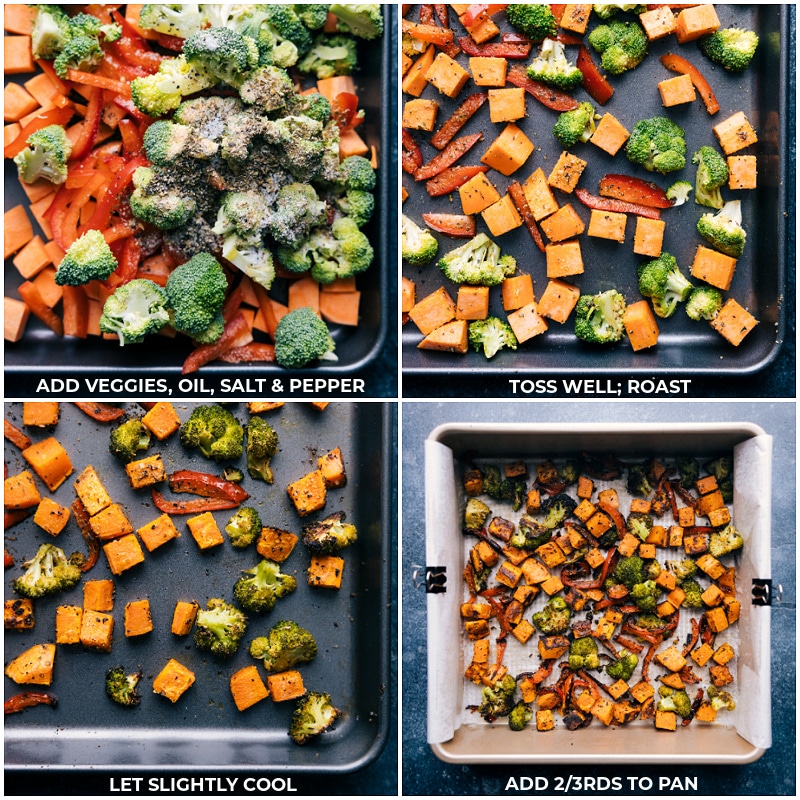 QUICK TIP
Take a look at the process photos. See how I used metal binder clips to keep the parchment paper in place? Nobody likes to wrestle with paper that refuses to stay in place! If you use this trick, make sure your binder clips aren't plastic. Need I say more?
How To Make A Frittata
This basic frittata recipe can be broken down into three main steps:
Roast the vegetables. To get the veggies nice and tender with a beautiful char (which results in more flavor), we roast them in the oven. We want firm–not soggy– veggies in this dish and roasting 'em delivers!
Prepare the filling. The filling consists of a seasoned cream and egg mixture plus some cheese.
Assemble and bake. Once the veggies are done we layer 2/3 of the veggies into the bottom of the pan. Next we layer cheese, then the egg mixture, more cheese, the rest of the veggies, and a final sprinkling of cheese. Into the oven it goes!
QUICK TIP
This oven-baked frittata with potatoes, broccoli, and red pepper combines our favorite veggies into one delicious dish! That said, if you aren't a fan of those veggies, substitute equal amounts of your favorites, keeping in mind the roasting time may be slightly different, depending on what is used.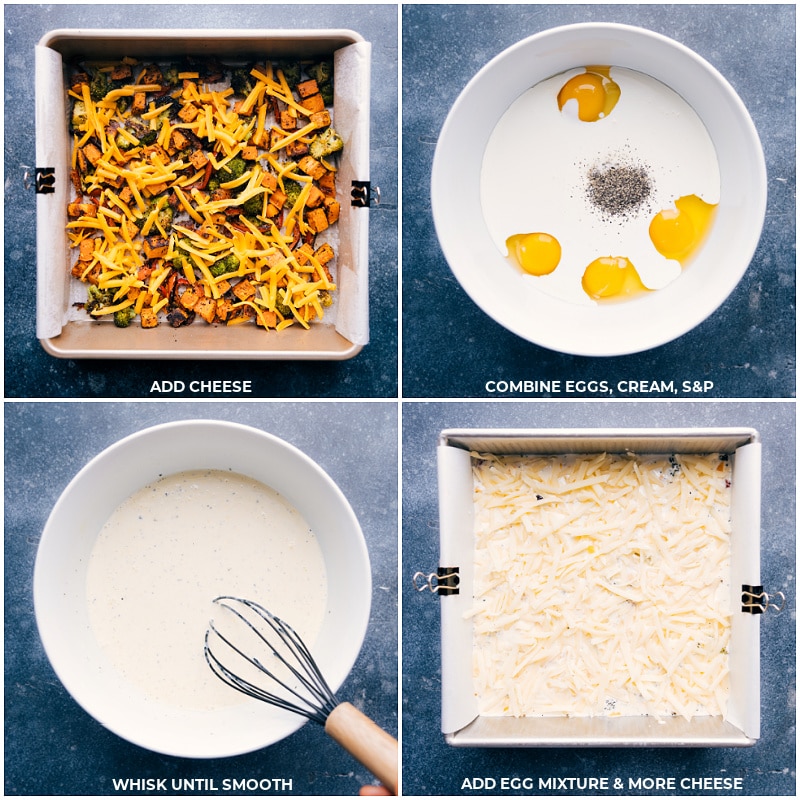 VARIATIONS
Make It Your Own!
Swap the veggies: Don't have time to roast veggies? Add some canned (drained) or frozen (and thawed) diced veggies instead. Think corn, carrots, peas, green beans, edamame, lima beans, etc. You could also chop some baby spinach or kale to mix in this Vegetable Frittata (no cooking needed beforehand).
Add meat/protein: Add some cooked proteins like diced chicken, ham, salami, pepperoni, or turkey. Cooked and diced bacon or cooked and crumbled sausage would also be tasty. 
Other tasty additions: Toss in some roasted red pepper strips, chopped olives, or artichokes. Add some thinly sliced mushrooms or tomatoes on top. Add in a can of drained and rinsed beans (like chickpeas, black beans, white beans, etc.)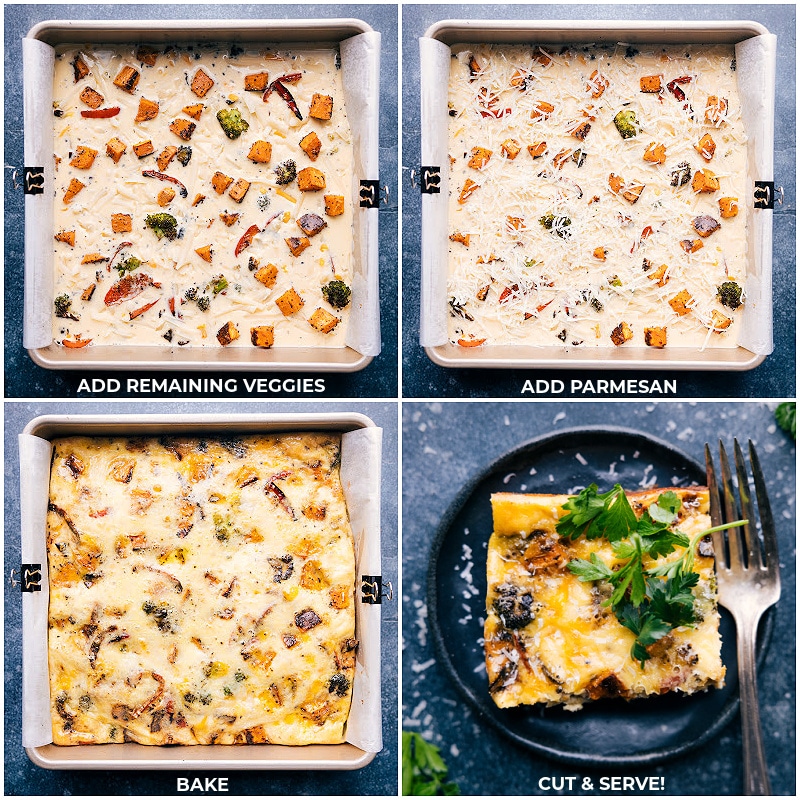 STORAGE
Storing This Frittata Recipe
Vegetable Frittata is tasty out of the oven, at room temperature, or even reheated! Here are the details:
Serve right away: Once the frittata is baked and slightly cooled (5-10 minutes), use the parchment-paper overhang to pull it out of the pan and transfer to a cutting board to cut and serve.
If you aren't serving it right away, transfer the frittata to a wire cooling rack; pull out then discard the parchment paper so the bottom doesn't get soggy. Cool fully before popping into the fridge or freezer.
Refrigerating: Store leftovers in an airtight container in the fridge for 3-5 days. Reheat in the microwave.
Freeze: Cut the completely cooled frittata into pieces and individually wrap. Store wrapped pieces in an airtight container and freeze. Thaw overnight in fridge and reheat in microwave.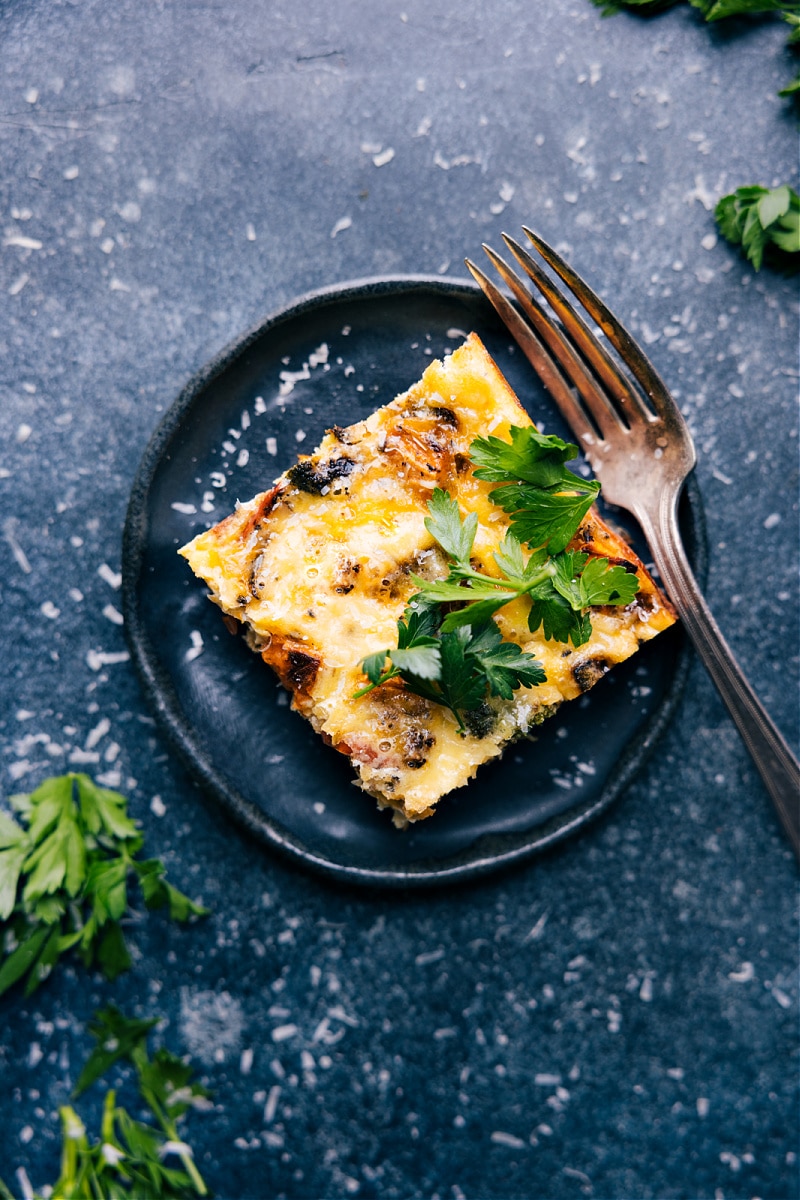 More Breakfast or Brunch Favorites
Frittata
This Vegetable Frittata is our favorite! Packed with veggies, a creamy seasoned egg mixture, plus some cheese, this dish is sure to be a hit for breakfast, brunch, lunch, or any other time of the day!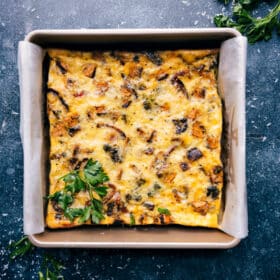 Frittata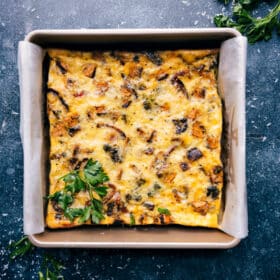 This Vegetable Frittata is our favorite! Packed with veggies, a creamy seasoned egg mixture, plus some cheese, this dish is sure to be a hit for breakfast, brunch, lunch, or any other time of the day!
Instructions
PREP: Preheat the oven to 425 degrees F. Peel and cut sweet potatoes to 3/4-inch thick pieces. Thinly slice red pepper into strips. Chop broccoli into small bite-sized pieces (~3/4 inch). Lightly spray an 8×8-inch pan with cooking spray and then line with parchment paper leaving some as an overhang for easy removal.

ROAST VEGGIES: Add veggies onto an extra-large (15×21-inch) sheet pan. (The veggies need to have plenty of room so they'll roast, not steam.) Add 2 tbsp oil, 1/2 tsp garlic powder, 1/2 tsp onion powder, 1-1/2 tsp Italian seasoning, plus salt & pepper to taste. (I add 3/4 tsp salt & 1/2 tsp pepper). Toss vegetables well to coat and then spread out as much as possible in one even layer. Roast for 20-25 minutes (undisturbed) or until tender and nicely charred. Remove and let slightly cool. Once you remove veggies, reduce oven temp to 350 degrees F.

FRITTATA: In a large bowl, whisk together 4 eggs, 1-1/3 cream, plus salt and pepper to taste. (I add 3/4 teaspoon of each). Briskly whisk until smooth.

LAYER FRITTATA: Add 2/3 of slightly cooled vegetables into the prepared 8×8 pan. Add 1 cup Cheddar cheese, and then pour the egg mixture over top of everything. Add 1 cup Swiss cheese then remaining vegetables on top in an even layer. Tap the pan on a counter to even everything out. Sprinkle 1/3 cup Parmesan evenly over the top.

BAKE: Bake 37-42 minutes or until the center is set and jiggles only slightly. Remove from oven and let cool for 5-10 minutes before using the paper overhang to lift it out of pan and onto a cutting board to cut and serve.

STORAGE: Not serving right away? Transfer to a wire cooling rack and pull out parchment paper from underneath (or it gets soggy). Cut and then store in fridge for 3-5 days or freeze leftover pieces. (Reheat in microwave.)
Recipe Notes
Note 1: Cheese: Grate a block of sharp Cheddar on the large holes and then measure. Pre-grated cheese contains preservatives that keep the shreds from clumping together in the bag, but they also keep the cheese from melting smoothly and will cause a greasy frittata.
Note 2: Parmesan: Store-bought grated Parmesan (in the can) is very salty and won't melt as nicely in this recipe. We highly recommend grating a block of Parmesan cheese on the large holes of the grater.
Nutrition Facts
Serving: 1serving | Calories: 221kcal | Carbohydrates: 9.6g | Protein: 9.9g | Fat: 16.2g | Cholesterol: 98.8mg | Sodium: 181mg | Fiber: 1.7g | Sugar: 2.7g
We do our best to provide accurate nutritional analysis for our recipes. Our nutritional data is calculated using a third-party algorithm and may vary, based on individual cooking styles, measurements, and ingredient sizes. Please use this information for comparison purposes and consult a health professional for nutrition guidance as needed.