Stock up your fridge and pantry with these Homemade Recipe Staples! Why buy it at the store when you can control all the ingredients and make it at home?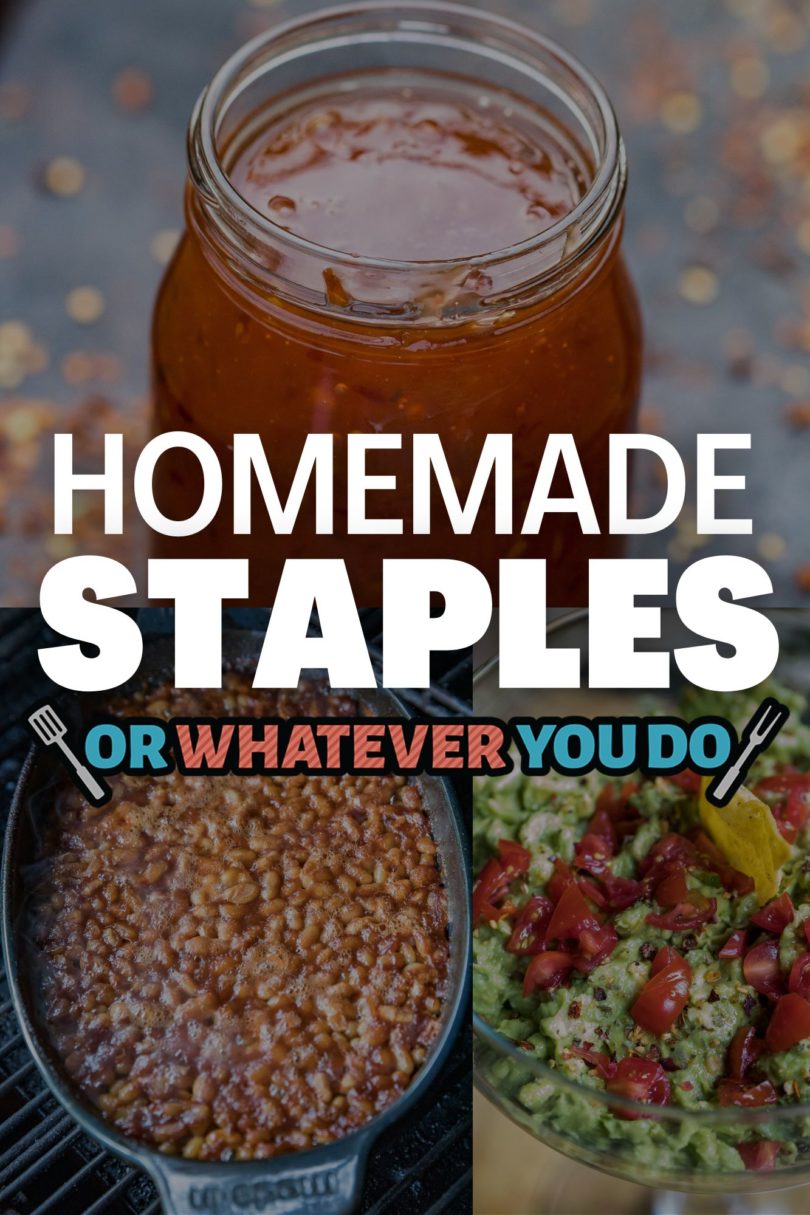 This fresh salad dressing is packed full of flavor and super easy to throw together. Mediterranean Seasoning from Spiceology is the secret ingredient here!
This homemade coffee liqueur is like a kahlua lover's dream. Great for homemade Christmas gifts or thank you presents!
Homemade vanilla sweet cream coffee creamer is simple and contains only 4 ingredients! Make your own and skip all the fake stuff.
This quick and easy pizza sauce gets thrown together in about 15 minutes, uses common ingredients, and is better than anything that comes pre-made. Make it while your dough rises!
Homemade pickled asparagus will keep that fresh asparagus around all year long! Dill and garlic and all the things you love about pickled vegetables.
These homemade coconut shrimp are crunchy and delicious. Quickly fried and then dipped into a sweet chili sauce, you'll love these for dinner or as an appetizer.
Simple and classic sauce that is made with simple ingredients. Serve with fresh oysters.
Pickled Red Onions are simple and super versatile. Use them on a variety of dishes, and keep a jar around in the fridge!
Homemade frozen mudslides are the perfect treat for a hot summer day! Kahlua, Bailey's Irish Cream, and milk or cream make these into a slushy adult milkshake.
Delicious and SIMPLE bacon ranch dip uses packaged ranch dip, thick-cut bacon, and magic. Or something. Because it is amazing.
This fruity red wine sangria is an easy summer drink that also happens to contain a snack! Whip this up the night before you want to drink it so it has time for the flavors to meld.
This homemade creamy caesar salad dressing is savory, delicious, and one of my favorite homemade dressings! Mix some up for your next spaghetti night.
This simple salsa uses almost all canned ingredients, requires no cooking, and is a delicious restaurant-style salsa!
This sweet and bright homemade raspberry jam recipe will have you filling up your cupboards with the summer harvest and eating those berries all winter long!
This homemade tonkotsu pork ramen is going to amaze you when it comes out of your very own kitchen. Rich, delicious, and endlessly customizable.
Flavorful homemade shake and bake you can put on almost anything! Pictures here are some thin-cut pork chops, but try this simple copycat recipe on chicken and fish too.
This homemade cheesy artichoke dip features a crescent sheet crust and crescent rolls and biscuits all around the edges. A homemade artichoke dip and copious amounts of cheese make this a must-have dip for any of your upcoming gatherings.
Easy shelf-stable dry pancake mix, all made at home! All you need is an egg, some water, and some oil and you've got the fluffiest diner-style pancakes that will ever come off of your stove.
A homemade version of my favorite Thai Sweet Chili Sauce! Only 5 ingredients and you can have the best tasting homemade sweet chili sauce, EVER.
Homemade Noodles, made from scratch with just 3 ingredients!
Homemade Apple Fritters are a Sunday morning's best friend. These homemade fried donuts are easy to whip together, and taste amazing.
Homemade Sweet Tea Vodka is a simple 3 ingredient concoction that is way better than what you'll buy in the store, and so customizable!
This fresh and creamy tartar sauce is homemade with ingredients you probably have in your house already. A great condiment for beer-battered fish, or whatever you like to dip into it!
This homemade Smoked Top Round Beef Jerky is smoked low and slow on a pellet grill after being marinated overnight to make one of the best jerky recipes you'll ever have.
Fresh peach salsa is bright with a touch of heat and ALL the flavor. Perfect for topping fresh fish tacos, or diving into with tortilla chips!
Fresh, ripe strawberries and mixed with simple ingredients to make a bright and flavorful salsa!
Delicious steak marinade takes your steak and turns it into something amazing.
Homemade bleu cheese dressing full of crispy Kurobuta bacon! This is simple to whip up and keep in the fridge and so much better than the bottled variety!
Homemade Buffalo sauce made with Old Bay Buffalo Sauce! Homemade buffalo sauce has never been easier, and you're going to love the kick from the Old Bay!
Make homemade English Muffins right in the comfort of your own kitchen! Use the Blackstone for the best results, but if you don't have one a cast iron pan works really well too!
Homemade sub buns, aka hoagie rolls, aka French rolls, or whatever you want to call them, are such a treat! This recipe makes about a dozen buns, depending on how big you make them.
Homemade Smoked Baked Beans are a tangy, delicious side dish for any table! You're going to want to make extras because people are going to want to take home these leftovers!
Skip the pre-made coleslaw dressing and mix up a batch of your own! This coleslaw is tangy, sweet, and if you are smart it'll have a kick of horseradish in it too.
This simple guacamole recipe packs a whole lot of flavor! Make it right before your guests arrive and make sure to bring extra chips!
This classic potato salad recipe is simple, and my favorite version of the ever-popular salad made from potatoes!
This simple homemade taco seasoning is great to keep around the house for use in your favorite tacos, or in soups, stews, or casseroles.