Learn How to Bake Salmon that's flaky and buttery every time! Salmon filets are lightly seasoned before going into the oven for less than 15 minutes. It's the best foolproof and healthy weeknight dinner!
There's no argument here: salmon is the ultimate protein! It's light, healthy, and the buttery flavor is out of this world.
Plus, it's easy to cook in any way you can imagine. Season the salmon filets and finish them in the Instant Pot, sous vide, frying pan, or oven.
If you're looking for one of the most foolproof methods, stick to oven baked salmon recipes. All you need are enough salmon filets to feed the family, simple seasonings, and a little oil, then the oven works its magic for about 15 minutes.
In the end, the baked salmon turns out beautifully pink, flaky, and with a slightly crispy skin.
Drizzle a flavorful sauce on top, pour yourself a glass of wine, and pair the filets with more healthy sides. Once you learn how to bake salmon, you'll be making it every week!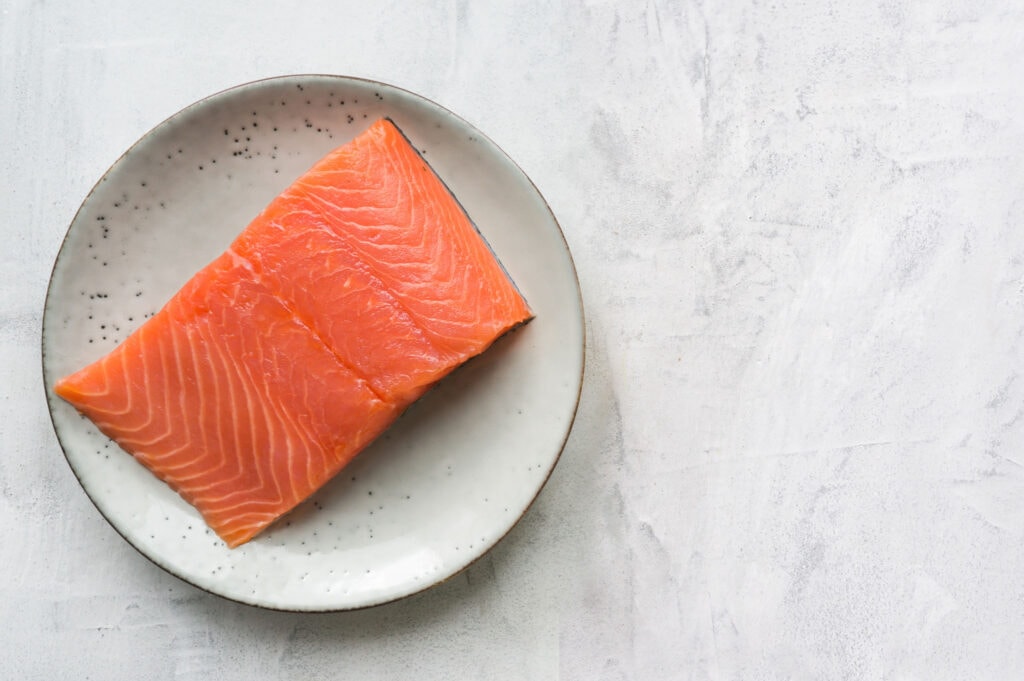 🛒 What to look for when shopping for salmon
For this recipe, you'll need boneless, skin-on, and center-cut salmon filets. This is what you need to look for when out shopping:
The look and smell: The best salmon filets will be a vibrant orange-red color, look moist rather than dried out, and not have any brown discolorations. It shouldn't smell overly fishy, either. If the salmon smells like the sea, you're good to go.
Frozen or fresh: Both work when baking salmon in the oven and one isn't really better than the other.
Farmed vs. wild-caught salmon: Farmed salmon is typically more budget-friendly, but not as sustainable as wild-caught. I recommend using wild-caught Pacific or Atlantic salmon.
🕕 How to bake salmon in the oven
To begin, season the flesh on each filet with olive oil and a sprinkle of salt and pepper. Arrange them skin side down on a baking sheet. 
Bake until they're cooked through and the meat flakes easily when a fork is run over it. Serve and enjoy!
ℹ️ FAQs
At what temperature should you bake salmon?
425ºF is the best temperature for baked salmon because it cooks the filets quickly and crisps the skin. You can lower the temperature to 400ºF if you're worried about overcooking the salmon or even to 350ºF for 20 to 25 minutes for a more gentle approach.
You can also slow roast the salmon at 275ºF for about 30 minutes. It takes longer but produces the softest result according to Food52.
How long do you bake salmon?
When baked at 425ºF, the filets should only take 12 to 15 minutes to cook. This time may depend on the thickness of your filets, so stick to this rule by The Kitchn: Bake for 4 to 6 minutes for every half-inch of thickness.
Skin or no skin?
You can leave the salmon skin on or off. It doesn't crisp in the oven as much as the pan-fried method but still has a nice flavor.
How do you know when salmon is done baking?
Salmon is safe to eat when it's between 120ºF to 125ºF on a meat thermometer, which is a perfect medium. If you don't have a thermometer, press the filet gently with a fork. The flesh should flake really easily if it's done.
🌟 More ways to season salmon
Besides this list of sauces that all pair perfectly with salmon, you can season the filets with all kinds of simple, pantry-staple seasonings. Sprinkle any of these suggestions along with a little olive oil on the fish before it goes into the oven:
🍴 Serving suggestions
Pair the baked salmon filets with these 45+ Sides for Salmon or use these suggestions instead:
🍷 Wine pairings for baked salmon
The best wines to pair with salmon will vary based on the way it's cooked. Any of these pairings will compliment roasted salmon beautifully:
Buttery baked salmon is extra delicious when paired with a bright and acidic wine like a Sauvignon Blanc.
Did you dress the salmon in this lemon butter sauce? Then pair it with a rich Chardonnay or Pinot Grigio.
And yes, red wine does pair well with salmon. Stick to a lighter-bodied red, like Pinot Noir.
​​Did you make this oven baked salmon?
If you made this baked salmon recipe, I would appreciate it so much if you would give it a star review! Also, be sure to snap a picture of your finished dish and share it with me on Instagram using the hashtag #platingsandpairings and tagging me @platingsandpairings.
For more great Platings and Pairings recipes, be sure to follow me on Instagram, TikTok, Pinterest and Facebook.
📋 More salmon recipes
Note: This recipe will also work with trout. Learn more about trout vs. salmon here.
4

salmon filets

(about 6 oz. each)

2

Tablespoons

extra virgin olive oil

Kosher salt + pepper

(to taste)
Preheat your oven to 425 degrees.

Drizzle salmon filets with olive oil and sprinkle with salt and pepper.

Arrange salmon on a baking sheet, skin side down, and bake for 12-15 minutes, until salmon is cooked through and flakes easily with a fork.
Salmon is safe to eat when it's between 120ºF to 125ºF on a meat thermometer, which is a perfect medium. If you don't have a thermometer, press the filet gently with a fork. The flesh should flake really easily if it's done.
Calories: 303kcal | Protein: 34g | Fat: 18g | Saturated Fat: 3g | Polyunsaturated Fat: 5g | Monounsaturated Fat: 9g | Cholesterol: 94mg | Sodium: 75mg | Potassium: 833mg | Vitamin A: 68IU | Calcium: 20mg | Iron: 1mg