This quick Vegan Curry is packed with amazing flavors and nutritious ingredients– from the red pepper and coconut curry sauce to the plethora of veggies! This curry can be ready in about 30 minutes or less and is sure to be a hit with the whole family!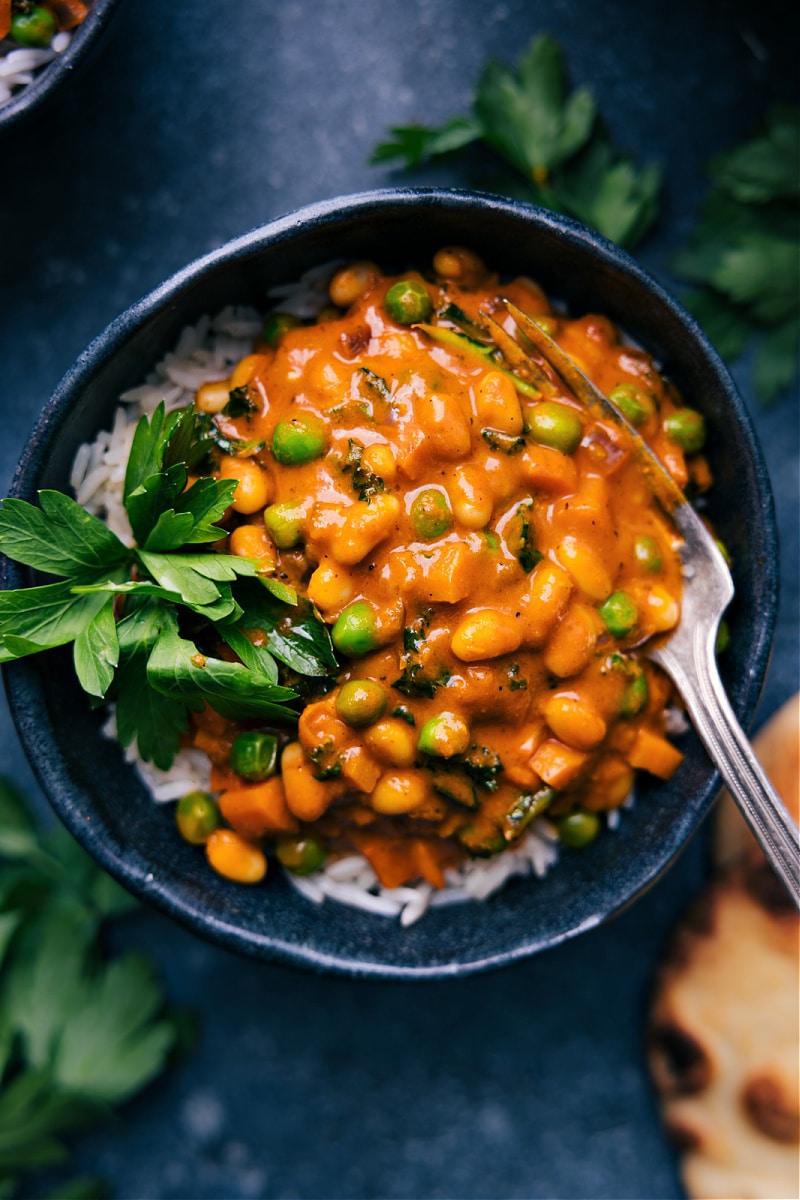 This Vegan Curry recipe is part of our Back-To-School Lifesavers — a series of recipes that are intended to have little (or no) veggie chopping, minimal prep time, around 10 ingredients, or less (not including pantry staples), and use kid-friendly ingredients. Click here to see all the recipes in the series!
An Easy Vegan Curry
This curry is such a fun recipe to have in this series because instead of relying on curry paste to do the majority of the flavoring, it's all about the sauce in this recipe!
The "secret" to this curry sauce is the combination of coconut milk with roasted red peppers. With only one ingredient — the red peppers – we're adding loads of flavor, boosting the nutrition, and adding color to this curry. It's such a fun and unique recipe that is also easy to prepare.
Plus another bonus — it's a great make-ahead meal or meal prep option. Curries only get more flavorful as they sit, so if you make a big batch of this at the beginning of the week, you'll be rewarded all week long! This is the best recipe to have in your fridge ready to go when hunger strikes!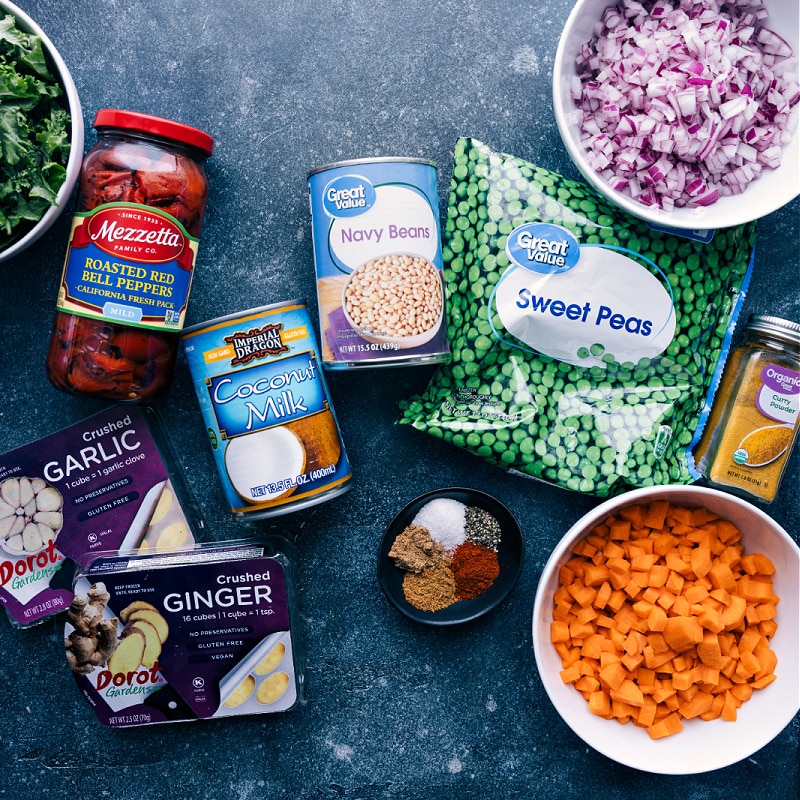 What Can I Put In A Curry Instead Of Meat?
This curry is very satiating and packed with plant-based protein without any meat! Instead of meat, we rely on loads of veggies plus white navy beans to make up the bulk of this curry.
Other ingredients you could add include tofu, seitan, tempeh, lentils, potatoes, cauliflower, and sweet potatoes (try this vegan curry with sweet potato).
QUICK TIP
Not sure about navy beans? Try a vegan curry chickpea dish instead. Simply replace navy beans with chickpeas (or try this vegan chickpea curry)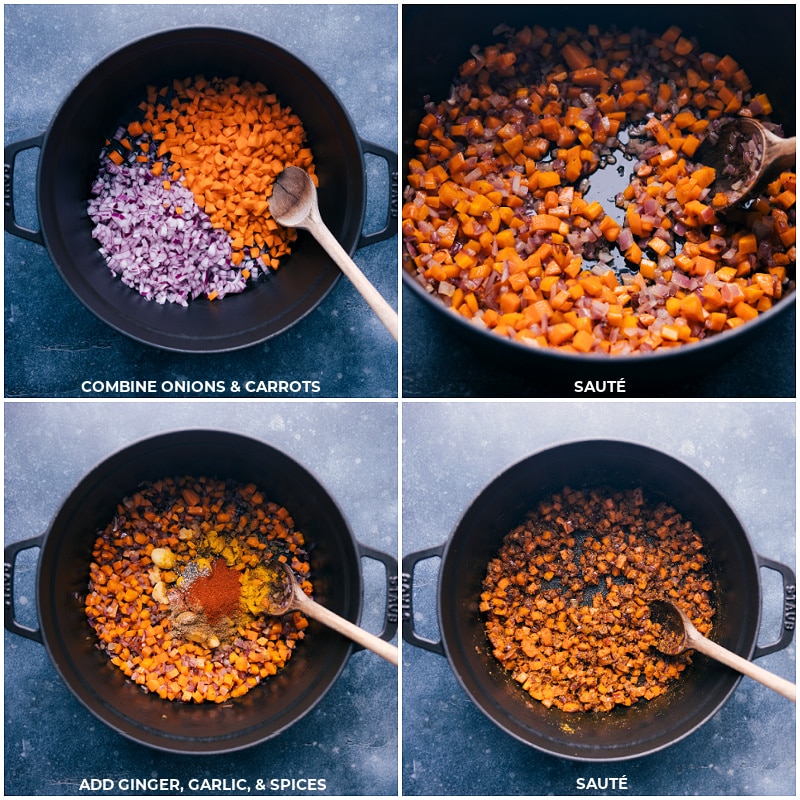 SHORTCUTS
What Is A Vegan Curry Made Of?
Here's a quick overview of the ingredients in this curry where we employ some shortcuts.
Roasted red peppers: while you can roast your own red peppers, buying them pre-roasted is a major time saver. Here's what we choose.
Pre-diced onions. Most grocery stores sell diced yellow onions in the produce section of the store. Alternatively, frozen diced onions are often found by the other frozen veggies and can be used in this recipe. Or, use a food processor to quickly chop an onion.
There are two options for quick garlic and ginger. We love Dorot® cubes which have crushed garlic and crushed ginger that you can keep handy in the freezer and pop into this (and other) recipes when needed. (Check if your local store carries them; they're typically found with frozen veggies in the grocery store.) Another option is to use refrigerated garlic paste and refrigerated minced garlic. 
Frozen veggies: Grabbing frozen peas is quick and convenient!
Already chopped greens: Whether you're using kale or spinach, grab greens that are already prepared (washed and cut) so you just add them in!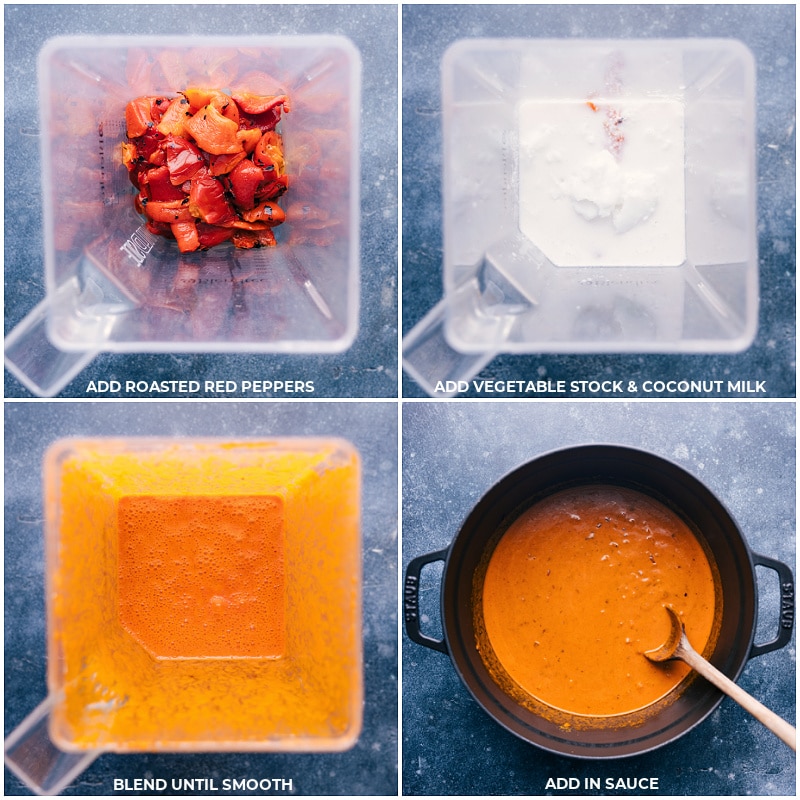 Can Vegans Eat Curry Paste?
Most store-bought curry pastes contain fish sauce so it can be difficult to find a vegan option. And while making your own curry paste isn't too much work, it does still take time and requires extra ingredients. So this is why we created this recipe without a curry paste. Instead, we're combining a few spectacular spices and creating a quick curry sauce using roasted red peppers and coconut milk.
Can Vegans Have Coconut Milk?
Yes! There are no animal products in coconut milk. In fact, this Vegan Curry is made with coconut milk!
Coconut milk is a dairy-free milk made from the pulp, flesh, or meat of a coconut. Coconut and water are blended and then strained. The liquid is referred to as coconut milk and sometimes contains additional ingredients.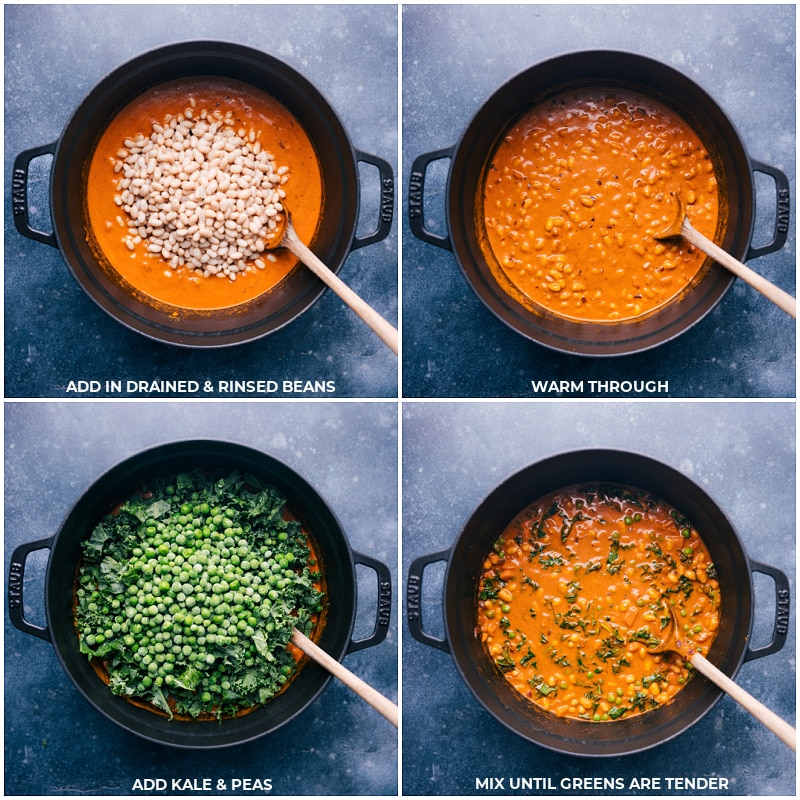 This curry comes together so quickly that we don't want to be spending loads of time on the sides, right?! Here are some suggestions.
Vegan Curry Sides
When we make this recipe, we generally serve it with rice and naan. Since there are veggies, proteins, and good-for-you fats in the curry, it's a well-balanced meal on its own, so there isn't a need for much else! So, in true "back-to-school recipe lifesavers" fashion, the sides need to be just as easy. Here are our "secrets" to the quickest sides:
Toaster naan. Store-bought naan is definitely best warmed through, but instead of taking the time to char it over an open flame, just throw it in the toaster right as you're finishing the curry. You can purchase smaller-sized naan that fits in the toaster perfectly. (Stonefire® makes this; it's usually labeled as mini naan.)
Boiled rice. If you haven't boiled rice before, you are going to be thrilled with the ease and speed. All you'll need to do is stir some rice into boiling water, boil for 5-7 minutes, and voila — perfect rice! Want to save even more time (and dishes?) grab ready/microwaveable basmati rice instead!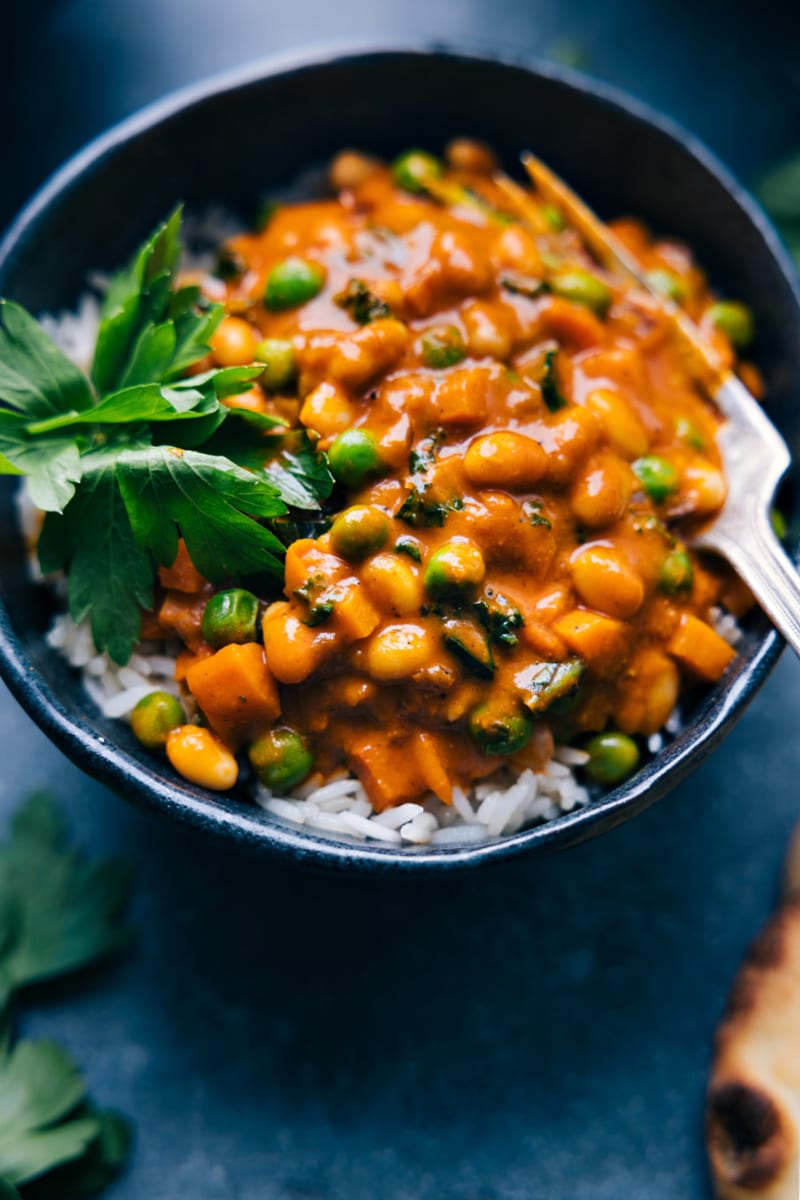 QUICK TIP
As written, this Vegan Curry is very mild (all my kids loved it!). It's more on the sweet side with the peppers and coconut milk. If you'd prefer more spice, add in some red pepper flakes or ground cayenne pepper (a little goes a long way)!
More Vegan Favorites:
Vegan Curry
This Quick Vegan Curry is packed with amazing flavors and nutritious ingredients– from the red pepper and coconut curry sauce to the plethora of veggies! This curry can be ready in about 30 minutes or less and is sure to be a hit with the whole family!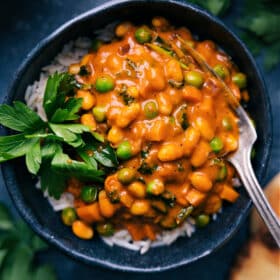 Vegan Curry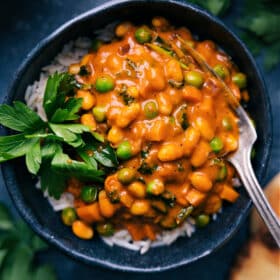 This Quick Vegan Curry is packed with amazing flavors and nutritious ingredients– from the red pepper and coconut curry sauce to the plethora of veggies! This curry can be ready in about 30 minutes or less and is sure to be a hit with the whole family!
Instructions
BLEND: Drain red peppers and add to blender with the entire can of coconut milk and 1 cup vegetable stock. Blend until smooth. Meanwhile, add onion, and carrots to a food processor and pulse to finely chop.

CURRY: Add coconut oil to a large cast iron pot and melt over medium-high heat. Add onion and carrots, and sauté, stirring frequently for 6-8 minutes. Add in ginger, garlic, curry powder, paprika, cumin, and coriander. Season to taste with salt (I add 1 tsp salt & 1/4 tsp pepper). Mix until fragrant, 2-4 more minutes. Pour in the sauce and mix, scraping the bottom of the pot to release any browned bits. Add in the drained beans and mix through to warm, 2 minutes.

FINISH CURRY: Add in peas and kale or spinach. Mix to warm through and wilt greens, about 3-5 minutes. Remove from heat and if desired, add some lemon zest and juice (I add 1/2 tsp zest and 1-2 tbsp juice) plus some fresh parsley (2-4 tbsp.). Taste and add additional seasoning as needed. Remove and serve with naan and over rice if desired (Note 1).
Recipe Notes
Note 1: Side dishes: To keep the sides as simple as possible, use mini naan that you can simply pop in the toaster to warm through. For rice, use ready/microwaveable basmati rice for quickest prep! OR here's the quickest/easiest way to get perfect basmati rice. (This only works for basmati rice!)
Fill a large pot with water and set it to boil.
Once the water is at a rolling boil, salt the water and add in rice.
Cook without reducing the heat, for 6 minutes (taste test to ensure it is tender) and then drain and fluff with a fork. Easy!
Nutrition Facts
Serving: 1serving | Calories: 840kcal | Carbohydrates: 110g | Protein: 34g | Fat: 34g | Saturated Fat: 27g | Polyunsaturated Fat: 3g | Monounsaturated Fat: 2g | Sodium: 1886mg | Potassium: 2158mg | Fiber: 42g | Sugar: 6g | Vitamin A: 18166IU | Vitamin C: 115mg | Calcium: 459mg | Iron: 13mg
We do our best to provide accurate nutritional analysis for our recipes. Our nutritional data is calculated using a third-party algorithm and may vary, based on individual cooking styles, measurements, and ingredient sizes. Please use this information for comparison purposes and consult a health professional for nutrition guidance as needed.