Starbucks Medicine Ball aka Honey Citrus Mint Tea is a delicious hot drink to enjoy on a cold day. This tasty hot tea drink has honey, citrus, peach, and mint flavors. It's also known as a cold buster and great to sip on when you're not feeling good or have a sore throat.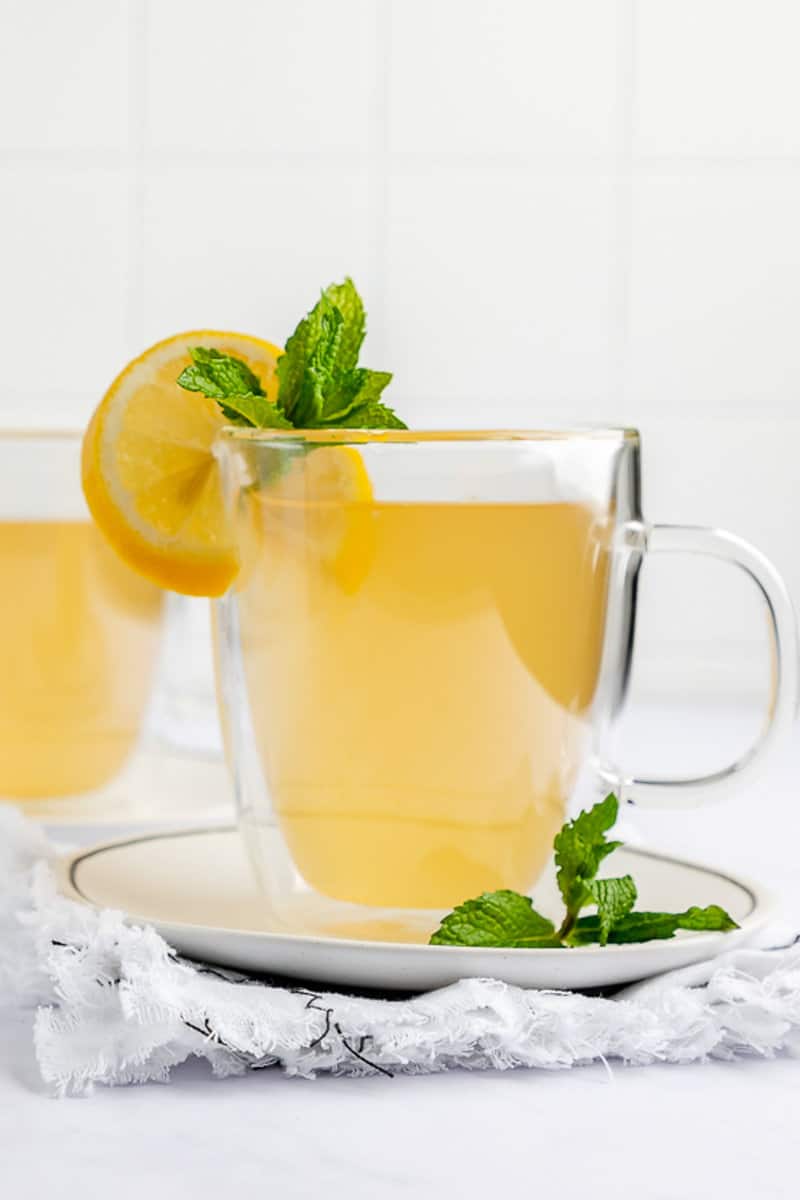 This post contains affiliate links. As an Amazon Associate, I earn from qualifying purchases.
What Makes the Starbucks Medicine Ball One of the Most Comforting Hot Teas for When You Are Sick 
Being sick is no fun. When you're ill enough, you'll try anything to feel better, whatever the taste. Well, the next time you're feeling under the weather, try this Starbucks Medicine Ball recipe, and you won't need to sacrifice flavor for relief. 
So, what is a medicine ball from Starbucks? Think of it as honey citrus mint tea taken to the next level. The ingredients in a Medicine Ball include two of the most popular Teavana teas, real honey, and hot lemonade.
Medicine Ball is one of Starbucks secret menu items. The official menu name for it is Honey Citrus Mint Tea.
The drink's vitamin C, mint, and chamomile help relieve even the scratchiest throat or the most stubborn cough. 
What Makes This a Great Recipe for You To Use 
Although you won't find Medicine Ball listed on every Starbucks menu, you can make it at home with just a few ingredients. If you can brew tea, you can whip up this drink in under five minutes and for a fraction of the price you would pay in the cafe.
You don't need to wait until you feel sick to make this delicious drink. Starbucks Medicine Ball tea is a perfect alternative to coffee for an afternoon pick-me-up. 
What's in a Starbucks Medicine Ball?
To recreate the Medicine Ball Starbucks serves, you'll need:
Water
Jade Citrus Mint Green Tea
Peach Tranquility Tea
Honey
Lemonade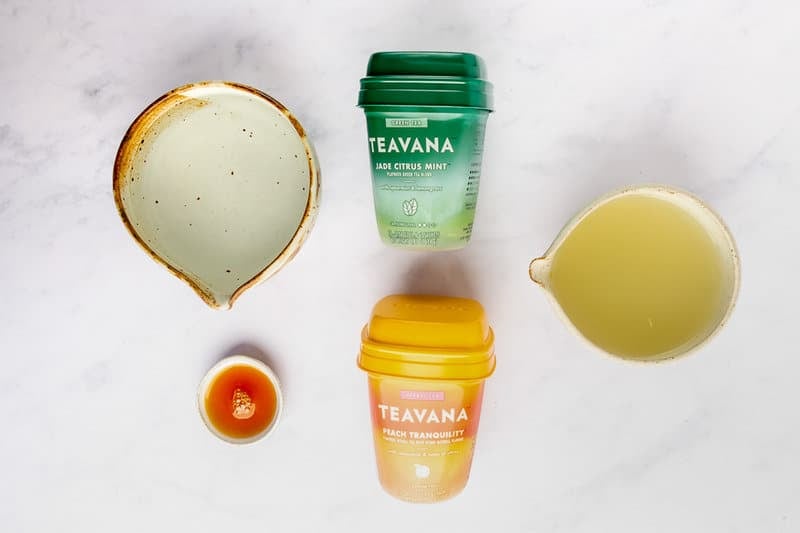 Ingredient Notes
Jade Citrus Mint Tea from Teavana is a green tea with lemon verbena, lemongrass, and spearmint. This unique blend is sometimes difficult to find, but you can use another brand of green tea with lemongrass and lemon verbena, Check out the section below for a decent substitute.  
Peach Tranquility Tea is also from Teavana. It is a herbal tea made from peach, apple, tropical pineapple, chamomile flowers, chamomile pollen, rose hips, and herbs with distinctive citrus notes from lemon verbena. Peach Tranquility Tea is different from other peach teas out there, so it is best to use the real deal, but if you can't find it, check below for a suitable replacement.
Honey has antimicrobial properties and has been used in traditional medicine for ages.
Fresh lemonade is best in this recipe. Use your favorite recipe or try making Chick-fil-A's famous lemonade. 
How To Make a Medicine Ball Tea From Starbucks 
To prepare this copycat Starbucks medicine ball recipe:
Boil the water in a medium sauce over high heat.
Turn off the heat and add the Jade Citrus Mint tea bag and Peach Tranquility Herbal tea bag to the hot water. 
Brew the teas for a minute and a half, and then discard the bags.
Stir the honey into the tea.
Add the lemonade to the saucepan, and heat over a medium-low burner until hot. 
Pour the Medicine Ball into two large mugs and garnish with lemon wheels and fresh mint, if desired.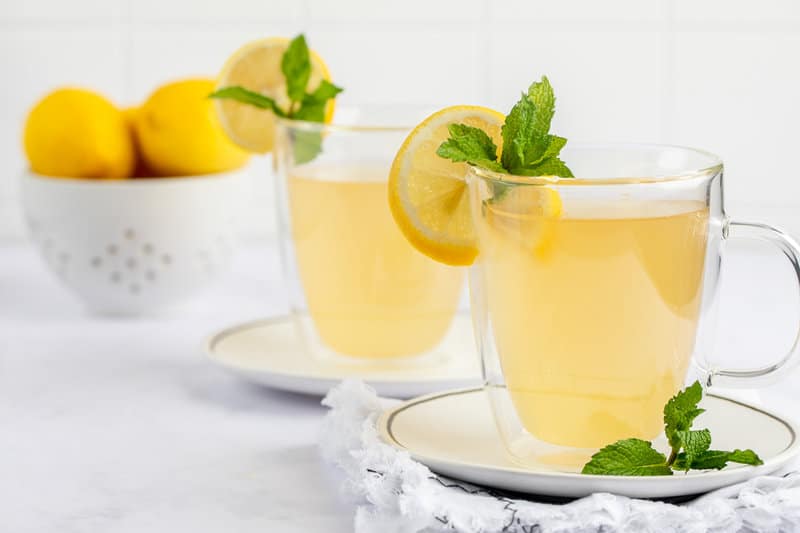 What Can Use if You Can't Find Teavana Tea 
Teavana isn't available everywhere, and even when you can find it, some stores are out of the flavors you want. If your local stores are out of Jade Citrus Mint Tea or Peach Tranquility Tea, you will usually have better luck online.
However, if you need an alternative to the Jade Citrus Mint Tea, you can try Wissotzky Tea and add a few fresh mint leaves or a couple of drops of spearmint extract.
Finding a substitute to match the complex flavors in Peach Tranquility Tea is a little tricker. Although it is not a perfect match, you can try Celestial Seasoning's Country Peach Passion in a pinch. 
What Goes With a Starbucks Medicine Ball?
It is best to sip a Medicine Ball without any side dish. However, if you need a nibble, something a bit plain with a hint of sweetness is preferable. Perhaps try pairing the beverage with a digestive or shortbread cookie.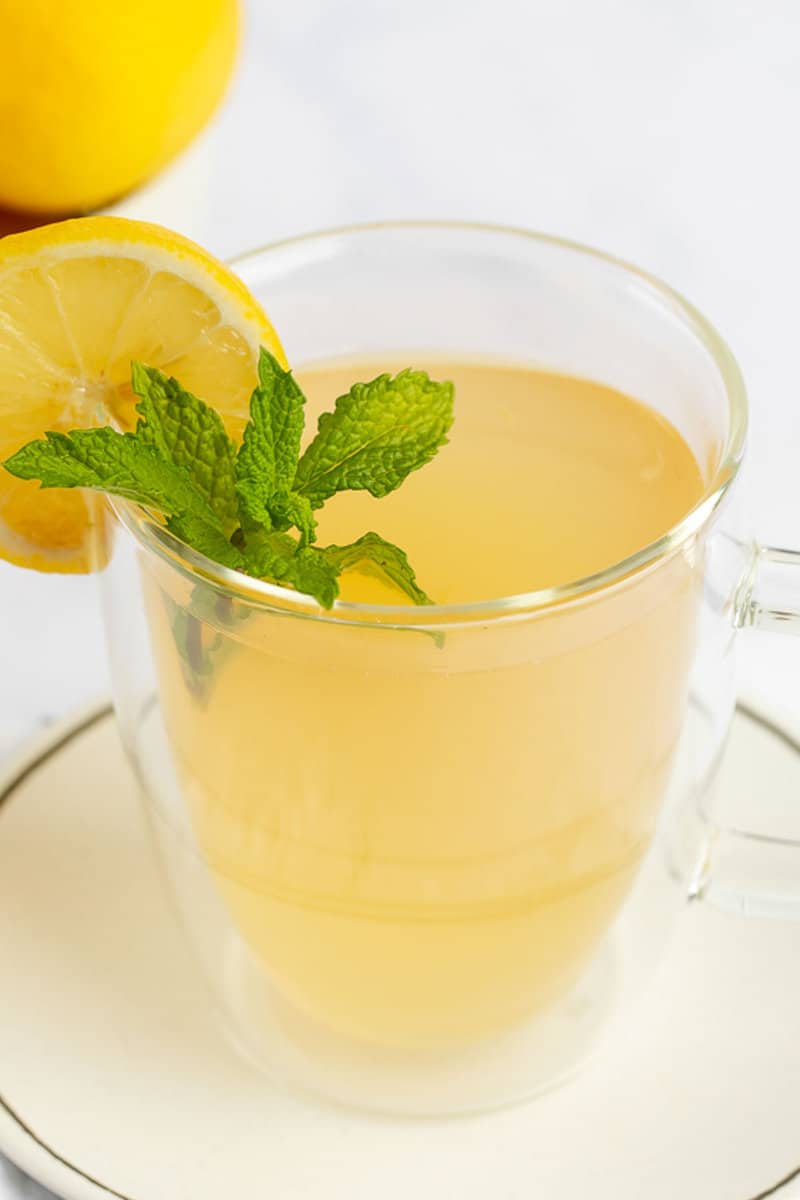 Favorite Starbucks Hot Drinks
Popular Starbucks Food Recipes
Check out more of my easy drink recipes and the best copycat Starbucks recipes on CopyKat!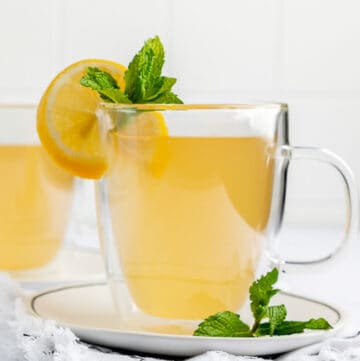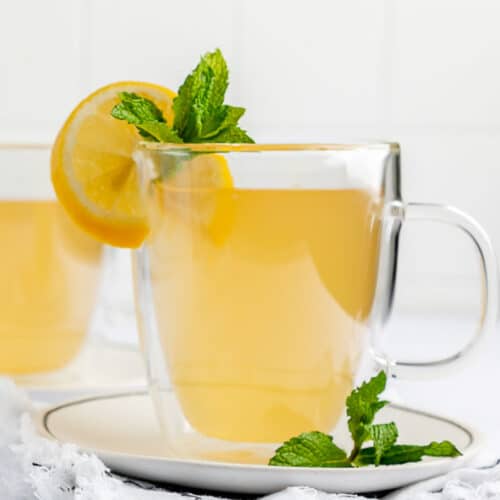 Starbucks Medicine Ball
You can make Starbucks Medicine Ball aka Honey Citrus Mint Tea at home with this easy copycat recipe.
Print
Pin
Rate
Add to Collection Go to Collections
Servings: 1
Calories: 246kcal
Ingredients
2

cups

water

1

sachet

Teavana Jade Citrus Mint tea

1

sachet

Teavana Peach Tranquility tea

1

tablespoon

honey

1½

cups

lemonade

1

sprig

fresh mint

optional garnish

1

slice

lemon

optional ganish
Instructions
Bring the water to a boil in a saucepan. Turn off the heat and place both tea sachets into the saucepan. Allow the tea to steep for 90 seconds. Remove the tea sachets.

Add the honey and stir until it dissolves.

Add the lemonade.

Warm the tea and lemonade on low for about 1 minute.
Nutrition
Calories: 246kcal | Carbohydrates: 63g | Protein: 0.2g | Fat: 0.03g | Polyunsaturated Fat: 0.02g | Sodium: 47mg | Potassium: 27mg | Fiber: 0.3g | Sugar: 59g | Vitamin A: 44IU | Vitamin C: 4mg | Calcium: 20mg | Iron: 0.2mg