Indulgent Sweet Potato Pasta with roasted and seasoned sweet potatoes, onions, and chicken sausage. The pasta and veggies are tossed in an unforgettable creamy goat cheese sauce and topped with Parmesan.

What To Expect With This Sweet Potato Pasta Recipe
It's no secret we're completely obsessed with Roasted Sweet Potatoes — and so many of you feel similarly. (That recipe has nearly 5 stars from over 230 reviewers!)
In fact, we love roasted sweet potatoes so much we've thrown them in these Kidney Bean Bowls, Roasted Sweet Potato Salad, and these popular Sweet Potato Burrito Bowls. So why not add them to a creamy pasta dish?! And I'm so glad I did because this might be my personal favorite pasta dish ever (although it does have some good competition with this Sausage Rigatoni!!)
One reason so many people love it is because the base is made primarily with goat cheese. I'm a huge goat cheese fan and the more ways to eat it, the better. That said, if you don't love goat cheese, you probably won't be the biggest fan of this recipe. Instead, I'd recommend trying this Butternut Squash Pasta and swapping the squash for sweet potatoes.
Beyond the goat cheese, there is a little cream to balance out the sauce and veggies to bulk out this dish and amp up the nutrition — onions, garlic, and spinach! For additional protein, we throw in some roasted chicken sausage, and not only is it a great textural add, but the flavors are also such a great complement to the pasta and sweet potatoes!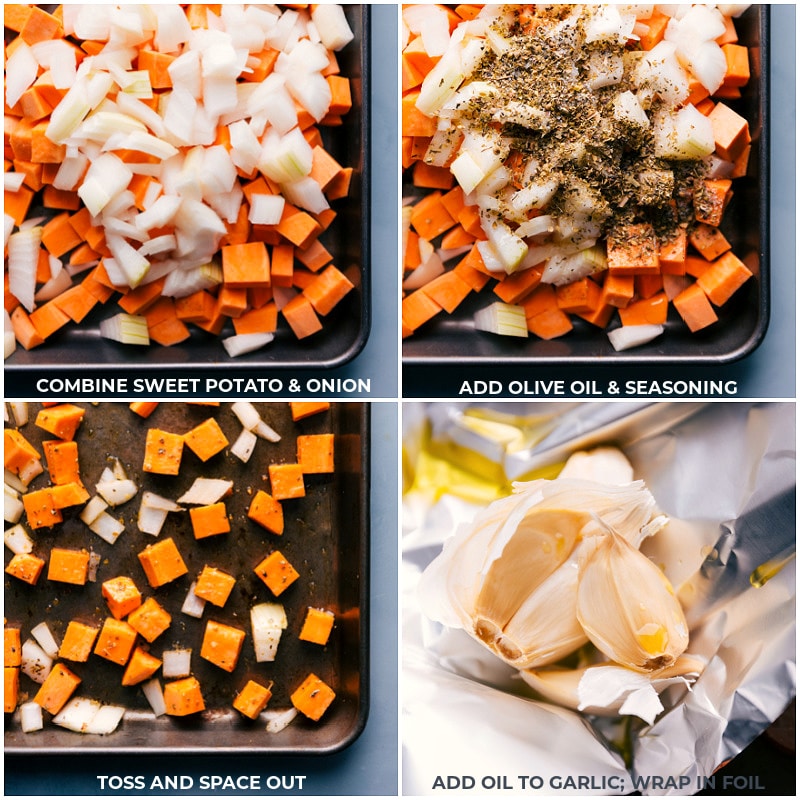 Roasting The Veggies and Sausage
While we're boiling the pasta, the veggies and sausage are roasting. This seasoned sweet potato, onion, garlic, and sausage mixture is so tasty — the veggies develop crisp and caramelized edges with soft interiors. Below are a few tips for this portion of the recipe.
Any smoked sausage will work in this recipe. We personally love Aidells® Italian or Chicken & Apple Sausage best (either flavor pairs nicely).
When cutting the sweet potatoes and onions, aim for equal 1/2-inch pieces to promote even roasting and ensure both are roasted in a timely manner.
Wrap the garlic in foil (just like we do in our Tomato Basil Soup) to ensure perfectly roasted garlic without it burning! 
Use a very large sheet pan: The more space the veggies and sausage have (the less crowded they are) the better they roast. When vegetables are overlapping on a sheet pan, they end up steaming instead of roasting. This definitely affects the end taste and texture. Also, note that cook time changes quite a bit (it's much longer) when the veggies are overlapping or don't have enough space. (See "quick tip" box below.)
QUICK TIP
We use (and love) this 15×21-inch sheet pan – which gives everything plenty of room to get nice and evenly roasted.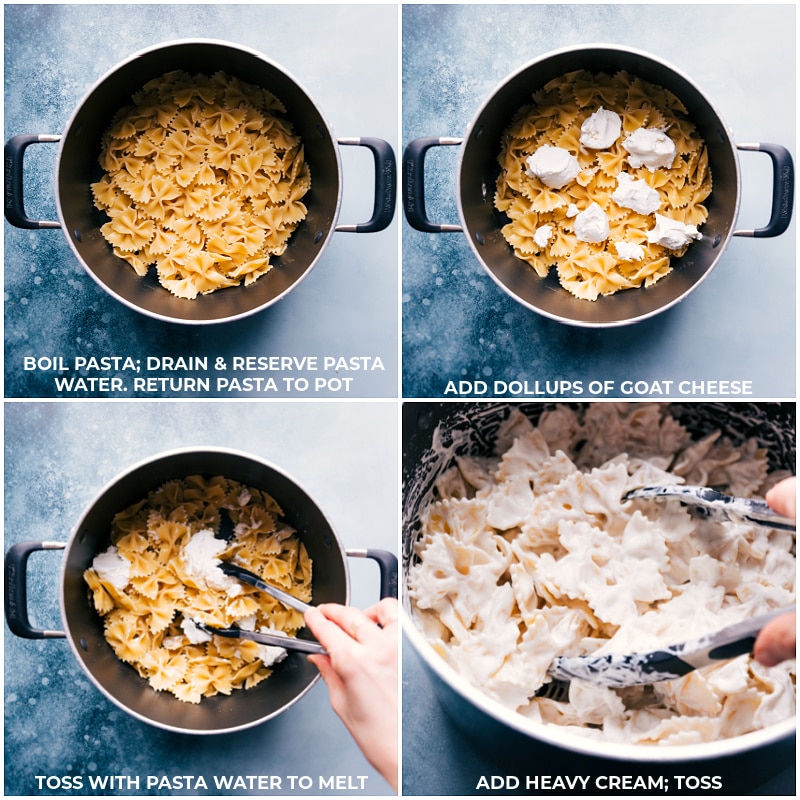 Sweet Potato Pasta Sauce
This Sweet Potato Pasta with garlic cream sauce is divine! As mentioned, goat cheese is the star of the show here, and it's the prime ingredient in the sauce. We also add in a little heavy cream and then lots of pasta water– the glue that holds everything together and seasons the dish nicely. Finally, we add in some garlic. Let's go into more depth on the sauce ingredients:
Goat cheese: We're looking for a log of goat cheese, not the crumbles for this recipe.
Heavy cream: Don't swap out the heavy cream in this recipe, because it adds such an incredible richness and thickness to the sauce — it's a key ingredient!
Pasta water: Before draining the pasta, pull out some of the water surrounding the pasta. This is called pasta water and while it looks a bit murky and less than appetizing, it's filled with leftover starch from the boiling pasta. It's also got plenty of salt. Once you combine that water with a fat (the goat cheese and cream) the ingredients can emulsify (blend together) to create a perfectly creamy and smooth sauce.
Garlic: The garlic is roasted with the veggies and then you can smash it into a paste or press it through a garlic press to add to the sauce– add as much or as little as you'd like! We love four full cloves best!
QUICK TIP
Tossing the hot pasta, goat cheese, cream, and reserved pasta water is one of the "secrets" to Italian pasta. It's called emulsifying and that's how you get a luxuriously smooth and incredibly flavorful sauce.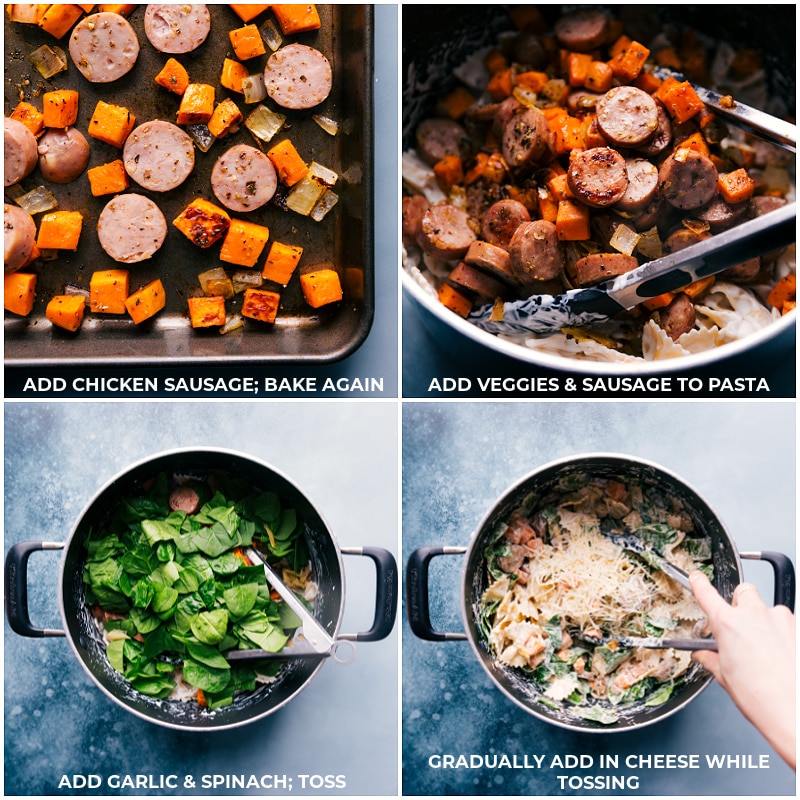 How To Make Sweet Potato Pasta 
Our top tips for this recipe:
Use 12 ounces bowtie/farfalle pasta. Some boxes at the grocery store are 12 ounces and some are 16. Be sure to check the size and use only 12 ounces for the best pasta-to-sauce ratio.
Salt the pasta water: Make sure the pasta is well salted as it cooks, since salting the water is the only chance you have to season the actual pasta and ensure the pasta water is sufficiently flavorful.
Add fresh basil. Although basil isn't as readily available in the winter as it is in the summer, I've never had a problem finding a packet or plant at my local grocery store. The basil really elevates the flavor of this recipe. That said, if you really don't love basil, it is still tasty without it!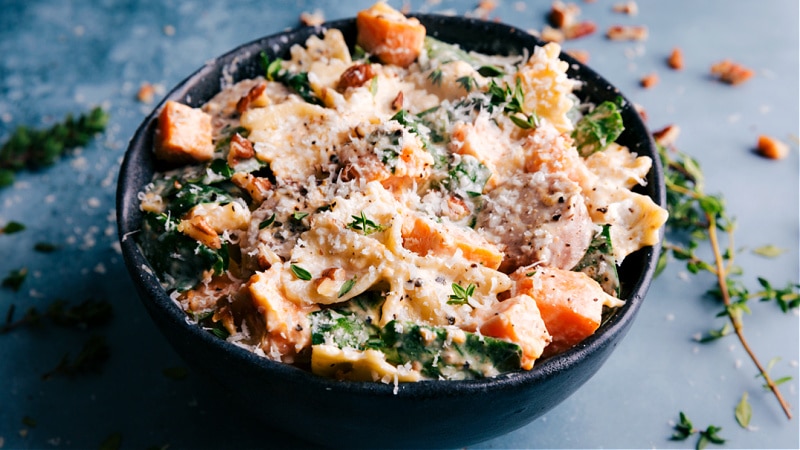 QUICK TIP
If you're like me, it's easy to forget to save some pasta cooking water when you drain the pasta. Here's a memory booster: Set a colander in the sink for draining the pasta. Then, take a one-cup measuring cup and put it in the colander. When it's time to dump the pasta and water into the colander, you'll see the measuring cup and remember to scoop out enough for the sweet potato pasta sauce.
More Sweet Potato Recipes
Sweet Potato Pasta
An indulgent Sweet Potato Pasta with roasted and seasoned sweet potatoes, onions, and chicken sausage. The pasta and veggies are tossed in an unforgettable creamy goat cheese sauce and topped with Parmesan.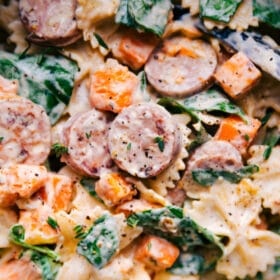 Sweet Potato Pasta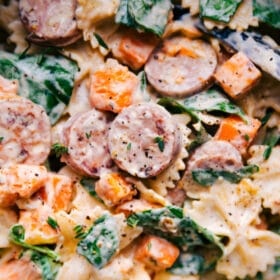 An indulgent Sweet Potato Pasta with roasted and seasoned sweet potatoes, onions, and chicken sausage. The pasta and veggies are tossed in an unforgettable creamy goat cheese sauce and topped with Parmesan.
Instructions
PREP: Preheat the oven to 425 degrees F. Peel and chop the sweet potato into small cubes (1/2 inch). Cut the onion into 1/2 inch cubes. Important to chop these small for roasting time! Slice chicken sausage into 1/2-inch thick rounds.

ROAST VEGGIES: Add 4 cloves of garlic (still in the papery skins) to a small square of foil. Add 1/2 teaspoon of olive oil to the square of foil and wrap up the cloves into the foil making a small ball. Add to an extra-large sheet pan. Add the sweet potato cubes, onion cubes, remaining olive oil (2 tablespoons and 2 & 1/2 teaspoons, 38g), 2 teaspoons Italian seasoning, salt (I add 1/2 teaspoon), and pepper (I add 1/4 teaspoon) to the pan. Toss to combine, space out on sheet pan, and then bake for 15 minutes. Remove the tray and add on the thinly sliced chicken sausage. Toss to combine with the veggies and bake another 10-15 minutes or until veggies are tender (See Note 5). Remove and set aside to slightly cool.

PASTA: Heads up: we're going to save some pasta water. While veggies are roasting, bring a large pot of water to a boil over high heat. Add 1 tablespoon fine sea salt and then the pasta. Cook one minute short of directions on the package. Before draining, use a glass measuring cup to remove about 2 cups of the pasta water and set aside. Drain the pasta and then return it to the pot.

TOSS WITH CHEESE: Dollup spoonfuls of the goat cheese over the hot drained pasta and slowly add in the pasta water, about 1/4 cup at a time while tossing vigorously with tongs or two wooden spoons to get the cheese to melt and adhere to the pasta– creating a creamy sauce. (I usually add 1/2 cup pasta water to get to this point.) Add in the heavy cream. Continue to toss with the two wooden spoons until pasta is well coated and creamy.

TOSS WITH REMAINING INGREDIENTS: Add the roasted sweet potato, onion, and chicken sausage right on top of the pasta. Remove the garlic cloves from the foil and pull off the paper skin. Press cloves through a garlic press into the pasta (add as many cloves to desired preference). Add in coarsely chopped spinach. Toss everything together, adding in more pasta water as needed to create an ultra-creamy sauce (I add in anywhere from 1/2 cup to another 1 full cup — just gradually add in 1/4 cup at a time as needed while tossing). While tossing everything together, gradually add in Parmesan cheese, 2 tablespoons at a time.

FINISHING: Taste and adjust seasonings (add any additional salt/pepper here). If desired, stir in the basil. Serve and add chopped pecans to individual plates. Enjoy while hot!
Recipe Notes
Note 1: Sweet Potatoes: This is about 2 medium-sized potatoes or 3-1/4 cups (340g)

. Peel the potatoes and cut into small 1/2-inch cubes. It's important to keep them small for roasting times!
Note 2: Onion: This is about 1 small onion or 1-1/2 cups (220g). Remove papery skin and cut into 1/2-inch cubes. 
Note 3: Goat cheese: we're looking for a log of goat cheese, not the crumbles for this recipe.
Note 4: Parmesan cheese: Grab a block of Parmesan and grate it on the small holes of a grater. Alternatively use finely grated Parmesan cheese. Parmesan from the can will be too salty and won't melt into the sauce nicely.
Note 5: Veggie roasting time: We use a very large (15×21-inch sheet pan) which allows ample space for veggies so they roast perfectly in this time. If veggies are chopped larger or are crowded on the pan they will take much longer to roast. Use 2 sheet pans if needed to allow ample space.
Nutrition Facts
Serving: 1serving | Calories: 452kcal | Carbohydrates: 49.8g | Protein: 18.2g | Fat: 20.2g | Cholesterol: 71.7mg | Sodium: 636.6mg | Fiber: 3.8g | Sugar: 5.5g
We do our best to provide accurate nutritional analysis for our recipes. Our nutritional data is calculated using a third-party algorithm and may vary, based on individual cooking styles, measurements, and ingredient sizes. Please use this information for comparison purposes and consult a health professional for nutrition guidance as needed.