Wondering what wine to pair with your sushi? From spicy tuna rolls, to California rolls, this handy guide has you covered, so that you can find that perfect bottle for sushi night!
Is red or white wine better with sushi? 
The short answer is – both! It depends on what type of wine you like, and the style of sushi that you're enjoying, and the richness of the fish. 
Riesling makes a perfect match for spicy sushi rolls. Whereas a buttery California roll pairs best with a bright, acidic wine like a Sauvignon Blanc or Gruner Veltliner.
Fatty fish like tuna and salmon, can handle a light red wine with a higher acidity. For example, Pinot Noir, or other low-tannin red wine, like Beaujolais.
The TOP 8 BEST wine pairings with sushi
Pinot Gris / Pinot Grigio 
Pinot Noir 
Sparkling Wines
Rosé
Gruner Veltliner
Chenin Blanc
Dry Riesling
Sauvignon Blanc 
This is definitely not an all encompassing list. And the type of wine you choose to go with your sushi, will depend on the type of sushi you're enjoying.
Let's dive in further…
Pinot Gris/Pinot Grigio
Pinot Grigio is always a perfect pairing for sushi. This crisp white wine is especially delicious alongside lighter sushi dishes like hamachi sashimi or this tuna poke.
Pinot Noir
Pinot Noir is one of the most food-friendly red wines out there. Its flavors are delicate enough to not overpower the food that you're eating it with and it makes a great match for sushi. Red wine lovers will find their match in a bottle of pinot from the Willamette Valley. It's an excellent choice with fatty tuna, sea urchin or dishes with eel sauce.
Sparkling Wines
Sparkling wines are especially delicious with sushi. Look for affordable bottles like cava or prosecco. They're fun wines that bring a feeling of fancy to an otherwise casual get together. Try pairing a glass with shrimp tempura rolls or this Crispy Rice Sushi.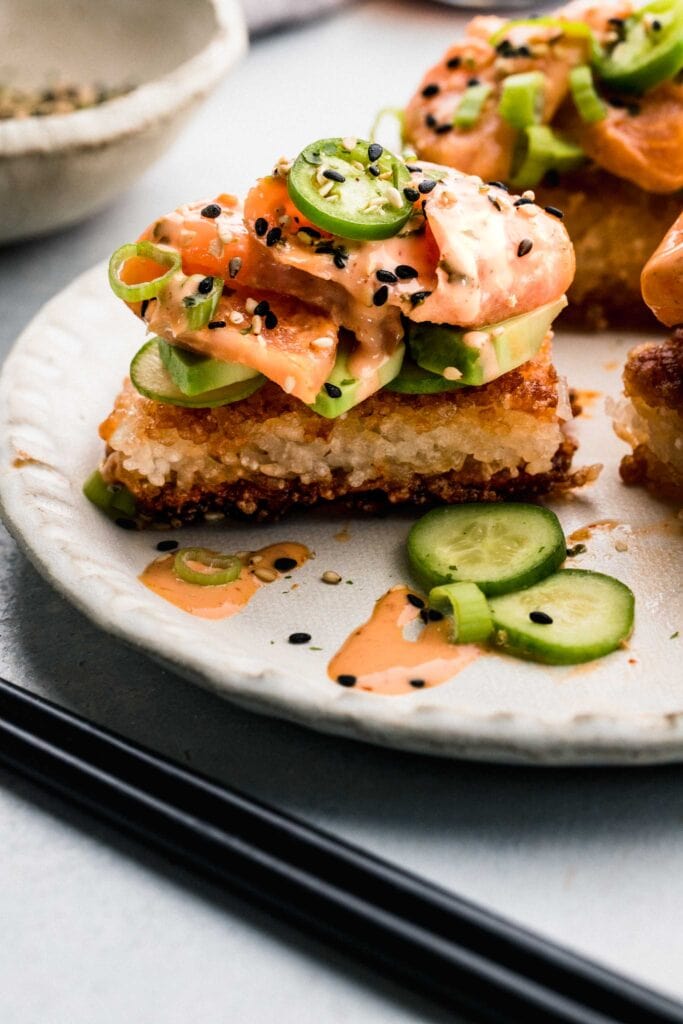 Dry Rosé
With aromas of strawberry, watermelon, and citrus, fruity rosé has a good amount of acidity to it that stands up richer sushi dishes. It's a great choice with salmon nigiri or tuna rolls.
Gruner Vetliner
Grüner Veltliner is an Austrian wine that is dry, minerally, and complex with notes of white pepper and citrus. It's bright acidity is delicious with rich sushi dishes like a a dragon roll, creamy avocado rolls, or Shrimp Sushi Bowls.
Chenin Blanc
This dry wine has citrus notes and is particularly delicious with lighter sushi dishes. It makes a great pairing with a California roll.
Dry Riesling or Off-Dry Riesling
Rieslings help tame down the heat of spicy dishes. Try pairing it with a spicy tuna roll, these Salmon Sushi Bowls, or other dishes with spicy mayo.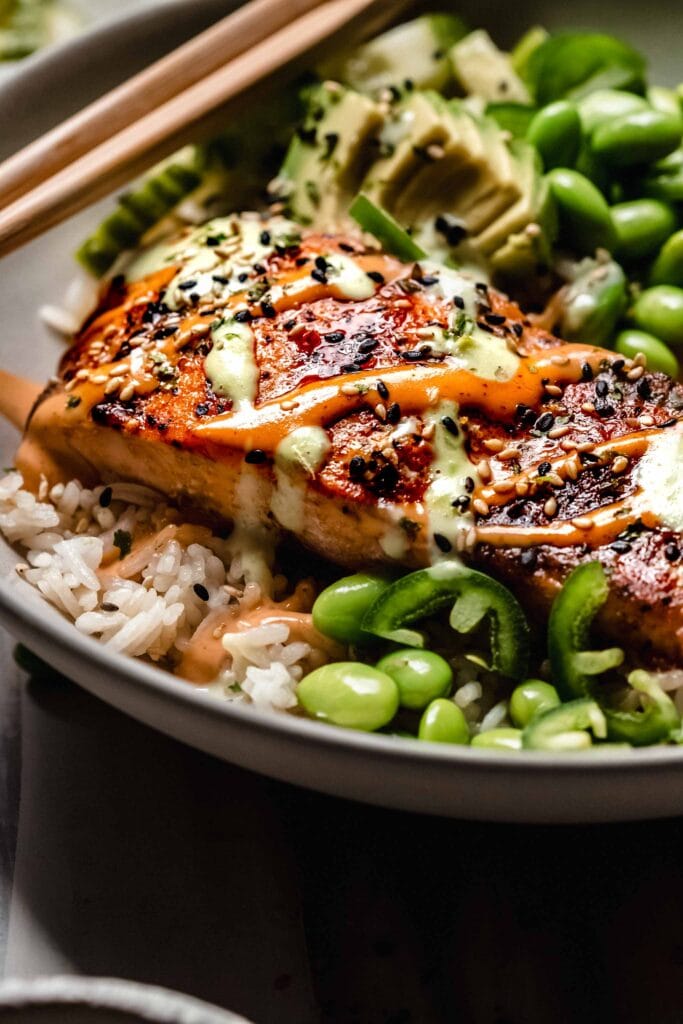 Sauvignon Blanc
A bright, high acidity Sauvignon Blanc is delicious paired with sushi. Especially white fish sushi dishes or vegetarian sushi rolls. Some of the best bottles come from New Zealand.
Find all my sushi recipes here.
As always, please feel free to take these suggestions with a grain of salt. Enjoy what you like best! You can even pair your sushi with a Cabernet if that's what you enjoy. The only way to find out the very best pairing for yourself is to taste different wines, and experiment.
Did you try any of these Sushi Pairing Options?
If you tried any of these sushi wine pairing options, I would love your feedback! Also, be sure to snap a picture of your pairing and share it with me on Instagram using the hashtag #platingsandpairings and tagging me @platingsandpairings.
For more great Platings and Pairings recipes and wine pairings, be sure to follow me on  Instagram, TikTok, Pinterest and Facebook.
More Wine Pairings Advice
Rice:
2

cups

sushi rice

(or calrose rice)

3

cups

water

1

teaspoon

salt

1/4

cup

rice vinegar

2

Tablespoons

sugar

(superfine preferred)

1

teaspoon

sesame oil
For Frying:
3

Tablespoons

vegetable oil
Spicy Salmon:
8

ounces

smoked salmon

(thinly sliced or finely chopped (or 1/2 pound ahi tuna sushi grade finely chopped))
Creamy Sriracha Sauce:
¼

cup

reduced fat mayonnaise

1 ½

Tablespoons

Sriracha

(adjust to taste)

2

teaspoons

rice vinegar

2

teaspoons

soy sauce

2

teaspoons

sesame oil
For Topping:
2-3

mini cucumbers

(thinly sliced)

1-2

whole avocados

(quartered, pit removed, then thin sliced (or mashed))

Jalapeno or serrano pepper

(sliced (optional))

Furikake

(or toasted sesame seeds (optional))

Green onion

(sliced)
Make the Rice: (Night Before Preferred)
Rinse the rice until the water runs clear.

Add water to a small pot and bring to a boil. Add salt and rice, then cover and let simmer for 20 minutes. Remove from heat and let rest 10 minutes.

In a small bowl, whisk together the rice vinegar, sugar and sesame oil.

Pour this over the rice and stir to combine.

Line an 8×8 pan with plastic wrap and use a rice paddle or the back of a spoon to press the rice into the pan. Focus on the corners in particular. The rice should be about ¾" thick. Cover and refrigerate for 1-2 hours, or overnight.

After the rice has chilled, cut it into squares or rectangles.
Make the Spicy Salmon:
In a mixing cup, whisk together the mayo, sriracha, vinegar, soy sauce and sesame oil. Set aside half this mixture for drizzling at the end. Combine the other half with the salmon (or tuna) and stir gently to combine.
To Pan Fry:
Add oil to a large skillet and heat over medium-high heat. Once hot, place the rice pieces in the pan, and cook for about 5 minutes per side. Beware that the pieces will splatter a bit from the moisture of the rice. You may need to work in batches, and you may need to add a bit more oil as they cook. Once golden and crispy, set aside on a baking rack.
To Assemble:
Add cucumbers and avocado on top of the crispy rice pieces. Then arrange salmon (or tuna) on top. Drizzle with remaining spicy mayo and garnish with jalapenos (or serrano), furikake (or sesame seeds), and green onion.

Enjoy!
Tip: When slicing the rice, wet your knife in between slices to prevent sticking. 
Calories: 160kcal | Carbohydrates: 17g | Protein: 8g | Fat: 6g | Saturated Fat: 1g | Polyunsaturated Fat: 2g | Monounsaturated Fat: 2g | Trans Fat: 0.01g | Cholesterol: 10mg | Sodium: 968mg | Potassium: 84mg | Fiber: 1g | Sugar: 4g | Vitamin A: 45IU | Vitamin C: 2mg | Calcium: 11mg | Iron: 0.5mg