Tommy Bahama Coconut Cloud Martini is a creamy cocktail to enjoy any day. Garnish this tasty creamy coconut martini topped with toasted coconut flakes for a yummy tropical drink. Cheers!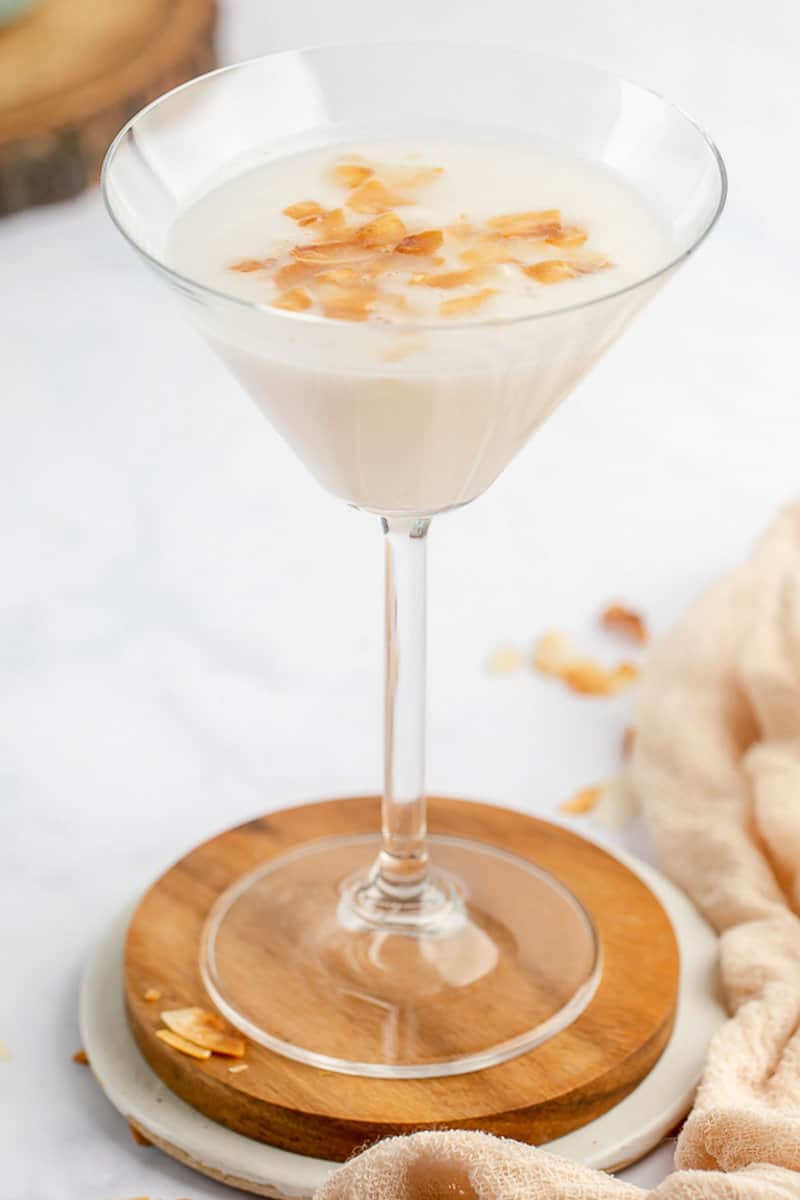 This post contains affiliate links. As an Amazon Associate, I earn from qualifying purchases.
What Makes This Coconut Martini Recipe the One You Will Reach for Again and Again? 
Sometimes even cocktails need to go on vacation. Think of this drink as the traditional martini in Bermuda shorts.
This coconut martini with vodka recipe adds two different rums for that unique Caribbean vibe, and the cream of coconut delivers a thicker consistency and better all-around flavor.
Mix up a few of these cocktails the next time you need a quick trip to the islands without leaving your home. It is so easy to make this fancy cocktail at home. It's perfect for your next cocktail party.
Why This Coconut Cloud Martini Is the Perfect Easy Cocktail To Make 
Although most Caribbean-inspired cocktails require a blender, a coconut vodka martini does not. No fancy equipment or bartender proficiency is required.
Bring the party with you. All you need is ice and a shaker, and you will be sipping a frothy drink in under a minute with no annoying machine to clean.
Tommy Bahama Coconut Cloud Martini Ingredients 
To make this cocktail, you'll need:
Don Q. Cristal
Stoli Vanil
Cruzan Coconut
Coco Lopez Cream of Coconut
Toasted shredded coconut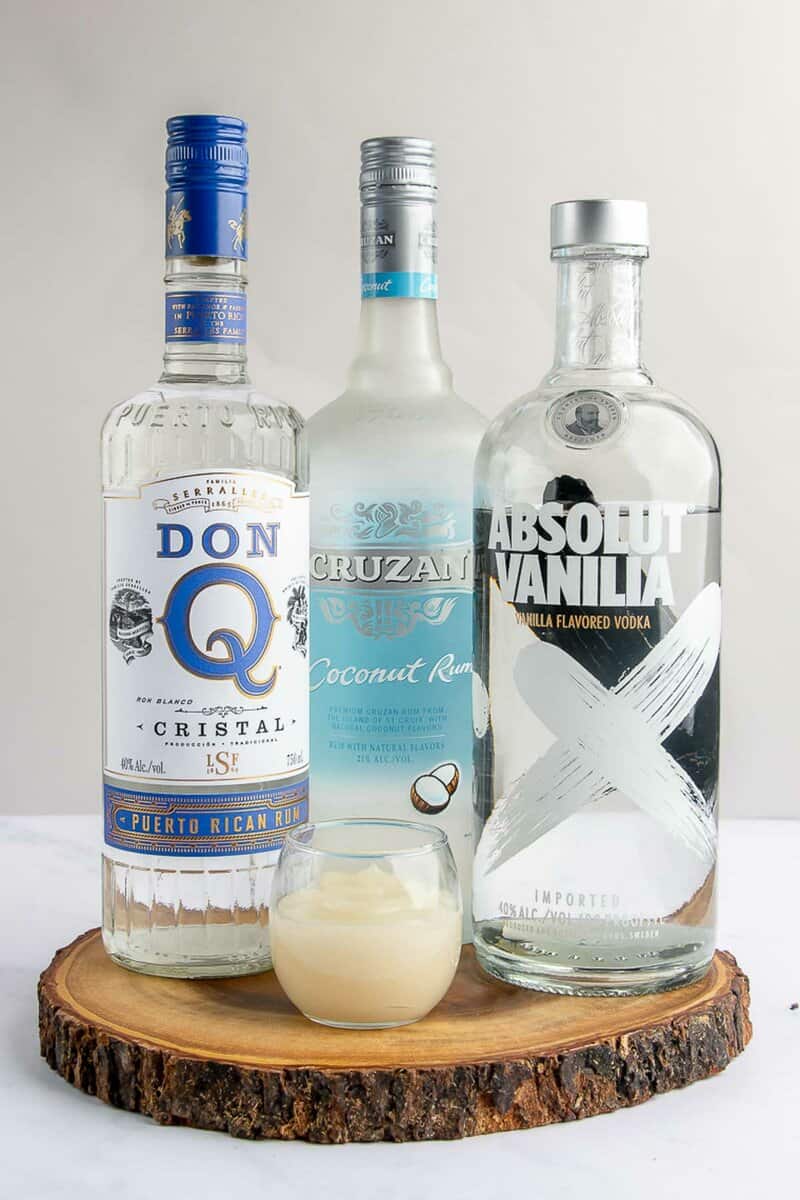 Ingredient Notes
As a budget-friendly white rum, it is tough to beat Don Q. Cristal, especially for anyone who prefers a more mild flavor. After going through multiple distillations, it is aged for up to five years in white oak barrels resulting in a light and smooth spirit that is more similar to vodka than other rums. You can definitely get away with using a vodka like Reyka or Smirnoff in this recipe, but why would you when Don Q. Cristal is so inexpensive?
Stoli Vanil provides the vanilla backbone to this drink. As a mid-priced brand, Stoli's range of vodkas is absolutely worth stocking up on, especially if you prefer flavored vodkas over traditional ones. The vanilla variety is smooth with a hint of sweetness and a light spicy finish. 360 Madagascar Vanilla Vodka would be an excellent alternative.
On the tiny tropical paradise of St. Croix in the US Virgin Islands, Cruzan infuses its world-famous rum with the natural flavors of fresh coconuts to create Cruzan Coconut. Cruzan Coconut is the perfect ingredient for any beach-inspired cocktail with its sweet and creamy taste that is never heavy on the tongue. Sugar Island Coconut Rum is a fine substitute, or if you have a bottle of Malibu hanging around, you can use that. 
Coco Lopez Cream of Coconut is non-alcoholic and adds intense coconut flavor, creaminess, and sweetness to the recipe. You don't have to choose the Coco Lopez brand; any cream of coconut will work well. Goya Cream of Coconut is readily available in most supermarkets. 
How To Make a Coconut Vodka Martini
To mix a Coconut Cloud Martini:
Fill a cocktail shaker three-quarters of the way with fresh ice.
Pour the alcohol and cream of coconut into the shaker.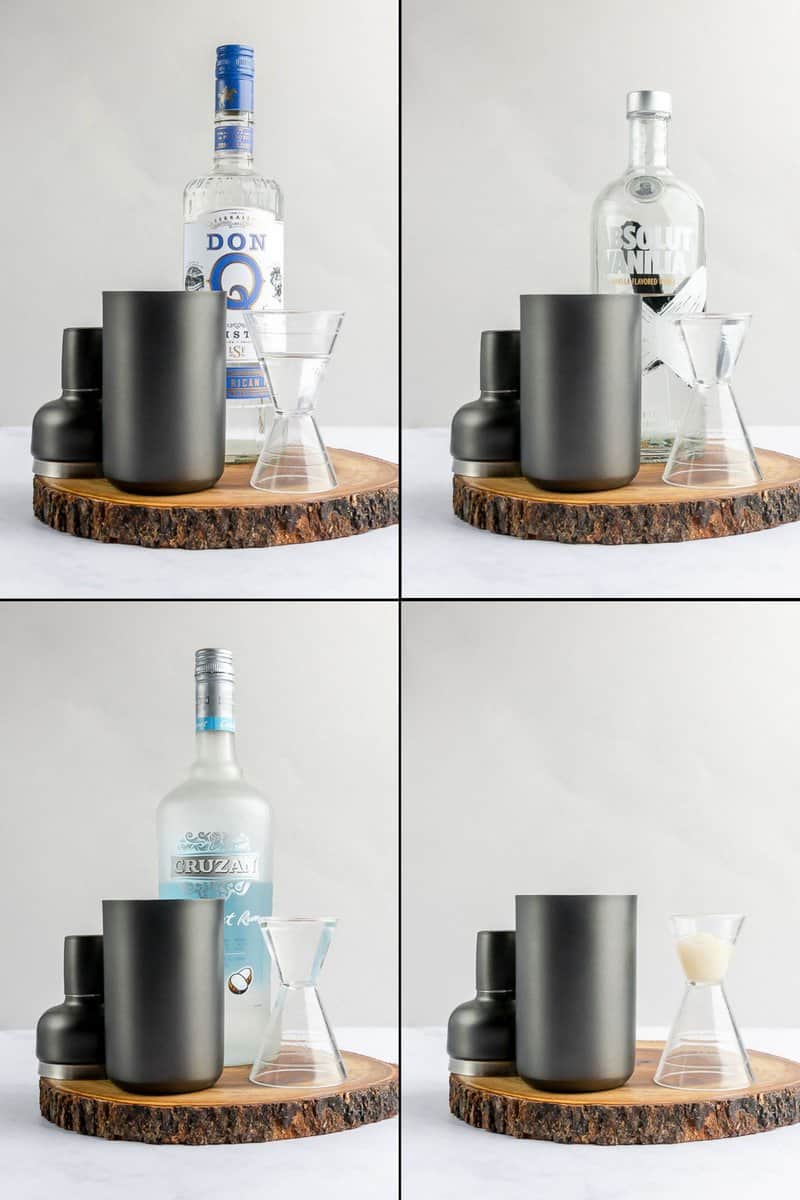 Cover and shake vigorously for 15 to 20 seconds until the outside of the shaker gets ice-cold.
Strain into a serving glass and garnish with toasted shredded coconut.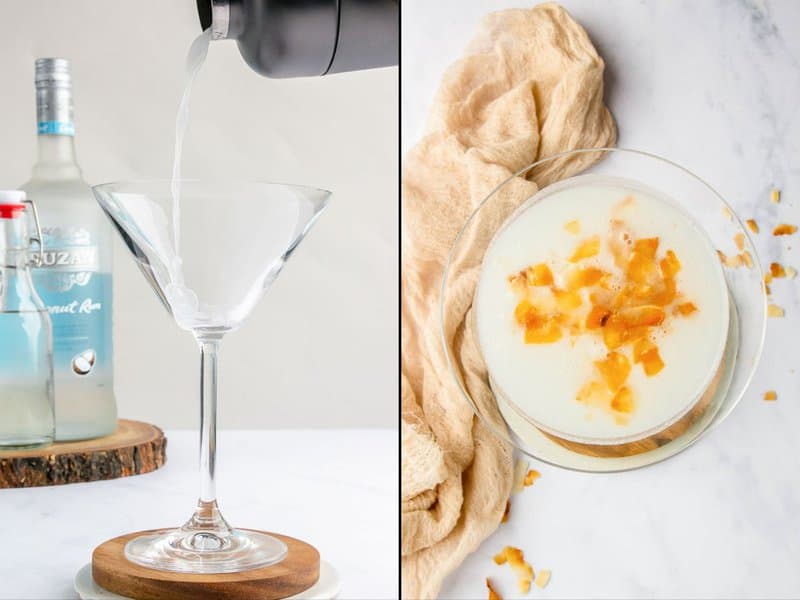 What Type of Glass To Use
The best type of glassware for this coconut martini recipe is the classic martini glass, but you can also use a coupe glass.
CopyKat Tip: Put the glass in the freezer before mixing the drink so you can serve it in a chilled martini glass.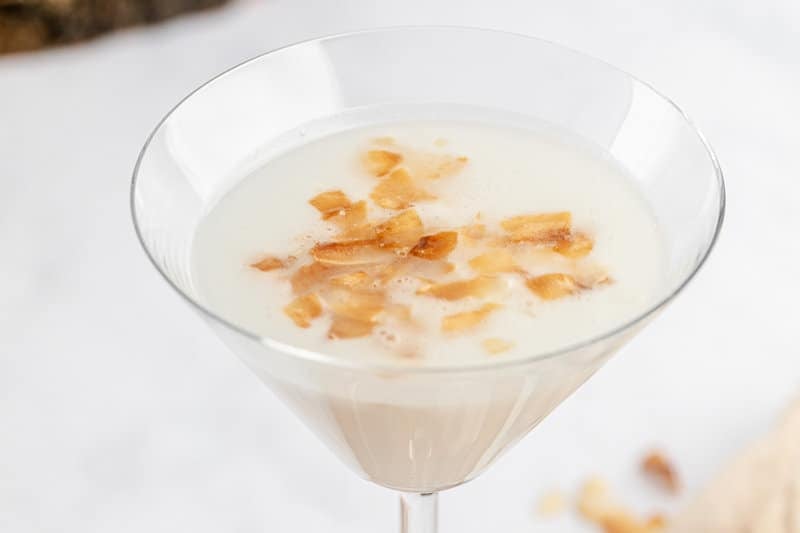 How to Line the Glass With Garnish 
To garnish the rim of the coconut vodka martini glass with shredded toasted coconut:
Pour a quarter inch of cream of coconut into a wide, shallow bowl.
Pour a thin layer of the shredded toasted coconut onto a plate.
Dip the rim of the glass into the cream of coconut and then dip it into the shredded toasted coconut. 
What To Serve With This Cocktail
A platter of tropical fruits, berries, and quality dark chocolate go amazingly well with a coconut martini.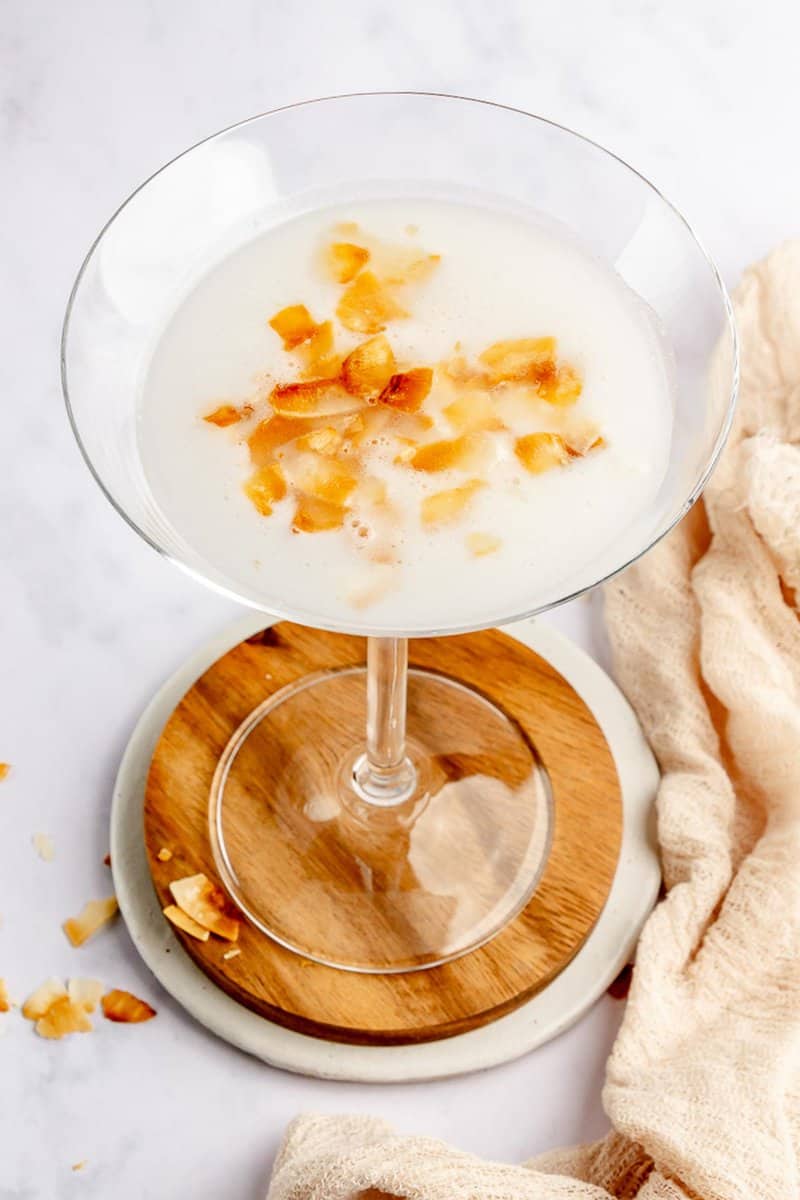 Popular Creamy Cocktails
Love Coconut? Try These Recipes!
Check out more of my easy cocktail recipes and the best copycat restaurant drink recipes on CopyKat!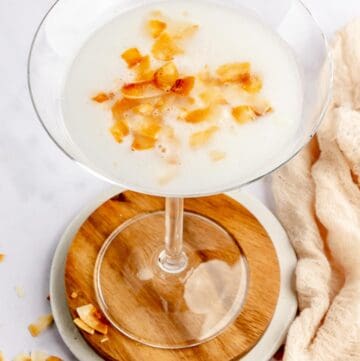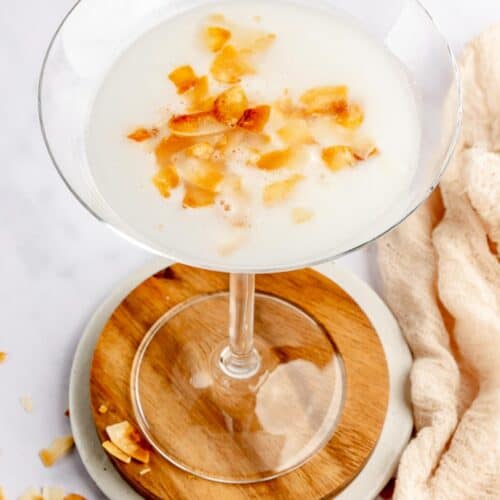 Tommy Bahama Coconut Cloud Martini
You can make a delicious coconut cloud martini with this easy copycat recipe.
Print
Pin
Rate
Add to Collection Go to Collections
Servings: 1
Calories: 346kcal
Ingredients
1

ounce

Don Q Cristal White Rum

1½

ounces

Stoli Vanilla Vodka

1½

ounces

Cruzan Coconut Rum

½

ounce

Coco Lopez Cream of Coconut

Ice

1

teaspoon

Toasted Coconut Flakes

(garnish)
Nutrition
Calories: 346kcal | Carbohydrates: 12g | Protein: 0.1g | Fat: 4g | Saturated Fat: 3g | Polyunsaturated Fat: 0.01g | Monounsaturated Fat: 0.1g | Sodium: 34mg | Potassium: 20mg | Fiber: 1g | Sugar: 11g | Calcium: 8mg | Iron: 0.1mg