Trashed Wings might just be the BEST wings ever! Essentially, they're just chicken wings that are flash fried, coated in buffalo sauce, then fried again until they're deliciously crispy and fully cooked. Make a batch of these chicken wings for game day and watch them disappear!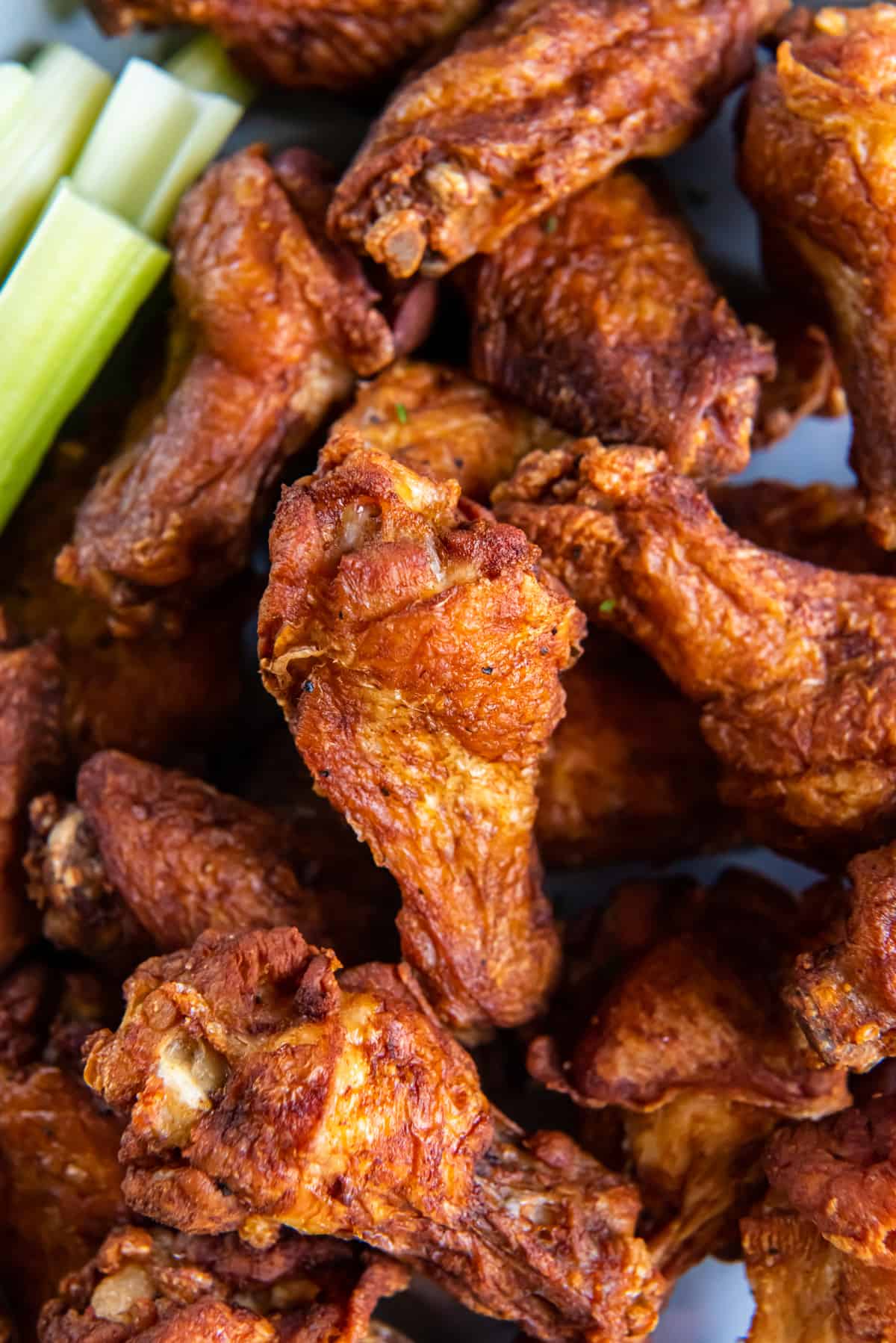 Double Fried Chicken Wings
Despite what the name suggests, these wings belong anywhere but the trash! Trashed Wings are double fried to the crispiest consistency. If you love buffalo sauce, you'll love the way that flavor is intensified by being fried onto the wing itself!
You can enjoy these as a fun weeknight dinner, or serve up a big batch of them at your next game day party. They pair perfectly with beer! I don't think there's anything better than enjoying wings while watching the big game, and these double deep fried wings keep you satisfied without getting your fingers too messy from sauce.
Why You'll Love this Deep Fried Chicken Wings Recipe:
EASY: Flash fry your wings, toss them in sauce, then fry them until they're fully cooked. That's all there is to it!
CRISPY: Double frying the wings creates the most delicious crispy exterior that you'll love biting into.
GAME DAY WINGS: Buffalo wings are always a real treat on game day, especially when they're leveled up by being double fried!
Heat up that oil and let's get to frying…twice! Trashed wings are the crispiest and most flavorful wings you'll ever taste.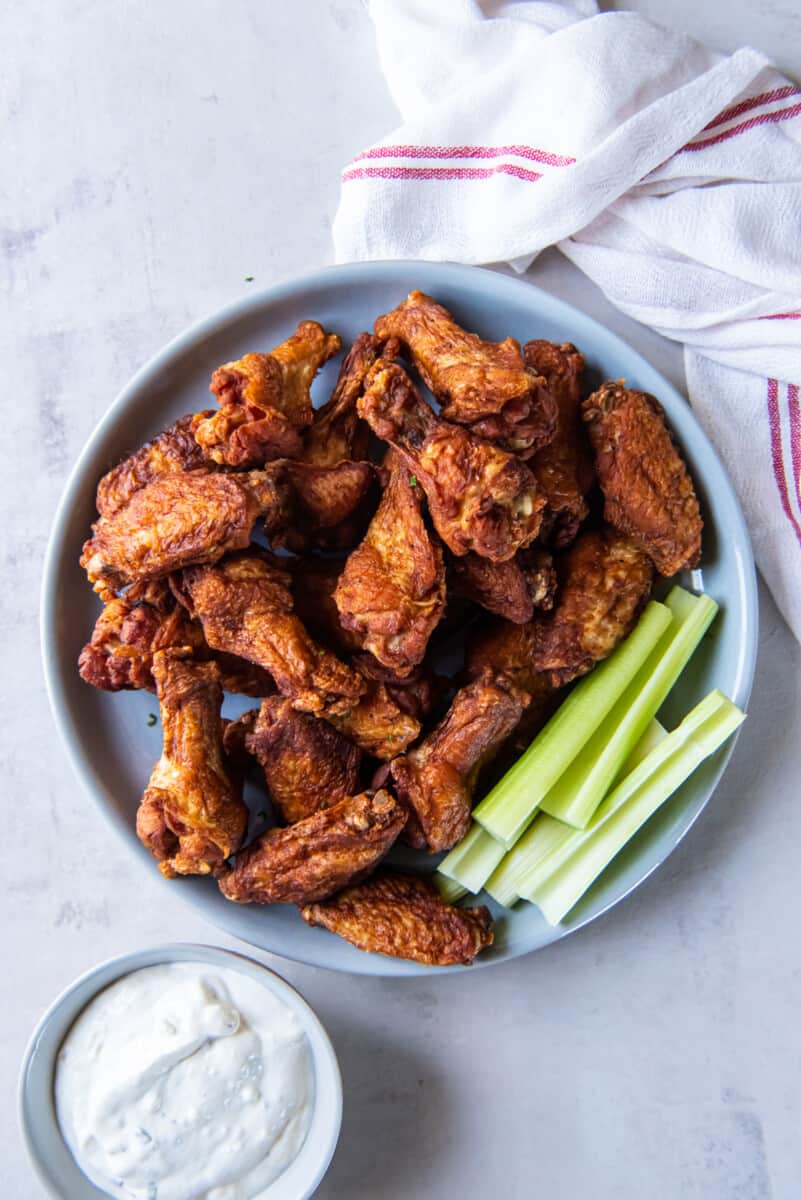 How to Make Trashed Wings
Be sure to see the recipe card below for full ingredients & instructions!
Heat your deep fryer and place paper towels on a wire cooling rack over a baking sheet.
Separate the wings into drums and flats.
Flash fry the wings in batches for 10 seconds.
Place the wings in a large bowl, and toss in buffalo sauce.
Then fry the wings a second time.
Let the wings drain on the paper towels prior to serving.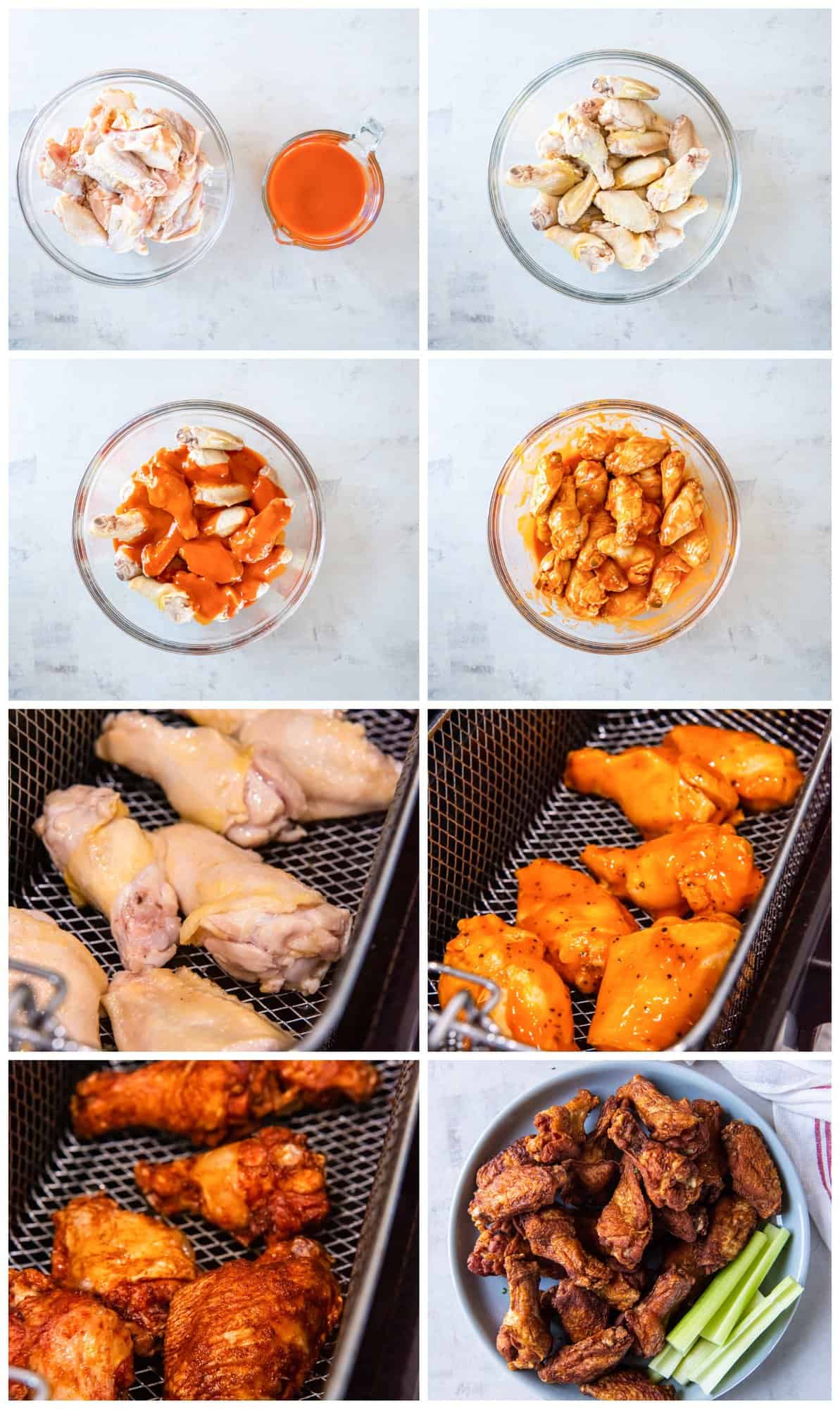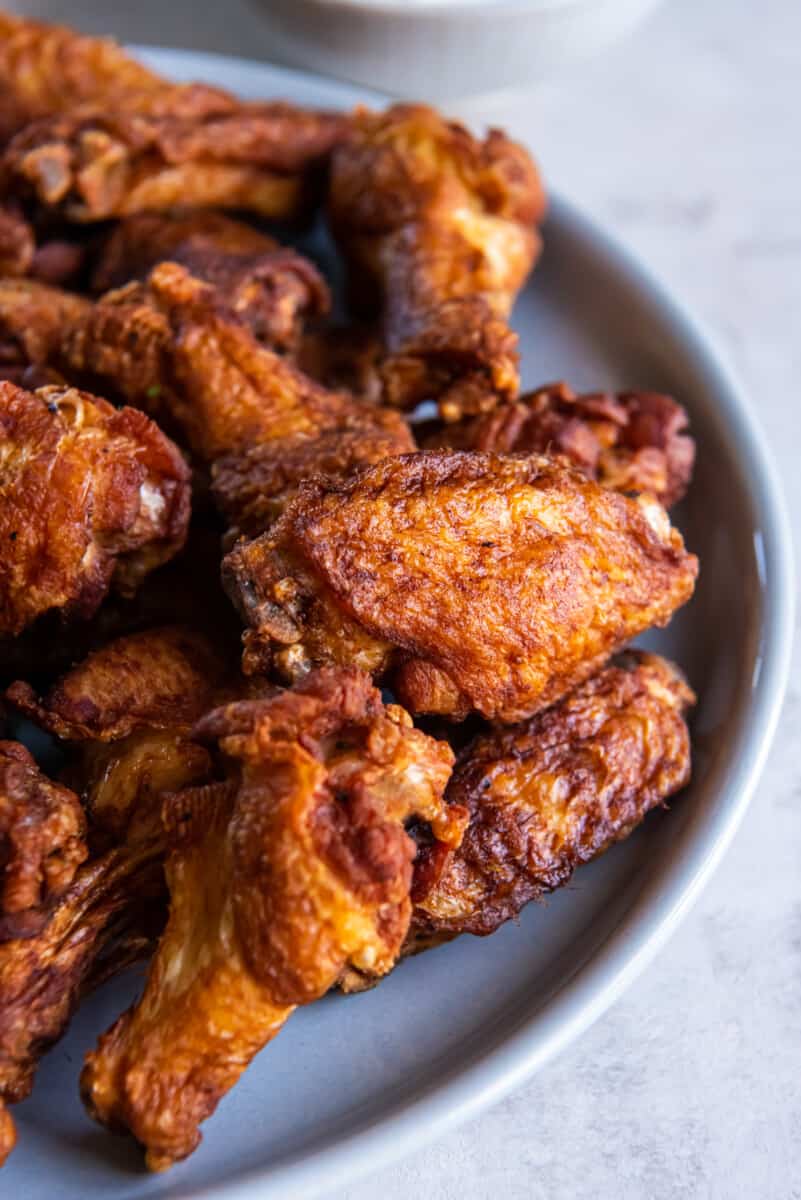 What are trashed wings?
Trashed wings, also known as dirty wings, are chicken wings that are deep fried, tossed in sauce, then deep fried again.
Why should I double fry chicken wings?
Frying chicken wings twice allows the sauce to caramelize, creating irresistible flavor and unparalleled crunch!
How do I make trashed wings without a deep fryer?
If you don't have a deep fryer, you can heat vegetable oil in a large Dutch oven. I recommend using a deep frying thermometer to ensure the temperature stays at 375°F.
Can I make trashed wings in an air fryer?
While you can make trashed wings in an air fryer, I don't think they get quite as crispy as when they are deep fried. To air fry trash wings, set your air fryer to 380°F, add the wings, and lightly spray with oil. Air fry for 25 minutes, flipping halfway through. Remove the wings, toss in Buffalo sauce, and add them back to the basket. Air fry at 400°F for another 5-8 minutes, or until crisp.
Trashed Wings are crispy as can be on the outside, while staying tender and juicy on the inside. They're seriously perfect, especially if you love that crispy fried quality. Don't forget the blue cheese, ranch, and hot sauce for dipping!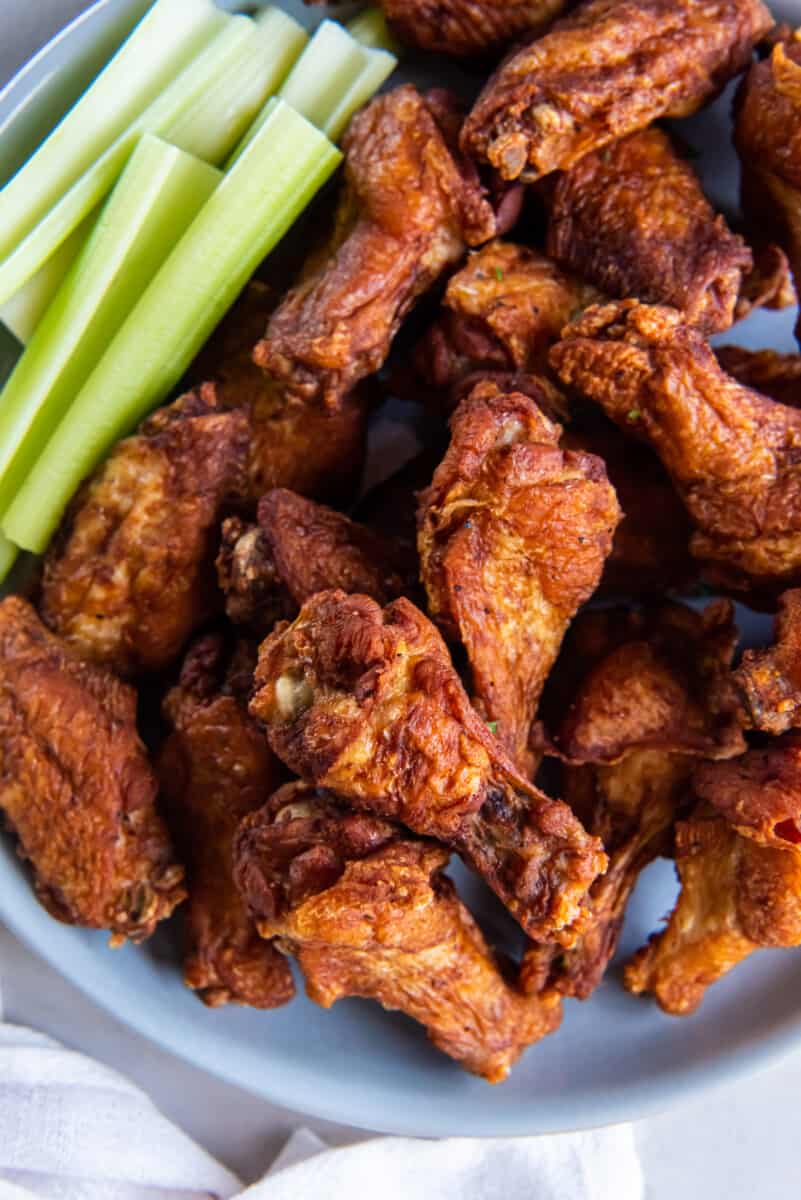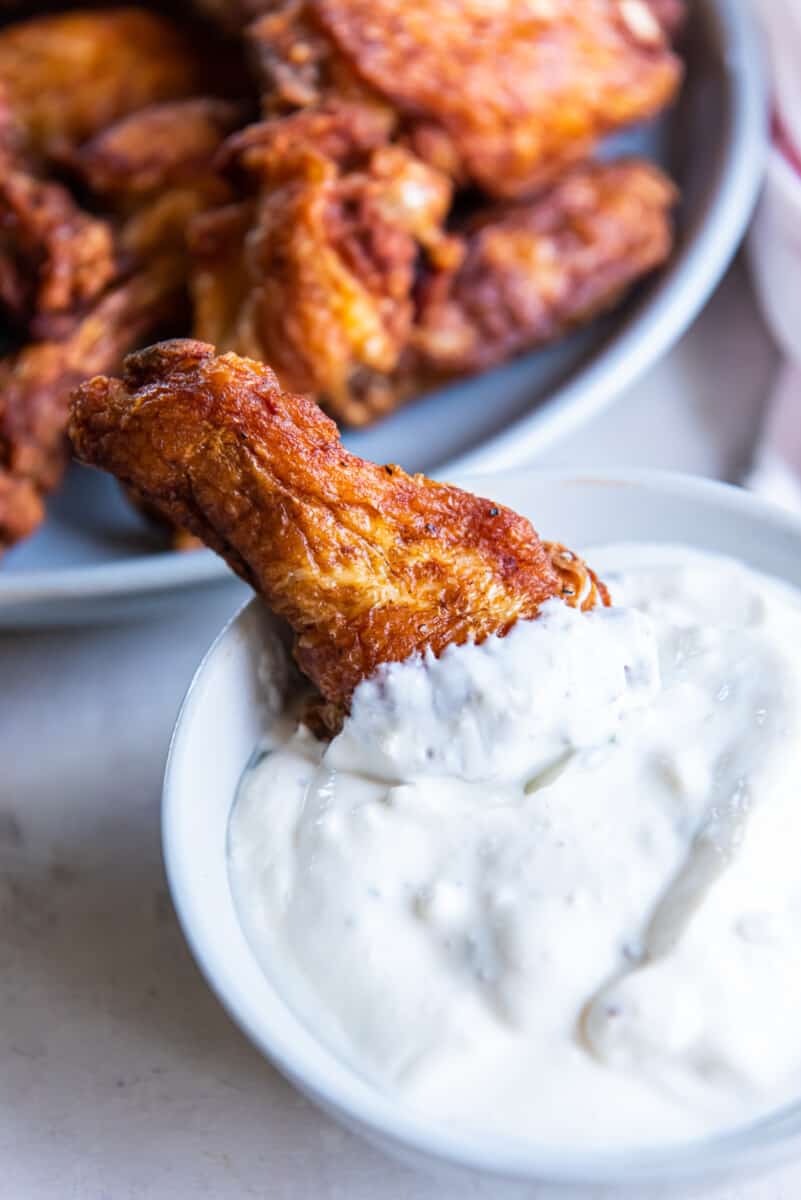 Make Ahead Instructions
This is a great make-ahead recipe, as you can complete the first fry up to 1 day in advance of the second. Store the once-fried wings in an airtight container in the refrigerator until ready to sauce and fry a second time.
Storage Instructions
Store leftover trashed wings in an airtight container in the refrigerator for up to 3 days. Reheat in a 350°F oven on a wire rack set in a baking sheet for 15 minutes, or until heated through.
Freezing Instructions
Freeze trashed wings in an airtight container for up to 3 months. Let thaw overnight in the refrigerator before reheating.
Variations
You can make trashed wings with a variety of sauces, such as:
Tips for the Best Trash Wings
Pat the chicken wings dry before the first fry to ensure the wings get crispy!
Don't try to fry too much chicken at once. Frying more than 4-5 wings at a time will drop the temperature of the oil too much, leading to greasy chicken.
Keep the wings warm by laying pieces on a wire rack set in a rimmed baking sheet with space between them and placing them in a 200°F oven until ready to serve.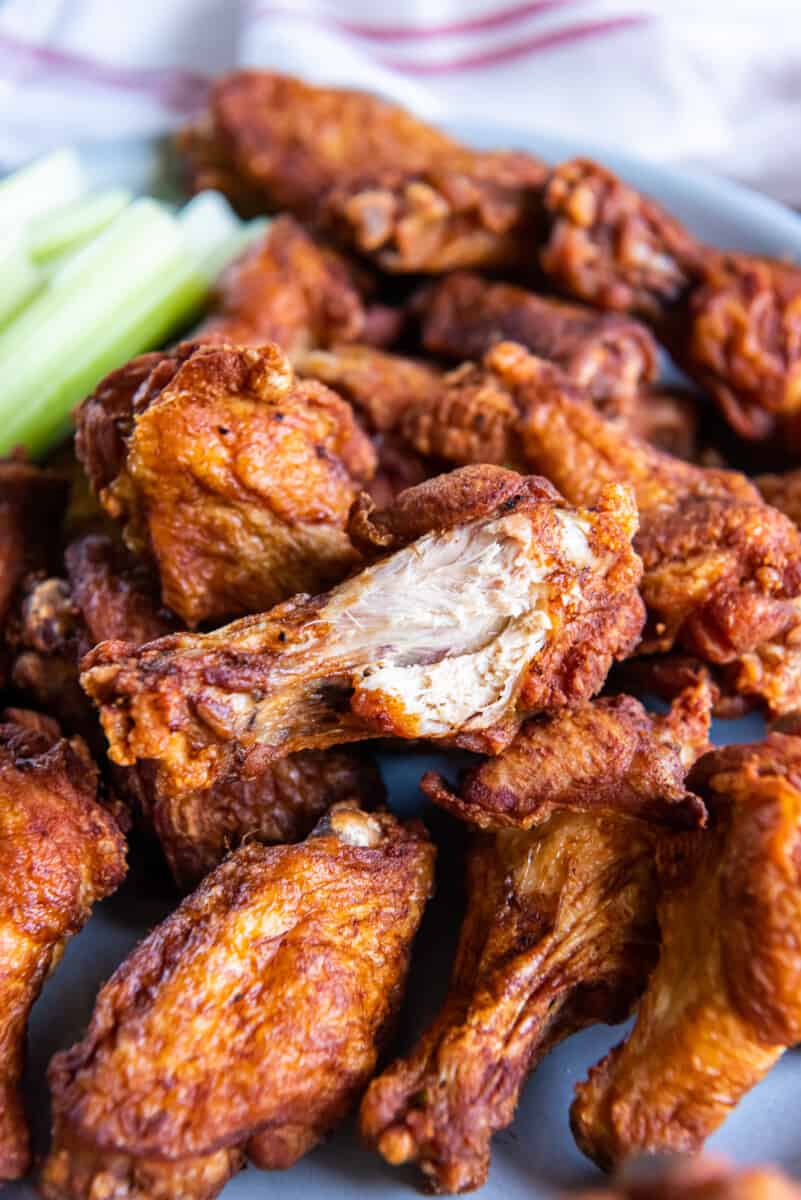 Trashed Wings are a fun game day appetizer that can also double as a weeknight dinner! They're easy to make, full of flavor, and have the BEST crispy skin while still being tender and juicy on the inside. Enjoy this party food for just about any occasion!
If you make this recipe be sure to upload a photo in the comment section below or leave a rating. Enjoy!