This post may contain affiliate links. Please read my disclosure policy.
This healthy peanut butter cookies recipe is so tasty and easy to make by hand with just 7 ingredients.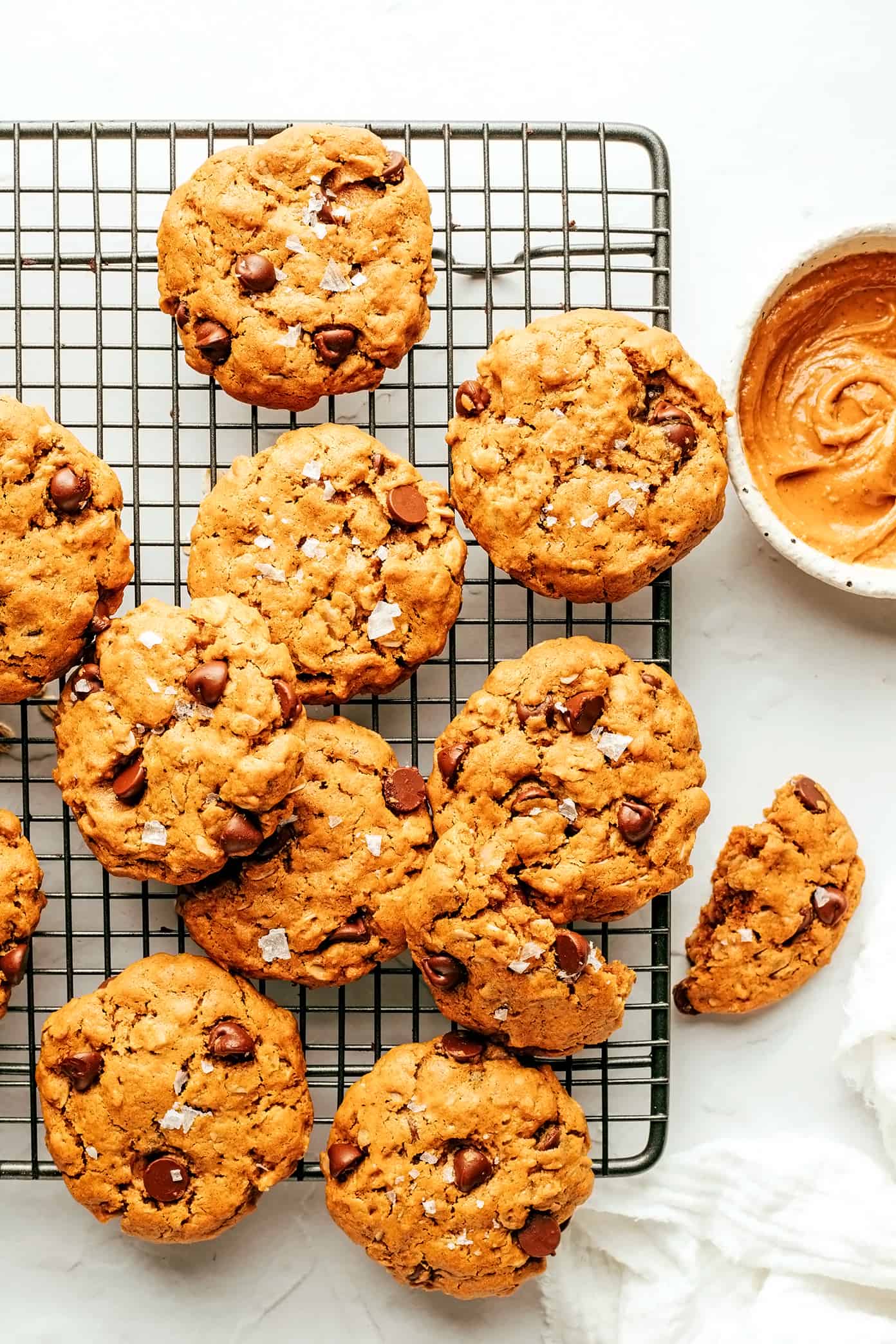 My go-to recipe for when I'm craving a batch of warm, delicious, and slightly-healthier cookies…stat. ♡
These peanut butter cookies are always here to save the day. They're wonderfully low fuss with just 10 minutes of prep time and only require 7 basic ingredients that are likely already hanging out in your pantry. They're naturally gluten-free and dairy-free and made with a chewy oatmeal base. There's no mixer or chill time required here. And even without the usual flour and butter, these peanut butter cookies are still downright delicious.
Feel free to stir some chocolate chips, nuts, or other add-ins to the dough if you'd like. And I definitely recommend a little sprinkle of flaky sea salt for a crunchy finish.
Let's bake some cookies together!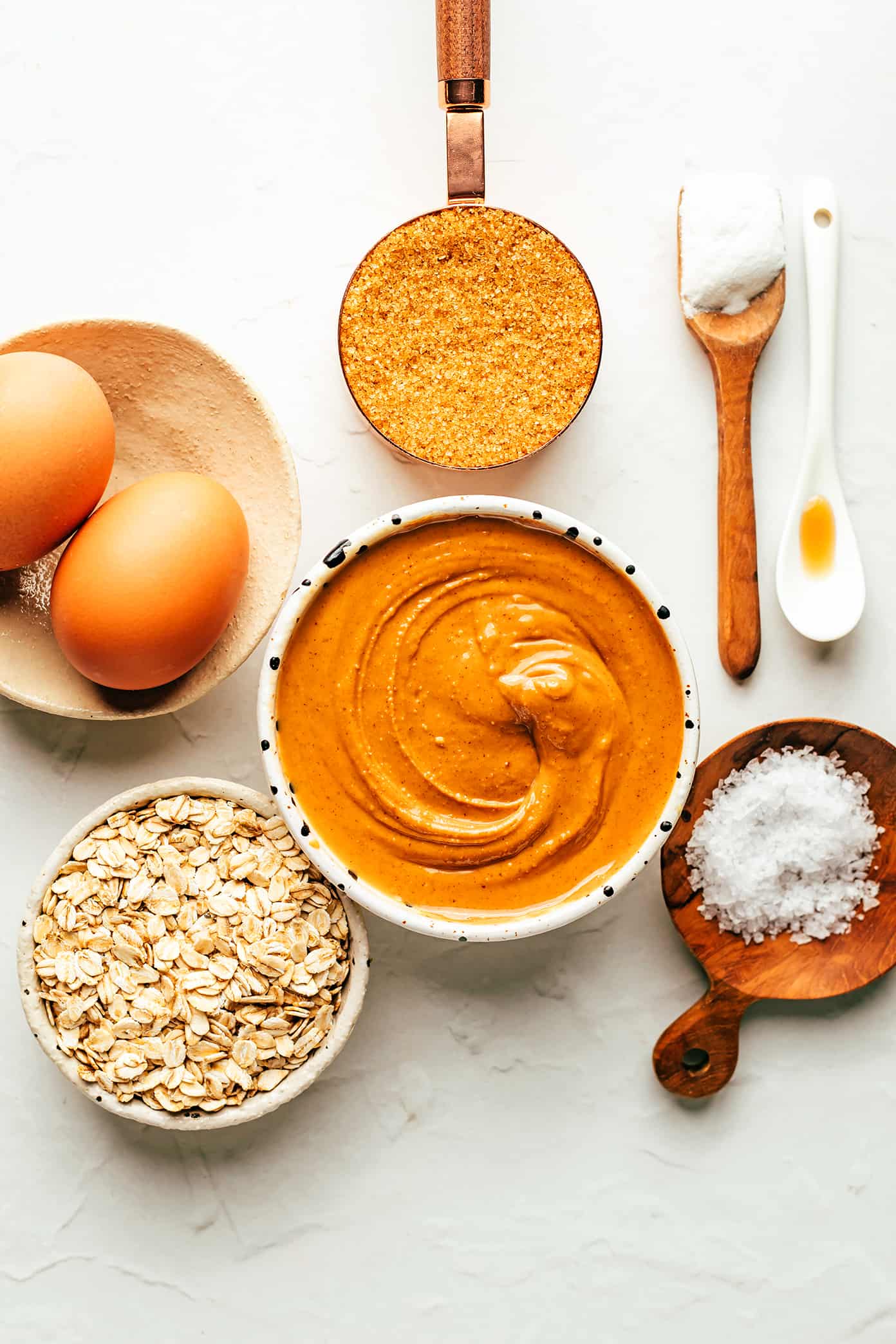 Healthy Peanut Butter Cookie Ingredients
Here are a few notes about the ingredients you will need to make this healthy peanut butter cookies recipe: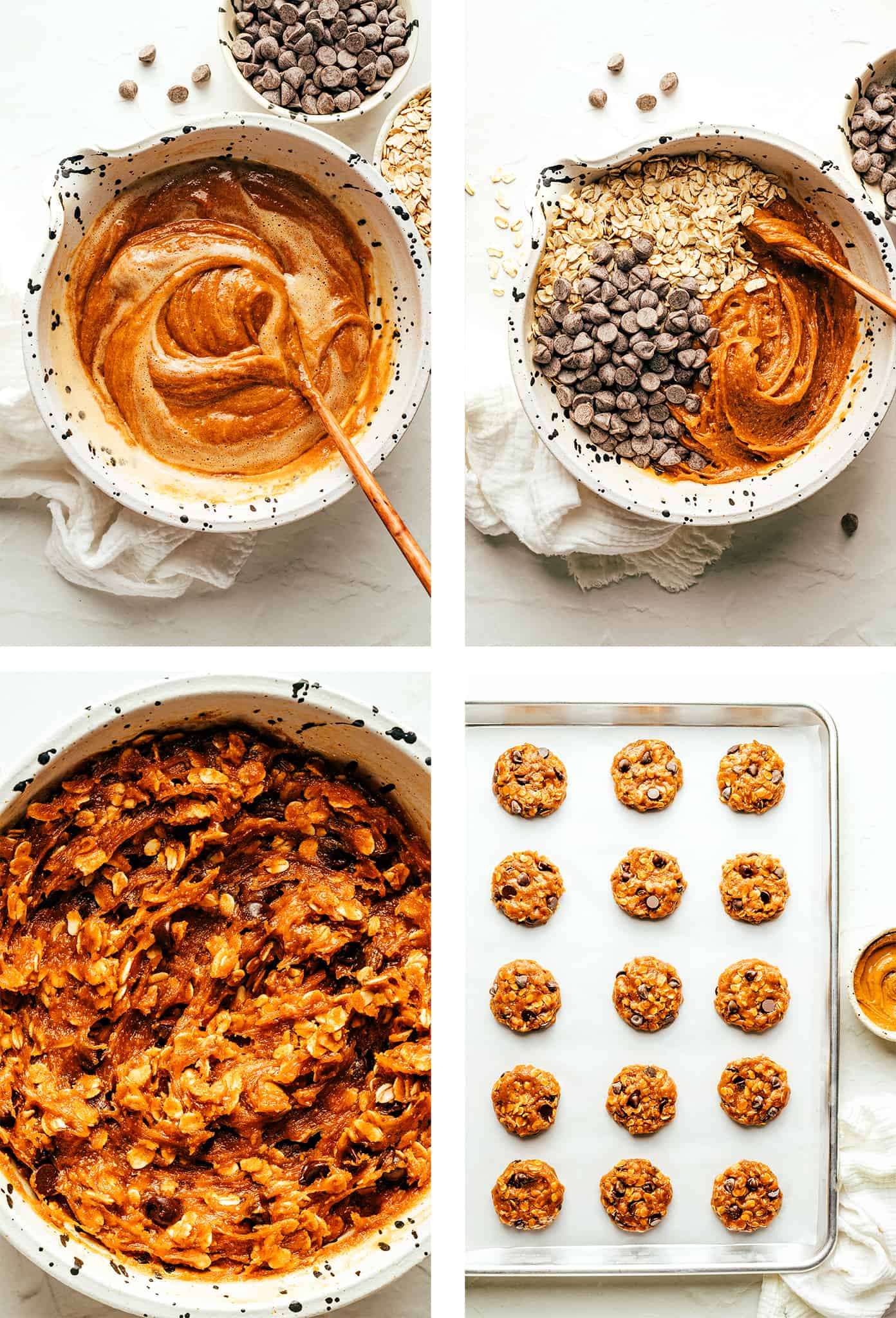 Peanut Butter Cookie Tips
Before we get to the full recipe below, here are a few additional tips to keep in mind when making these peanut butter cookies:
Use natural peanut butter. Again, this recipe was developed using natural peanut butter, which you can either purchase at the store or make homemade. The texture/consistency will not be the same if traditional peanut butter is used.
Save time with a cookie scoop. You're totally welcome to just use a spoon to scoop the batter into roughly 2-tablespoon balls. But if you'd like to save time, a medium cookie scoop makes measuring and scooping the batter a breeze.
Be sure to flatten the cookies slightly. This batter doesn't rise and spread very much on its own, so I recommend patting the cookies down slightly before baking.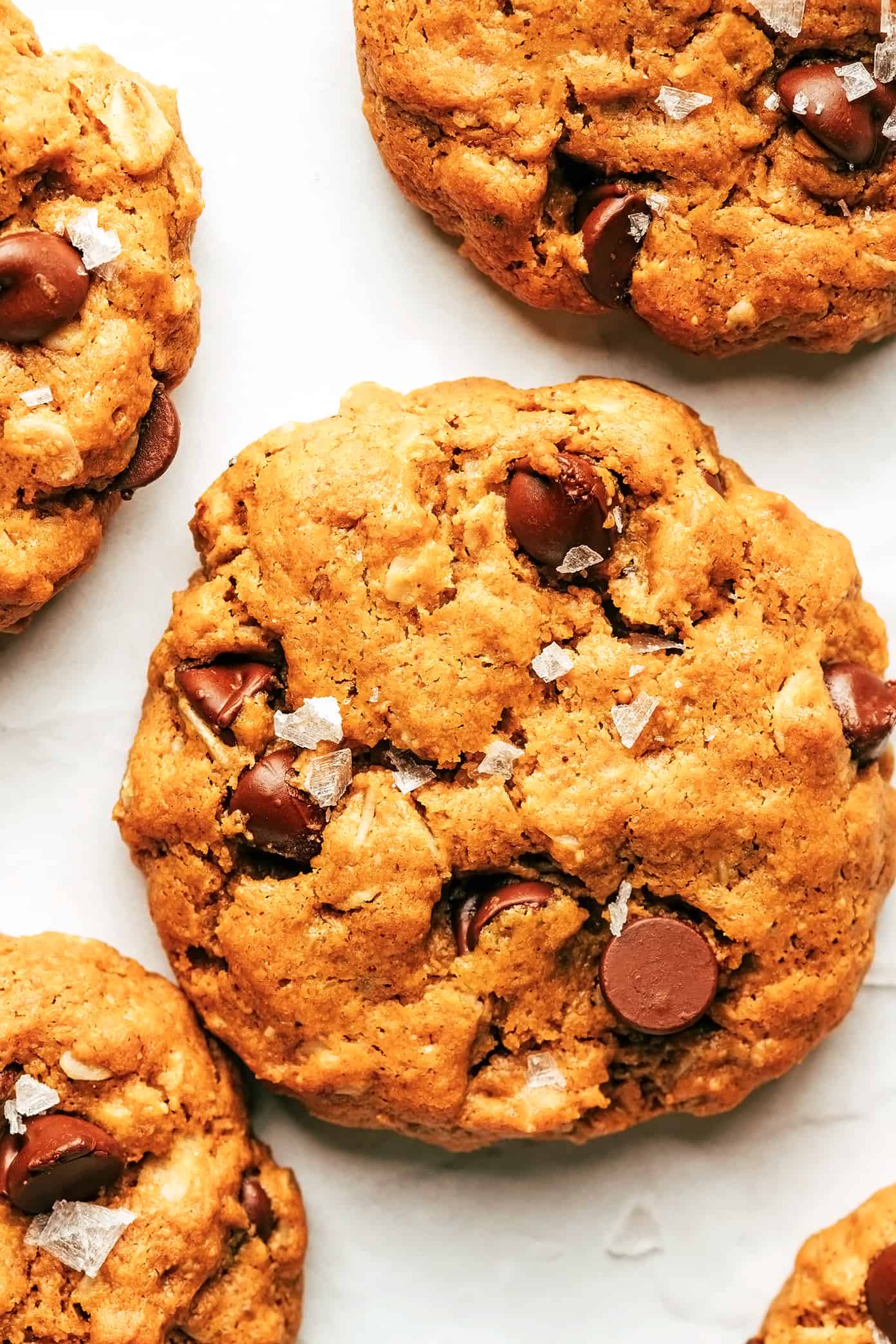 Recipe Variations
Here are a few additional variations that you are welcome to try with this recipe:
Add cocoa powder: Add 2 tablespoons unsweetened cocoa powder to the batter if you would like to make it more chocolatey.
Add cinnamon: Add 1/2 teaspoon ground cinnamon to the batter if you would like a hint of cinnamon flavor.
Use different chocolate chips: Use any other favorite kinds of baking chips (i.e. butterscotch, white chocolate, peanut butter, Heath bar chips, M&Ms, etc) in place of semisweet chocolate chips.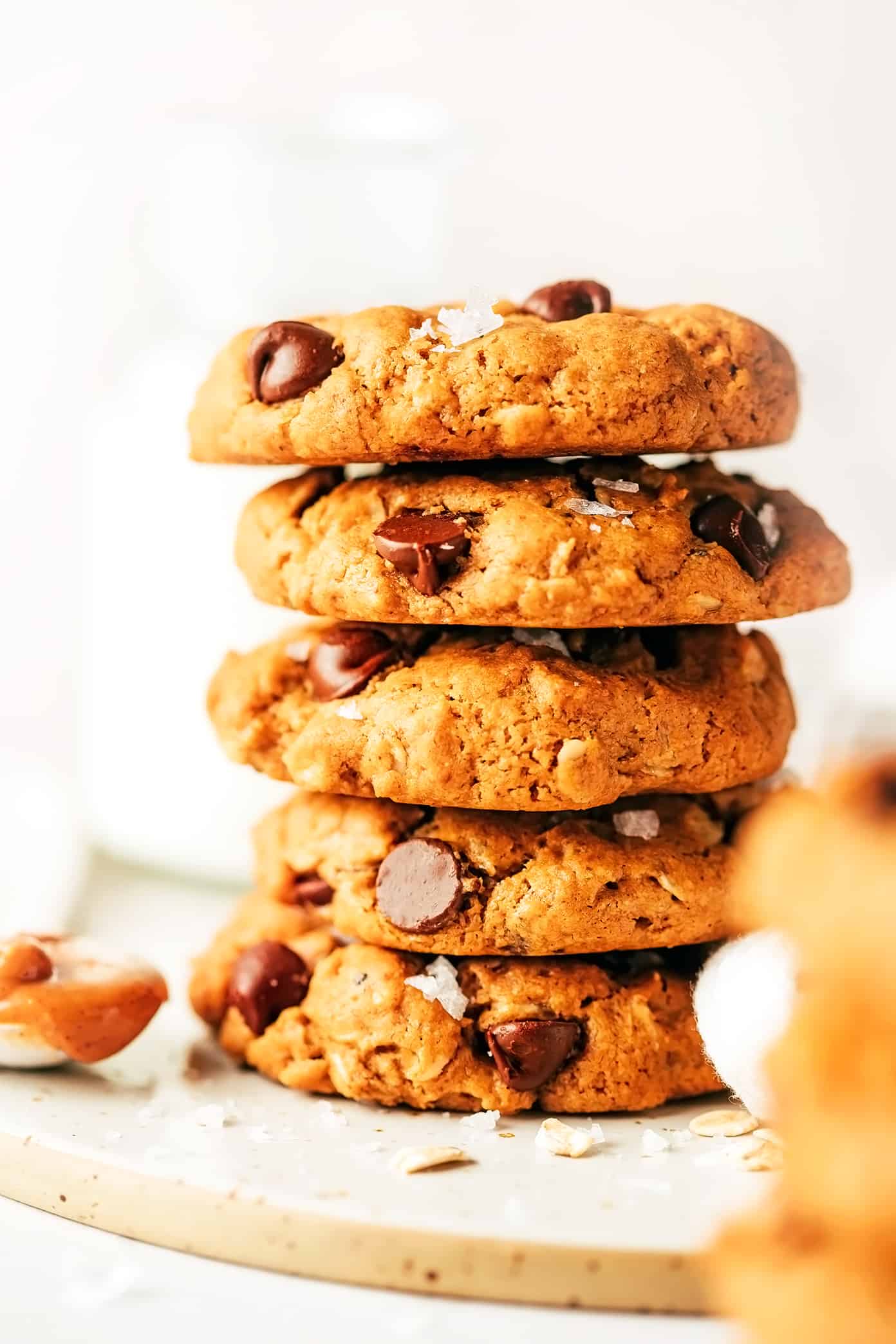 More Cookie Recipes
Looking for more delicious cookie recipes to try? Here are a few of our faves:
Print
---
Description
This tasty healthy peanut butter cookies recipe is quick and easy to make by hand with just 7 ingredients.
---
---
Prep oven and baking sheet. Heat oven to 350°F (180°C). Line a large baking sheet with parchment paper and set aside.
Mix the dough. In a large mixing bowl, whisk eggs and brown sugar together until smooth. Sprinkle the baking soda and salt evenly over the top of the mixture and stir until combined. Add in the vanilla, peanut butter, and stir until combined. Add in the oats (and chocolate chips or nuts, if using) and stir until evenly combined.
Scoop the dough. Use a medium (2 tablespoon) cookie scoop to scoop the dough onto the prepared baking sheet. Gently press down the dough balls to slightly flatten the tops, since they will not spread much while baking.
Bake. Bake for 10 minutes. Transfer the pan to a wire rack and sprinkle each cookie with a small pinch of flaky sea salt. Let the cookies cool for at least 5 minutes.
Serve. Serve warm and enjoy!
---
---
Notes
Storage instructions: Cookies can be stored in a sealed container at room temperature for up to 4 days or frozen for up to 3 months.