This Japanese potato salad makes the best appetizer or a side dish! It's creamy, easy to make, and compliments almost anything!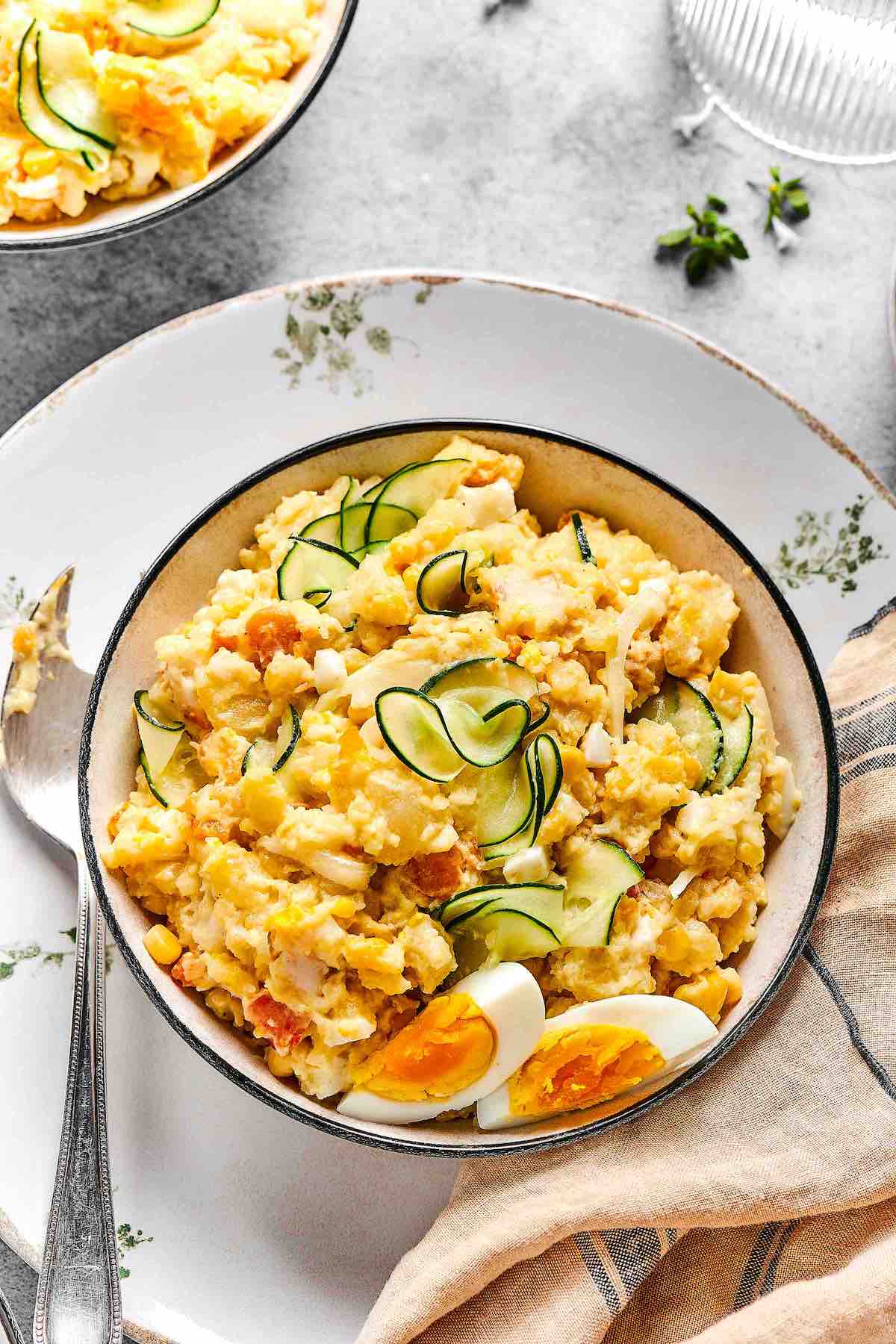 Out of all the Japanese recipes on here, appetizers are our favorite. We enjoy making beef negimaki and harumaki, but as for salads, nothing beats a kani salad or a classic Japanese potato salad.
Why this recipe works
Quick and easy. This dish comes together in minutes and its even faster if your potatoes are pre-boiled.
Well balanced. This salad boasts wholesome carbs, healthy fats, and even some protein!
Easy to customize. You can use whatever salad vegetables you like, or even fold through some protein, like tuna or flaked salmon.
What we love about this potato salad recipe is just how delicious it is. It's so easy to polish it off on its own, so try it with some Japanese mains, like Yakitori, katsu (chicken or pork), or even some chicken tempura.
What is Japanese potato salad made of? 
Here is everything you'll need to make this salad: 
Potatoes.

We used Yukon gold potatoes, but any starchy potatoes work.

Boiled eggs. 

Chopped into bite-sized pieces.

Cooked ham. 

Avoid using deli meat and instead, a thick cut of ham that can easily be cubed.

Salad vegetables.

We used cucumber, carrots, and onions. 

Rice vinegar.

Or use sushi vinegar. 

Dashi.

A popular stock used in Japanese cuisine.

Mayonnaise.

Either standard mayonnaise or Japanese mayonnaise (also known as kewpie mayo).
How to make it
Got all the ingredients to make Japanese potato salad? Follow the instructions below to make this recipe: 
Step 1- Prep the potatoes
Start with peeling the potatoes before you cut them into small slices and rinse with water. Add enough water to a pan, put potatoes in it, and boil until they become soft. 
Step 2- Mash the potatoes 
Drain the potatoes and sprinkle dashi over them. Using a fork or potato masher, mash the potatoes until smooth. Next, slowly stir through the rice vinegar, then refrigerate them for at least 20 minutes to cool down.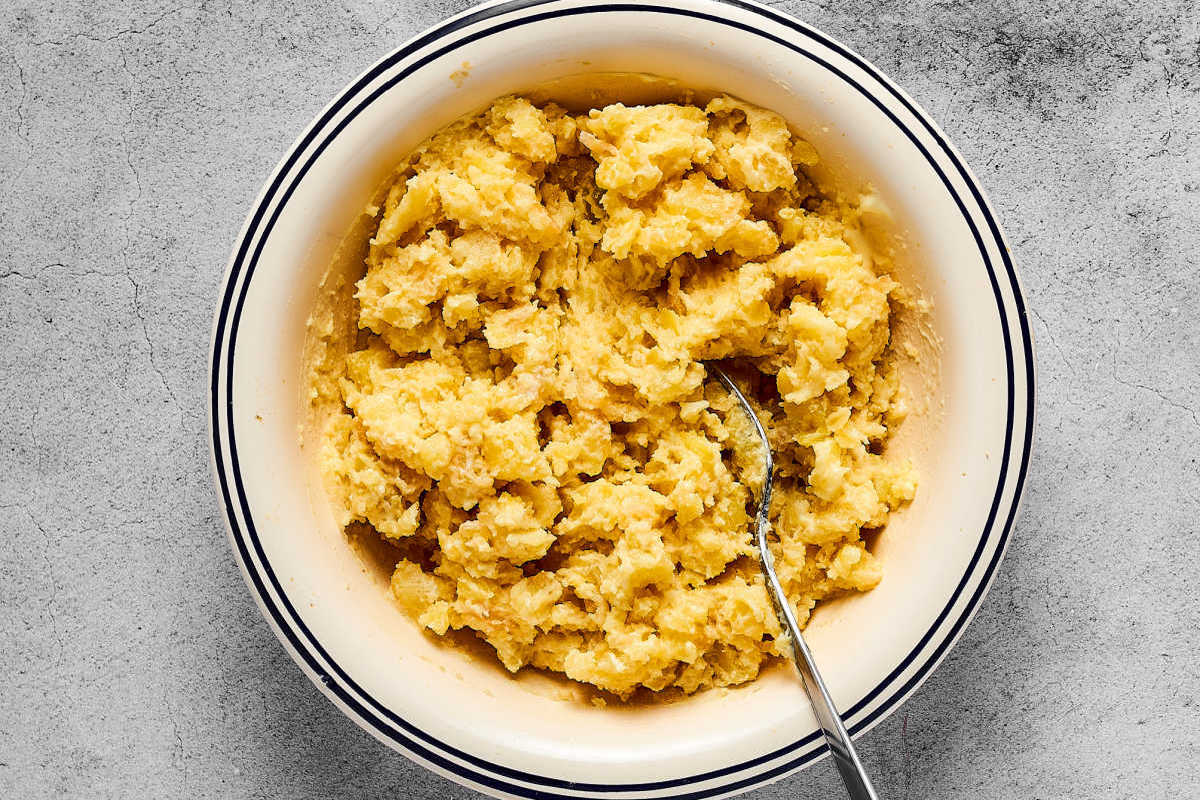 Step 3- Prep the vegetables 
Peel and cut carrots, onions, and cucumber into small slices. Then, add everything, along with the mayonnaise, into the bowl of potatoes and gently fold everything together.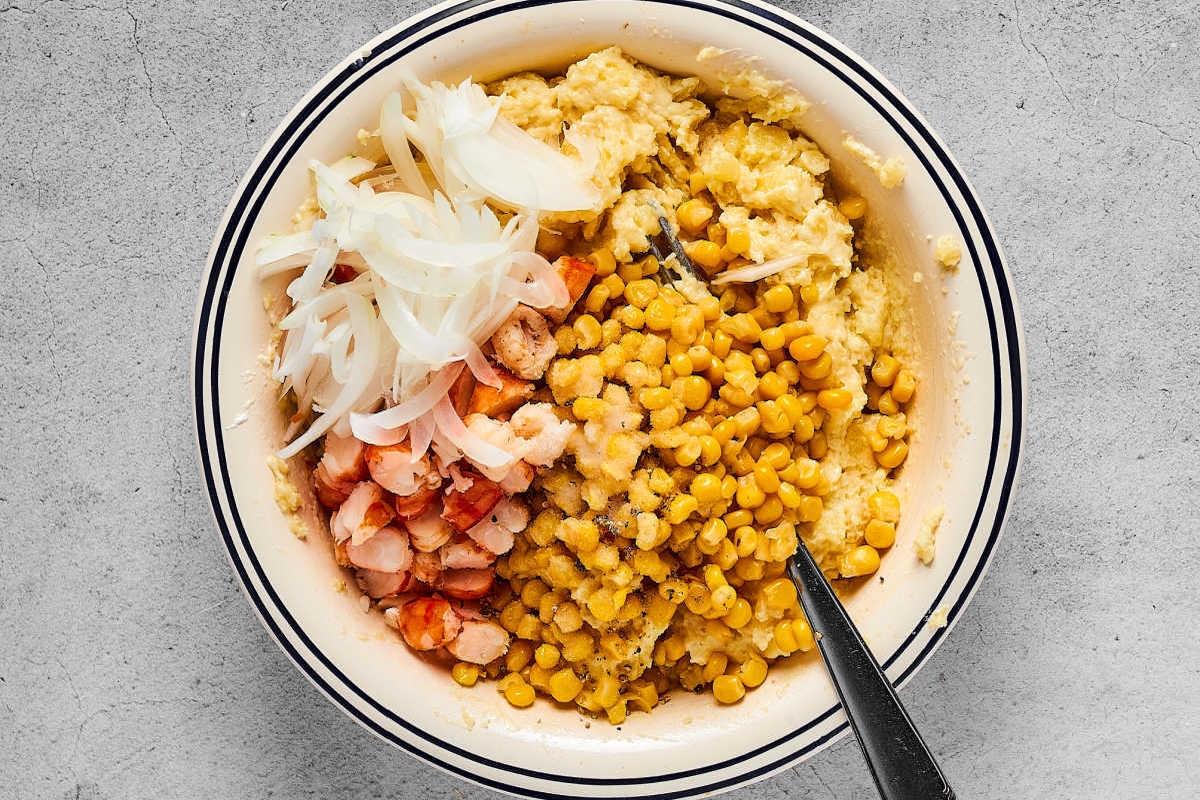 Garnish the ingredient bowl with sesame seeds and serve.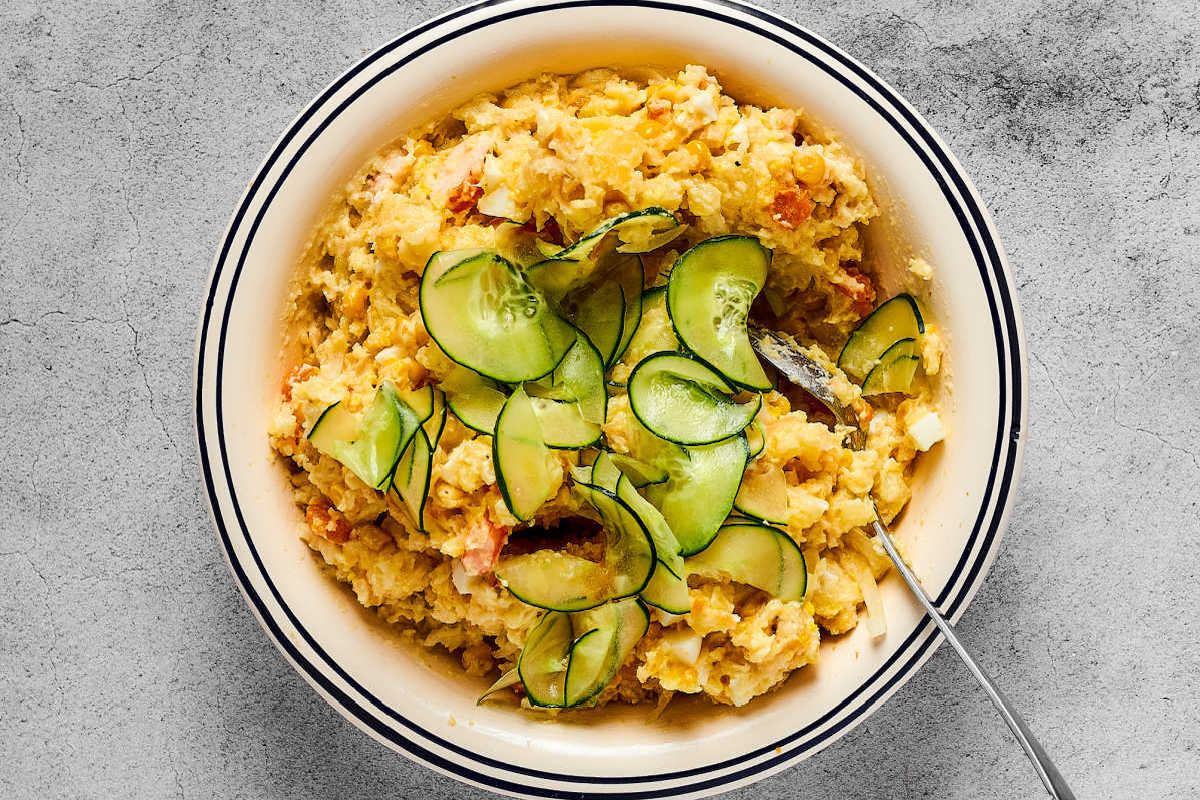 Tips to make the best recipe
Remove excess moisture from

the salad ingredients to ensure the salad is thick and creamy.

Fold everything together gently so that the vegetables don't break apart and that the potatoes can be evenly coated in the mayonnaise.

For even more flavorful potatoes, boil them in Dashi or vegetable stock.
Ingredient swaps and substitutions
What we love about this salad is just how easy it is to customize with a plethora of other ingredients and condiments. Here are some ideas:
Add corn or peas. Many Japanese salads contain these two vegetables that both add flavor and a pop of color.
Add some heat. For a spicy kick, add some sriracha or chilli sauce, or even use spicy mayo.
Use different vegetables. Swap out the carrots and cucumber for some celery or finely diced tomatoes.
Add some protein

. Make this salad a meal by folding through some flaked tuna, salmon, or even shredded chicken breast. 
Storage and make ahead tips
If you want to make this recipe ahead of time and need storage tips, then here we go: 
To store: This salad can be made up to two days in advance. If you have leftovers, store them in the refrigerator for up to three days.
To freeze: Place leftovers in a shallow container and store them in the freezer for up to 6 months.
What to serve with this salad
Because this salad is super flavorful on its own, we love to keep thing simple with some air fried protein. Here are some ideas:
Frequently Asked Questions
What is a Hokkaido potato? 
A Hokkaido potato is a specific kind of white potato that is harvested in Hokkaido, an island of Japan. These potatoes are starchier and fluffier, which is perfect for this salad.
What does this salad taste like? 
This salad is similar to any other kind of potato salad, but with a slightly more tangy hit (from the vinegar) with sweet notes (from the corn and kewpie mayonnaise).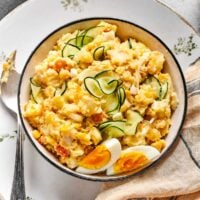 4

large

Yukon Gold potatoes

1

teaspoon

dashi

or stock powder

1

tablespoon

rice vinegar

2

boiled

eggs

chopped

1/2

cup

corn

1/2

small

onion

sliced

1/2

large

carrot

chopped

2

ounces

ham

chopped, optional

1/3

cup

mayonnaise
Boil the potatoes until tender.

Drain the potatoes and transfer them into a large bowl. Using a potato masher, mash until mostly smooth. Stir through the dashi seasoning and rice vinegar. Cover the bowl and refrigerate the potatoes until cool.

Once cooled, add the remaining ingredients and mix until combined.

Serve immediately.
TO STORE: This salad can be made up to two days in advance. If you have leftovers, store them in the refrigerator for up to three days.
TO FREEZE: Place leftovers in a shallow container and store them in the freezer for up to 6 months
Serving: 1serving | Calories: 160kcal | Carbohydrates: 18g | Protein: 4g | Fat: 8g | Sodium: 154mg | Potassium: 423mg | Fiber: 2g | Vitamin A: 786IU | Vitamin C: 18mg | Calcium: 15mg | Iron: 1mg | NET CARBS: 16g