This Pumpkin Pasta is the ultimate comforting fall-time meal! It's rich and creamy with the best crunchy topping.
Love savory pumpkin dishes? Then you've got to try our Pumpkin Soup (made with a can of pumpkin).
What Does Pumpkin Sauce Taste Like?
This sauce has all the comforting elements of a big bowl of Mac and Cheese, but with a heartier, earthier flavor. It tastes like fall in a bowl!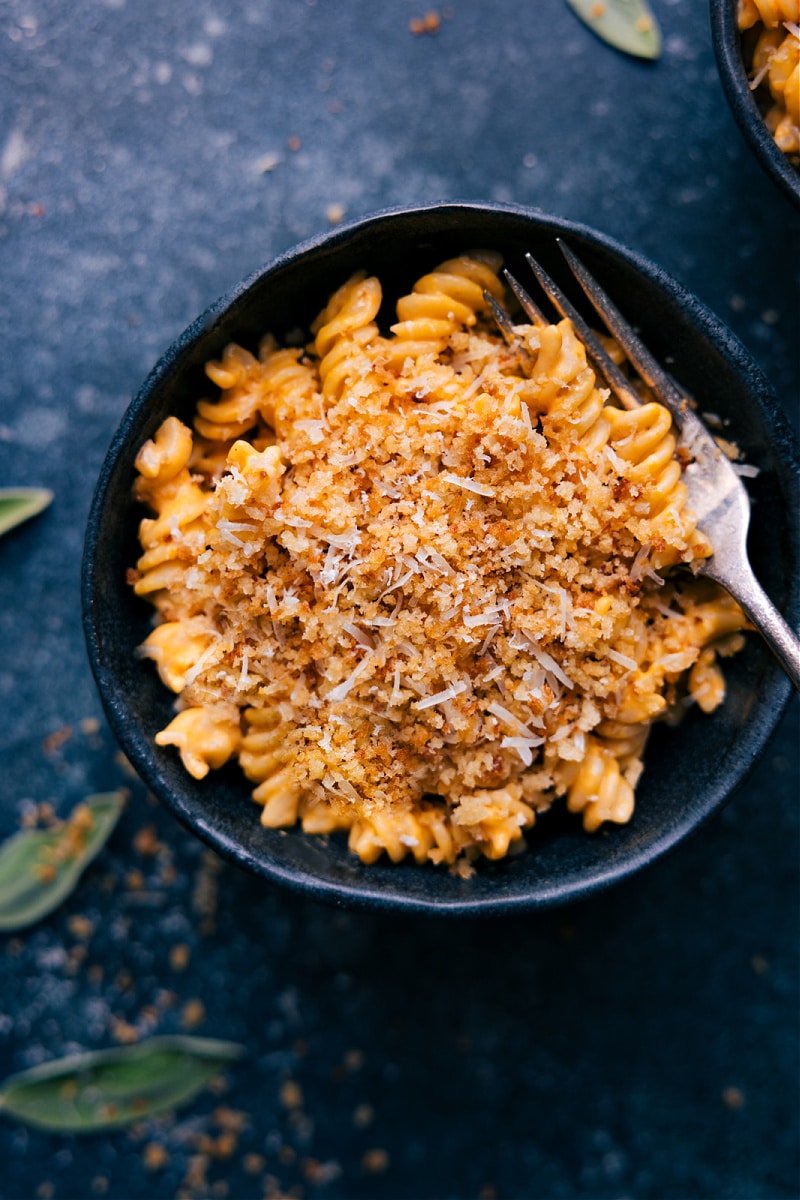 Easy Pumpkin Pasta
While I typically enjoy canned pumpkin in all sorts of sweet applications (I mean, can you really beat these Pumpkin Chocolate Chip Cookies?!), there aren't too many fall dishes that can compete with this creamy Pumpkin Pasta.
It's rich and indulgent-tasting and perfectly hits all the fall-flavor cravings. And the crunchy topping? Unreal! This pasta with pumpkin sauce is a must-make recipe this fall!
Bonus: This pasta dish is so quick and easy to make! The pumpkin pasta sauce only requires a handful of ingredients and can be ready to go by the time the pasta is done boiling. So let's talk about the Pumpkin Pasta sauce.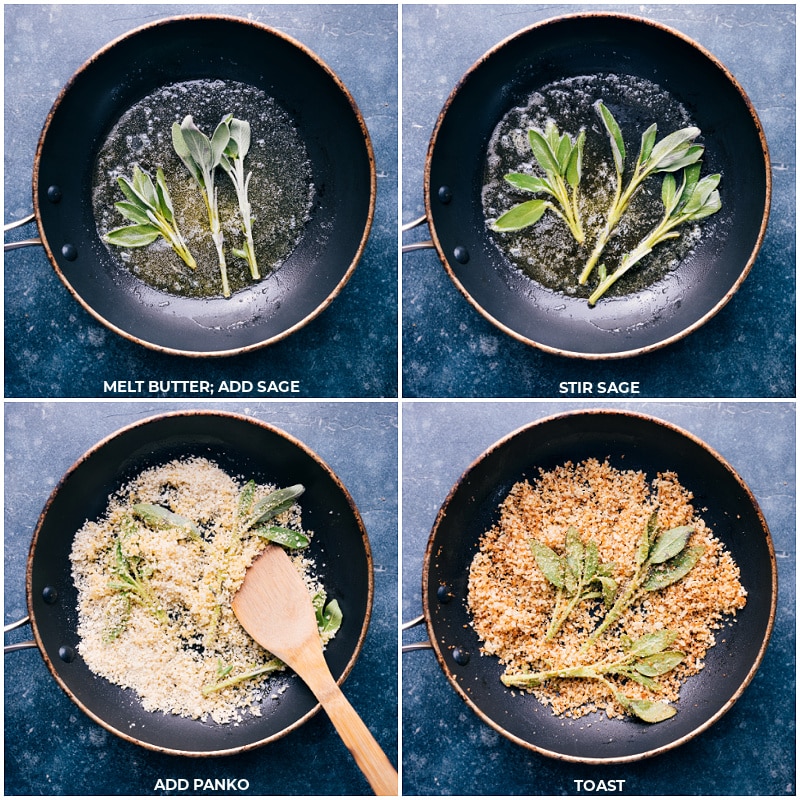 Pumpkin Pasta Sauce Ingredients
Butter. If you want to cut out a bit of fat here, replace the butter with 1 tablespoon olive oil.
Onion and garlic. These two ingredients infuse the sauce with a nice savoriness. We've also tried this dish with thinly sliced shallots instead of a red onion and loved that!
Canned pumpkin puree. That's right — no need to roast a pumpkin; this dish is all about being quick and easy! 
Chicken broth. The broth makes the sauce stretch further so we can use less cream.
Heavy cream. The cream makes this dish rich and creamy — it's a key ingredient to making the best Pumpkin Pasta! Half and half or milk won't thicken the same.
Parmesan cheese: For the perfect melt and to ensure the measurement is accurate (so the dish isn't too salty), use a block of Parmesan cheese and grate it on the small holes of your cheese grater. Measure and add!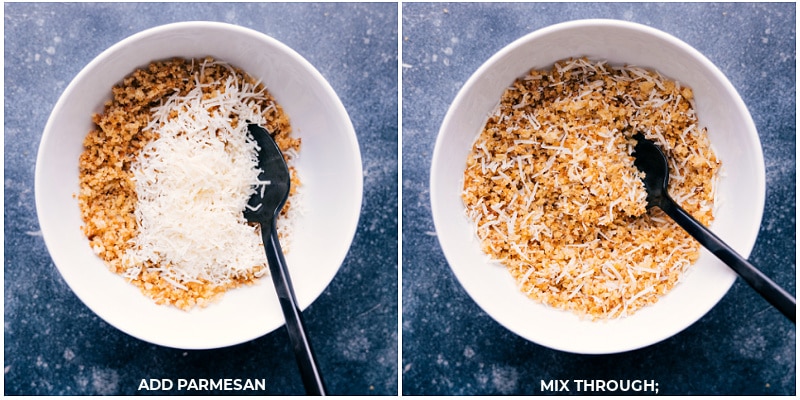 What Is Pumpkin Pasta Made Of?
Beyond the sauce itself, we've got the pasta and the crunchy topping. The topping is optional, but if you have the time, it's such a wonderful accompaniment to the Pumpkin Pasta. It's infused with a lovely sage flavor that complements the pumpkin in the pasta so nicely. The crunch adds a nice textural contrast as well.
While pretty much any type of pasta will work, we love using one with plenty of nooks and crannies to soak up that luxurious pumpkiny sauce!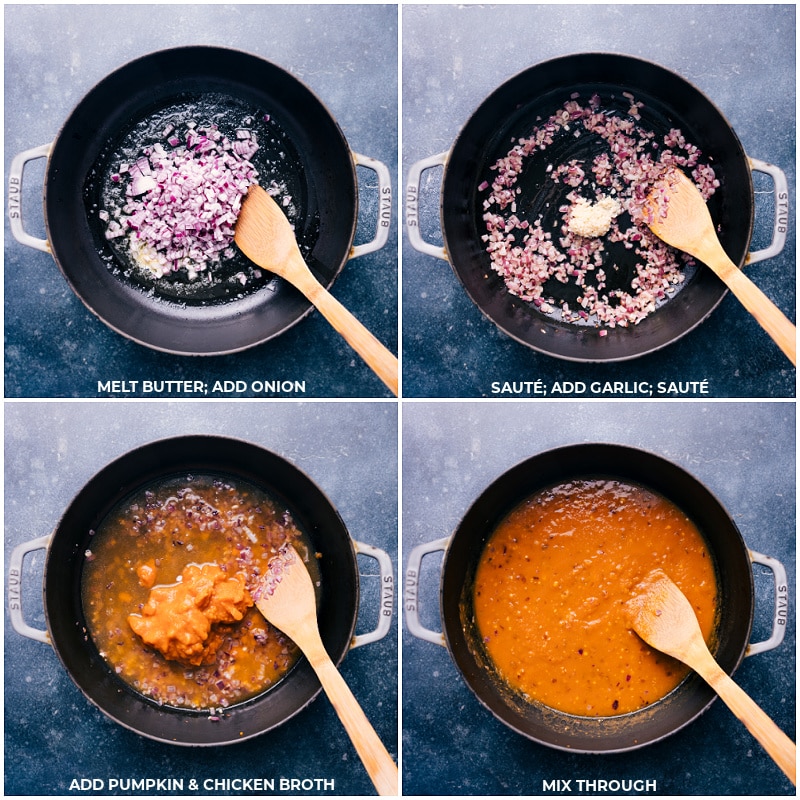 What Canned Pumpkin To Use
Make sure to use the right type of canned pumpkin. Pumpkin pie mix contains cooked, pureed pumpkin PLUS milk, sweetener, and spices. It's ready to pour in a pie shell and bake. This is not what we want. Look for 100% pure cooked and pureed pumpkin.
The ingredient list should show only pumpkin puree. We love Libby's® canned pumpkin (not sponsored).
VARIATIONS
Pumpkin Pasta Variations
Make Pumpkin Pasta with sausage by browning some Italian sausage first. Remove sausage, set it aside, and prepare the sauce. Once finished, toss sausage and pasta back in the sauce.
Prepare a healthy Pumpkin Pasta sauce by replacing the cream with coconut milk (this makes the dish a bit sweeter). Use the same idea for a Pumpkin Pasta vegan version — replace the cream with full-fat coconut milk
For an Italian Pumpkin Pasta sauce, add in 1-2 teaspoons Italian seasoning.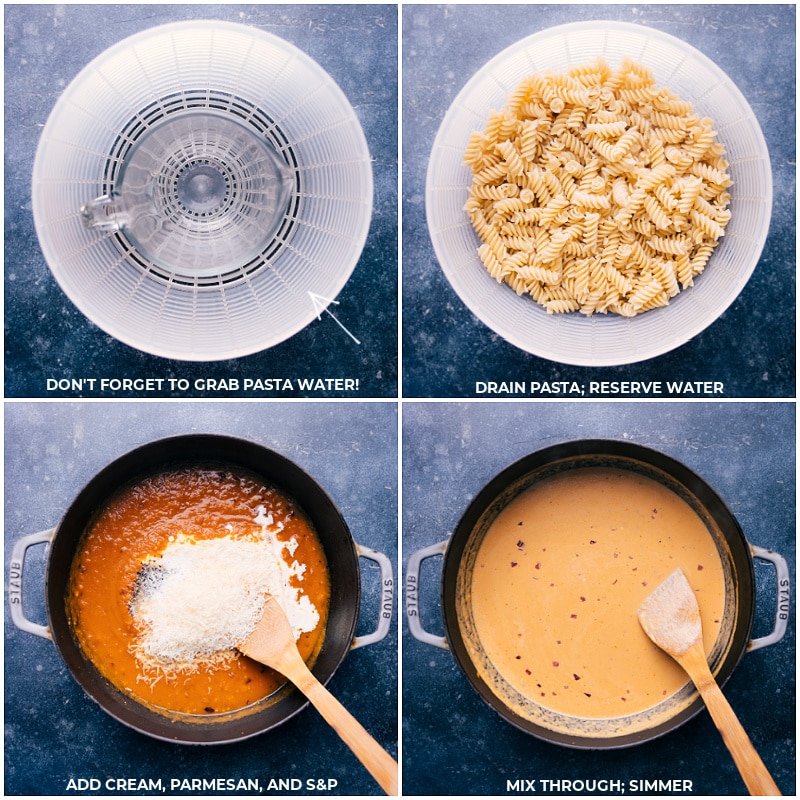 How To Make Pumpkin Pasta Sauce
Tossing the hot pasta with the sauce is called emulsifying and that's how you get a wonderfully smooth and flavorful sauce that clings to the pasta instead of falling to the bottom of the pot! (More details here.)
If the pasta absorbs too much liquid, we add a splash of reserved pasta water. This can help loosen the sauce so you don't have a dry pasta dish.
QUICK TIP
Do you struggle to remember to save some pasta water before draining the pasta? I know I do! Here's a trick: Place the colander in the sink with a mug or heat-safe measuring cup in the center. When you go to drain the pasta, you'll see the mug and be reminded to pull out some water first!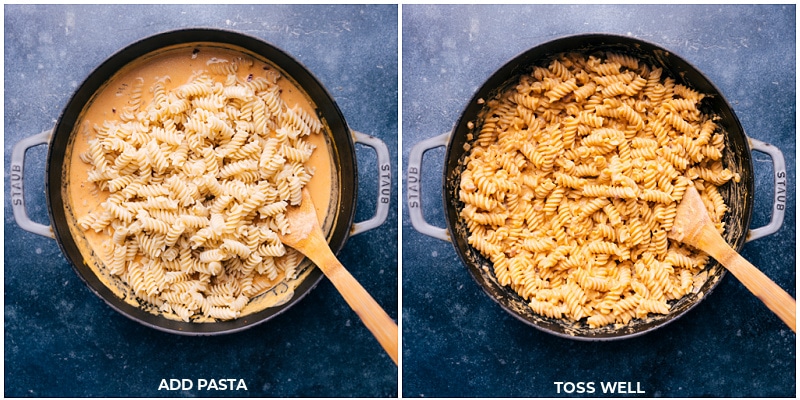 STORAGE
Pumpkin Pasta Recipe Storage
This recipe is best enjoyed the minute the sauce is emulsified. In fact, this is when all pasta dishes taste their best!
You can certainly store leftovers, but you'll likely need to add some more heavy cream or chicken broth to loosen the sauce again as you reheat the pasta. Leftover pasta will be softer, but still plenty flavorful. Because of the pasta and dairy in this dish, it isn't a great candidate for freezing and thawing.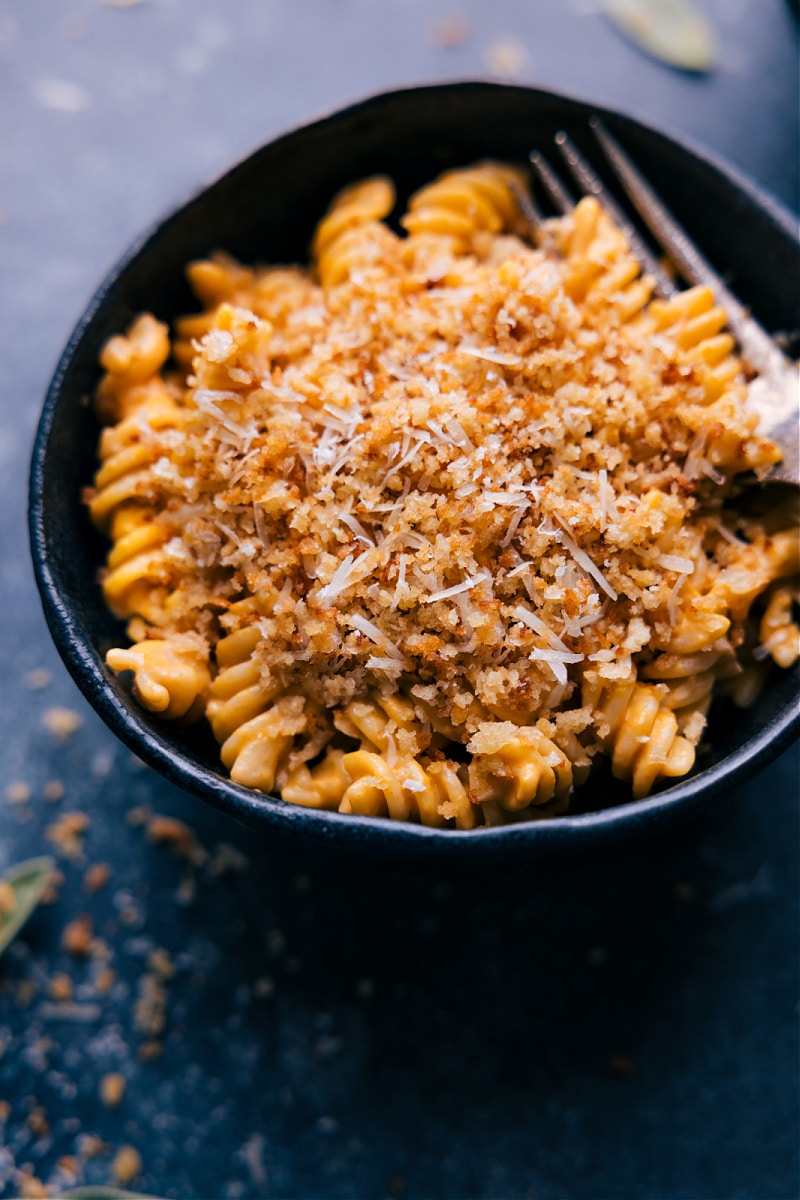 What Goes Well With Pumpkin Pasta Sauce:
Use Leftover Pumpkin In One Of These Dishes:
Pumpkin Pasta
This Pumpkin Pasta is the ultimate comforting fall-time meal! It's rich and creamy with the best crunchy topping.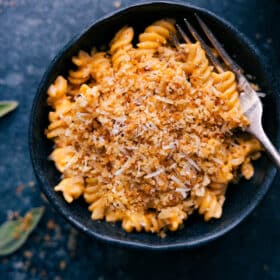 Pumpkin Pasta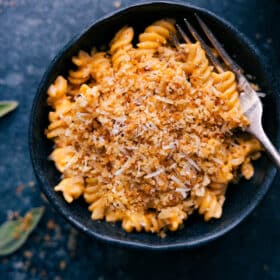 This Pumpkin Pasta is the ultimate comforting fall-time meal! It's rich and creamy with the best crunchy topping.
Ingredients
Topping (Optional…kind of)
Instructions
OPTIONAL TOPPING: If you're making the topping, start here! In a medium nonstick skillet, heat butter on medium heat and stir as the butter melts. Once it melts, add the sage leaves and stir for 30 seconds. Add in panko, season with a tiny pinch of salt and cook, stirring near constantly until nicely toasted and golden. (Watch carefully so it doesn't burn.)

TOPPING, CONT.: Immediately remove from heat and dump everything into a bowl to stop the cooking. Once it has fully cooled to room temperature, pull out sage leaves (discard) and stir the Parmesan cheese through.

PASTA: Follow package directions to cook the pasta, reserving a mugful of water before draining the pasta to use later. (Don't rinse pasta after draining.)

PUMPKIN SAUCE: While the pasta is cooking, add 2 tbsp butter to a large skillet or pot (big enough to hold all the pasta). Heat to medium. Once melted, add in red onion and sauté until soft, about 3-5 minutes. Add in garlic and sauté for 30 seconds-1 minute or until fragrant. Pour in chicken broth and add pumpkin. Stir until smooth. Reduce the heat to low and add in the heavy cream and Parmesan cheese. Season to taste (I add 1 tsp salt & 1/2 tsp pepper). Simmer, stirring occasionally, until the sauce thickens and slightly reduces. (Note 3)

ASSEMBLE: Dump the drained pasta directly from the colander into the sauce and gently toss for about 1-1/2 to 2 minutes or until the sauce thickens and nicely coats the pasta (it shouldn't be falling to the bottom of the pot). If the sauce is too thick, add a splash of that reserved pasta water. Serve in bowls topped with a big handful of the crunchy topping and enjoy promptly!
Recipe Notes
Note 1: Pumpkin: Be sure to choose pure pumpkin puree, not pumpkin pie filling. The pie filling has spices and sugar added in. Also, note, we're only using 1 cup, not the whole can!
Note 2: Parmesan: Packaged grated Parmesan (in the can) is very salty and won't melt as nicely in this recipe. We highly recommend grating a block of Parmesan cheese on the small holes of the grater for ultra-fine cheese shreds. Alternatively, use finely grated Parmesan cheese.
Note 3: How do you know when sauce is thickened? Stir the sauce with a spoon, lift it up, and immediately trace a line across the back of the spoon with your fingertip. If the line remains visible, the sauce is perfect! If not, it needs to be cooked a little longer.
Nutrition Facts
Serving: 1serving | Calories: 607kcal | Carbohydrates: 70g | Protein: 18g | Fat: 29g | Saturated Fat: 18g | Polyunsaturated Fat: 2g | Monounsaturated Fat: 7g | Trans Fat: 0.4g | Cholesterol: 79mg | Sodium: 420mg | Potassium: 372mg | Fiber: 4g | Sugar: 6g | Vitamin A: 7329IU | Vitamin C: 4mg | Calcium: 229mg | Iron: 2mg
We do our best to provide accurate nutritional analysis for our recipes. Our nutritional data is calculated using a third-party algorithm and may vary, based on individual cooking styles, measurements, and ingredient sizes. Please use this information for comparison purposes and consult a health professional for nutrition guidance as needed.