Want Japanese chicken cutlets without deep-frying? Try my crispy and juicy Baked Chicken Katsu with savory tonkatsu sauce. In this recipe, chicken breast is coated in golden brown toasted panko and baked in the oven. Served with fresh shredded cabbage salad, these cutlets make a lighter and healthier stand-in for the fried version. So simple and easy, you'll want to make this tonight!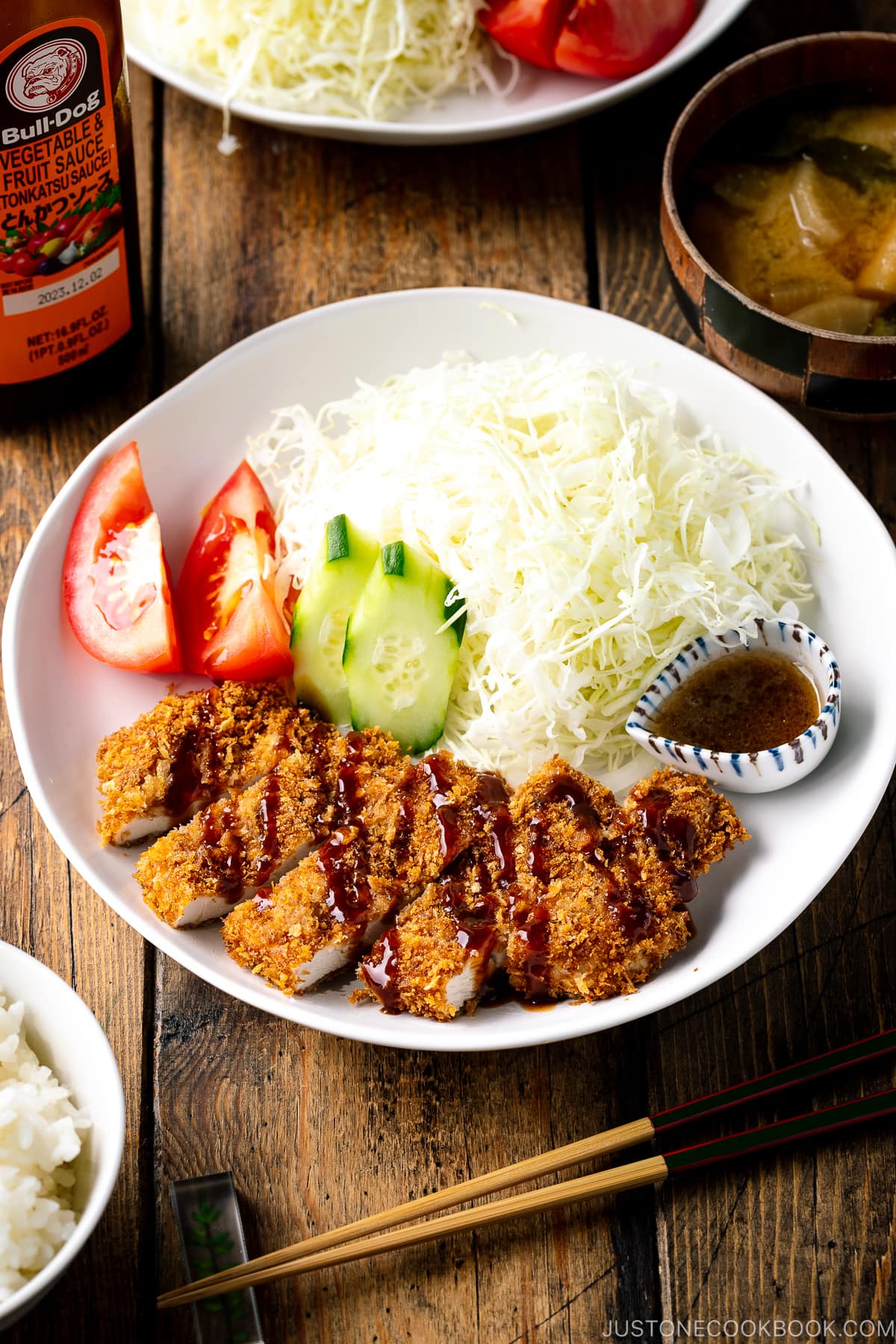 Both Chicken Katsu and Tonkatsu are popular Japanese recipes but if you avoid fried foods or don't deep fry at home, today's Baked Chicken Katsu (揚げないチキンカツ) is a total game changer.
This recipe is super easy, which makes it a perfect weeknight dinner. Since the chicken is oven-baked, you can enjoy these healthier Japanese chicken cutlets without any guilt.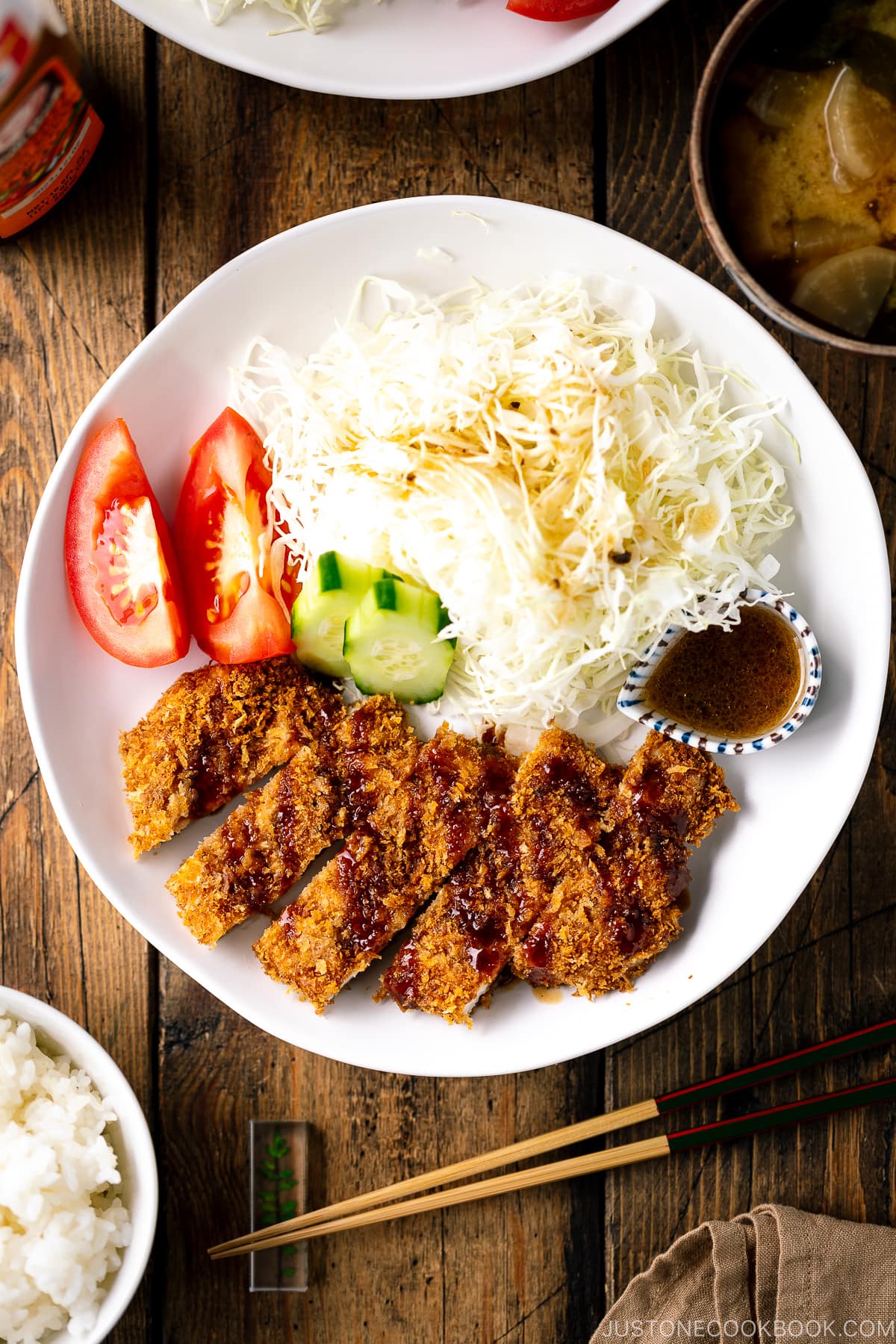 What is Chicken Katsu?
Just in case you haven't heard of this dish before, Chicken Katsu is a Japanese version of chicken cutlets. Here are some of the characteristics.
Chicken breasts are not pounded as thin as western-style chicken cutlets.
Chicken katsu is coated with panko (パン粉), or Japanese breadcrumbs. They are white crumbs from Japanese milk bread (Shokupan) and they are lighter and airy.
It is typically deep-fried, not shallow pan-fried (except for the home cook version).
Served with a sweet and savory tonkatsu sauce, a thicker version of Worcestershire sauce.
Now if you want to substitute chicken with pork, you can try the deep-fried Tonkatsu recipe or the Baked Tonkatsu recipe.
Five Pro Tips for Making Baked Chicken Katsu
Tip 1: Toast the panko
The most important tip to make the perfect baked chicken katsu is to toast the panko first and then coat the chicken with the toasted panko. Why?
The toasted panko gives the chicken katsu an even golden colored crust. If you bake the chicken coated with uncooked panko breading, it is difficult to achieve a beautiful uniform color because the oven has hot spots. With the toasted panko, your baked chicken katsu will always look like the deep-fried ones.
Toasting makes the panko extra crispy and crunchy. Toasting helps to remove any moisture in the panko and makes it extra crisp and crunchy.
Tip 2: Butterfly the chicken
Cooking juicy and moist chicken breasts can be challenging. Besides using organic chicken, I always make sure that the chicken pieces have even thickness. We'll discuss more later.
Tip 3: Add oil to the beaten egg
Eggs and meat are like water and oil, so the batter and meat can potentially come off during or after deep frying. By mixing the beaten egg with oil in advance, the breading adheres to the meat, making it difficult to come off.
Tip 4: Use a wire rack
When baking the chicken, it's important to use a wire rack so that the air circulates underneath the chicken. If you don't have a wire rack, you may want to flip the chicken halfway to make sure the bottom side is also cooked through.
Tip 5: Don't overcook the chicken
Chicken breasts can get dry easily when you over bake them as it has less fat (than chicken thighs). Measuring the internal temperature of the chicken is the best way to prevent this issue.
Once the temperature reaches 160ºF (71ºC) for 15 seconds or 165ºF (74ºC) instantly, you must immediately take out the chicken from the oven.
I highly recommend getting an instant-read thermometer such as this Thermapen from ThermoWorks.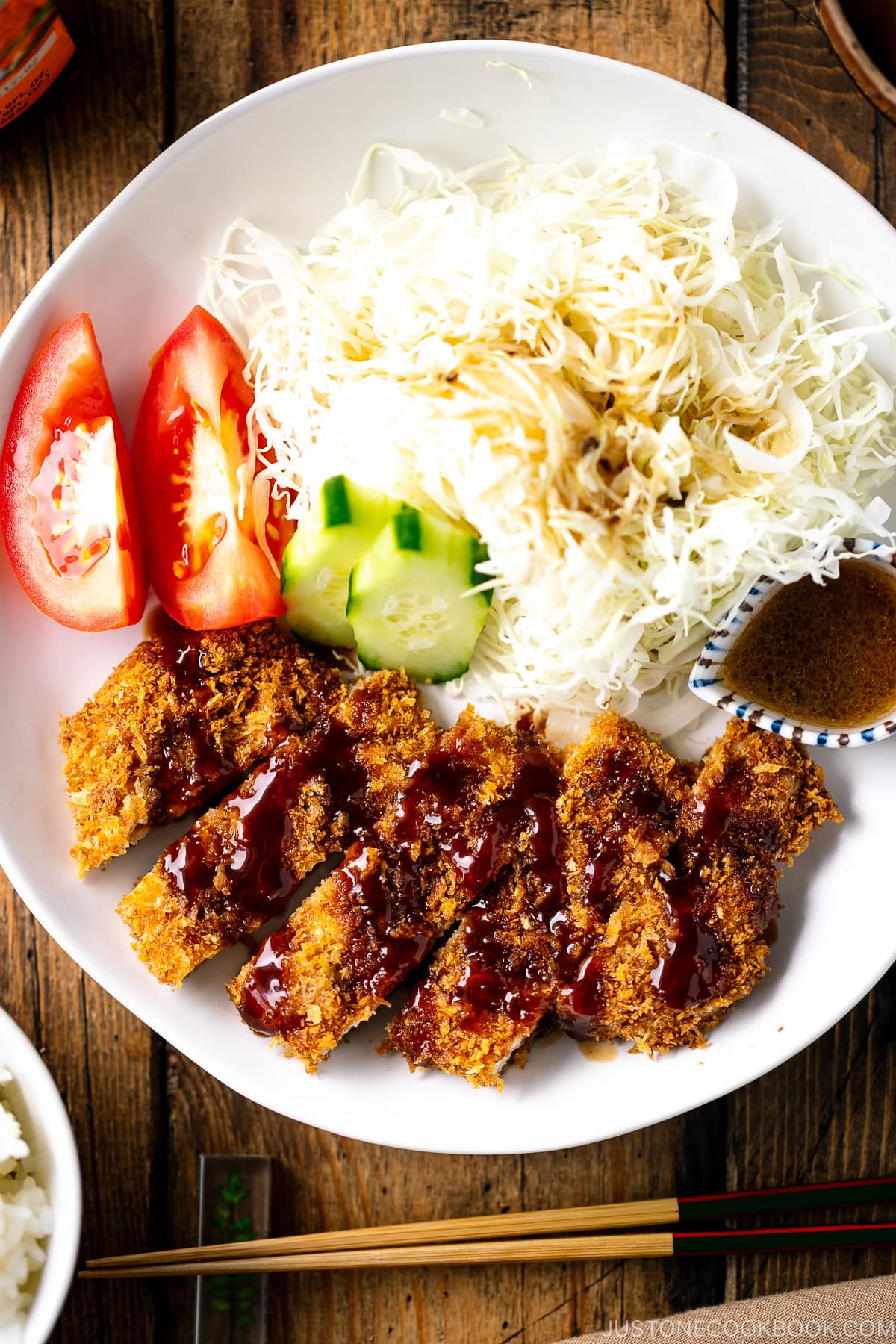 How to Make Baked Chicken Katsu
Ingredients You'll Need
Chicken breast
Salt and pepper
Flour (cake flour or all-purpose flour)
Egg
Panko (Japanese bread crumb)
Cooking oil
Overview: Cooking Steps
Toast the panko until golden brown and let cool.
Butterfly the chicken breast (or use the Japanese "Kannon Biraki" method) and season it lightly with salt and pepper.
Coat the chicken with flour, beaten egg, and toasted panko.
Lay the chicken on a wire rack over a rimmed baking sheet.
Bake at 400ºF (200ºC) for 25-30 minutes, or until internal temperature reaches 165ºF (74ºC).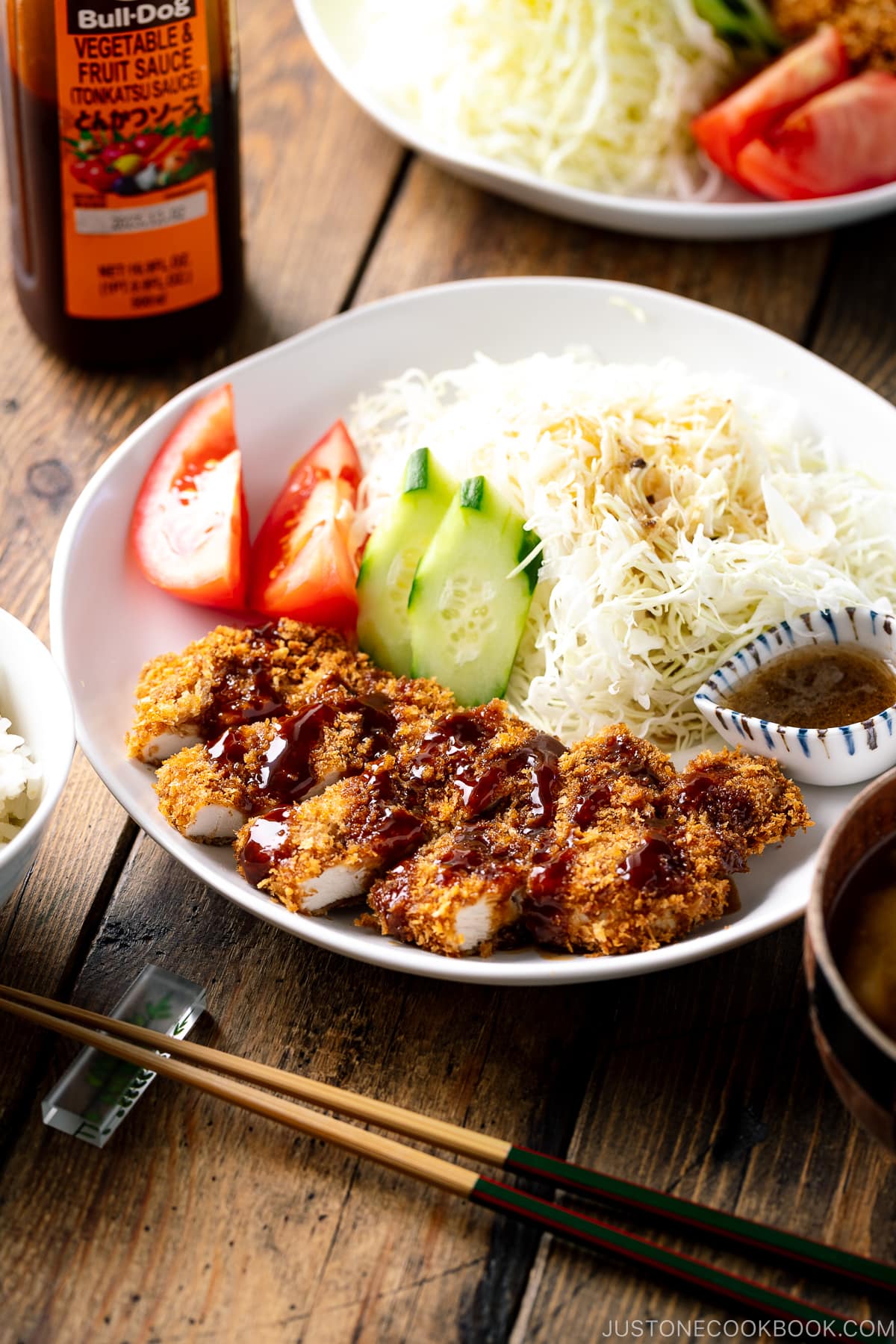 How to Butterfly the Chicken Breast (Kannon Biraki)
Chicken breasts are uneven and when you wait until the thick part of the chicken is cooked through, the thinner parts of the chicken are already overcooked, resulting in dry meat.
To prevent this from happening, it's important to make sure the chicken breasts are even thickness. You can pound the meat with a mallet or you can butterfly (and pound) the chicken.
Typically, to butterfly the chicken breast, you would slice it in half horizontally. In Japan, we have a different way to butterfly the chicken, and this special cutting technique is called Kannon Biraki (観音開き).
Kannon Biraki – Japanese Cutting Technique
With a sharp knife, score the chicken breast lengthwise along the top center line, cutting about halfway through the thickness of the breast; do not cut completely through. Then, turn the knife parallel to the cutting board and slice the chicken breast from the center toward the left side (or the right side, if you're left-handed) to make it evenly thin.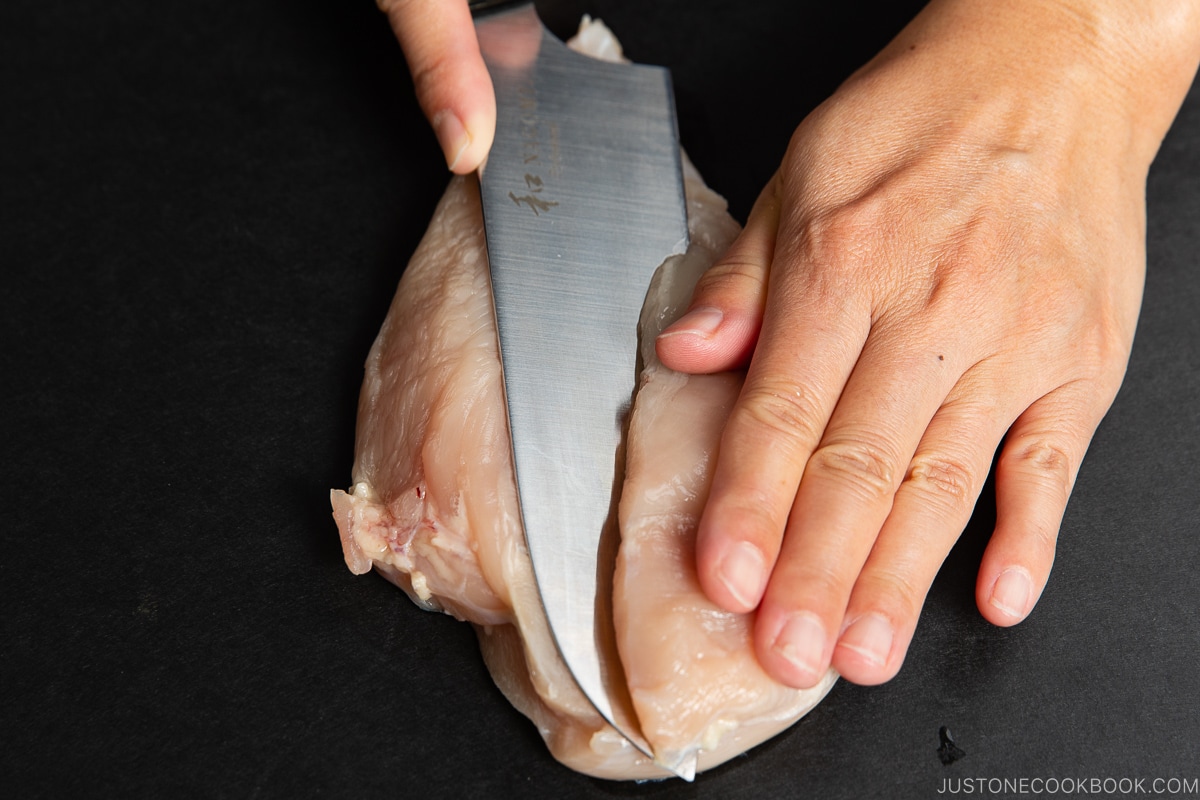 Stop before you cut all the way through the edge; then, open it like a book. Imagine we're creating a French door here. Rotate the breast 180 degrees and butterfly the second side in the same manner from the center toward the left (if you hold the knife in your right hand), creating another "door."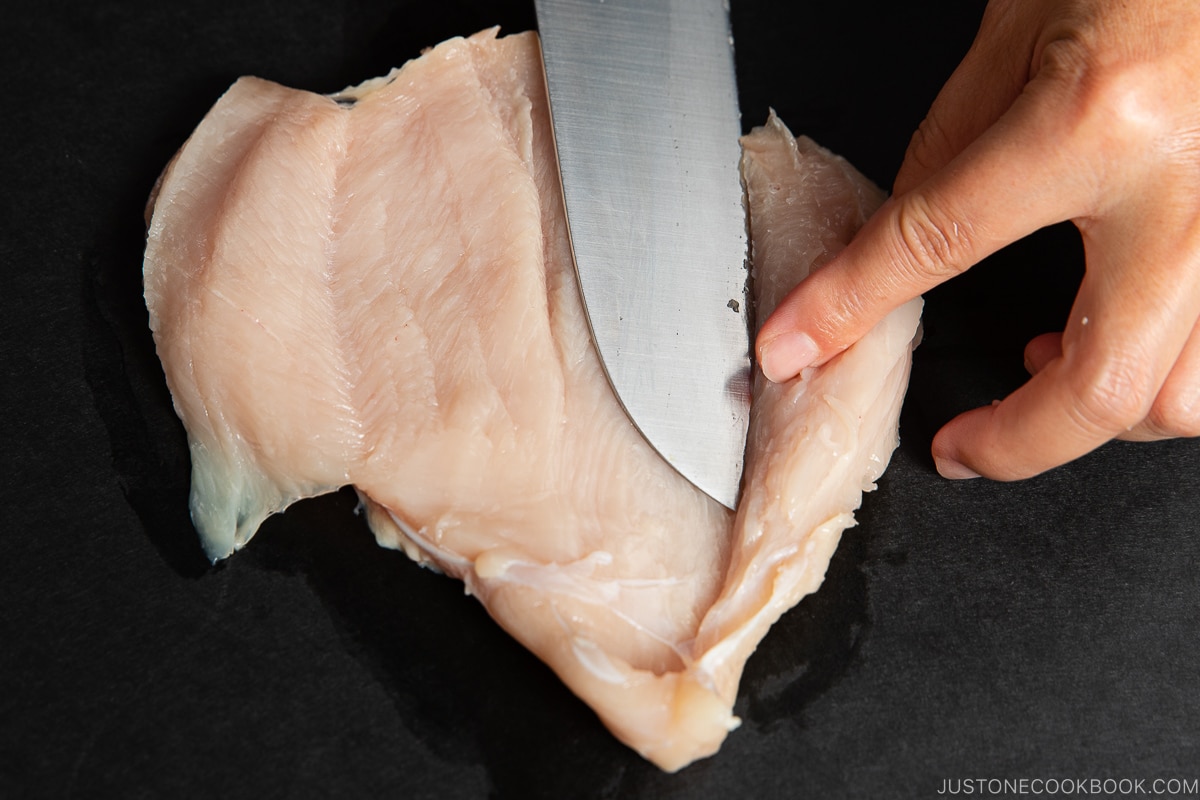 The term "Kannon Biraki" comes from the resemblance of the French-style hinged double doors that open to the front/back. This type of door was used for the Kannon Bodhisattva statue, and Biraki is the noun form of the word hiraku, meaning "to open" in Japanese.
Compared to the typical butterfly cutting technique, I find this Japanese butterfly technique more suitable for chicken katsu as it gives the typical "katsu" look. It's up to you which butterfly methods you want to use.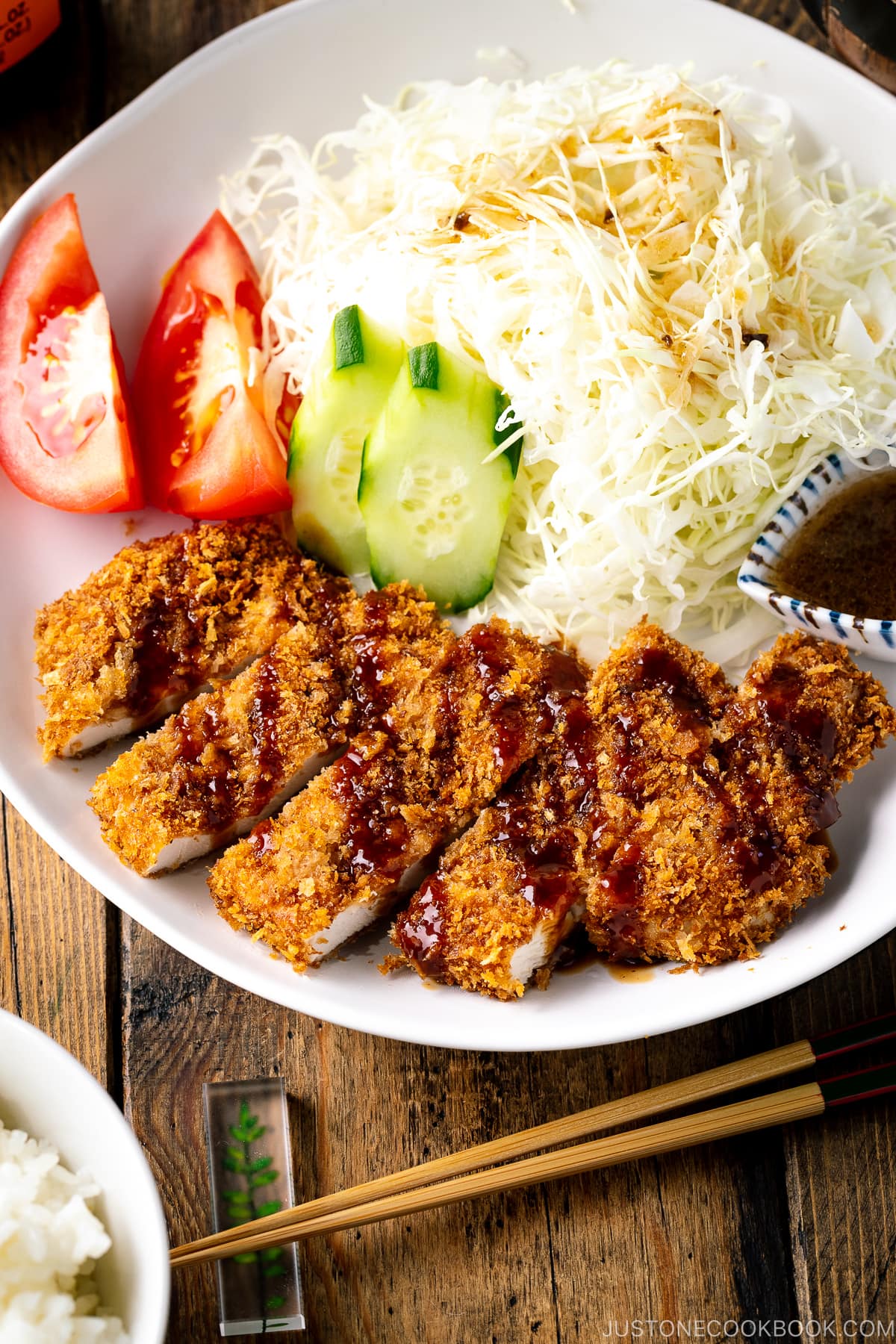 What to Serve with Baked Chicken Katsu
Chicken katsu makes a complete meal when served with a shredded cabbage salad, tomatoes, sliced cucumber, homemade or store-bought salad dressing, and a delicious tonkatsu sauce.
Japanese deep-fried foods are always served with shredded cabbage on the same plate. You can thinly slice the cabbage yourself with a sharp knife or use this cabbage slicer that I highly recommend! Serve with your favorite salad dressing like Wafu Dressing or Sesame Dressing.
Other Katsu Recipes
Tableware from Musubi Kiln
I've partnered with a great ceramic online shop from Japan called Musubi Kiln. You will get 10% off with a coupon code JUSTONECOOKBOOK for your purchase. In this post, I've used: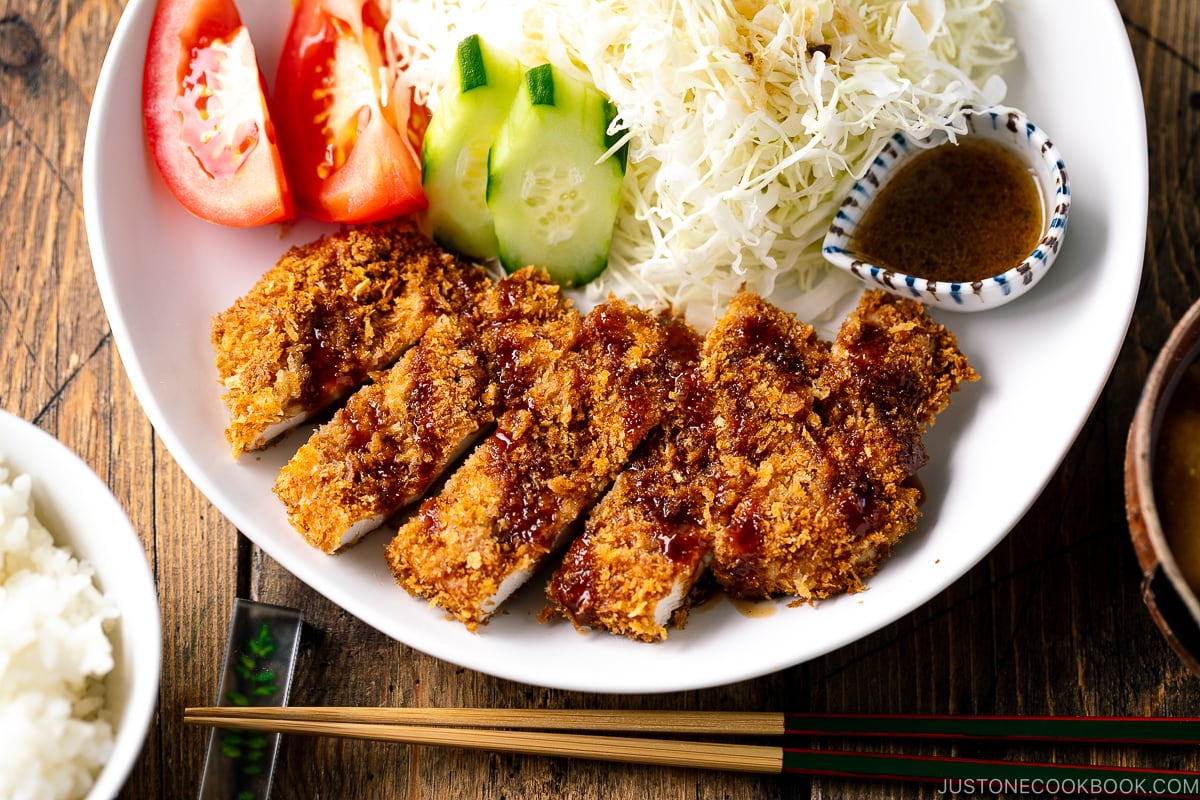 Wish to learn more about Japanese cooking? Sign up for our free newsletter to receive cooking tips & recipe updates! And stay in touch with me on Facebook, Pinterest, YouTube, and Instagram.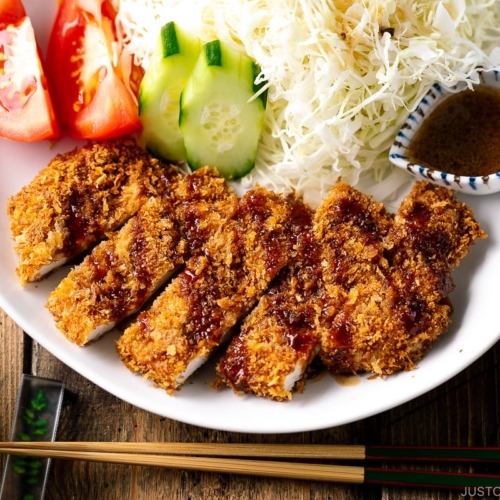 Baked Chicken Katsu
Want Japanese chicken cutlets without deep-frying? Try my crispy and juicy Baked Chicken Katsu with savory tonkatsu sauce. In this recipe, chicken breast is coated in golden brown toasted panko and baked in the oven. Served with fresh shredded cabbage salad, these tender cutlets make a lighter and healthier stand-in for the fried version. So simple and easy, you'll want to make this tonight!
Japanese Ingredient Substitution: If you want substitutes for Japanese condiments and ingredients, click here.
Instructions 
Gather all the ingredients. Adjust an oven rack to the middle position and preheat the oven to 400ºF (200ºC). For a convection oven, reduce the cooking temperature by 25ºF (15ºC). Line a rimmed baking sheet with parchment paper.
Nutrition
Calories: 231 kcal · Carbohydrates: 12 g · Protein: 28 g · Fat: 7 g · Saturated Fat: 2 g · Polyunsaturated Fat: 1 g · Monounsaturated Fat: 3 g · Trans Fat: 1 g · Cholesterol: 119 mg · Sodium: 240 mg · Potassium: 463 mg · Fiber: 1 g · Sugar: 1 g · Vitamin A: 102 IU · Vitamin C: 1 mg · Calcium: 34 mg · Iron: 1 mg
©JustOneCookbook.com Content and photographs are copyright protected. Sharing of this recipe is both encouraged and appreciated. Copying and/or pasting full recipes to any website or social media is strictly prohibited. Please view my photo use policy here.
Editor's Note: This post was originally published on October 27, 2013. It's been republished with new images and updated blog content on September 26, 2022.