Start your day off right with these grain-free, pumpkin-packed, and oh so scrumptious pumpkin pancakes. These festive pancakes will spruce up your Fall breakfasts all season long. Whip up a batch today.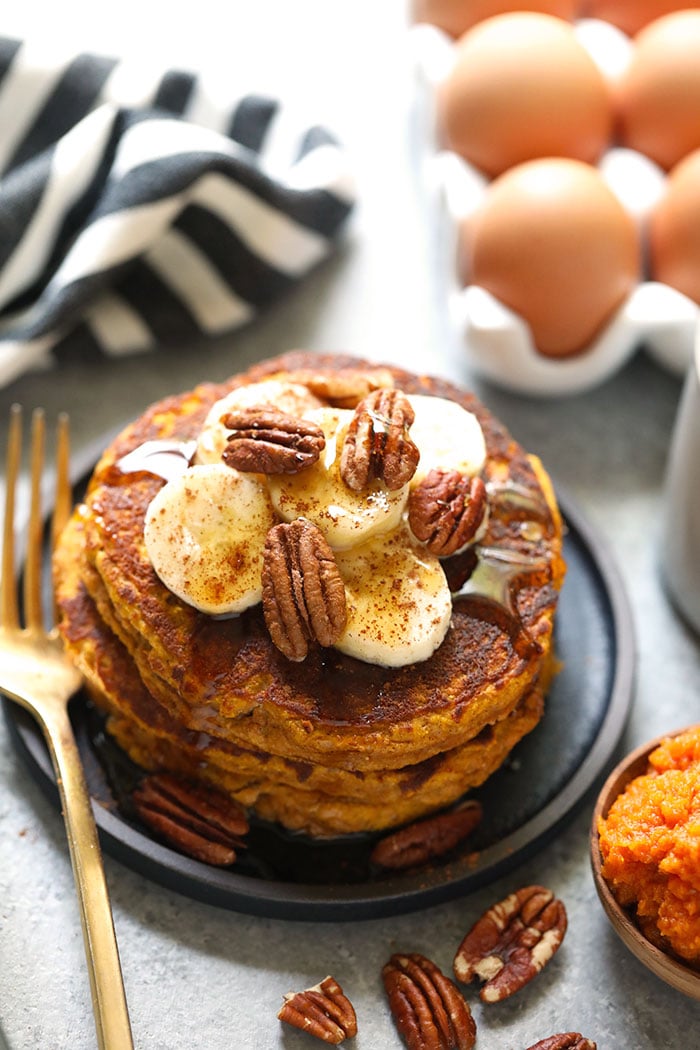 Gluten Free Pumpkin Pancakes
Gluten free? No problem. These gluten free pumpkin pancakes are chewy, packed with fall flavors and easy to. make. We like to make a double batch and freeze some for later, too.
What you'll love about these pancakes
They are gluten free AND delicious.
You can make a double batch and freeze half for later. We love to pop them into the toaster to reheat them.
It's the perfect pancake recipe for fall.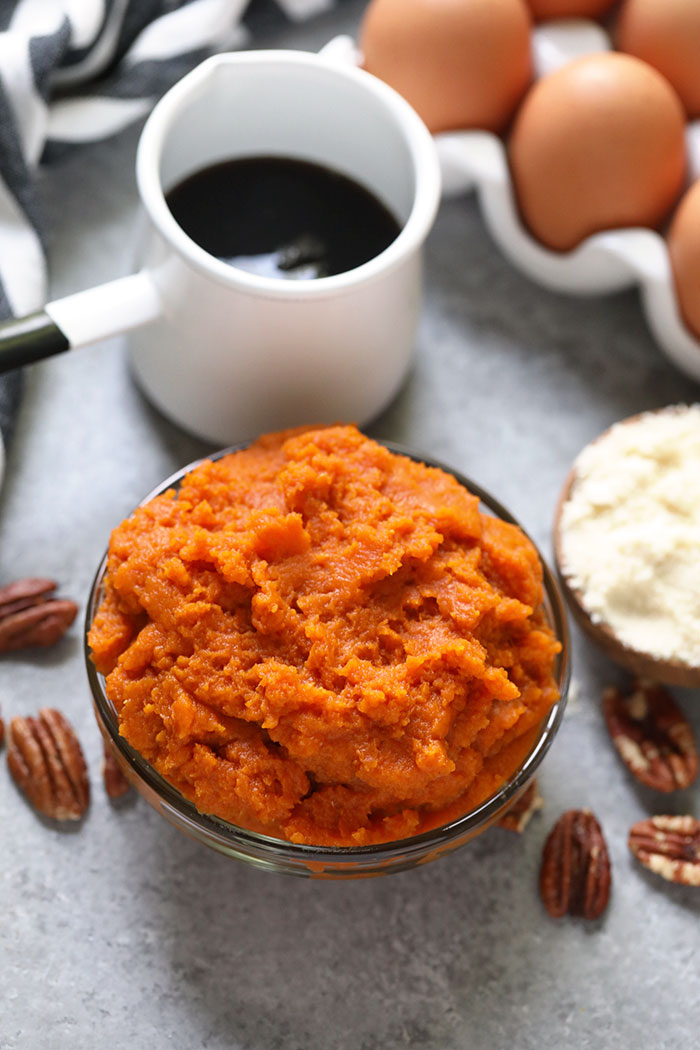 Featured Ingredients
Eggs- eggs are important in this recipe. They bind the pancakes and give them body.
Pumpkin puree– make sure to use unsweetened pumpkin puree.
Almond meal– when you are buying almond meal for this gluten free pumpkin pancake recipe be sure you are buying the fine almond flour and not almond meal.
Coconut flour– the coconut flour adds both flavor and richness to this recipe.
Baking powder– we use baking powder as a levener for these cakes.
Pumpkin Pie Spice- we highly recommend making this homemade pumpkin pie spice, but store bought pumpkin pie spice will work just fine.
Maple syrup– we naturally sweeten these pumpkin pancakes with maple syrup. If you like your pancakes on the sweeter side you can add another tablespoon to the batter or just drizzle your pancakes with maple syrup after they are made.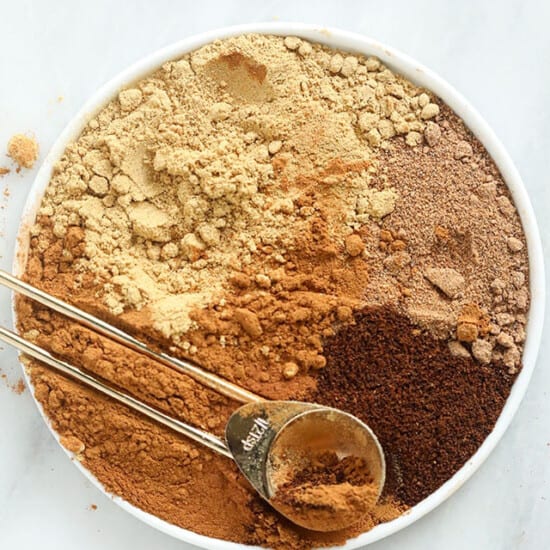 homemade
pumpkin pie spice
Make your own pumpkin pie spice for all of the delicious fall recipes. We used this pumpkin pie spice for these gluten free pumpkin pancakes and they are delicious.
Make It
Directions at a Glance
Add all of the dry ingredients to a bowl and whisk them together. Set aside.
In a separate bowl, add all of the wet ingredients together and whisk until smooth. Add the dry ingredients to the wet ingredients.
Heat a large skillet over medium/low heat and add coconut oil. When the coconut oil is melted add 1/4 cup of the pancake batter to the skillet and cook the pancake for 3 minutes per side.
Repeat step 3 until all the pancakes are cooked. Top with your favorite toppings and enjoy.
Here's a tip: If the pancake batter is too thick, add a tablespoon or two of almond milk to the batter.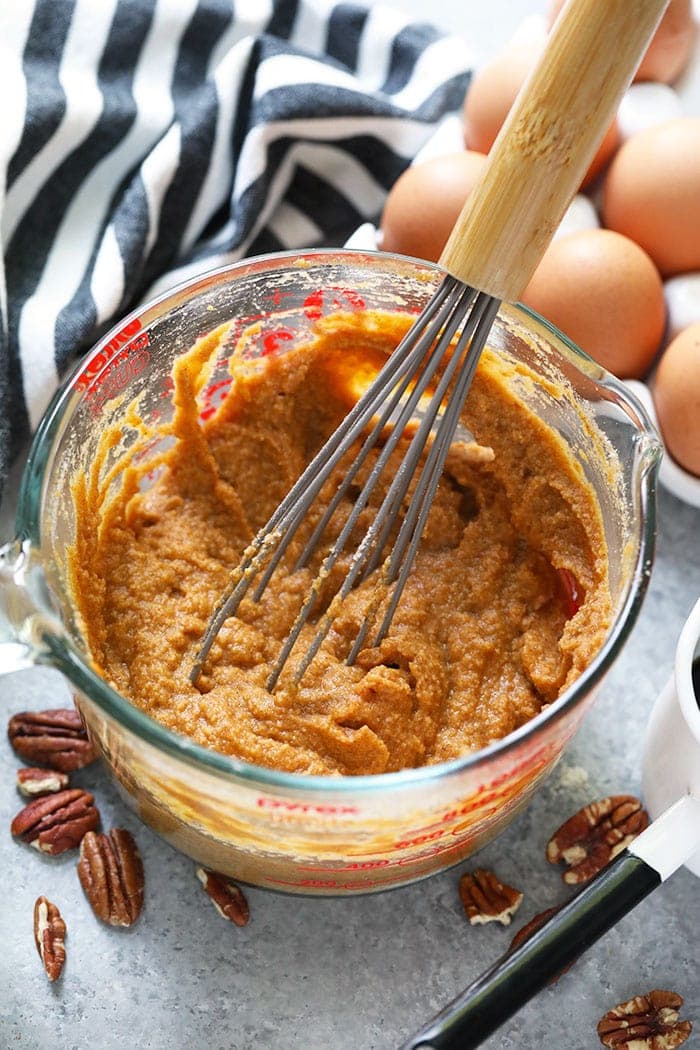 Tips for Gluten Pumpkin Pancakes
Remember that the first pancake is always a dud. It takes a minute for the skillet to get hot and for you to feel how the pancakes cook in your skillet.
Don't hesitate to add a little bit of almond milk to the pancake batter. Just be sure to add a little bit at at time.
If you would like the pumpkin pancakes to be a bit spicier, add more pumpkin pie spice.
Common Questions
What are paleo pancakes made of?
We make our paleo pancakes with eggs, almond flour, and coconut flour.
Can I sub 1:1 gluten free flour in this recipe?
We do not suggest substituting gluten free flour in this recipe.
How do I make these pancakes fluffy?
You can make these pancakes fluffier by whipping egg whites together and folding them into the batter to add more air to the batter.
What do I top these pancakes with?
Top these gluten free pumpkin pancakes with walnuts, maple syrup, nut butter, or any other fall ingredient that your heart desires.
Storage
Store these pancakes in an airtight container when they are cooled and store them in the refrigerator for up to 5 days.
How to Freeze Pancakes
To freeze these pumpkin pancakes, let them cool completely. Then, stack two of them together and tightly wrap them with a piece of plastic wrap. Then wrap them again with a piece of tin foil.
Place them in the freezer for up to 3 months.
To thaw: remove them from the freezer and unwrap them. Then, let them thaw for 5 minutes on the freezer before pulling them apart. Defrost them in the microwave OR in your toaster.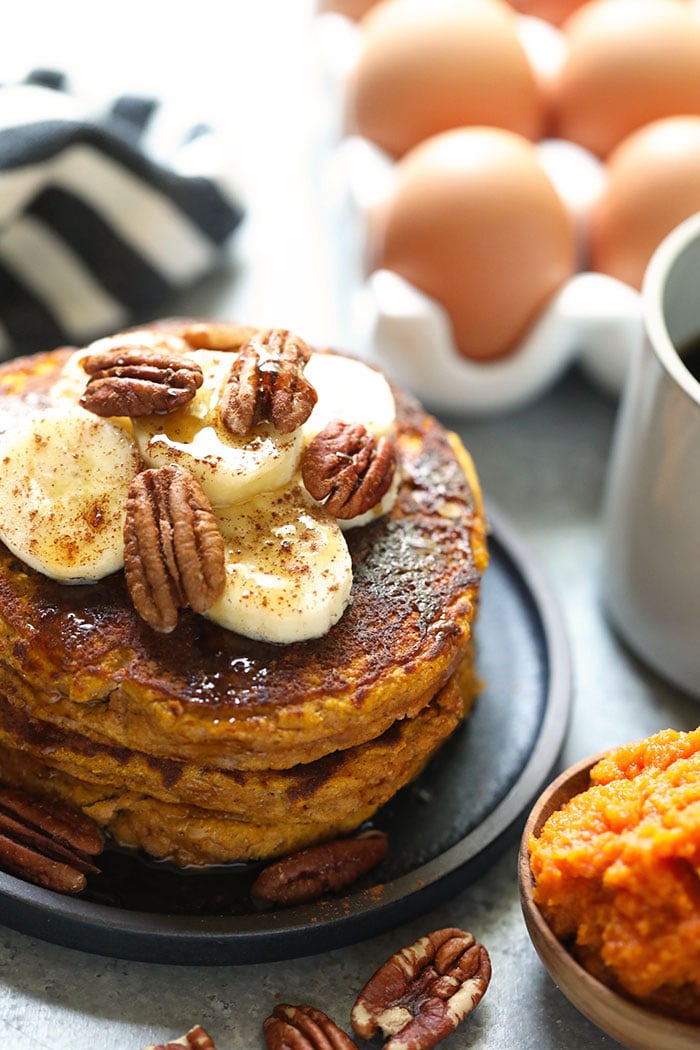 Ingredients
Wet
4

large eggs

large

1/2

cup

pumpkin puree

1

tablespoon

maple syrup
Dry
1

teaspoon

baking powder

1/2

cup

super fine almond meal

I used the Trader Joe's brand

2

tablespoons

coconut flour

1.5

teaspoon

pumpkin pie spice
Instructions 
In a medium size bowl, whisk 4 eggs. Then add in pumpkin puree and maple syrup and mix.

Next, add in dry ingredients and mix again until everything is combined.

Heat a large skillet to medium heat, making sure not to heat it any hotter! Spray with coconut oil cooking spray. Once the skillet is hot, spoon 1/4 of the batter onto the skillet and use your spoon to spread the batter so that everything is even.

Cook the first side for about 3 minutes (you may need to cook the first pancake longer, so that the pan can heat up all the way), or until cooked enough to flip. Use a spatula to carefully flip the pancake. Let the other side cook for 2-3 minutes or until cooked all the way through.
Nutrition facts
Calories: 419kcal Carbohydrates: 23g Protein: 22g Fat: 26g Fiber: 8g Sugar: 10g