This eggplant dip is an elegant yet simple appetizer that comes together in minutes! Also known as baba ganoush, you'll dip everything in it!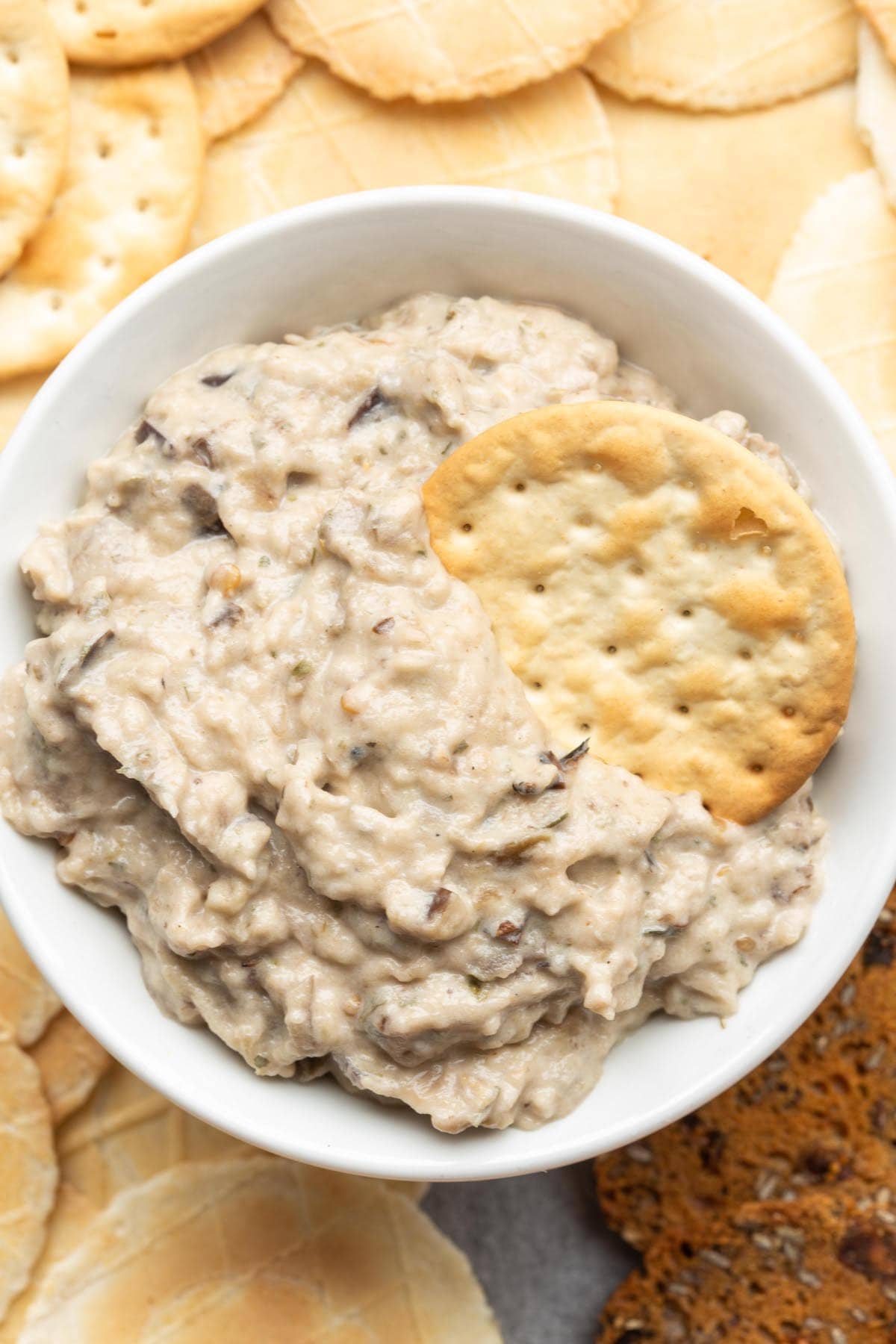 If you've tried our smoked salmon or smoked tuna dip before, you'll fall in love with this eggplant version. It is sometimes called Baba Ganoush, and we cannot stop eating it! 
What is baba ganoush?
Baba ganoush is an eggplant dip of Levantine origin. It's popular in European cuisines, and is made of roasted eggplants, tahini, lemon juice, olive oil, fresh garlic, and various seasonings. 
Although it looks incredibly fancy, it's so easy to make and home! 
Why this eggplant dip recipe will be family favorite: 
Only 6 ingredients. Like hummus, this dip involved tahini, olive oil, and garlic. 
Easy to make. Eggplant can sometimes be a little difficult to cook, but this dip uses a secret shortcut that takes minutes. 
Vegan and gluten-free. Unlike most dips that call for cream or cheese in it, this one just happens to be dairy and gluten free.
Ingredients needed
As mentioned earlier, this recipe calls for six simple ingredients that can be found at any grocery store. Here is what you'll need: 
Eggplants. Choose large and firm eggplants. 
Garlic. Eggplants and garlic make a delicious flavor combination. Adjust the number of garlic cloves depending on how garlicky you like your food to be.

 

Tahini. The ingredient you shouldn't skip if you are looking for the authentic baba ganoush flavor. Made of toasted sesame seeds, tahini adds a nutty flavor to the dip and makes it creamy. 
Lemon juice. Citrus juice brightens up the flavor of the dip and balances out the natural richness of the tahini and olive oil. 
Olive oil. Extra virgin olive oil is what I recommend and choose a good quality one at that- this isn't the kind of recipe to use the cheaper options. 
Salt. Use as much salt as you need to achieve a balanced flavor.
How to make an eggplant dip
To make the easiest eggplant dip, microwave the eggplants first. Put the eggplants on a microwave-safe dish and microwave covered for 5-6 minutes or until fully cooked. 
Allow the eggplants to cool. Then discard the skin and put them in the food processor. Add the tahini, lemon juice, garlic, olive oil, and salt. Pulse until smooth. 
Transfer the dip into a serving bowl, drizzle with olive oil and serve immediately.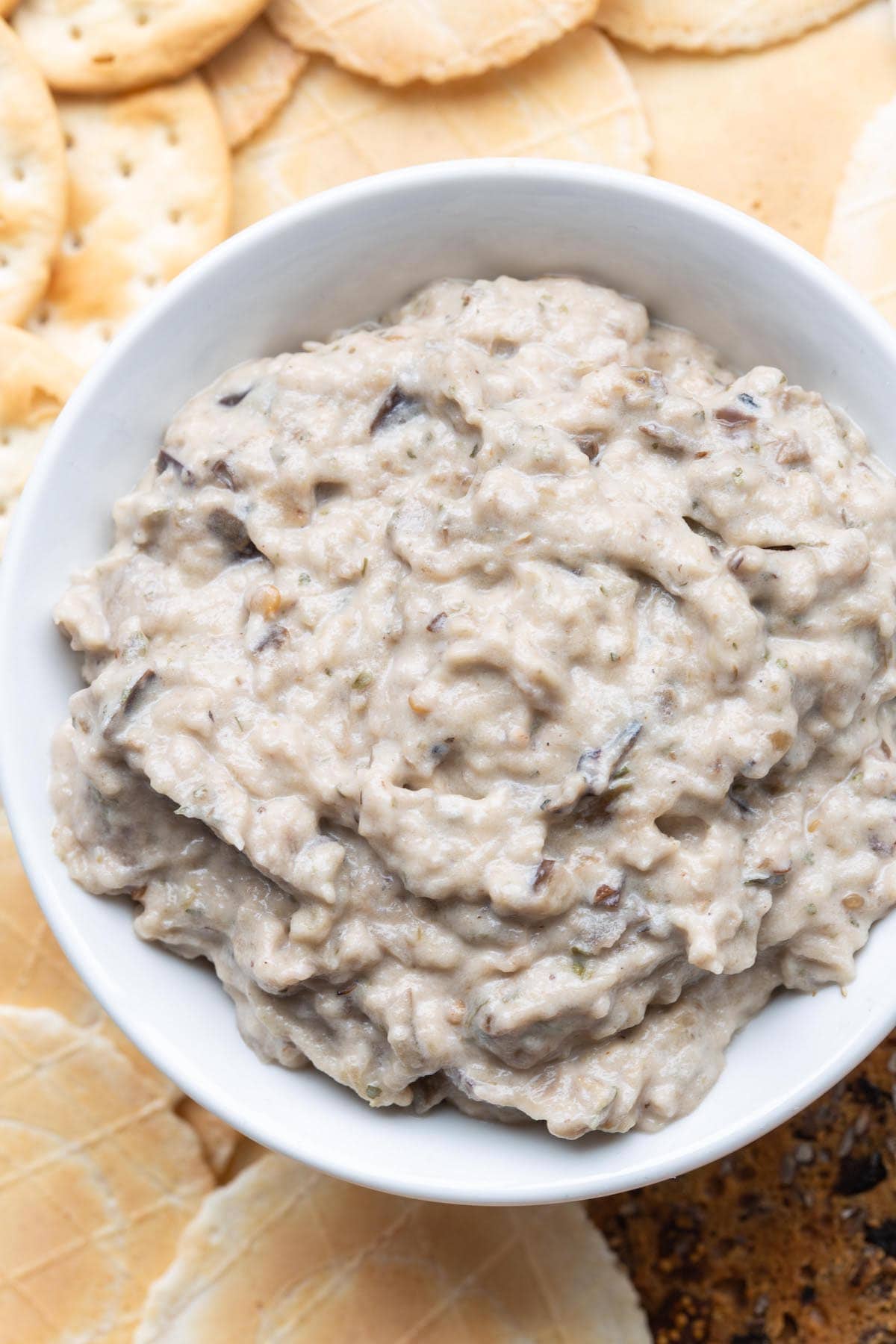 Tips to make the best recipe
If you prefer a thicker dip with more texture, mix everything together by hand. 
Roasting your eggplants instead of steaming them will make this dip even more flavorful. Alternatively, if you have access to an open-flame grill, you can char-grill the eggplant instead. 
Add Greek yogurt to the dip to make it creamier and brighten up its flavor and color. Greek yogurt also helps thicken the dip.

 
Flavor variations
Like any good dip, it's easy to customize them based on your personal preferences and what you have in your pantry. Here are some ideas: 
Add spices. Using spices is a great way to enhance the flavor of this dip and change it up a bit. Cumin, smoked paprika, sumac, and cayenne pepper are some of the best spices to use. 
Use pine nuts. Mixing toasted pine nuts into the eggplant dip when you have already blended it will add a nice texture to it. The soft nutty flavor of the pine nuts also pairs exceptionally well with eggplants and tahini.

 

Roast some bell peppers. While the traditional baba ganoush recipe doesn't contain roasted peppers, adding them to this is one of the best ways to add a pop of color and add a delicious acidic element. 
Storage instructions
To store: Place leftovers in a shallow container and store it in the refrigerator. The dip will be good for up to 4 days. 
To freeze: Once the dip has cooled, place it in a shallow container and store it in the freezer for up to two months.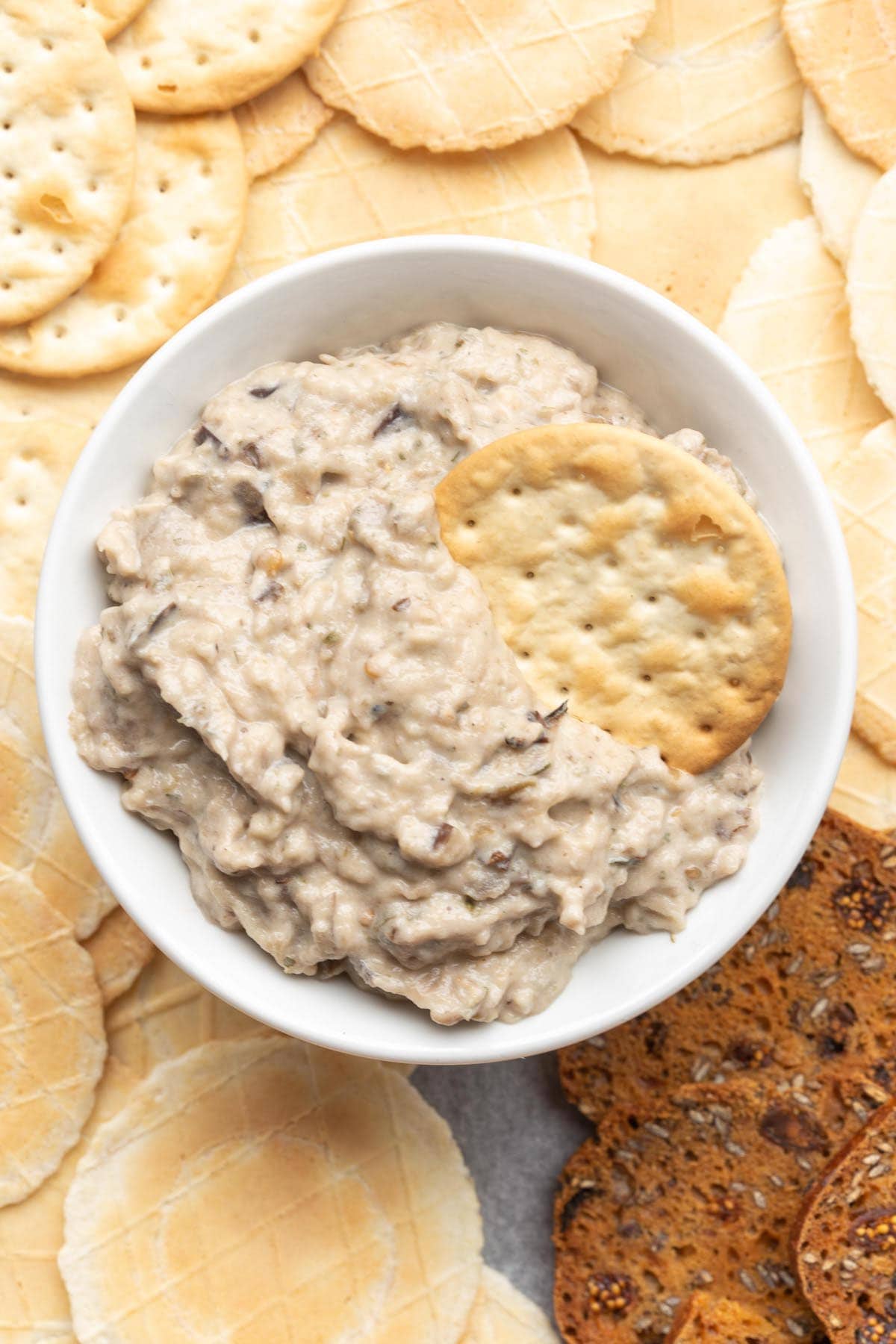 More delicious ways to use eggplant
Frequently asked questions
What is the difference between Melitzanosalata and baba ganoush?
Melitzanosalata is a Greek dip while baba ganoush is Levantine. Melizanosalata has a chunkier texture compared to baba ganoush. The latter also uses tahini, whereas the former does not.
Is baba ganoush healthy?
Low in calories, carbs, and full of healthy fats, baba ganoush is one of the healthiest dips you can make.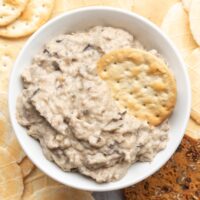 Pierce the eggplants and place them in a microwave safe dish, covered.

Microwave for 5-6 minutes, or until fully cooked.

Let the eggplants cool completely, before discarding the skin.

Add all the ingredients into a food processor and pulse until smooth.

Transfer to a bowl and serve immediately.
TO STORE: Place leftovers in a shallow container and store it in the refrigerator. The dip will be good for up to 4 days.
TO FREEZE: Once the dip has cooled, place it in a shallow container and store it in the freezer for up to two months. 
Serving: 1serving | Calories: 132kcal | Carbohydrates: 7g | Protein: 2g | Fat: 12g | Sodium: 4mg | Potassium: 212mg | Fiber: 3g | Vitamin A: 23IU | Vitamin C: 7mg | Calcium: 17mg | Iron: 1mg | NET CARBS: 4g