This easy Lemon Garlic Shrimp is made with fresh lemon, garlic, and butter in about 20 minutes or less! This simple meal is packed with flavor and sure to become a family favorite.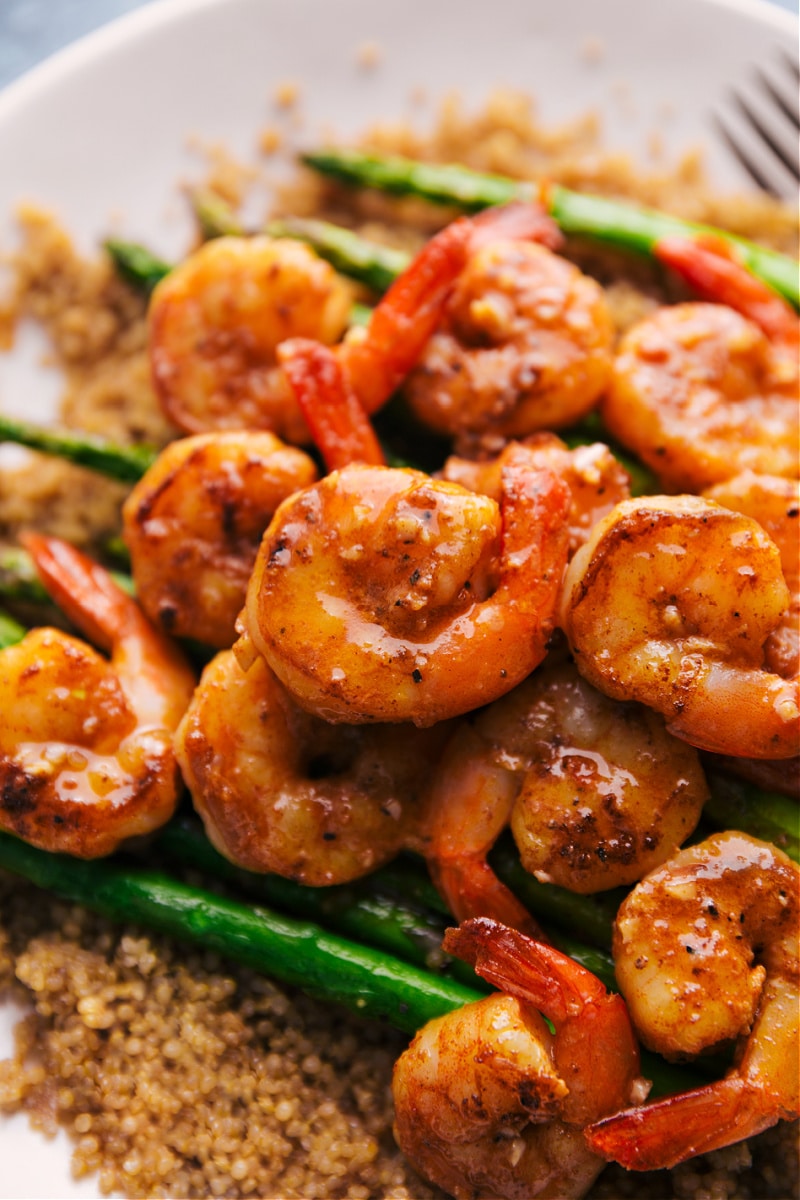 A Quick And Easy Dinner Recipe
This Lemon Garlic Shrimp is one of our weeknight go-to recipes. It requires minimal ingredients, minimal time to prepare, and best of all, minimal clean-up!
The shrimp is bathed in a luxurious lemon-garlic butter sauce with plenty of extra sauce. Use the extra sauce to drizzle over the plated shrimp or mop up the leftovers with some crusty garlic bread (my personal favorite use of the extras!).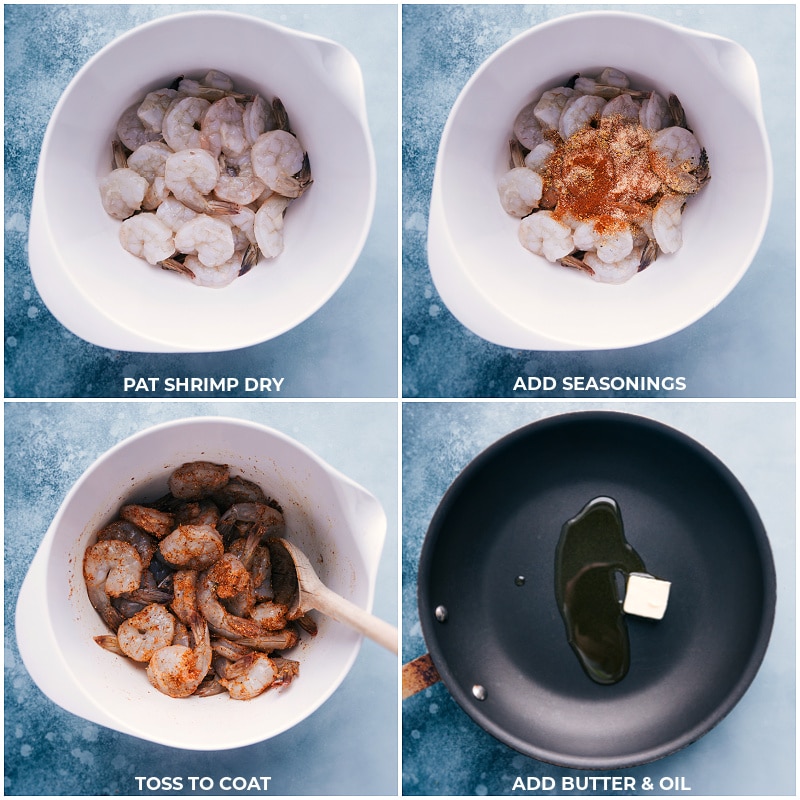 How To Make Lemon Garlic Shrimp
The full recipe is below, but here are some of our top tips for making this delicious recipe!
Use real butter. The butter is the main flavor here, so margarine isn't going to cut it. The better the butter, the better the flavor!
Use real lemon. Bottled lemon juice doesn't pack the same flavor as fresh, and lemon is one of the main flavors. Just as with the butter, don't use substitutes.
Pick the right shrimp. Fresh is best, but frozen works great too. If using frozen, ensure it has fully thawed (rinse it under cold water– not warm, which will mess up the texture) before trying to cook it. You'll also want to pat it dry a few extra times with paper towels to ensure it's fully dry before cooking! We've always had the best results in this recipe with large or extra-large shrimp (see "quick tip" below). Save yourself some work (and hassle) by picking shelled, peeled, and deveined shrimp.
While you don't need a lemon garlic shrimp marinade, per se, you can toss the shrimp with all the seasonings (except salt) and let it stand for 15-20 minutes to infuse a bit more flavor. Add salt right before cooking.
QUICK TIP
When you buy shrimp, the size designation isn't standard and it's best to use count per pound. When you see 26/30 on the packaging of frozen shrimp, for example, that means there are 26 to 30 shrimp per pound. U15 means there are under 15 shrimp per pound. The fewer shrimp per pound, the larger they are.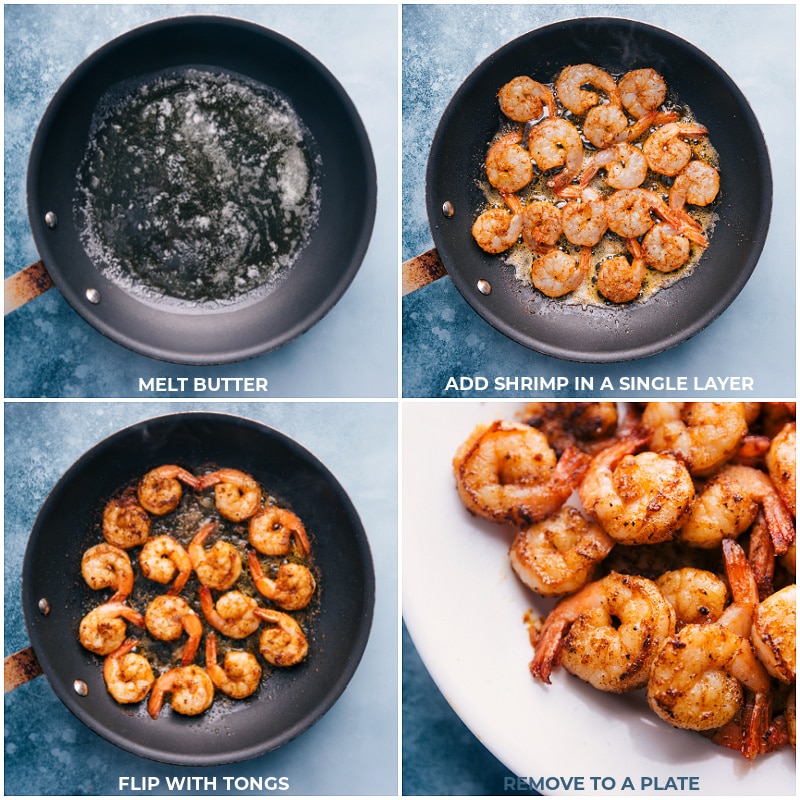 Shrimp Cooking Tips
Shrimp cooks really quickly, which is part of the reason you'll so often get over or undercooked shrimp. While you could cook shrimp for longer at lower temperatures, you won't get that great sear (flavor!). Instead, sear the shrimp on high heat — you'll get the most juicy and tender shrimp this way.
Pat shrimp dry with a paper towel — this ensures the shrimp can get a nice sear the minute it hits the pan. If the shrimp is wet, it won't sear.
Use tongs. Instead of stirring the shrimp around, try placing the shrimp in the skillet with tongs, flipping with tongs, and removing with tongs. It's a game changer for texture!
Remove from heat promptly. Even when you turn off the heat, the pan is still hot so lemon garlic butter shrimp will continue to cook. Working quickly, transfer them to a serving platter or immediately over a bed of pasta, quinoa, greens, etc.
QUICK TIP
Did you know that 99.9% of all seafood (including shrimp) is flash frozen right on the ship where it's harvested? The fresh shrimp you see in the case at the store is almost always thawed from its frozen state. So, unless you know that the shrimp was caught locally and never frozen, buy frozen shrimp with confidence that it's just as good as the ones in the fish market case.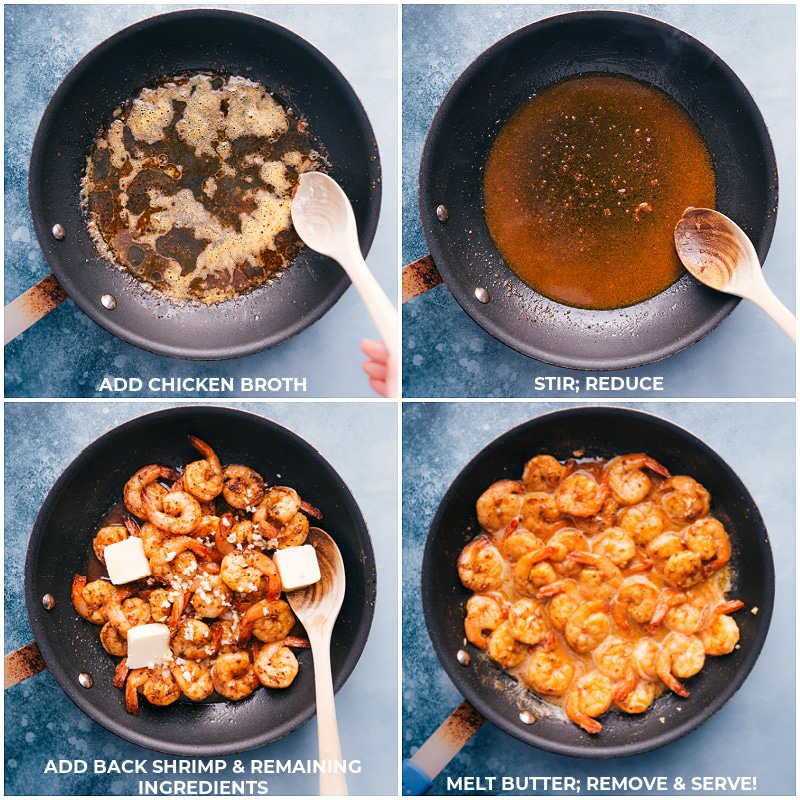 How To Know When Shrimp Is Cooked Through:
The crevice in the back of the shrimp where the vein is removed is the thickest part of the shrimp (directly opposite end of the tail).
As soon as the flesh at that base turns from translucent to opaque, the shrimp is done cooking!
Another sign to look for: shrimp will turn pink with bright red tails.
What To Serve With Lemon Garlic Shrimp
Since the shrimp is so simple to prepare, you'll want to keep the sides easy as well!
We love the shrimp atop a bed of quinoa (use microwave quinoa packets for ease or check out my tutorial for how to cook quinoa) with a side of roasted veggies (specifically this Roasted Asparagus or Roasted Broccoli — yum!). We also love some crusty toasted bread or garlic bread to mop up extra sauce — delish!
Other side dish ideas: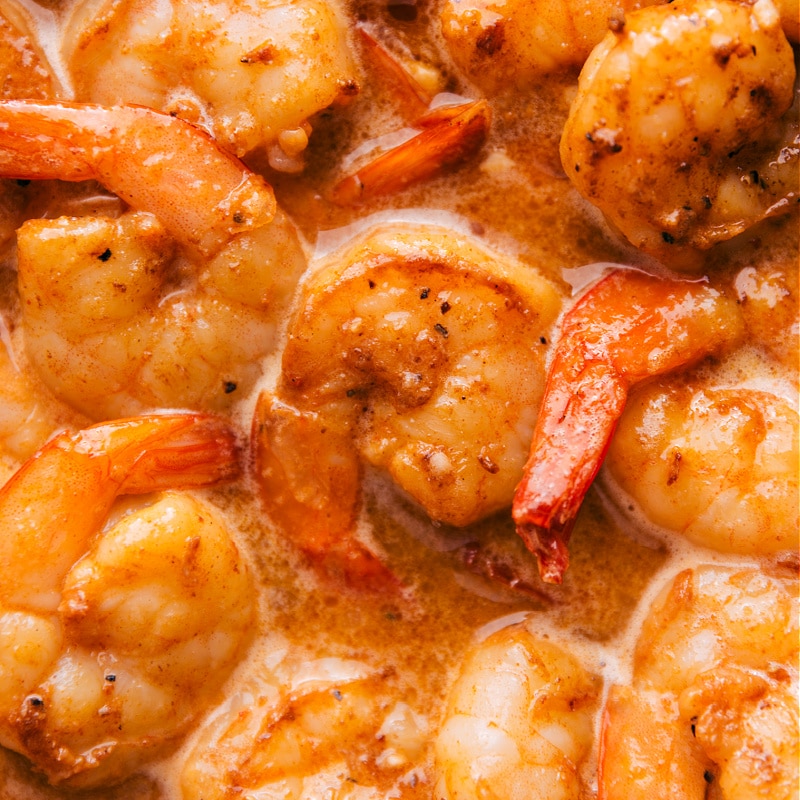 Lemon Garlic Shrimp Variations
Grilled Lemon garlic shrimp: Follow this tutorial to grill shrimp (using the seasonings listed in my recipe). Follow my recipe to make the lemon butter garlic sauce on the stovetop and drizzle over the grilled shrimp.
To make Lemon Garlic Shrimp Pasta with white wine, replace the chicken broth in this recipe with a dry white wine.
Spicy Lemon Garlic Shrimp: For more spice, sprinkle individual plates with red pepper flakes. Or increase the amount of cayenne pepper in the seasoning blend!
Healthy Lemon Garlic Shrimp: To make this a bit more nutritious, fill up the plate with healthful sides like roasted veggies. You can also opt to not drizzle any extra lemon butter sauce from the pan onto the shrimp.
Creamy Lemon Garlic Shrimp: To make this dish creamier, add some heavy cream and Parmesan to the skillet before adding the shrimp back in (and leave out the extra 3 tablespoons butter). Be sure to heat over low heat when adding these ingredients to avoid curdling.
To make Lemon Garlic Shrimp Pasta, prepare this recipe according to instructions, but start by boiling about 8 ounces of pasta in well-salted water. Drain and reserve a cup of pasta water. Before adding the shrimp back in the skillet, toss the cooked pasta with the garlic butter sauce and enough of the reserved pasta water to make a creamy sauce. Add shrimp in the last 30 seconds of tossing to warm through. You'll likely need a touch more lemon and may want to add some freshly grated Parmesan cheese.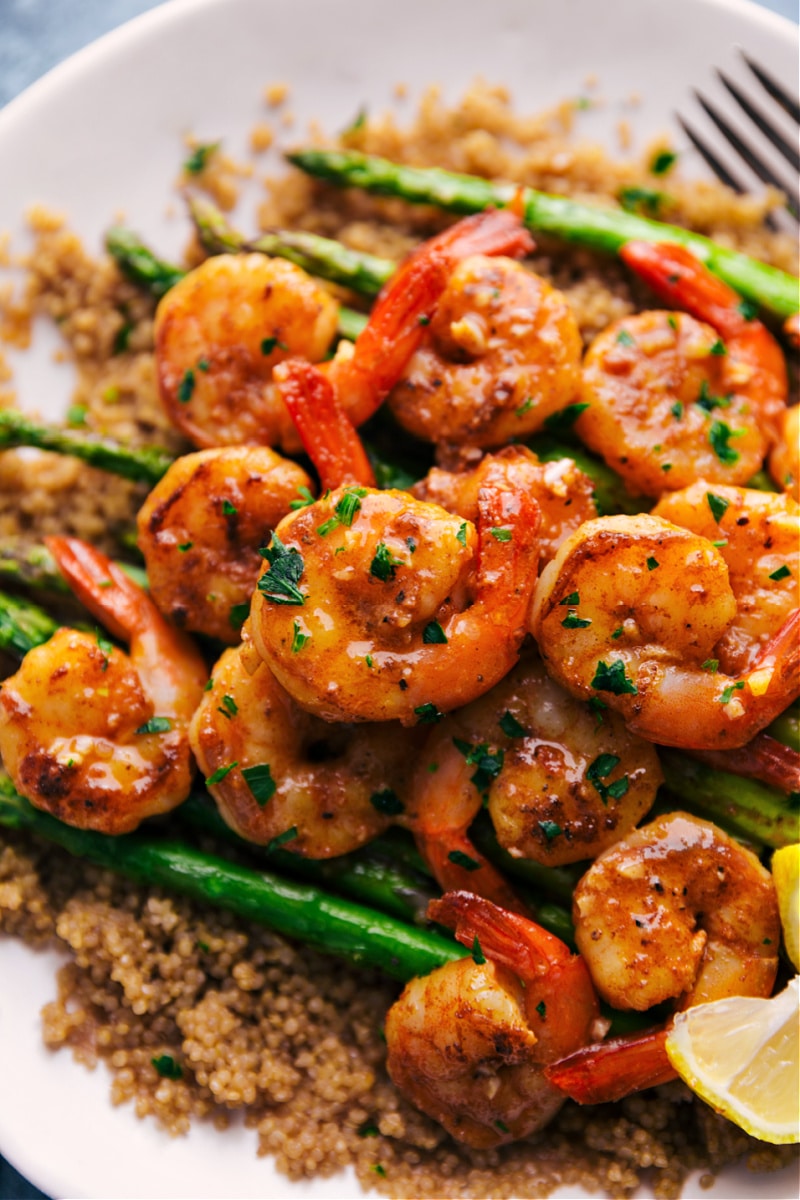 QUICK TIP
Nothing beats garlic shrimp with lemon, so be sure to add a few extra lemon wedges to the side for serving. Enjoy!
More Easy Fish Dinners:
Lemon Garlic Shrimp
This easy Lemon Garlic Shrimp is made with fresh lemon, garlic, and butter in about 20 minutes or less! This simple meal is packed with flavor and sure to become a family favorite.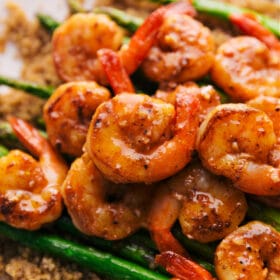 Lemon Garlic Shrimp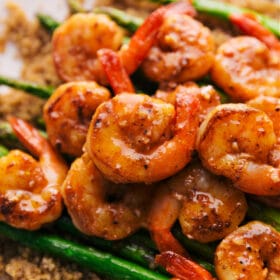 This easy Lemon Garlic Shrimp is made with fresh lemon, garlic, and butter in about 20 minutes or less! This simple meal is packed with flavor and sure to become a family favorite.
Instructions
SEASON: Thoroughly pat shrimp dry with paper towels. Add to a bowl with lemon pepper seasoning, garlic powder, paprika, and ground cayenne pepper if using. Gently toss to coat and set aside. Assemble the remaining ingredients for the lemon butter sauce — cooking goes quickly!

COOK SHRIMP: Place a large (12-inch or bigger) skillet over high heat. Add in 1 tablespoon oil and 1 tablespoon butter. While the butter melts, add salt to the shrimp (I add 1/4 up to 1/2 teaspoon). Gently toss. As soon as the butter is melted, add shrimp in one even layer so shrimp is not overlapping (it will steam if the pan is too crowded). Cook for 1 minute, then use tongs to flip each shrimp over and cook on the other side for 1 more minute. Transfer cooked shrimp to a clean plate.

FINISH COOKING SHRIMP: Add the remaining 1 tablespoon oil and 1 more tablespoon butter to the pan. As soon as the butter melts, add in the remaining shrimp, cooking for 1 minute per side. Use tongs (never a spoon) to place shrimp in the pan and to flip. Transfer all the cooked shrimp to a plate.

LEMON BUTTER SAUCE: Back to the empty pan, add in the chicken broth/stock, and stir, scraping the bottom of the pan to release any browned bits. It should bubble up and reduce. Cook, stirring constantly, for about 30 seconds to 1 min. or until mostly reduced. Reduce heat to medium-high and add all the shrimp (and accumulated juices) back to the pan. Add the last 3 tablespoons butter (cut into 1 tablespoon pieces), garlic, and lemon juice. Stir. As soon as the butter is melted, remove the skillet from the heat (shrimp should be perfectly cooked through at this point). Sprinkle on parsley and serve with additional lemon wedges if desired. Enjoy promptly!
Recipe Notes
Note 1: Shrimp: Buy shrimp sized at 26/30 (26-30 shrimp per pound). Choose shelled, peeled, and deveined shrimp for convenience. If using frozen, thaw according to package directions (overnight in the fridge or in a colander in the sink with cold water running over) and thoroughly dry before using.
Nutrition Facts
Serving: 1serving | Calories: 294kcal | Carbohydrates: 1.7g | Protein: 23.5g | Fat: 22.2g | Cholesterol: 221.2mg | Sodium: 159.7mg | Fiber: 0.1g | Sugar: 0.5g
We do our best to provide accurate nutritional analysis for our recipes. Our nutritional data is calculated using a third-party algorithm and may vary, based on individual cooking styles, measurements, and ingredient sizes. Please use this information for comparison purposes and consult a health professional for nutrition guidance as needed.