There are few dishes as satisfying as ragù Bolognese. The classic Italian meat sauce, so often mistreated, but when done right – elegant, comforting and delicious all at once.
Let's get one thing out of the way here. I'm not calling this the "authentic" ragù Bolognese. The original recipe, stemming back to the 18th century, included veal fillet, pancetta and finely minced vegetables. It didn't have tomatoes, and it was certainly not the strangely sweet – marinara sauce creation that is so prevalent at many subpar Italian restaurants across the globe.
For me, a ragù isn't really about vegetables or tomatoes, but very much about meat. Or should I say meats? Because in this version, we're covering all bases. Pork, chicken, beef and lamb. Why? To create a stew with multiple flavors and textures that all come together through the magic of time and heat, and is turned into an elegant layered symphony of rich goodness. So what are the keys to what I think is the perfect ragù? Let's take a look!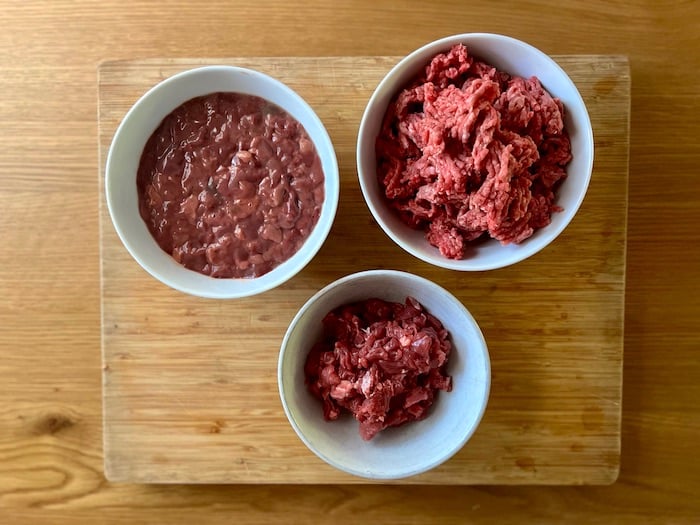 Pork
The classic recipe calls for Pancetta, and that's by far my preference from the pig-aisle when it comes to any ragú. The pancetta provides a cured saltiness, and finely chopped it almost disappears after a few hours of simmering. But the flavors linger, infusing your ragù with Italian-umami deliciousness.
Chicken
Here, I'm going for chicken liver. One of the most inexpensive types of meat you can get, and at the same time one of the most flavorful. It doesn't hurt that it's a great source of protein and low calorie. I know many of you have a hard time with the taste of liver, but don't worry – here, it just adds a wonderful earthiness to the stew, and we chop it so finely that you'll almost feel them melting in your mouth as you eat.
Lamb
Time to get some oomph into our ragù. I used lamb shoulder for this particular version, but any cut of lamb works. Finely chopped and browned it lends a wildness to the stew that I think elevates the whole experience into something quite unique.
Beef
I'm going for the easy solution here. Ground beef with high fat content provides the meaty base of the stew. No need to get overly fancy, but if you want to be extra rustic with your ragù you may want to hand cut a piece of chuck into small cubes instead of using ground beef. Your choice how many chef points you want to collect!
Vegetables
Ok, so I do often use some celery and carrots in my ragù, but this is pretty much the "all meat" version. I don't want anything to take away from the deep, umami-rich flavors of the meats – so I'm leaving everything else than garlic, herbs and tomatoes out of it.
Tomatoes
Just one rule here. Don't overdo it. This is not a tomato sauce with some meat in it – but a meat sauce with a little tomato in it. Use as expensive a canned tomato as you can (since canned tomatoes are cheap, you won't break the bank by choosing the top brands – Bianco DiNapoli Organic Whole Peeled Tomatoes are my favorite), and then combine with a couple of fresh, sweet tomatoes. I make sure to blend the tomatoes together before adding them to the sauce, because I don't want any bits and pieces of tomato floating around in my end result.
Wine
I know there are different takes on what wine to use for ragù, and I'm not against red or white. But for this one, I used a dry Sauvignon Blanc – and my only advice would be to stay away from anything too sweet. A red wine makes the stew a little darker and richer, but that's not necessarily a bad thing – just a matter of taste, really.
Cream
Yes, the official recipe, registered with the Bologna chamber of commerce, states that a Bolognese sauce should contain milk. Why? Because if makes for more tender meat and a smoother blending of the flavors. For me though, I like to kick it up a notch with a couple of splashes of heavy cream. This provides a richness that takes the ragù from pedestrian to royal – just the way you deserve!
Ok, I think we're ready to start cooking! On to the recipe.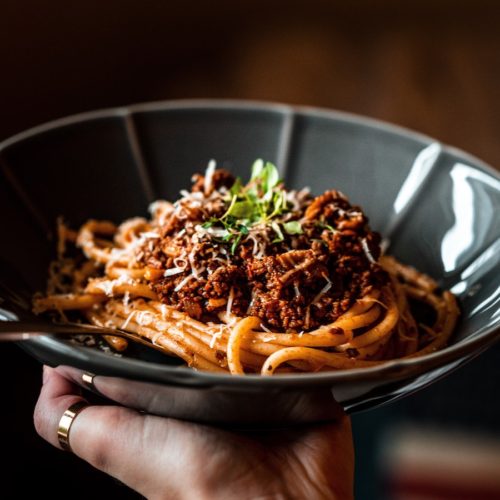 Ragù Bolognese – The All Meat Pasta Sauce

Kalle Bergman
A version of the classic ragù Bolognese with four different meats that create a luxurious and elegant stew filled with umami-flavors.
1

lb

ground beef

1

lb

lamb

1/2

lb

chicken liver

1/2

lb

pancetta

6

cloves

garlic

smashed

1

can

organic, peeled tomatoes

3

medium sized, fresh sweet tomatoes

2

tbsp

Better than Bouillon beef stock

(or 1 quart good beef stock)

2

tbsp

parsley flakes

2

tbsp

dried oregano

2

tbsp

dried basil

4

bay leaves

1/2

cup

olive oil

extra virgin

salt and pepper to taste

chili flakes to taste

1

cup

parmesan cheese

grated

1/2

cup

heavy cream

1

bottle

dry white wine

1

tbsp

butter
Finely cut the lamb and chicken liver into small cubes, about 1/5 of an inch.

Finely slice the pancetta.

In a deep skillet, melt butter and individually cook the meats until browned on all sides (medium to high heat). Scoop up each meat after browning, and set aside – pouring any residual liquid from cooking into a separate bowl (you'll use this later).

Once all meats have been browned, return them to the skillet, add crushed garlic, bay leaves and herbs. Turn the heat all the way up and stir for about a minute.

Pour the wine in, and let it boil vigorously for about 5-7 minutes, so the alcohol evaporates.

Turn the heat down to medium. Add the bouillon / stock and bring back to a simmer.

Pour the canned and fresh tomatoes into a blender and blend on medium speed for 30 seconds or until no chunks are left. Add the tomato sauce to the ragu.

Taste, and add salt and pepper if needed.

Let the sauce simmer on low heat for 2.5 hours under a lid. Make sure to check in every 30 minutes or so, and add water if needed (you want the meat to be covered by liquid).

After 2.5 hours, add about half the parmesan to the stew and stir. Let simmer for another 5 minutes.

Add the heavy cream, and stir. Let simmer without a lid for about 25 minutes.

Serve with your favorite al dente pasta and top with additional parmesan.
Note: If you find that your meat chunks are a little bigger than you like them, you can use a pair of scissors to cut them into the size you want as the ragù simmers.