Easy Biscuits are buttery, deliciously flaky, and SO simple! They make the perfect side dish for any meal.
Easy Biscuits are perfect for breakfast, lunch or dinner! Bake them for a meal, like Biscuits and Gravy, or simply use the dough for Biscuit Donuts or Biscuit Egg Casserole.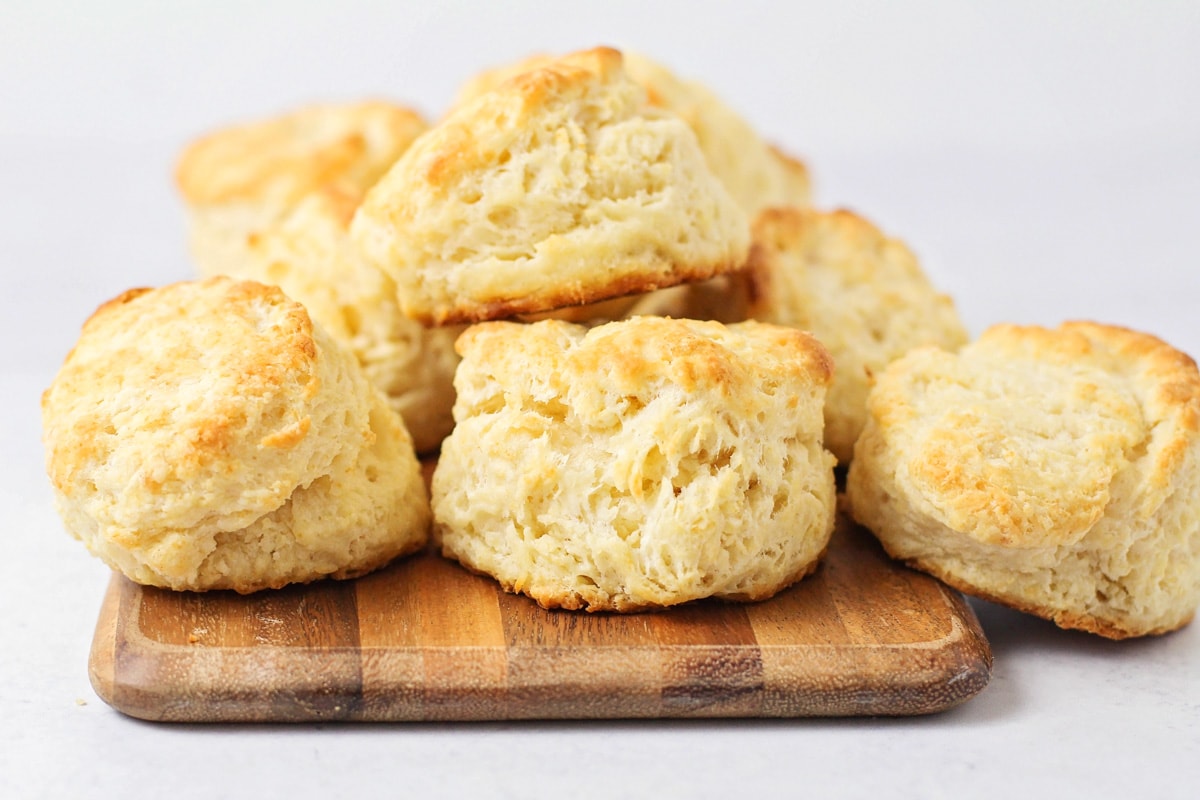 Soft + Flaky!
Homemade Biscuits might be my biggest weakness. Is there anything more tempting then a warm, flaky biscuit right out of the oven?
Topped with a little butter and a little jam? Or honey? It's definitely one of our favorite bread-type recipes to make.
I recently returned from a trip to Waco, TX where I visited Magnolia Table – Chip & Joanna's Gaines' new restaurant. When I tried their Biscuits and Sausage Gravy, I decided that the biscuits were the best I'd ever tried.
After waiting anxiously for their cookbook, we tried them, and now crave this Easy Biscuit Recipe frequently.
These buttermilk biscuits go with almost anything. Plus, this recipe is totally easy, and will become your go-to biscuit recipe!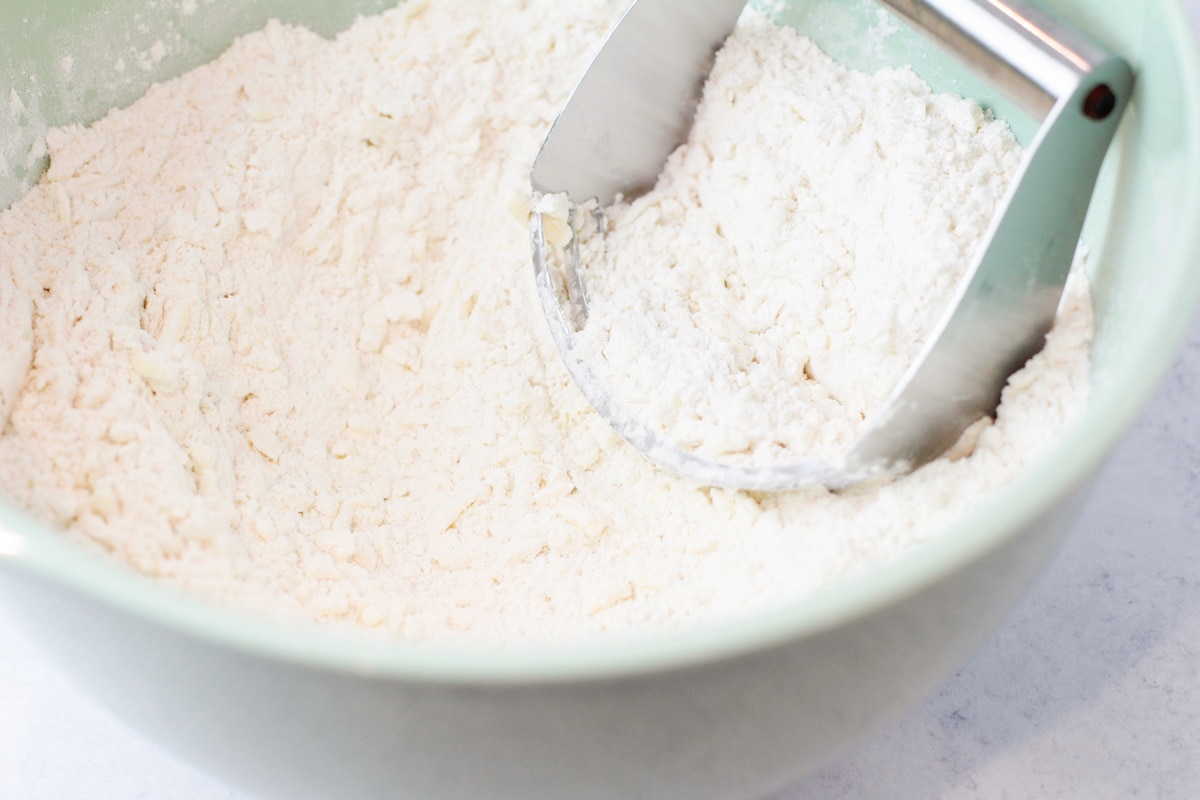 How to Make Homemade Biscuits
I guarantee you have each one of these ingredients in your house to make these TONIGHT!
DRY INGREDIENTS. In a large bowl, mix the baking powder, baking soda, and flour.
BUTTER. Use a pastry cutter (or a couple of forks) to cut the butter into the flour mixture. Mix it all together until it forms course crumbs (pieces about the size of a pea).
WET INGREDIENTS. Mix in the eggs and buttermilk with a wooden spoon.
CHILL. The dough should be sticky. If it is too dry, add a little more buttermilk. Cover the dough and let it sit in the fridge for at least 30 minutes, or overnight.
PREP. When you're ready to bake, preheat the oven to 400°F and flour the surface you want to work on.
CUT. Form the biscuit dough into a circle that is about ½ inch thick. Use a thick round cutter to cut out the biscuits. (Try not to overwork the dough, to ensure tender biscuits!)
BAKE. Place on a baking sheet lined with parchment paper. Brush the biscuit tops with an egg wash. Bake for 15-20 minutes until golden brown.
ENJOY, and try not to eat all of them in one sitting!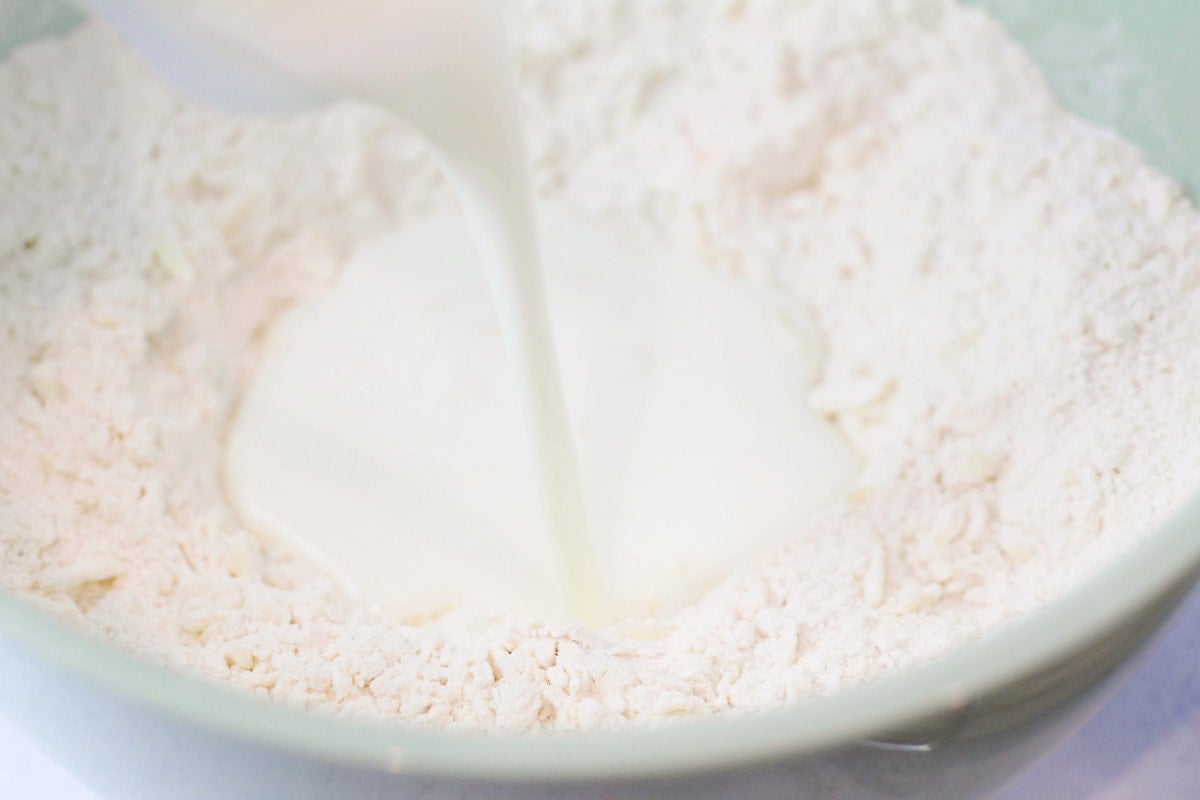 Missing ingredients?
Make your own buttermilk. Measure 1 tablespoon white vinegar into a measuring cup. Fill with milk to the 1 cup line. Let it sit for 5 to 10 minutes. Check out some other substitutions in this post.
Make your own self rising flour. Mix together 1 cup all purpose flour, 1 ½ tsp baking powder and ¼ tsp salt. 
Biscuit toppings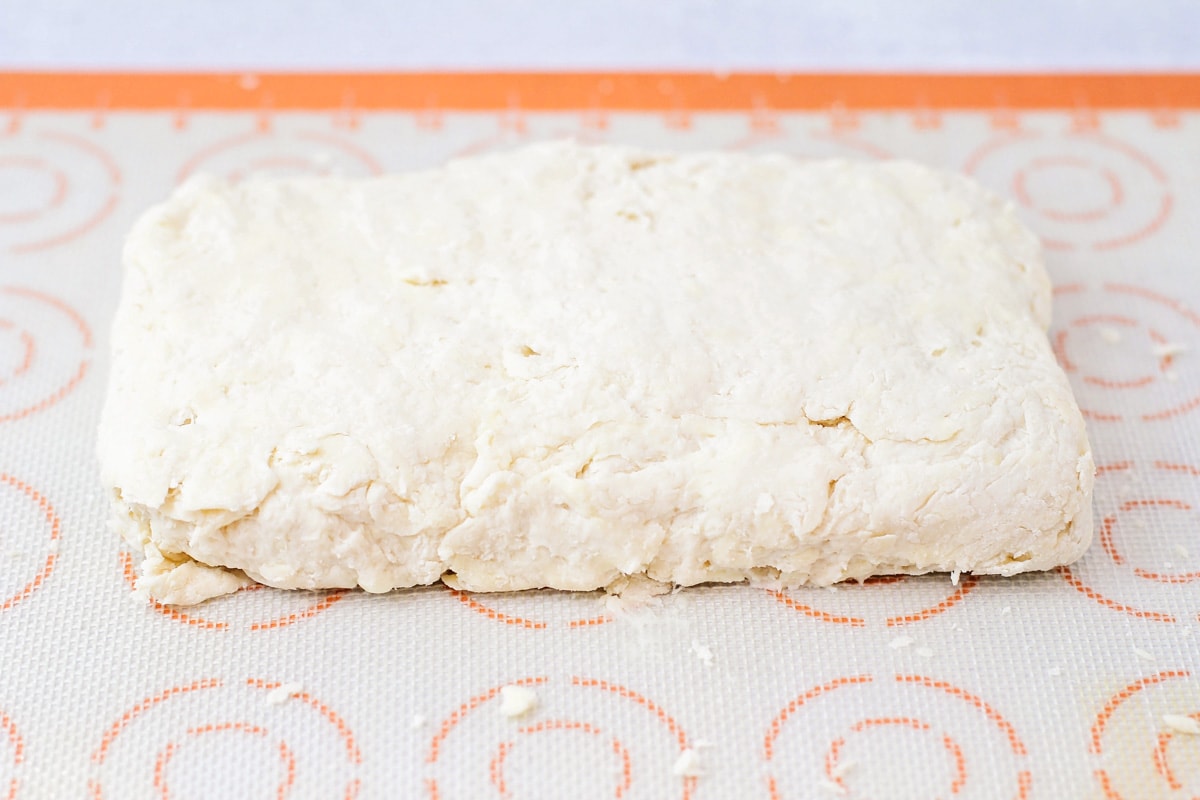 Homemade Biscuit tips
Butter. The butter must be cold, and stay cold! You can even use a box grater to grate a cube of frozen butter. 
Cold dough. Never use your hands to mix the dough, it will warm up the butter.
Cutting biscuits. Do not twist the cutter when stamping out the biscuits. Twisting the cutter can cause the sides of the dough to close, and they'll cook unevenly. Pull the cutter straight up and out.
If you don't have a biscuit cutter, use a cup about the same size.
I like to use holiday cookie cutters to make fun shaped biscuits. If you change the size, be sure to bake similarly sized biscuits with each other. 
Sticky dough. Add a bit of flour if the dough is too sticky to handle.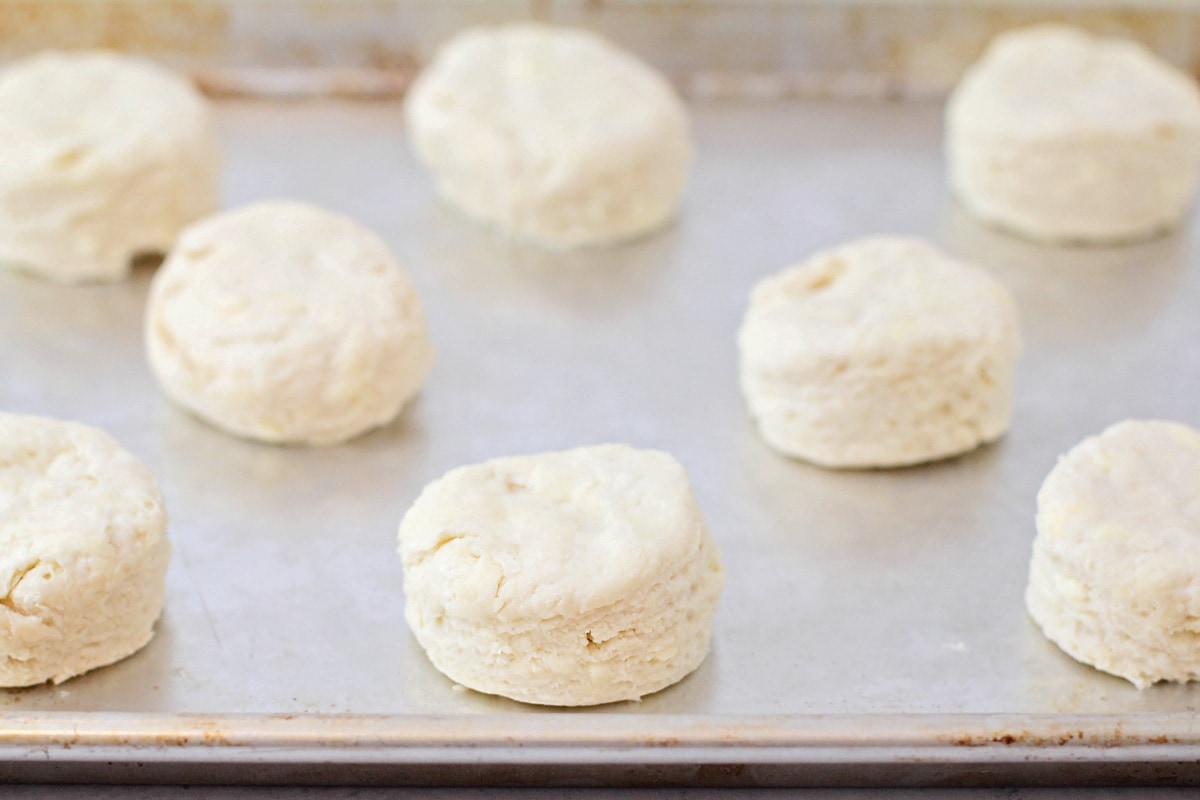 How to get flaky layers
You can tell a good biscuit when you pull it open, and you can actually see the flaky layers. Here are a few keys factors to get those flaky layers:
Don't use an electric mixer. Use a wooden spoon and a pastry cutter or fork until the flour mixture forms coarse crumbs.
Fold, roll, repeat. This will develop the flaky layers. Remember not to press the rolling pin too firmly. Also, don't overwork the dough. Folding and rolling 5-6 times should be perfect.
Use cold butter and cold milk. You can even chill the dough as needed, to keep everything cold.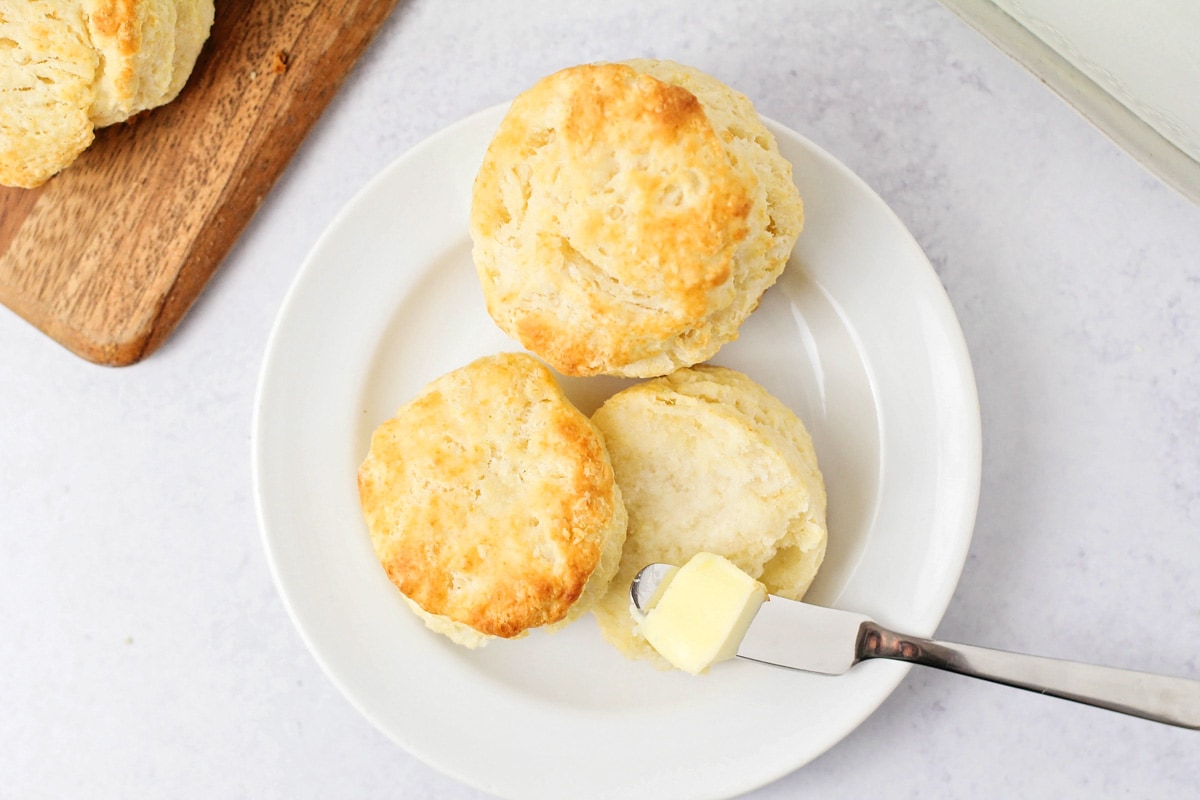 storing info
STORE leftovers in an airtight container. They will stay fresh for 1-3 days.
FREEZE. These biscuits are so delicious you probably won't have any leftover. BUT if you happen to have a few leftover, throw them into a freezer safe container/Ziploc bag. Freeze for up to 3 months.
Make ahead of time. You can make these ahead of time, before cooking them.
Cut the biscuits from the dough and transfer to a parchment lined cookie sheet.

Cover it lightly with plastic wrap and put the cookie sheet in the freezer.

Freeze the biscuits until they are frozen solid.

Remove from the freezer and stack in a plastic freezer bag.

K

eep them frozen for up to 3 months.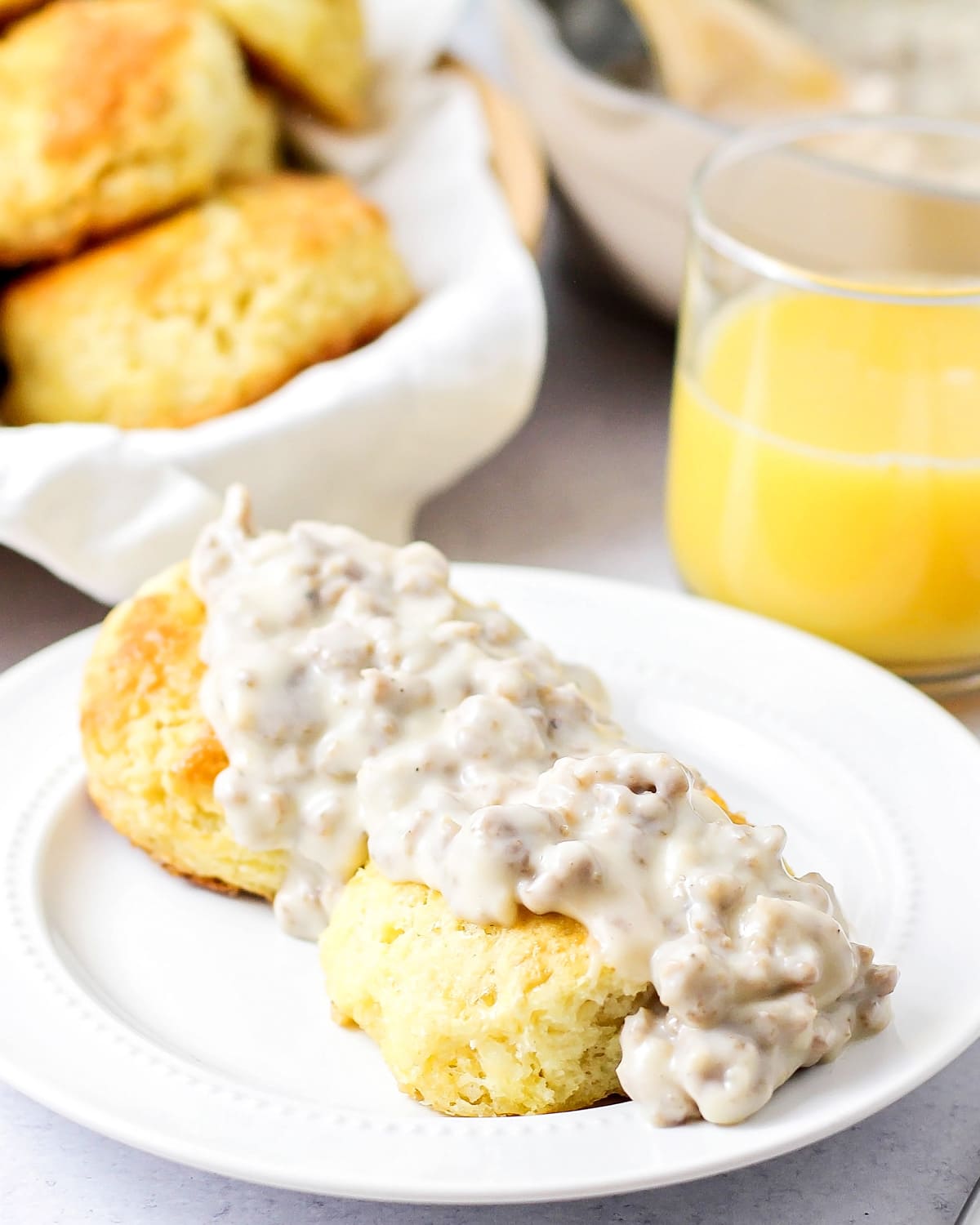 These biscuits work great for these other recipes:
Note: some of these recipes require only the biscuit dough, and not fully cooked biscuits.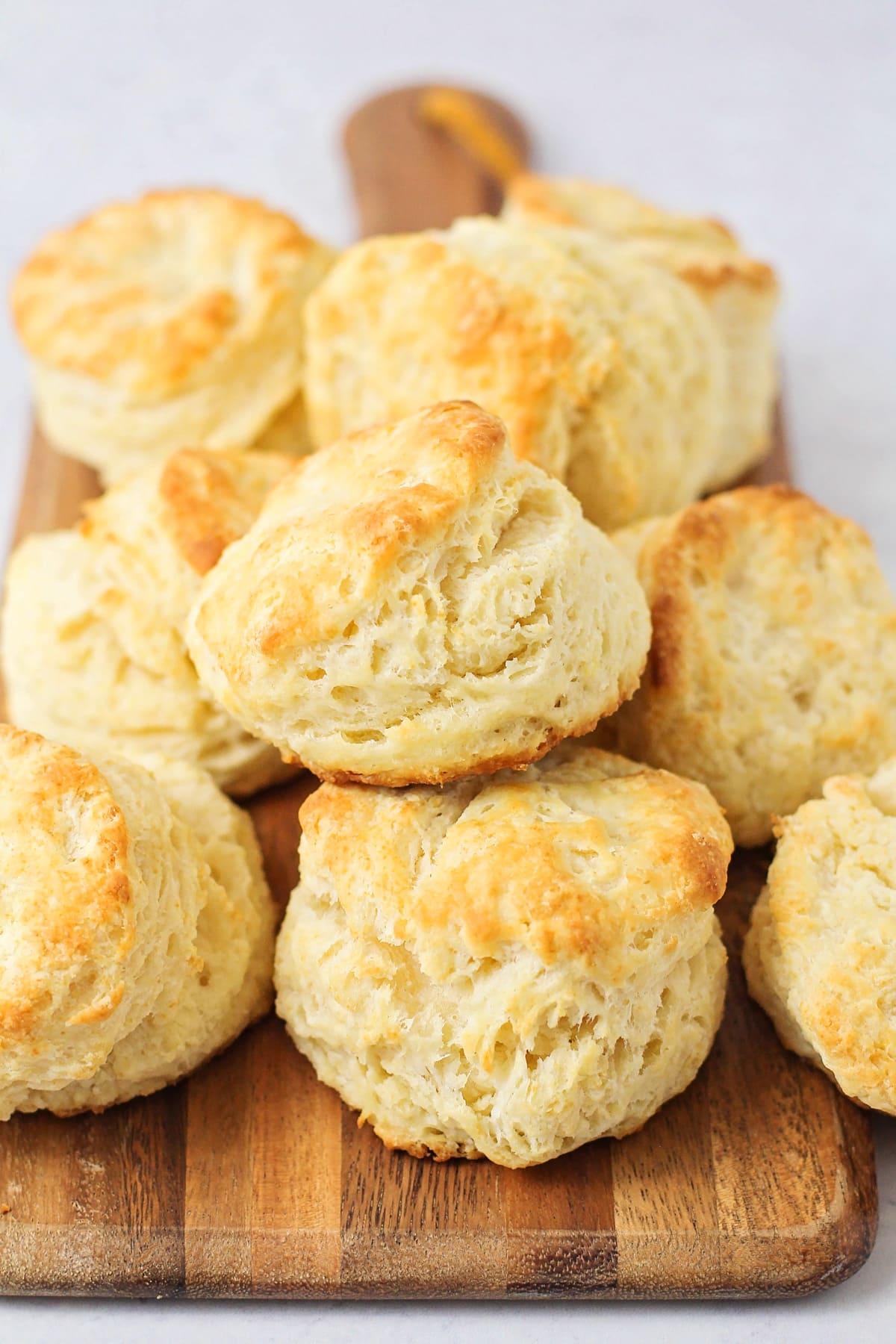 For more bread recipes, check out:
Preheat oven to 450°F.

In a large bowl, sift flour, salt, baking powder, cream of tartar and sugar together.

Cut in cold butter until the mixture is the consistency of coarse oatmeal.

Make a well in the center of the mixture and pour in the milk. Stir with a wooden spoon until dough begins to come together. Press dough together but use your hands as little as possible, since it will warm up the butter in the dough.

Roll out the dough onto a lightly floured surface to about ¾ inch thick. Use a cookie cutter to cut 2 inch round biscuits, then place on a ungreased baking sheet.

Bake for 10 minutes, or until golden brown. Brush with melted butter as soon as biscuits come out of the oven.