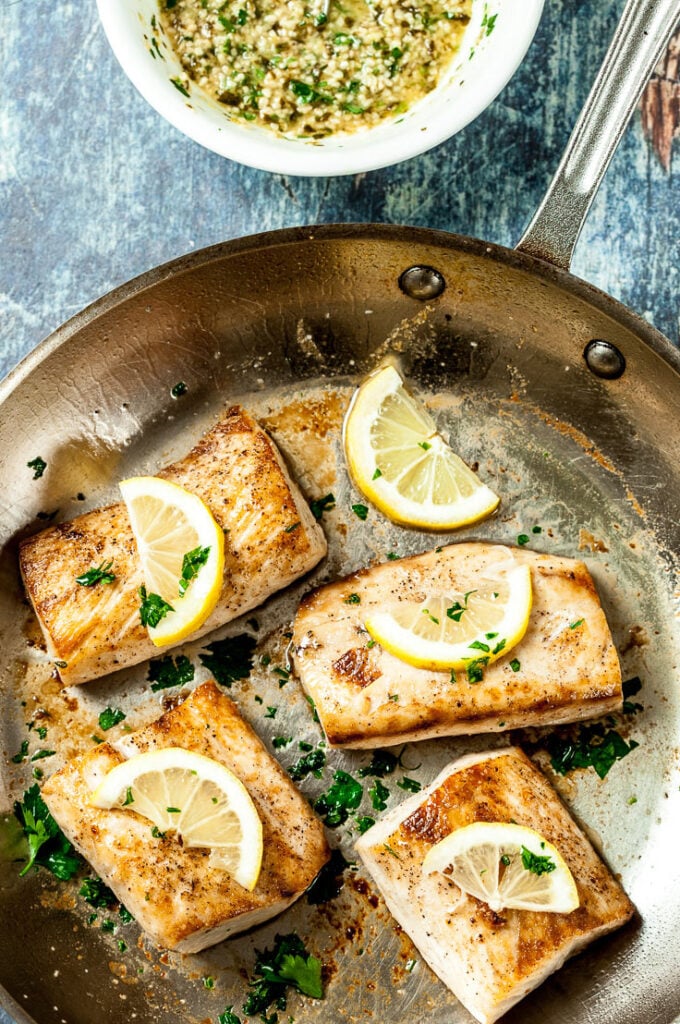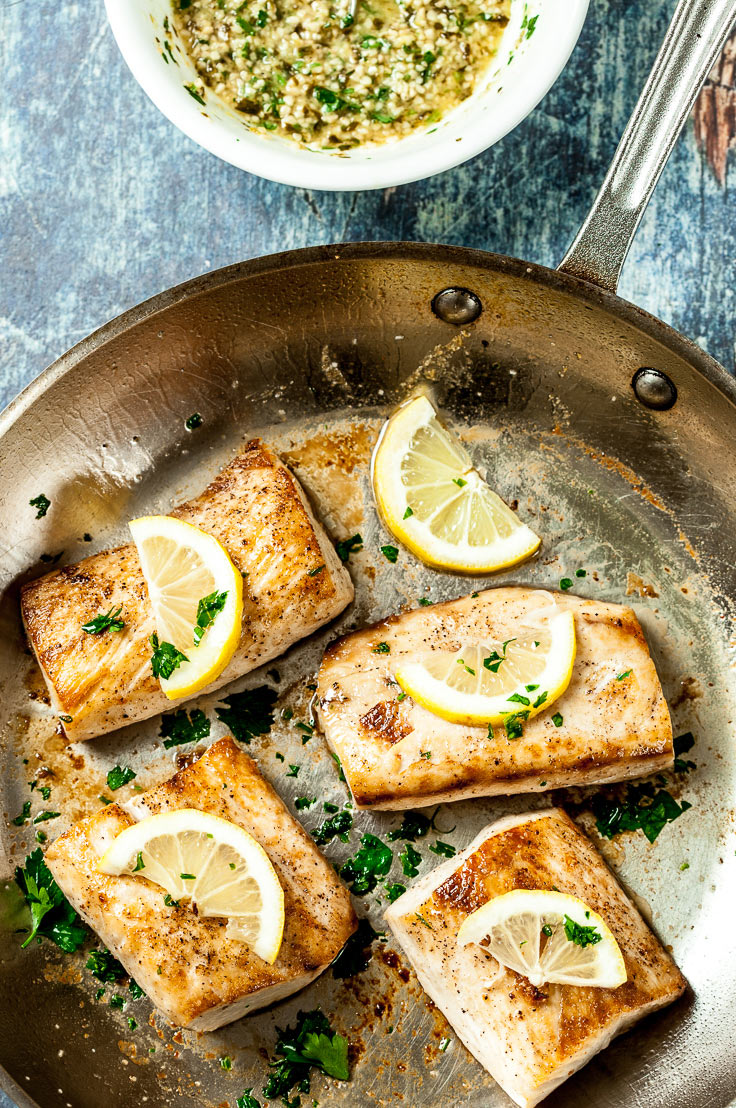 Easy Perfect Mahi Mahi Recipe
I grew up in a family that often dished up fish for dinner. Any given weeknight, we would sit down to a meal that included freshly cooked fish. My parents served up all varieties of fish, from whole fish to fish fillets. They used all methods of cooking with their fish recipes, from braised to pan fried.
As a child, I naively thought everyone adored some fish dish. Alas, one day I discovered that was far from truth. (Pssst: I've been kinda secretly convinced that it must be because some haven't found their perfect fish recipe just yet.) 😉
Though there are a myriad of ways to cook up delicious fish – hello, Sheet Pan Lemon Salmon – this easy mahi mahi fish recipe is perfect for anyone to make. It only takes about 20 minutes, it's super tender, and incredibly tasty. People keep telling me they can't believe they made this restaurant-quality mahi mahi dish by themselves. You can, too.
What is Mahi Mahi?
Mahi Mahi is the Hawaiian name for dolphinfish, Coryphaena hippurus, or dorado, though it is completely unrelated to dolphins. It was so named, as this fish tends to swim in a similar fashion to dolphins. Mahi Mahi is a surface dwelling fish that's commonly found near the Gulf of Mexico, Costa Rica, Hawaii, and the Indian Ocean. Due its mild flavor and firm yet moist flesh, mahi mahi recipes are a popular fish to serve at restaurants around the world.
Watch us make this mahi mahi
What's the best way to cook mahi mahi?
Whether you're a pro fish cooker-eater or you're trying to start incorporating more fish into your diet, this recipe is a perfect way to serve it up. We use the stovetop-to-oven method of cooking here, like we do with this trusty lemon garlic swordfish, which yields a nicely browned exterior yet tender, flaky center.
Here are some of our helpful tips for cooking mahi mahi:
Get either super fresh or quick-frozen, high quality mahi mahi… wild is best and will provide best flavor.
Be sure your mahi portions are about 6-7oz each, with at least 1-inch thickness. If your portions are thin or too small, they'll tend to overcook and the seasoning proportions will be off.
Always pat dry excess moisture from the fish; this step is super important, as it affects how well your fish will brown. I use paper towels to fully pat away all extra moisture.
Your cooking oil needs to be very hot [like, sizzling] before adding the fish. This allows for quick and even browning of exterior.
Once fish is in pan, do not keep. moving it around. Let it sit and brown for 3 minutes. It helps to have a large splatter guard. I use mine often whenever pan-frying foods.
Preheat oven ahead of time so that it's nice and hot when you transfer the mahi mahi directly from stovetop to oven. After 5 minutes in the oven, it's done.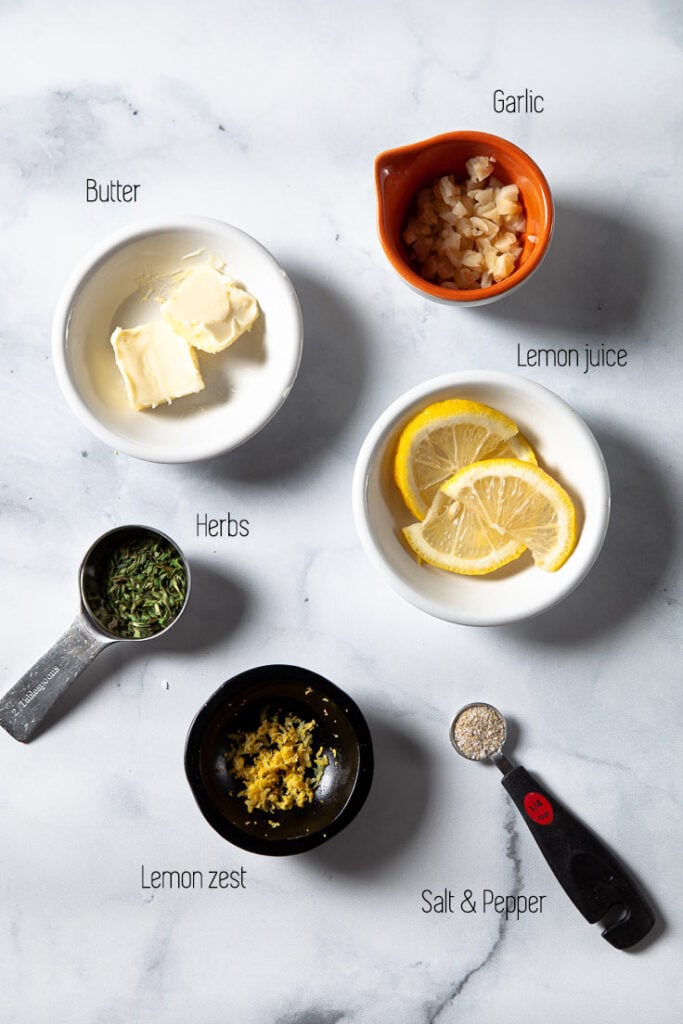 ---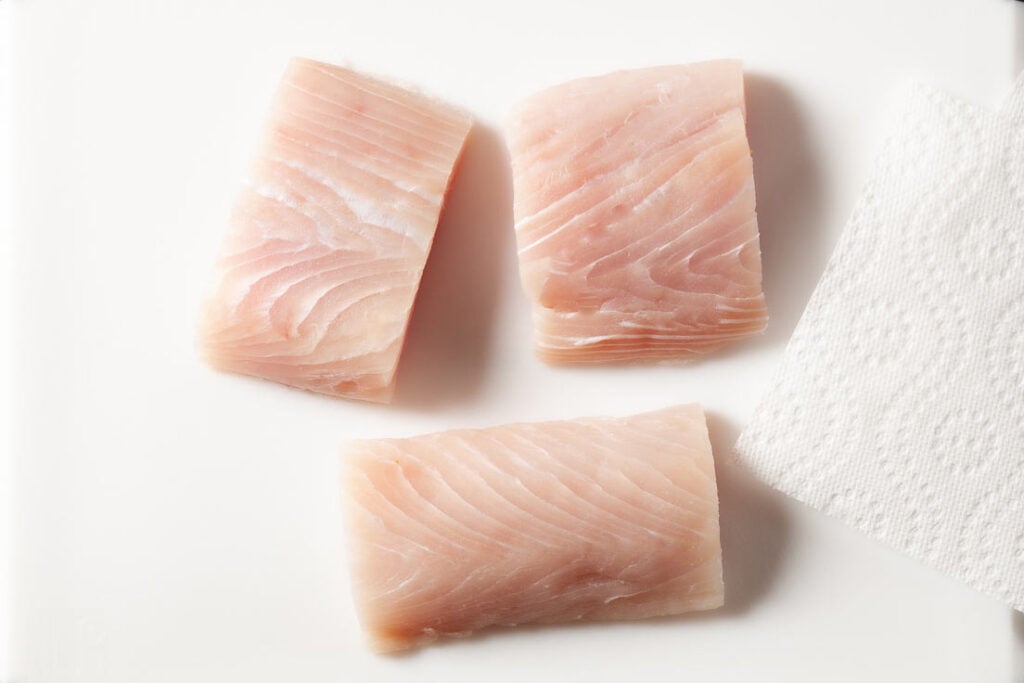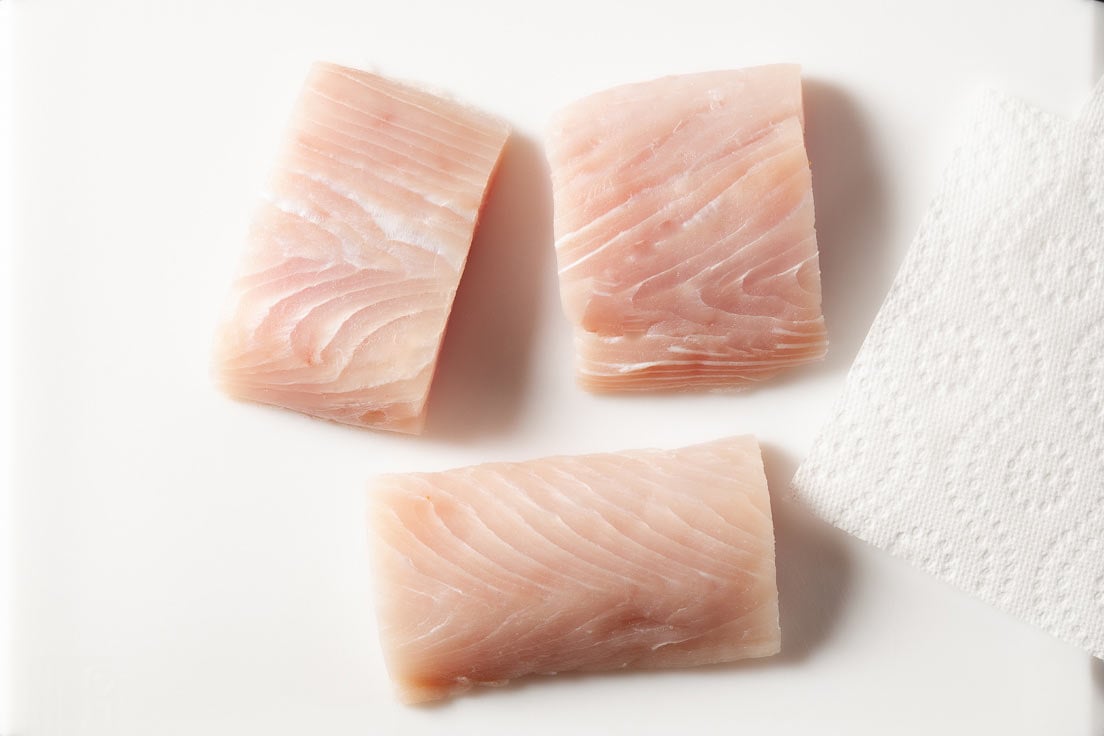 Mahi Mahi Lemon Sauce Ingredients
Plenty of freshly minced garlic is called for. Don't skimp on the garlic.
Grab one fresh lemon and zest the peel; then squeeze 1 TB of tangy juice from it. Bottled lemon juice isn't the same, so use fresh lemons.
I prefer to use salted pure butter, but feel free to use unsalted if you like as long as it's real butter.
For freshly chopped herbs, choose from chives or parsley…or both.
Tip: sauce can be prepared ahead of time, covered, and chilled until you're ready to warm it up for serving. It's a great sauce to have on hand.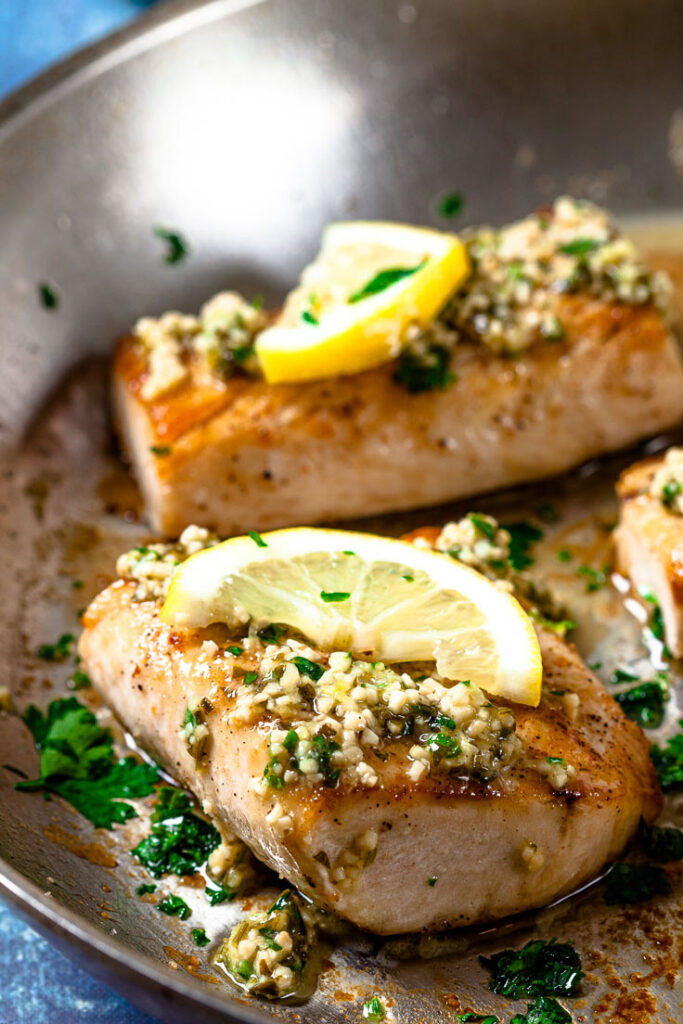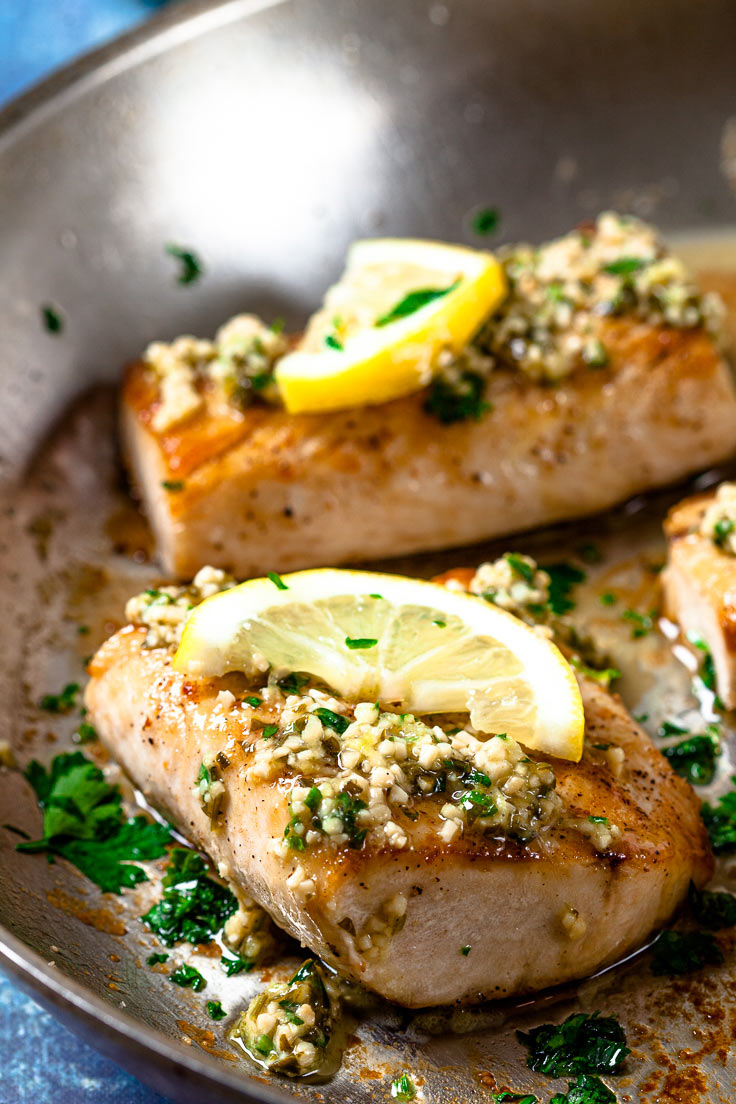 What to serve with Mahi Mahi?
This fish dish is one of our favorites for everything from quick weeknight dinners to small dinner parties. If your friends enjoy restaurant-quality fish dishes, they'll be in awe of you for serving this mahi mahi. Because the Lemon Garlic Sauce can be made in advance, all you need to do is cook your fish, which takes about 8 minutes total.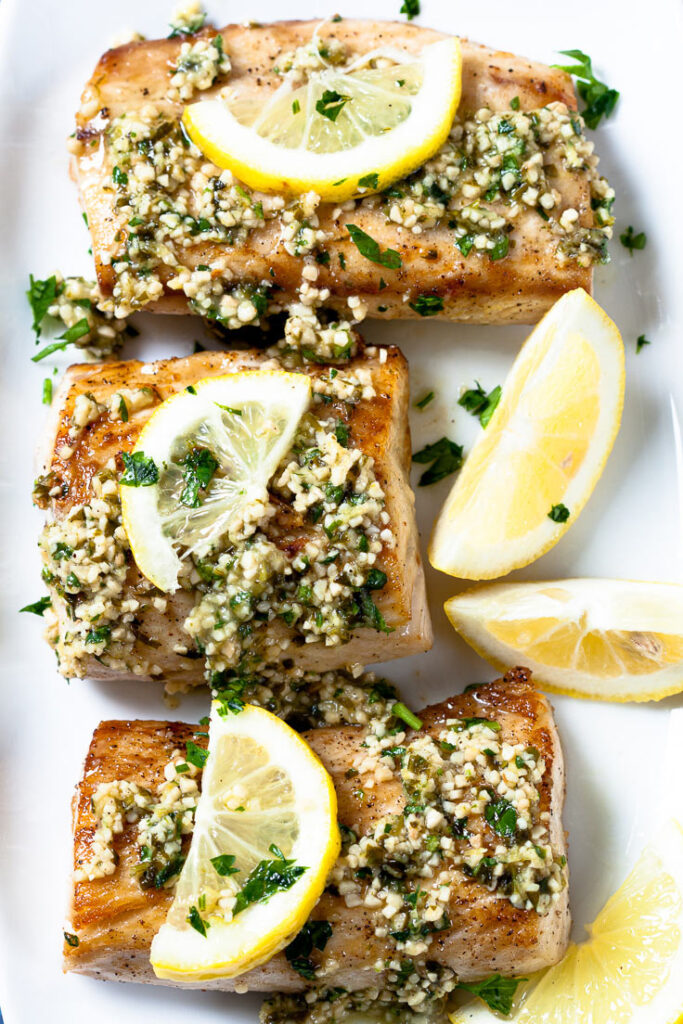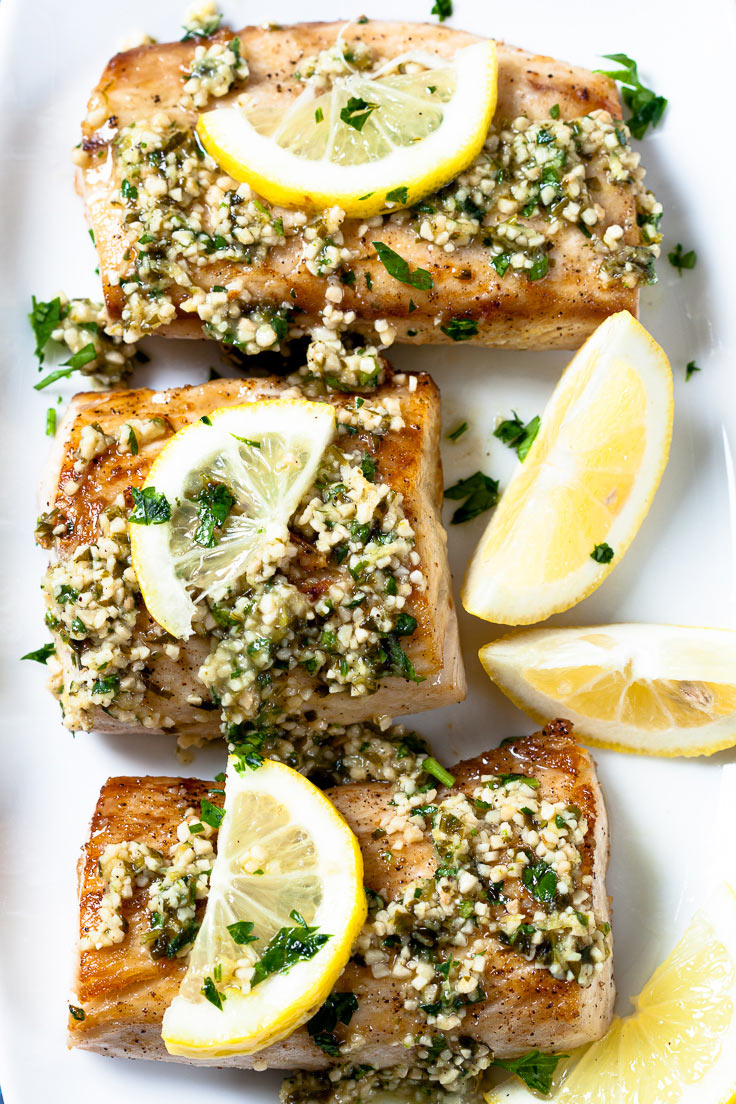 Mahi Mahi Recipe
Questions and Answers
What does Mahi Mahi fish taste like?
Mahi Mahi is famuous for its mild and delicate flavor, and is easily one of the most popular fish served in restaurants. When cooked properly, mahi mahi is somewhat firm yet tender and moist.
What does mahi mahi mean?
Mahi Mahi is the Hawaiian name for dolphinfish. However, this fish is completely unrelated to dolphins.
Can I use other types of fish for this recipe?
Though we highly recommend using mahi mahi for this specific recipe, you can also substitute with swordfish or cod. Be sure to use 1-inch thick fish fillets. We do not recommend thinner fillets such as tilapia for this recipe.
Can I use frozen mahi mahi fillets?
Yes, frozen fillets will work just as well as fresh fillets. Be sure to fully thaw and drain the fish fillets prior to using. Additionally, always pat-dry excess moisture after draining.
Why do I have to pat-dry the fish prior to using?
Removing moisture from the raw fish fillets is an important step to ensuring you'll get nicely browned fish. When excess moisture is present, the fish will steam rather than brown, and it will not hold seasonings nearly as well.
More To Cook and Eat
Mahi Mahi with Mango Avocado Salsa – This pan seared mahi mahi with mango salsa is scrumptious all by itself, and tastes fabulous with the fish.  Tender, flavorful, and flaky white fish can easily be accomplished! 
Easy Lemon Butter Fish in 20 Minutes – This Easy Lemon Butter Fish only takes 20 minutes and a handful of ingredients. It's a delicious and nutritious white fish recipe. Pair with rice and vegetables for a healthy weeknight dinner.
Fish with Black Bean Sauce – Fish with Black Bean Sauce is a popular menu offering at many Chinese restaurants.  This dish is savory, flavorful, and perfect over a bed of rice.  Easily make your own deliciously tender and healthy version at home
Crispy Baja Fish Tacos with Creamy Lime Sauce – Crispy Baja Fish Tacos with Creamy Lime Sauce are so yummy, they're sure to become a fast family favorite! They're a healthy and tasty addition to your Tex-Mex menu. 
White Fish with Lemon Butter Sauce – This is one of the most delicious yet simple ways to enjoy fish for dinner. The flavors of garlic, butter, and lemon fuse together to create a healthy and mouthwatering meal the whole family will devour.
Honey Lime Grilled Salmon – This Honey Glazed Salmon is zesty, sweet, savory, and full of flavor in every bite. Such an easy, delicious way to enjoy healthy salmon. 
Lemon Butter Cod Recipe – Cod is a healthy, lean fish that can be easily added to your dinner rotation. This tender, flavorful cod recipe is quick enough for busy weeknights. It's sure to become a favorite.
---
---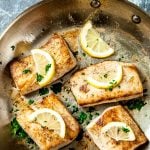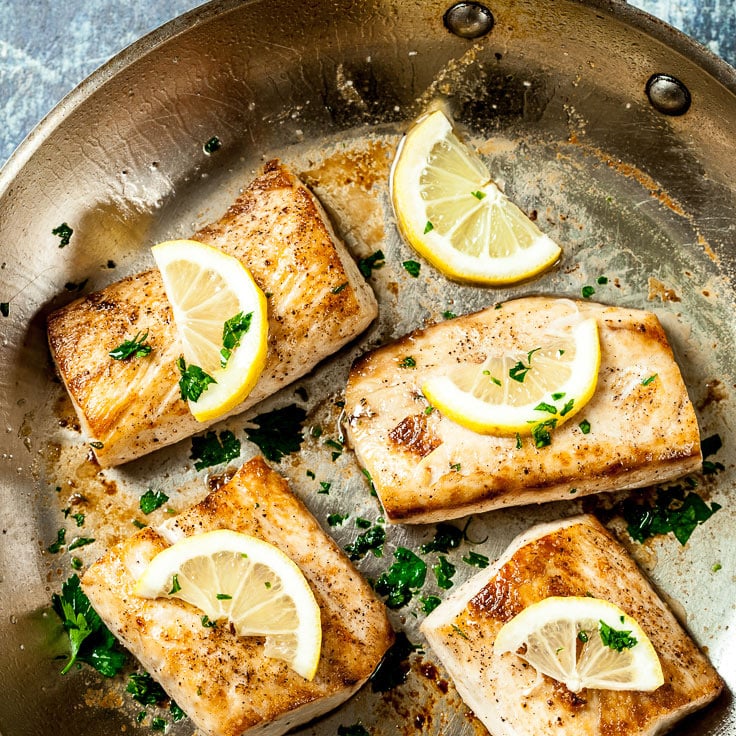 Easy Perfect Mahi Mahi Recipe
Mahi Mahi, otherwise known as Dorado, is deservedly a popular fish. When done right, mahi mahi is tender, flaky, and deliciously flavorful. This lemon garlic butter sauce is sensational. 
Servings: 4
For the Lemon Garlic Mixture:
2

TB

salted butter

,

softened to room temp

1

TB

freshly chopped chives or parsley

2

TB

garlic cloves

,

minced

⅛

tsp

kosher salt

¼

tsp

freshly ground black pepper

1

TB

juice from fresh lemon

1

TB

grated lemon peel
For the Fish:
2

TB

olive oil

4

1-inch thick each mahi-mahi fillets, 4oz each

kosher salt and freshly ground black pepper
Preheat oven to 400F with rack on middle position.

Lemon Garlic Mixture (can be made ahead) – in a small pan, combine all Lemon Garlic Mixture ingredients and stir to fully combine. Set aside.

Pat-dry all excess moisture from the fish fillets with paper towels. This step is important, so be sure to pat off as much moisture as you can. Evenly sprinkle both sides of fillets with pinches of kosher salt and freshly ground black pepper. Set aside.

In a large oven-proof pan, heat the olive oil over high heat. Once oil is sizzling hot add the fish fillets to pan and let cook until browned on one side, about 3 minutes – do not move fish around.

Carefully flip fish fillets over to the other side, turn stove burner off, and immediately transfer pan into already-hot oven.

Roast fish at 400F about 5 minutes or just until the top is golden and center is just cooked through. Take care not to overcook. A minute before fish is done cooking in oven, heat your small pan of prepared lemon-garlic mixture over medium high heat, constantly stirring, just until melted and bubbly.

Immediately turn heat off and pour mixture over the cooked fish. Be sure to pour on any juices from the fish pan as well. Serve with extra lemon slices for garnish. 
Be sure to use coarse kosher salt, and not fine table salt. Fine salt is much saltier than kosher in recipes.
Lemon Garlic Sauce can be made ahead of time and reheated to serve.
A large splatter guard is helpful whenever pan frying. It really helps with random oil splatters.
If you enjoyed this recipe, please come back and give it a rating 🙂 
Calories: 193kcal | Carbohydrates: 0.1g | Protein: 20g | Fat: 13g | Saturated Fat: 4.6g | Cholesterol: 67.4mg | Sodium: 124.4mg
Did you make this?
Leave a comment below and tag @chewoutloud on Instagram
* This recipe is part of our easy fish recipes collection *